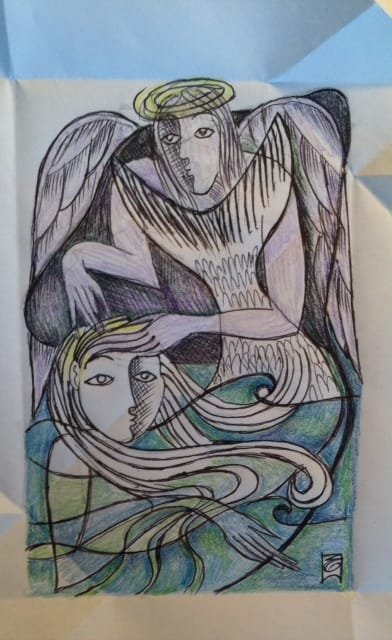 This drawing, as it turned out, was for a girl who had her first psychic experience by having a dream that The Crocodile Hunter guy, Steve Irwin, would be killed by a Sting Ray, 2 weeks before his death. I did not know this when I did the drawing. But as it turned out, with my reading - which was about her choosing to listen to her psychic abilities and develop them, she had it confirmed for her, that this was truly what she should do
My Art is psychic. When I do Art, God talks to me and I get downloads of information that I can use to help others or myself.
Therefore, I draw in someone's presence, or remotely, and then I read the symbolism of what I drew and they benefit from what I tell them and from having the art around.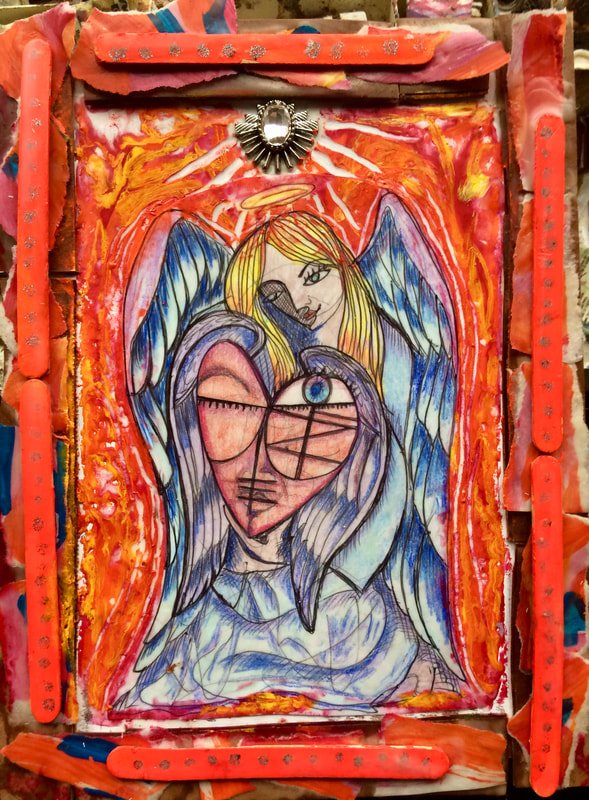 This mixed media painting was to help my friends get through some difficulties they were having in their marriage
In addition I learned how to make a personal symbol for someone and embed it in my art and that helps them as well. This is because of the Electro Magnetic Energy that the artist puts into Original Art. Prints don't contain this. The artist solidifies all their feelings and thoughts into the art, and that "faery dust" helps the recipient of the Artwork on an Energy Level to move forward.
I made those for myself as well.
It was not always this way. When I was a kid, I grew up in a violent household and Art saved me from that. Later I went off to school to commercialize Art, and that failed completely, but then a friend turned me on to Intuitive Art. I started doing that and have done it for over 30 years.
As a result of tapping in to Intuitive Art, my Art became psychic.
I guess doing Art opens a Portal through which I enter the 4th dimension...
This weekend, I am going to be doing Soul Mirror Drawings & Talismans at a psychic fair, and I made myself an Oracle Deck, to help my clients know what they need me to draw them.
https://steemit.com/tribevibes/@in2itiveart/oracle-deck-i-made-for-psychic-fair-this-weekend
here is the post I made about that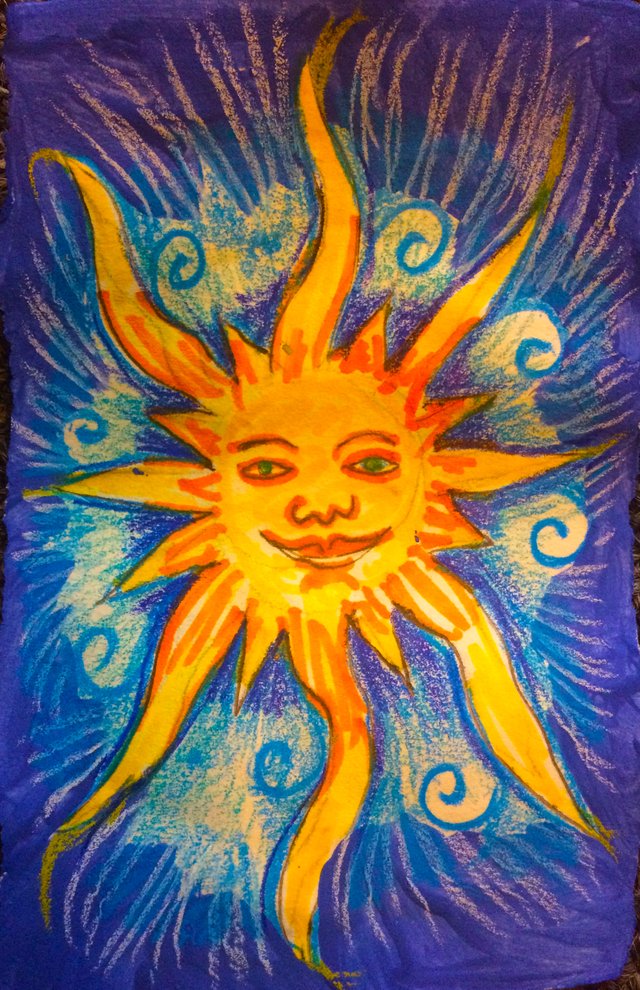 Recently, I also began to do free Intuitive Healings and Distance Reiki by donation... in this troubled world. The only thing I will charge for is the Soul Mirror Talisman Artwork.
https://joannawhitney.weebly.com/psychic-drawingsreadings.html
People need to find a connection to Source - if more people were connected to Truth, the world would not be upside down like it is. I am connected and I know how to help others get connected, so it is my duty to provide that service.
All this came to me through doing Art and doing what I was told to do which comes to me while I paint or create.