We need idealism. In a world where we're bombarded with climate docos, social media and news narratives that project a future that is horrific, we need positive news to counter the feelings of eco-grief and anxiety about what the planet might look like in twenty years time and positive action as a result of hope. This is the premise of Damon Gameu's book '2040', based on the documentary film of the same name. Basing his dreaming on fact and evidence based research, he aims to tell a 'new story' - one about solutions.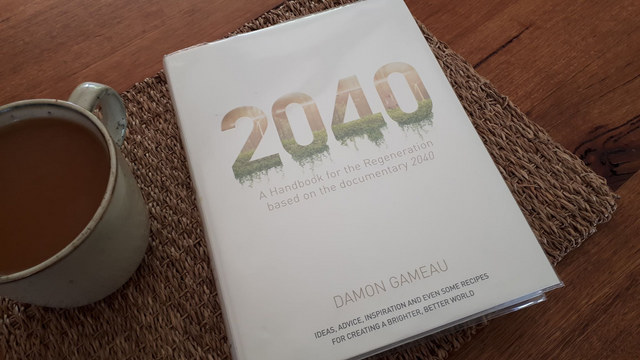 The book is beautifully put together - a gorgeous 'coffee table' style book complete with a pull out poster which colourfully outlines a number of positive actions that anyone can do to save the future - eat less meat, choose a 100 percent renewable energy company, educate girls, reduce your air travel and so on. Whilst this poster might be gimmicky, the 'handbook' goes into far more detail about what these might look like, should they be adopted.
For example, the section on alternative transport acknowledges the failings of technology yet offers far more than merely the driverless or electric car suggestions. Disruption to existing modes of transport which only make our planet more sick take the form of rideshare (through existing companies like UBER), electric vehicles (a face palm to Australia who gives a luxury car tax to imports whilst Europe embraces them at a far more reasonable price), driverless vehicles in cities as an on demand transport which is cheaper as it doesn't need to pay a driver, and the added benefit of freeing up space for parks and housing in an incresingly overpopulated world. Sounds utopian, right? However, Gameu does acknowledge all the moving parts, such as the concern over loss of jobs - and counters them with research, which shows that most people would be happy with a career change if they were offered it. Personally, I've never understood the 'loss of jobs' debate - surely a new industry simply allows for more jobs to replace the ones it takes away? Isn't that something that education, training and government incentives can deal with? If we had the same attitude when the telephone or the daily newspaper became replaced and bettered by the internet, would we be where we are today?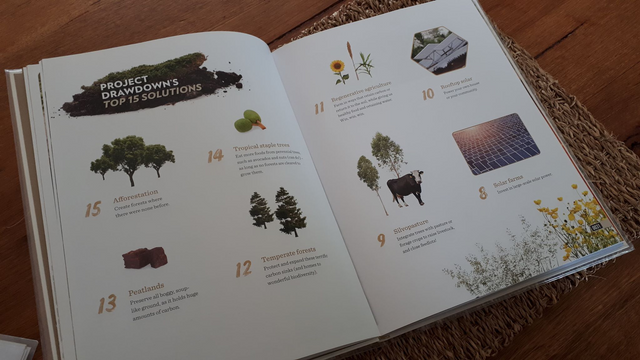 At the end of each chapter or section there are suggestions for things that people can actively do to make small differences. One of my favourites was to be a true materialist in that we should value our things, rather than dispose of them. He suggests that it 'won't be too long before it's seen as embarrassing to be caught holidng a take-away coffee cup or plastic bottle of water' - such changing of the way we think about what we consume can make a massive difference. The thought that it could be socially unacceptable to damage the environment in which we live is a beautiful dream - but one this book gives me hope for.
'The greatest threat to our planet is the belief that someone else will save it' - Robert Swan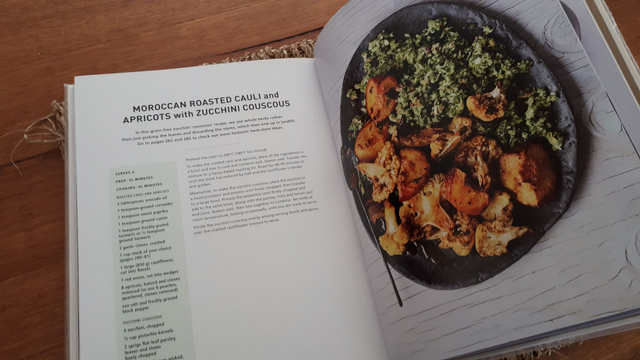 The only thing I thought was odd about the book was the recipe book at the end. Perhaps it's just part of the glossy marketablity of it - but, as I browsed further, I liked this book even more. Without being overly preachy or didactic, the recipe section offered small suggestions that can make big differences, such as using the whole plant, utilisting leftovers, using water efficient sources of protein (that's lentils), using environmentally sound sweeteners (sugar is the most environmentally destructive) and ethical shopping. Morrocan roasted cauliflower with apricots and zucchini couscous? Eggplant and fig chutney? There's some interesting enough recipes here to inspire conscious cooks!
The book is also full of inspiring quotes, photographs and illustrations. Hope oozes from every page. This would be an amazing Christmas gift to young people in particular who may be feeling anxious, depressed and sick about their futures ruined by a generation of people with little foresight yet all the money and power to do something to change it. Sure, it is easy to be cynical about such glossy, clearly 'sellable' material (Christmas is coming, after all), Gameu did - and does - make me full of renewed hope for a better future, and full of admiration for the people that are already putting funding, research and energy into doing something to solve the problems we have, instead of moaning about the prospect of the world being 'doomed'.
https://gateway.ipfs.io/ipfs/QmcGSZxvsXD8YbSCNAo6KWc4a9RjXyRCjWupZdPXJapkXk

@naturalmedicine II Discord Invite II #naturalmedicine