Melon is a vegetable belonging to the pumpkin family. The chemical composition of a melon depends largely on the variety. The pulp of the fruit contains sugar, carotene, vitamin B9, C, P, provitamin A, pectin, fats, mineral salts, a large amount of folic acid and iron.
source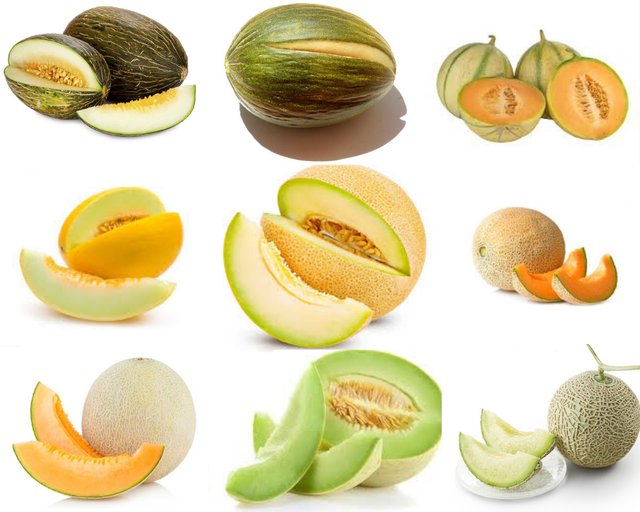 Both the pulp and melon seeds contain up to 30% fatty oil, which is quite suitable for use in food. In addition, melon favorably affects the digestion process, and folic acid is involved in hematopoiesis. Melon is very useful for atherosclerosis, anemia, cardiovascular diseases.
As a remedy, the melon has been used for a long time and in a very wide way, its pulp is used for stomach diseases, various mental disorders, for tuberculosis, rheumatism, scurvy, gout, as anti-inflammatory, cough suppressant and anthelmintic.
Melon seed broth in milk is used for urinary retention, with bladder stones and melon juice for constipation and hemorrhoids. The infusion of seeds in water, which is known as an effective diuretic and a mild laxative, is very useful for diseases of the kidneys, liver and bladder.
The melon quenches thirst well, calms the nervous system. Nutritionists prescribe it as a therapeutic food for anemia, cardiovascular diseases, atherosclerosis, kidney and liver diseases.
The healing properties are explained by the high content of vitamins B9 and C, iron and potassium salts, and depend on their maturity. For example, fruits with insufficient ripening are not recommended for patients with stomach ulcers and acute gastritis. It is not recommended to eat melon on an empty stomach; It is considered the safest to eat melon in the interval between meals so that it can be mixed with other foods that are ingested.
Melon has been prescribed for a long time to emaciated patients, especially after past liver diseases, after operations. Melon is generally famous for the ability to cure ailments that are not accepted to advertise.
Today, nutritionists recommend melon juice or its pulp to improve digestion. In addition, it is an excellent remedy for helminths, mainly for children.
Nutritious and tonic masks are also prepared from melon pulp. If the melon mask is used regularly for a month, a maximum of a month and a half, the skin becomes elastic, it acquires a reddish color with a matt tone.
The benefits of melon pulp for a woman's body: help with stomach upset; treat psychological disorders, help with depression; eliminates tuberculosis; helps reduce the symptoms of rheumatism and scurvy; It has anti-inflammatory effect; helps to deal with cough; and it is a means to eliminate worms.
Melon is not recommended on an empty stomach. Melon is contraindicated in nursing mothers (it can cause severe dyspeptic symptoms in the baby), with diabetes mellitus, gastric ulcer and 12 duodenal ulcers, with intestinal disorders, especially dysentery.
The use of melon in traditional medicine:
If barley is produced in the eye, a compress is made and applied to the sore spot.

To get rid of colds, pieces of a mature fetus should be applied to the forehead.

With nasal congestion, melon juice is instilled, which helps relieve the condition.

With a sore throat or bronchitis, melon packs that are made in the chest or throat will help.

To eliminate kidney stones, you should use a decoction of vegetable juice with parsley.

To deal with a headache, you should eat 200 g of melon at once.

Melon peels can be used to heal wounds and bruises. Also, if the burn spot is stained with pulp, the pain will decrease.