Welcome to Robin's kitchen. Please, have a seat, make yourself at home. Just relax, let's share a pot of tea.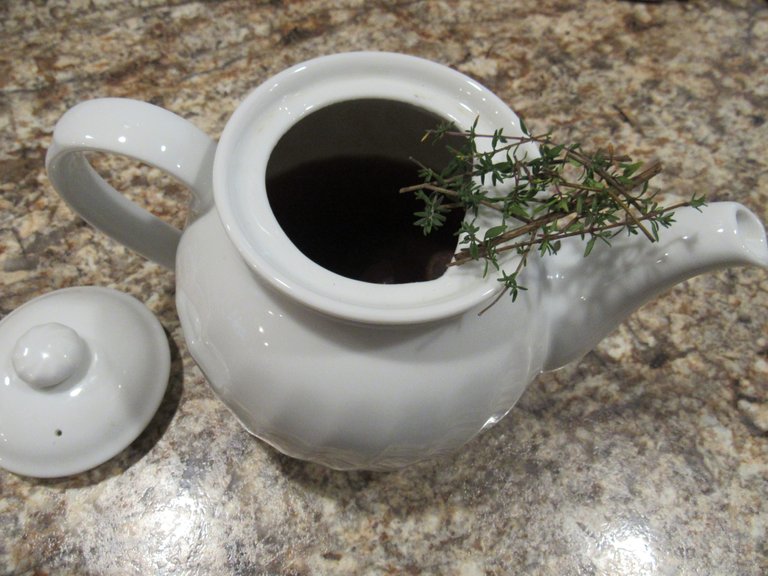 Now that it's Friday, ah yeah, FOOD FIGHT!!
Let's go chefs, watcha got this week, I'm hungry.
Here's what I am thinking, @idig. Let's fill the sweet tooth first.
How about a slice of lemon cheesecake? It should go nicely with the tea.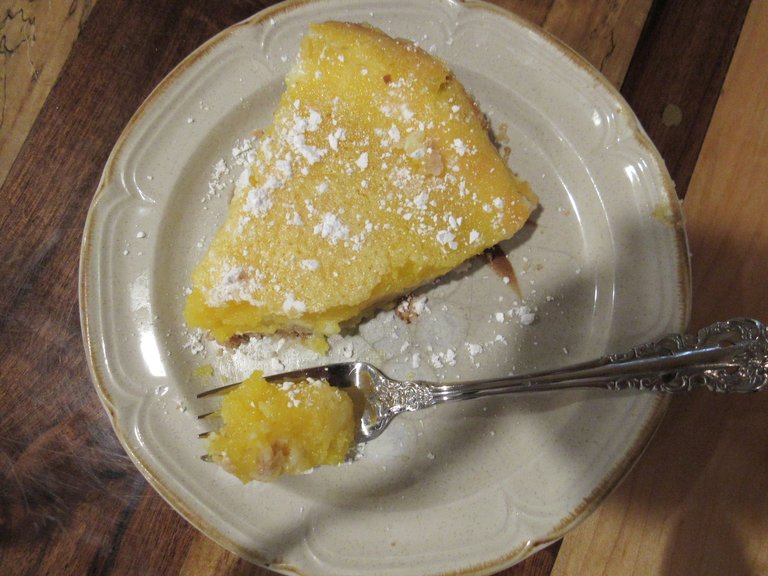 Let's bake, shall we?
I woke up this morning at 5:10 am, it was still dark out, but to my joy, the coffee was already brewing.
I was so excited it was Friday, time to do some food flingin', my first response was, fire up the oven. The usual 350.
I can cook just about anything at that middle of the road temp. Any recipe that calls for 375 or above I can get into trouble.
When my family was growing up, I would make biscuits or dinner rolls to add to our meal. They were good filler-uppers. All four of my children loved food, how could you blame them, they had @thebigsweed to show them how it was done.🙄
Now biscuits require an oven temp of 375-400 degrees. Now back in the day, ovens didn't have timers, or maybe they did but mine was old and broken. Those years were lean. So once the food was on the table and hands were checked for dirt, we would sit down, say our prayers, and smell the burn. I would pop up, run to oven to yank out the biscuits. Dang!
I did it again. Not perfect, but edible none the less.
They were named "Mom's Bricks". To this day, whenever we share a meal together, and I pull out the rolls, I hear this echo...Mom's bricks, bricks, bricks, bricks. If I don't get around to making the biscuits, first thing I hear is "Mom where are the bricks"? I just smile.😉
So, here is what I did in the wee hours of the morning.
Lemon cheesecake. I started with a box mix, then frenzied it up with some of my own ingredients.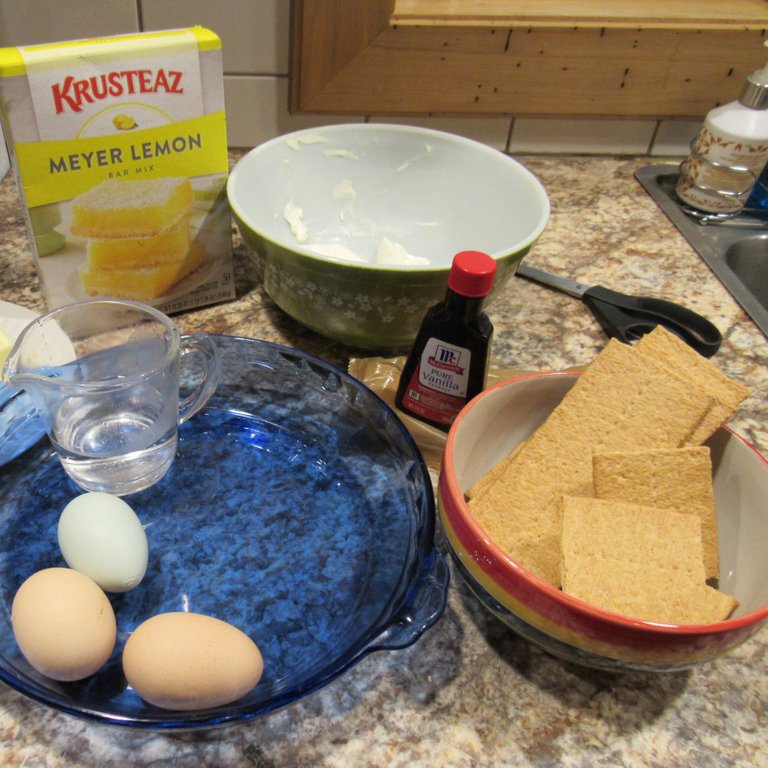 It was so good, I had to hide it from the sweed. I was hoping to have my second slice the next day. I like to spread my sweets around. My guy just can't help himself, I pray he doesn't fall into another food coma, it's not a pretty sight.😪
Preserving the herbs.
With the cold weather creeping in, it was time to harvest the remaining herbs on the #homestead.
These were the ones we dehydrated and jarred this week.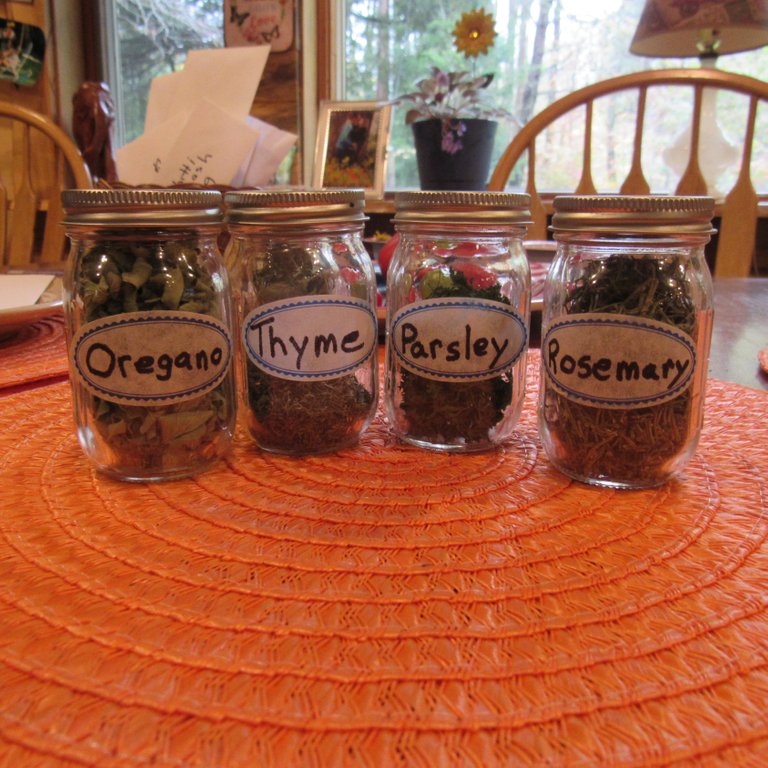 I borrowed a food dehydrator from my cousin Lauren, you know her as "The egg lady".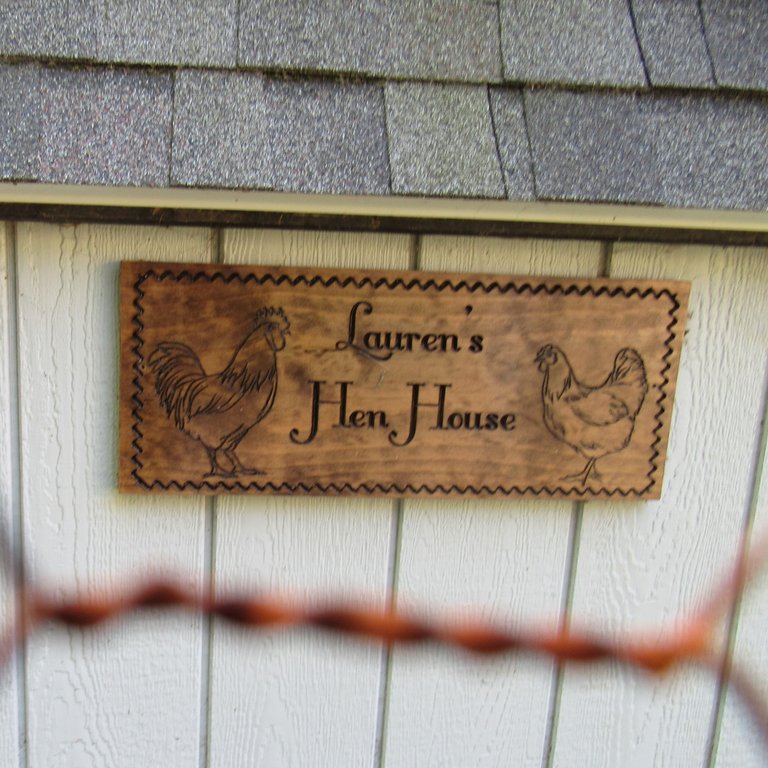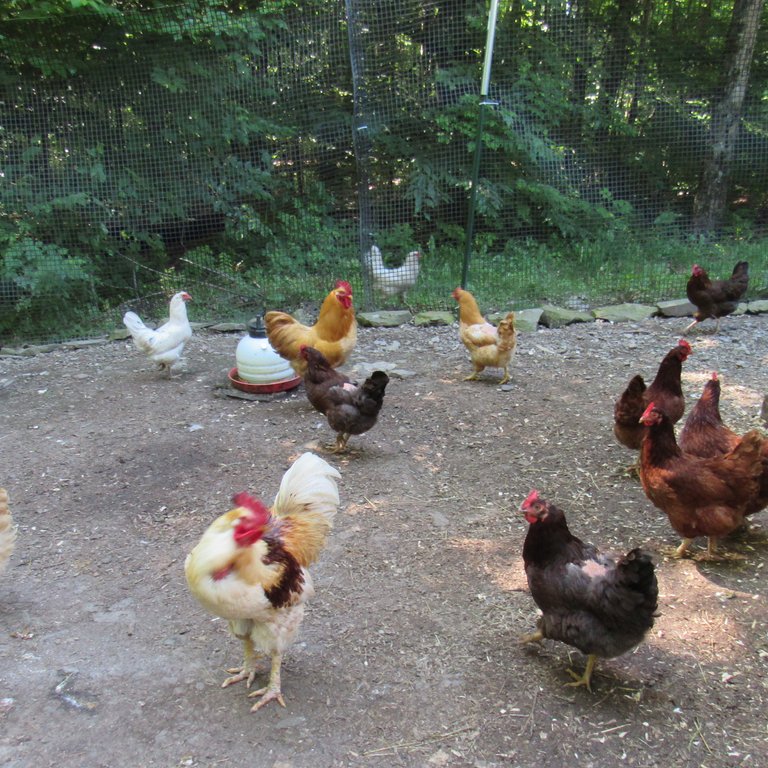 This method of preserving the herbs worked fantastic. This model had pre-set temperature settings, all I had to do was select "herbs " on the dial. Dehydrators force warm air into the chamber that holds trays with mesh bottoms.
The herbs are layered on the mesh surfaces.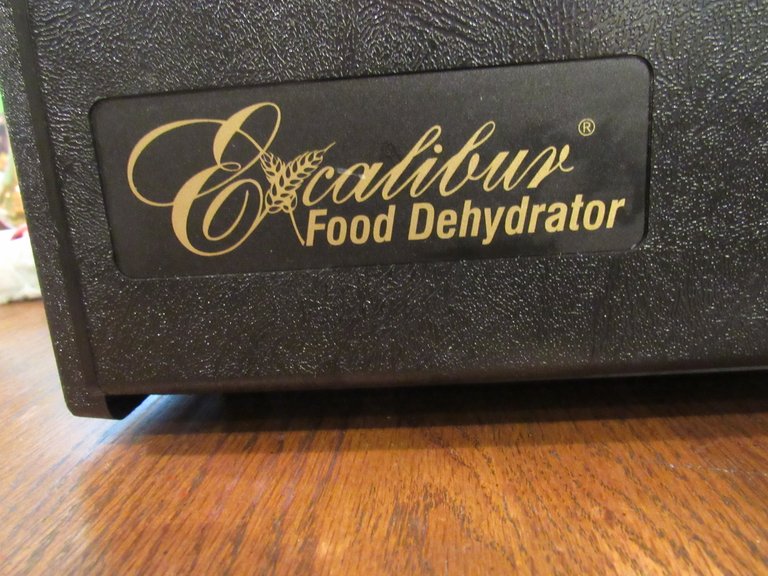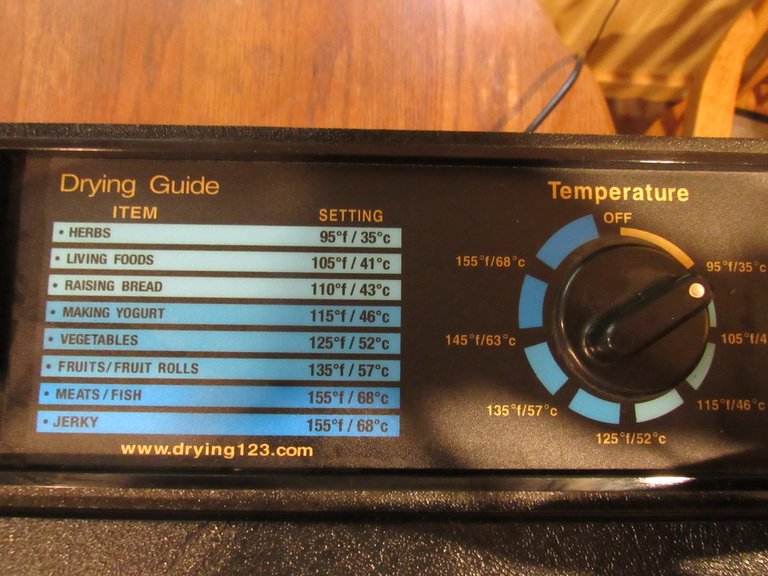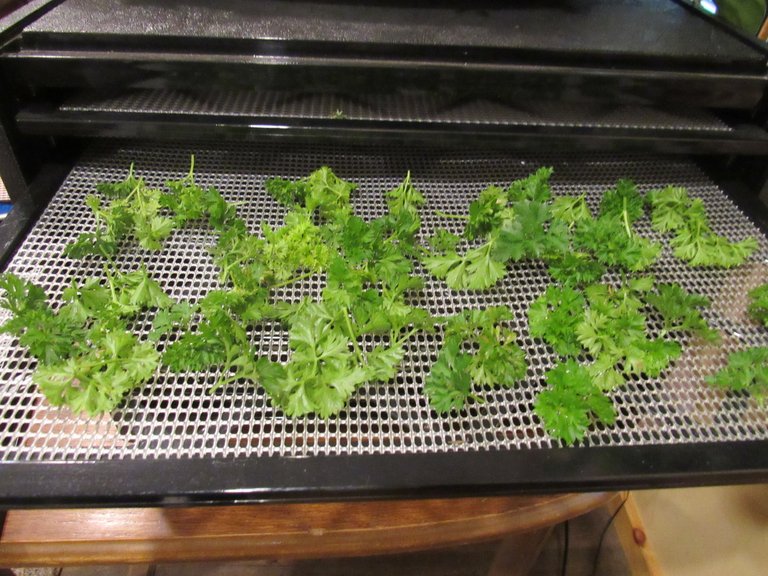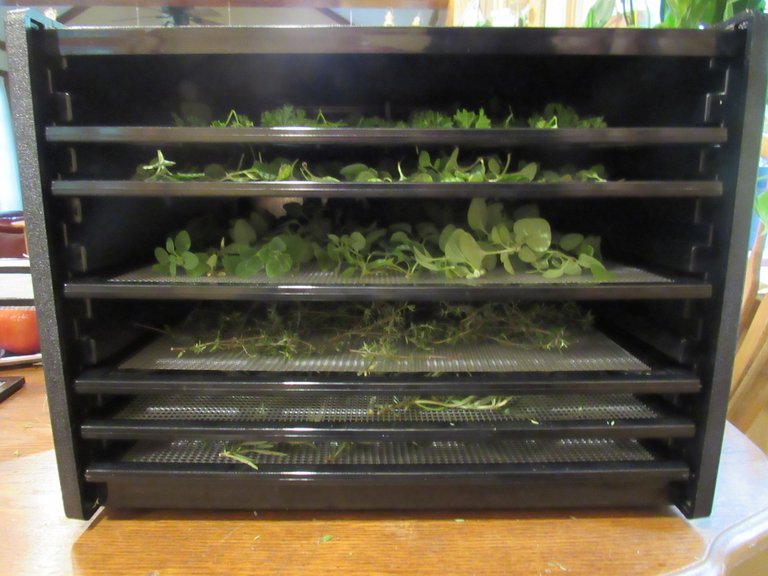 The aroma in #farm house was almost intoxicating.
I am going to feature thyme today.If that's ok with @jlsplatts, I mean you're the host of this frikkin, fun, food fling about, that happens every Friday causing a kitchen katastrophe ,along with your co-horts @dandays and @idig . Am I right?
Our pot of tea was a raspberry infused with fresh thyme. Thyme is known as the blending herb because it pulls flavors together. Also known for it's antiseptic properties.
#naturalmedicine:
CAUTION: DO NOT USE WHEN PREGNANT OR NURSING
Internal use.
Leaf infusion can help with indigestion, coughs, colds , sore throat, hay fever, INSOMNIA and HANGOVERS.
Wow, glad I found this one. If I can't sleep at night I will pour myself a glass of red wine or two 😏 and it puts me to sleep. Now I know what the experts say, don't drink before bedtime. Fooey! What do they know? It works for me. But on occasion I will wake up with that silly, stupid thing called "The Hang-Over".
Now I know, I can have some tea with thyme at a certain time. Bedtime.
Insomnia put to sleep, no hang over had.
External use.
Use in baths to sooth sore muscles, rub on insect bites to stop the itching.
I wish I had more thyme.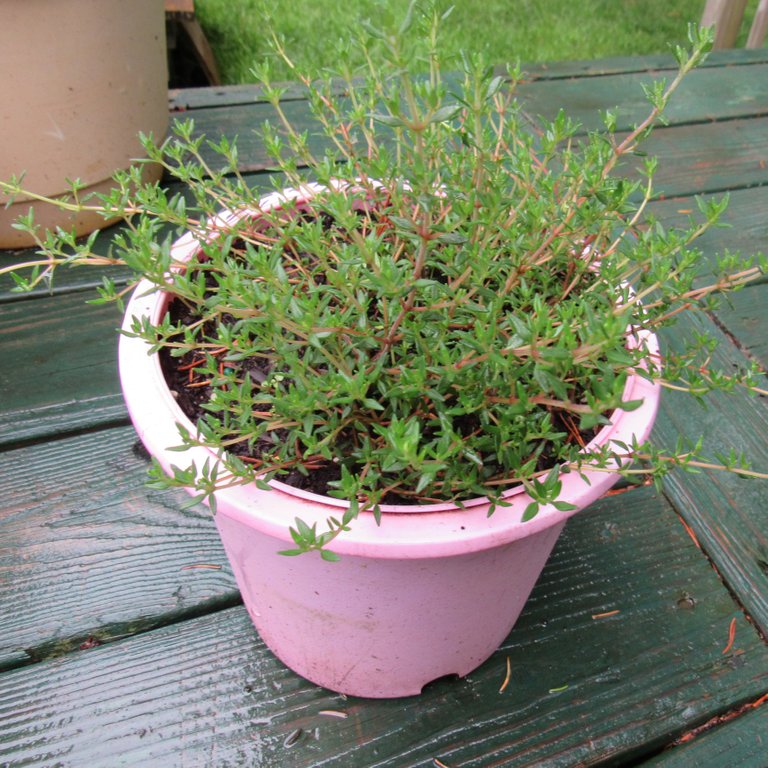 Uses in the kitchen:
Thyme has a ton of uses in foods. It can be used in soups, salads, stews. Use it in marinades for fish, seafood, beef, chicken or pork.
Adds the perfect touch to a nice hot cup of tea.
Hope you enjoyed our visit, I sure did.
Be sure to drop by next Friday, we'll fling some lemon cheesecake around the kitchen.
That would be a blast!
Have a wonderful week my foo-foo friends. Eat well, be well! 🌮😊