Gado-gado is traditional food or dish from Jakarta. It is made from vegetables and lontong. Lontong is toughened rice. Gado-gado is good for vegetarians. It has good nutritients because you can use most of vegetables. However in Jakarta Gado-gado is like this. Do you want to make it?
Ingredients
Some Long beans

A half of cabbage

Some Sprouts

4 Potatoes

5 Tofus

Tempe ( If there is no Tempe you don't have to use it).

4 Boiled eggs.

2 Cucumbers

Kerupuk Rambak ( crisps)

1 or 2 limes
Peanut Sauce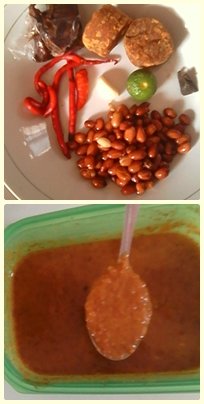 . 2 garlics ( 1 garlic if you like)
2 cm shrimp paste

4 red Chillies ( if you not like you can use only 1)

Some Tamarind

2 pieces of Palm Sugar

¼ kg of peanut ( roasted peanut)

2 teaspoons of salt

Some soy Ketchup

Fried shallot

Shred cabbage and cucumbers

Boiled eggs and potatoes

Steam long beans and sprouts.

Fry tempe and Tofu

Fry Kerupuk ( You can use crisps that available in your country)
Step 2
Grind all the ingredients

Grind roasted peanut together

Put tamarind in hot water and stir.

Pour some liquid of tamarind to the mixture of ingredients and ground roasted peanut.

Split all the vegetable into four portions

Cut the tofu and tempe and share 4 portions

Pour the peanut sauce on the vegetables

Mix with spoons the sauce and vegetables

Put the egg in the each portion

Put some Kerupuk on each portion

Pour some soy ketchup on the mixture

Squeeze a slice of lime for the aroma

Spread a little of fried shallot


Now Your Gado- Gado is ready. Gado-gado is better served with lontong ( taughened rice).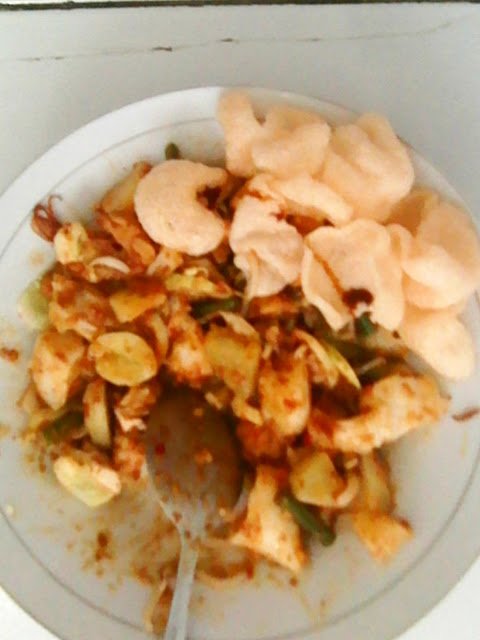 I have eaten up a plate of Gado-gado. It's yummy and little bit hot. You can change the vegetables as available as in your country.
Do you want to try at home? It is simple recipe.. don't forget to follow me @lebah and upvote to support my account to grow up. Thanks for reading.