My Happiness Mantra / Post Bilingual (Spanish version below)
I join with great enthusiasm this contest promoted by @Zord189 "The Happiness Mantra"
Before I start my presentation, I would like to greet this PowerHouseCreatives Community because it is the first time I have published in it, hoping that it will be the first of many publications.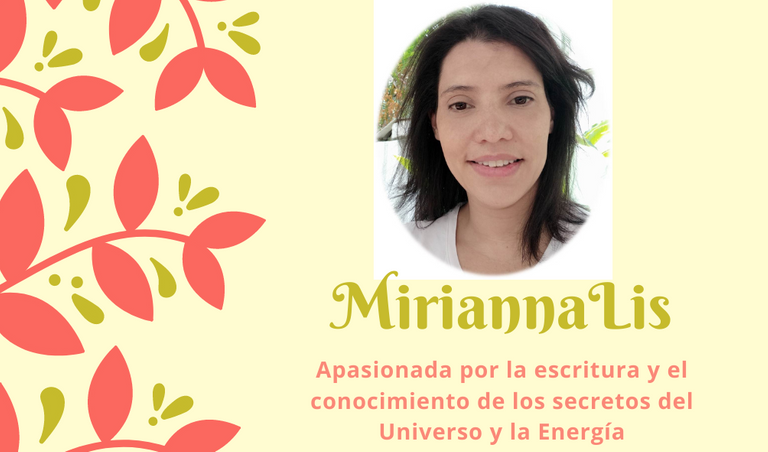 When I read the invitation to the Contest I was immediately excited. I believe greatly in the power of mantras, particularly those affirmations that we create from consciousness to empower us in any aspect of our lives.
I came up with many ideas for mantras, some universal premises that are used in different currents, others products of popular jargon and many other personal ones that I have used in my life. In this review exercise I remembered a very beautiful expression that one of my friends gave me, her daily mantra: "I live in God's simple world, where everything is easy and full of love".
It is a very beautiful mantra, however I found it a little hard to believe and that is why I wouldn't repeat it for myself. This is what I want to talk to you about.
One of the most important keys to using a mantra is "believing it", it has to be a credible truth for you, something that gives you certainty and you can feel it in your cells as something achievable.
The thing is that since my childhood the pattern I was taught at home was that of "effort", nothing was easy or came as a gift, everything had to be earned with work and this is understandable because our ancestors not only came fleeing the war in Europe, but they came to this country to work the land and worked hard as farmers and all the generation that followed then continued to work "hard" to build a better future.
With this pattern so ingrained in my Being I was always very dedicated since I was a child, very oriented to reach my goals working hard and at the age of 14, without any needing it I started to be employed, I did secretarial work, as a pollster, nanny, guide of directed tasks, recreator of vacation plans and a lot of other jobs that increased their complexity as the years went by and in more than one occasion, I did several at the same time. Even today, with this inflationary situation in my country, I have found myself in the position of developing many ventures and jobs at the same time in order to maintain a certain level of quality of life, used to be "multitasking".


Multitasking. Source: Pixabay
If I look back now I recognize and bless all that journey because that attitude of life led me to achieve a lot of things, which I associated in some way with being "successful". However, recent events have made me realize that all that can vanish in the blink of an eye, which has made me question many things.
On that path of work and effort I sacrificed every possibility of enjoyment, of taking a break, of doing many things that I like because I could not stop working and thinking of ways to be more and more "productive", and it is not that I have not done things that are fun or enjoyable, they simply were not within the priority because they always came before a pile of tasks that took up time and space. Now I find myself facing all those patterns I want to break down like: "To get the things I want I have to work hard", "You have to work hard to earn things" and many other wrong beliefs that I clearly have to reframe.
Starting from this recognition, and taking up that mantra of my friend's, I wanted to construct a phrase that would be credible to me and at the same time would help me to break down those mental limitations that keep me from flowing and enjoying life from a lighter and less tiring space, and in this reflection it emerged:

And with this mantra I make a commitment to respect more and more the rhythms of my body, to embrace fully every opportunity of enjoyment that is presented to me and to continue working to achieve my goals and projects without sacrifice. Every day I will repeat it with faith, accompanied by other simpler mantras that reaffirm that premise as true, such as:
"I live life to the fullest"

"I enjoy every moment of my life"

"My only purpose is happiness"

"In my life everything is positive, easy, fluid and in abundance" and others in this direction.

  **Thank you for joining me in these lines, until next time!** Translated with www.DeepL.com/Translator (free version)

---
Mi Mantra de la Felicidad
---
Me uno con mucho entusiasmo a este Concurso promovido por @Zord189 "The Happiness Mantra"
Antes de iniciar mi presentación, quisiera saludar a esta Comunidad de PowerHouseCreatives porque es la primera vez que publico en ella, esperando que sea la primera de muchas publicaciones.
Cuando leí la invitación al Concurso de inmediato me entusiasmé, creo enormemente en el poder de los mantras, en particular de aquellas afirmaciones que creamos desde la conciencia para potenciarnos en cualquier aspecto de nuestras vidas.
Me vinieron muchas ideas de mantras, algunas premisas universales que se utilizan en diferentes corrientes, otras producto del argot popular y otras tantas personales que he utilizado en mi vida. En este ejercicio de revisión recordé una expresión muy bonita que me regaló una de mis amigas, su mantra del día a día: "Vivo en el mundo sencillo de Dios, donde todo es fácil y lleno de amor".
Es un mantra hermosísimo, sin embargo me costaba un poco creérmelo y por eso no lo repetía para mí misma, y es de eso que quiero hablarles.
Una de las claves más importantes para usar un mantra es "creértelo", tiene que ser una verdad creíble para ti, algo que te dé certeza y puedas sentirlo en tus células como algo realizable.
La cosa es que desde mi infancia el patrón que me enseñaron en casa fue el del "esfuerzo", nada era fácil ni llegaba de regalo, todo había que ganárselo con trabajo y esto es entendible porque nuestros antepasados no solo vinieron huyendo de la guerra de Europa, sino que llegaron a este país a labrar las tierras y trabajaron arduamente como agricultores y toda la generación que siguió luego continuaron trabajando "duramente" para construir un mejor porvenir.
Con este patrón tan arraigado en mi Ser siempre fui muy dedicada desde niña, muy orientada a alcanzar mis metas trabajando duro y a los 14 años, sin ninguna necesidad empecé en el mundo laboral, hice trabajo secretarial, de encuestadora, niñera, guía de tareas dirigidas, recreadora de planes vacacionales y un sinfín de trabajos más que aumentaban su complejidad conforme pasaban los años y en más de una ocasión, hacía varios al mismo tiempo. Incluso actualmente, con esta situación inflacionaria en mi país, me he visto en esa posición de desarrollar muchos emprendimientos y trabajos a la vez para poder mantener un cierto nivel de calidad de vida, muy acostumbrada a ser "multitasking".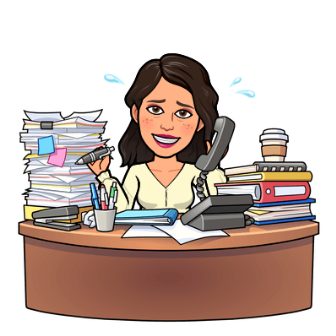 Modo Multitasking. Emoji creado con la app Bitmoji
Si miro hacia atrás en estos momentos reconozco y bendigo todo ese trayecto porque esa actitud de vida me llevó a alcanzar un montón de cosas, que asocié de alguna forma con ser "exitosa". Sin embargo, acontecimientos recientes que me han hecho ver que todo eso puede desvanecerse en un abrir y cerrar de ojos, lo que me ha hecho cuestionarme muchas cosas.
En ese camino de trabajo y esfuerzo sacrifiqué toda posibilidad de disfrute, de tomar un descanso, de hacer muchas cosas que me gustan porque no podía parar de trabajar y pensar en formas de ser cada vez más "productiva", y no es que no he hecho cosas divertidas o de disfrute, simplemente no estaban dentro de la prioridad porque siempre le antecedían una pila de tareas que me quitaban tiempo y espacio para aquellas. Ahora me encuentro ante todos esos patrones que quiero derrumbar como: "Para tener las cosas que quiero tengo que trabajar duro", "Hay que esforzarse para ganar las cosas" y muchas otras creencias erróneas que claramente tengo que reencuadrar.
Partiendo de este reconocimiento, y retomando ese mantra de mi amiga quise construir una frase que fuera creíble para mí y al mismo tiempo me ayudara a derribar esas limitaciones mentales que me alejan de fluir y disfrutar de la vida desde un espacio más ligero y menos agotador, y en esta reflexión surgió:

Y con este mantra hago un compromiso de respetar cada vez más los ritmos de mi cuerpo, abrazar a plenitud cada oportunidad de disfrute que se me presenta y seguir trabajando para alcanzar mis metas y proyectos sin sacrificio. Cada día voy a repetirlo con Fe, acompañado de otros mantras más sencillos que me reafirmen esa premisa como verdad, como:
"Vivo la vida con plenitud"
"Disfruto de cada instante de mi vida"
"Mi único propósito es la felicidad"
"En mi vida todo es positivo, fácil, fluido y en abundancia" y otros más en esta dirección.
Gift creados en Canvas