Parasites in my garden planting // Parásitos en mi siembra de jardín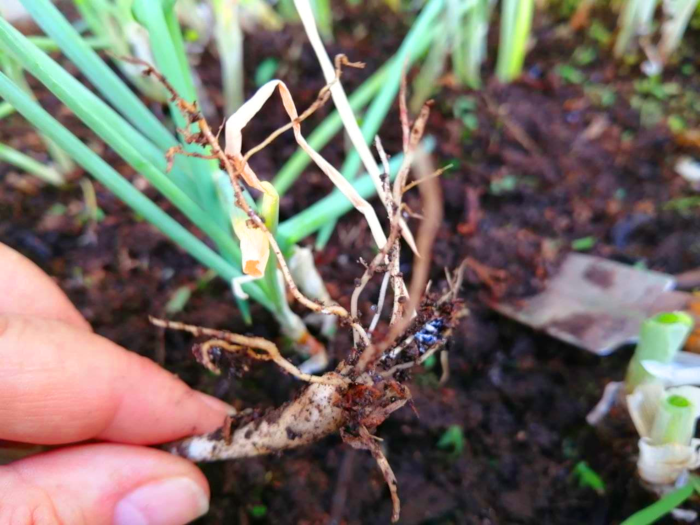 ---
---
Sowing at home and learning, how to eliminate the pest naturally.Sembrando en casa y aprendiendo, a eliminar la plaga de forma natural.
---
Sowing is an activity that I enjoy a lot because it allows me to concentrate and balance my energy. In this opportunity, I will share that this chive planting is new, and from it I have already received 2 cuts or harvests, being able to enjoy a fresh cut of chives from the garden to the plate is a very pleasant sensation, as well as delicious, because raw they provide a great taste and are also crunchy.
Recently, I had to do maintenance on my garden because it already had many dry leaves, it also lacked soil and I could see that they were infected with a type of white parasite that looks like a very small paper, this was in the root of the plant and in the earth, and not only in one plant but in almost all of them, I do not know how to eliminate this parasite in a natural way.
Sembrar es una actividad la cual disfruto mucho, porque me permite estas concentrada y equilibrar mi energía. En esta oportunidad compartiré que esta siembra de cebollín es nueva, y de ella ya he recibido 2 cortes o cosechas, poder disfrutar de un corte de cebollín fresco del jardín al plato es una sensación muy agradable, además de deliciosa, porque crudos proporcionan un estupendo sabor y además son crujientes.
Hace poco, me tocó hacer el mantenimiento a mi jardín porque ya tenía muchas hojas secas, además le hacía falta tierra y pude notar que estaban infectadas de un tipo de parásito de color blanco que parece un papel muy pequeño, éste se encontraba en la raíz de la planta y en la tierra, y no so en una planta sino en casi todos, desconozco como eliminar este parásito de forma natural.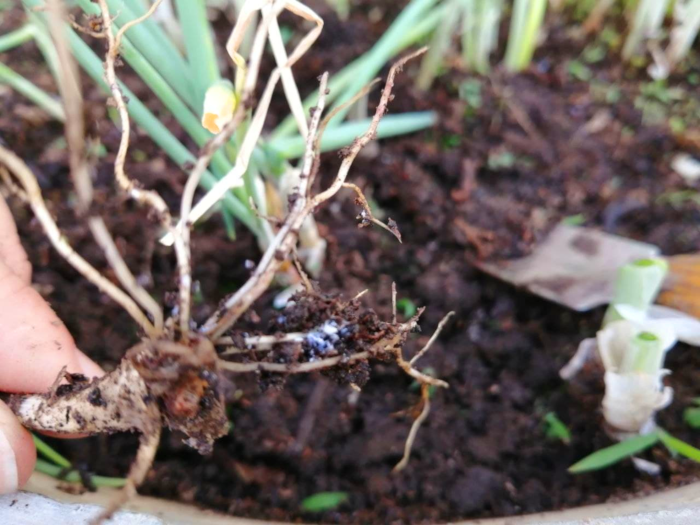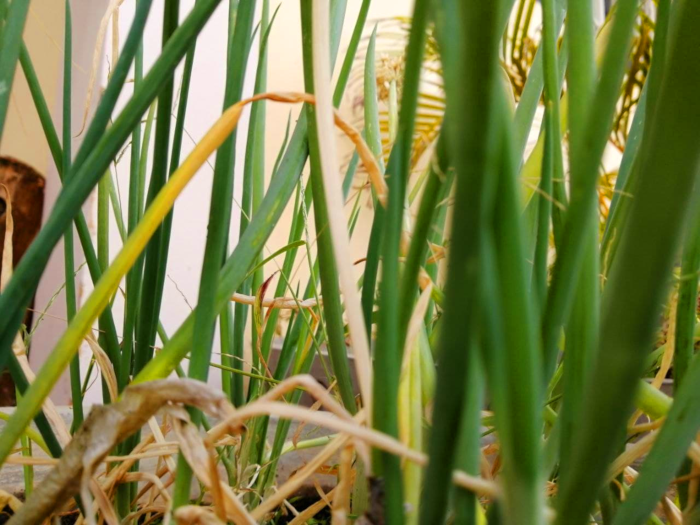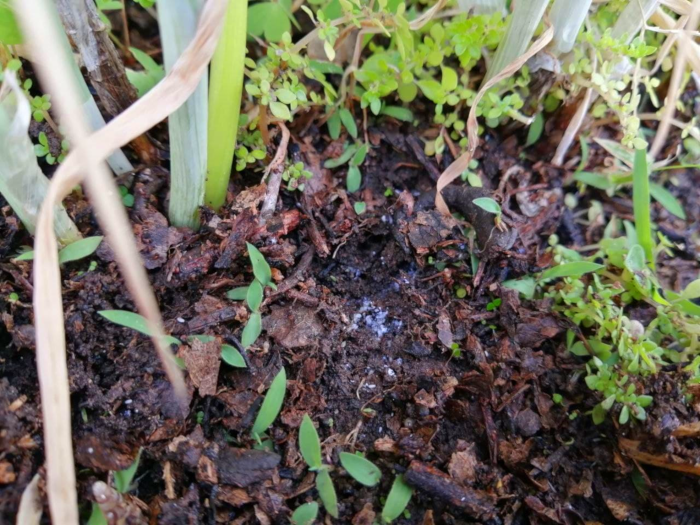 In order to help the plant, I got ready to move the earth and gradually remove the plant to clean its roots with soap and water, -Likewise, as you are reading, I washed the plant with soap and water, as if it were a baby - I washed the whole plant and tried to remove that parasite from the ground.
I replanted again, added a little more new soil and now I am waiting for them to improve. So far I see that they are on the right track, but the parasite is recurrent and very invasive, I would love to know some way to use a natural insecticide that I can use to eliminate this parasite.
Para poder ayudar a la planta me dispuse a mover la tierra y sacar poco a poco la planta para limpiar sus raíces con agua y jabón, -Así mismo como lo están leyendo, lavé con agua y jabón, como si fuera un bebe- lavé toda la planta e intenté remover de la tierra ese parásito.
Volví a replantar, agregué un poco más de tierra nueva y ahora estoy esperando que mejoren. Hasta ahora las veo que van por buen camino, pero el parásito es recurrente, y muy invasivo, me encantaría poder conocer alguna manera de usar un insecticida natural y que pueda usar para eliminar este parásito.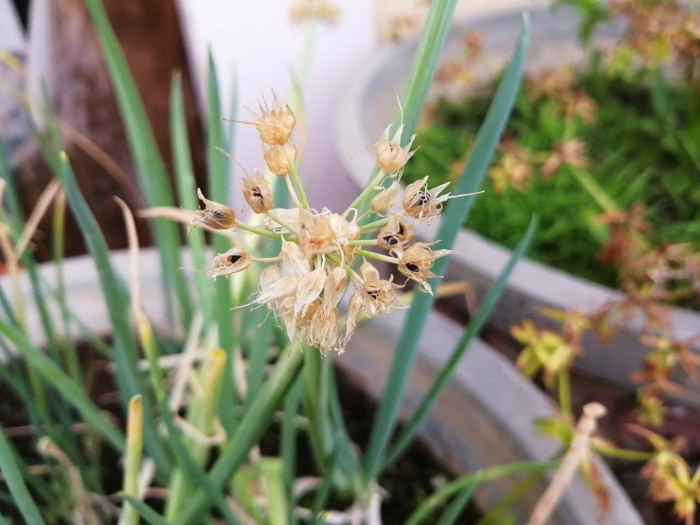 I invite you to plant your own chives and live the experience of enjoying your own food, they also help you manage internal energy.
If any member of the community knows of a solution to eliminating this pest, she would be very grateful.
Los invito a plantar su propio cebollin y vivan la experiencia de disfrutar de sus propios alimentos, además les ayudan a manejar la energía internal.
Si algún miembro de la comunidad conoce alguna solución para eliminar esta plaga, estaría muy agradecida.
With love // Con mucho cariño
Angelica7
---
Today I was able to read about this contest that has already happened, but I still share what I like about my garden, I also take the opportunity to invite you to follow
@riverflows
, to and get to know the
#naturalmedicine
community which always has great activities so that everyone can participate. Good vibes >Hoy fue que pude leer de este concurso que ya pasó, pero igual comparto esto que me gusta de mi jardín, también aprovecho a invitarlos a seguir a
@riverflows
, para y cononoce a la comunidad de
#naturalmedicine
la cual siempre tiene actividades geniales para que todos puedan participar. Buena vibra
Posted on NaturalMedicine.io
---
---
Historia original // Original story
Fotos: Propias, tomadas con mi teléfono Huawei
Edición: GYMP, PsX y Collage Mager
Translated with www.DeepL.com/Translator (free version)
---
---
Que nadie apague tu luz interior

---
- Minnow Support Project: Si todavía no estás en la comunidad ¿Qué estás esperando? >Minnow Support Project: If you are not yet in the community, what are you waiting for?
---
Te invito a conocer a:
Canales del Discord: @votovzla PAL-net @rutablochain @Cervantes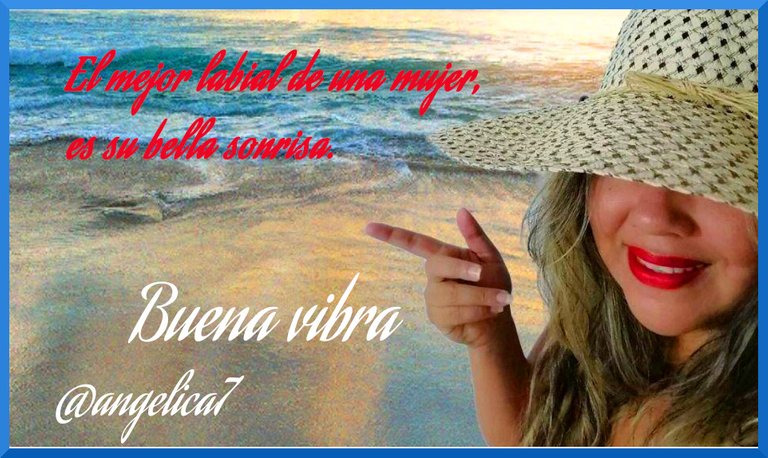 ---
Posted on NaturalMedicine.io