The #caturday has arrived and today I would love to tell you how the last few days have been with a kitten in heat... This post is written in double language, so you will find a text completely in English followed by one completely in Spanish.
Llego el #caturday y hoy me encantaría contarles como han sido los últimos días con una gatita en celo... Este post esta escrito en doble lenguaje, por lo que encontrara un texto completamente en ingles seguido de uno completamente en español.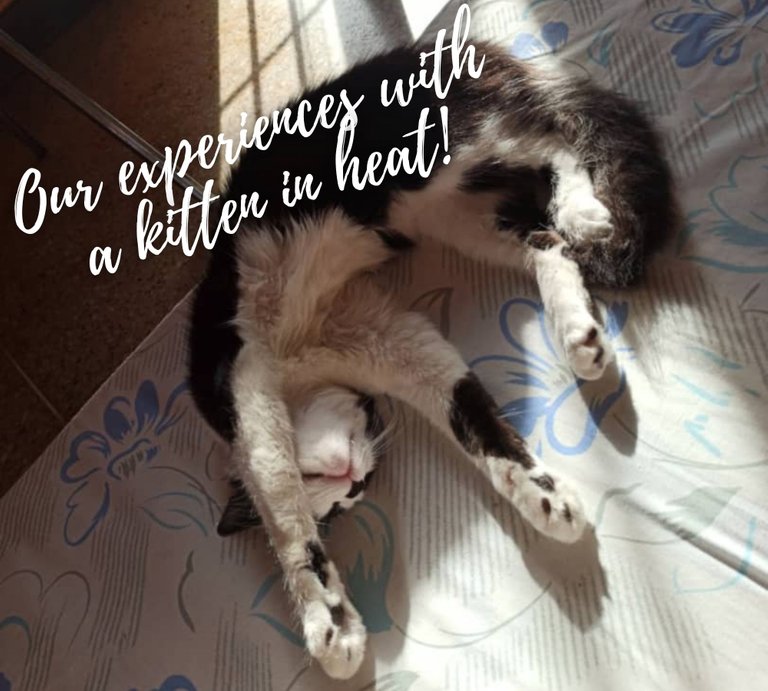 When we rescued Adiwaju we called a veterinarian to evaluate her, he told us that she was a kitten of perhaps 3 months and that the next step was to spay her, but then investigating better we decided that the most beneficial thing for her was to wait for her first heat to come because it is necessary for cats to receive the natural hormones that their body produces in order to grow. So we arrived at a house with 11 cats and our concern increased, (doing the right thing sometimes is not doing the common thing); Already here we looked for prices in the vets to take the cat as soon as necessary and also give us time to gather the money required for the operation.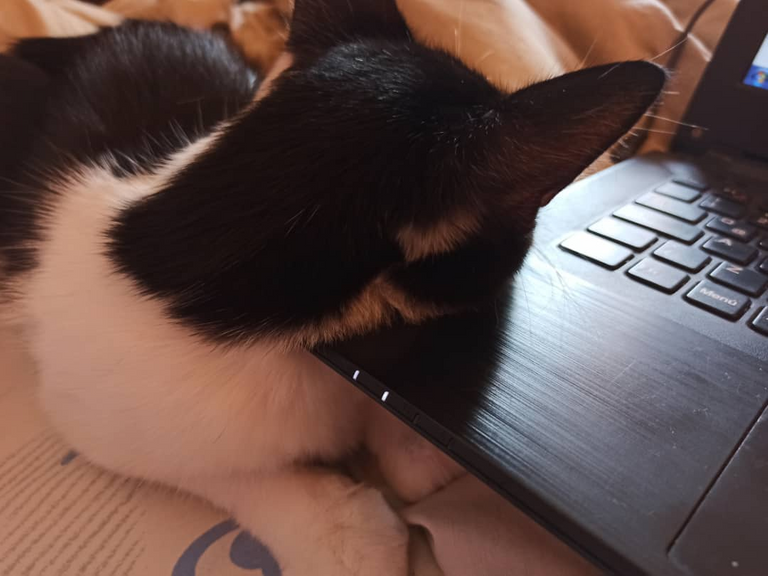 Adiwaju continued to grow, enjoying life with his new herd without any problems and following the advice of several experts we would only wait for at least two heats to pass. She is still a small kitten, she weighs about 700gr and maybe she is about 20cm tall, taking her ovaries away would only prevent her from growing more and that would be very selfish of us, but have you ever had a kitten in heat?
A week has passed since we started noticing some symptoms in the cat, symptoms that became evident as:
She was more affectionate than usual.
She has always been a loving kitten, she slept next to us since the first day she arrived, but lately she was closer, she would look for caresses at night, she would go inside the sheets, she would rub herself from me to carry her, or if I brought a toy to her she would just look for me to rub it on her coat. "I just thought... Ah no, I'm sure she discovered that she loves me too much" hahaha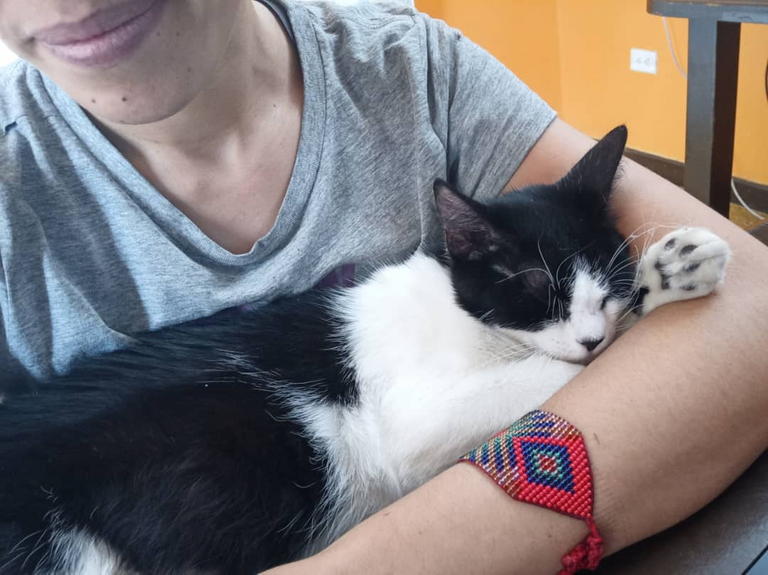 He began to lift his little tail and with a very strange high-pitched purr.
One day in the morning, very early as usual, we found ourselves serving food to the cats, Adiwaju began to rub her chest and face with a kitchen cloth that was on the counter and our landlady, who is a cat expert, told me with a certain voice that the cat was in heat.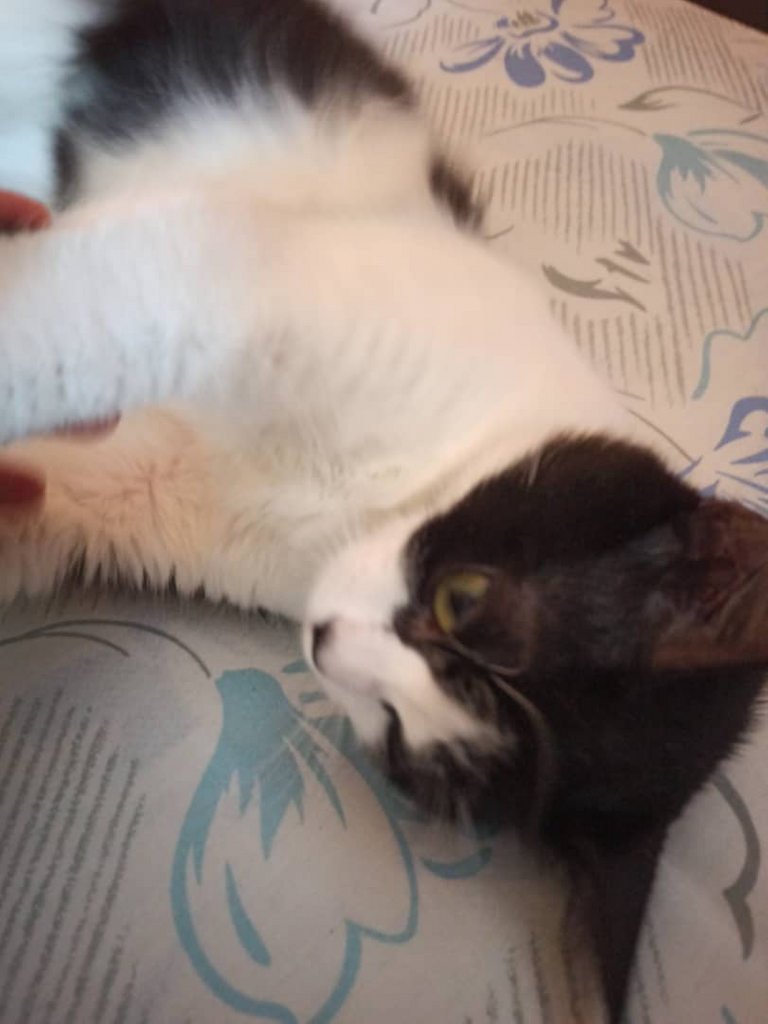 And indeed in the course of the day we noticed that the cat now passed by the cats raising her tail, bending her chest and making a sound very similar to that of ducks when they are playing (throat sound).
Los gatos machos comenzaron a querer montarla.
Of course, after that dedication and affection that the cat demanded, some cat would want to look for her, since the cats here are all spayed but in the same way, they were in a state of confusion with all these typical miaows of the heat.
After a while it began to become more frequent and the cat began to be more restless and noisy every day, in the same way we put her in at night so that they don't get into fights and she sleeps.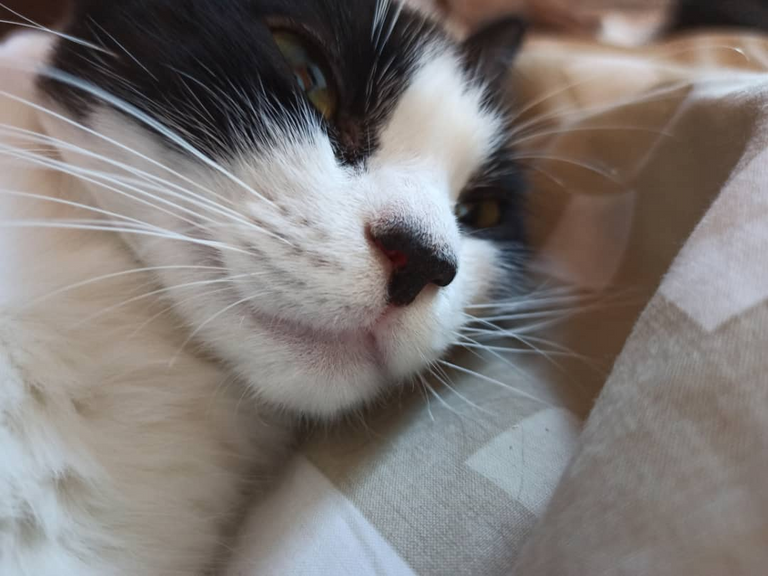 Some of the things we noticed:
Cats, despite being sterilized, are sensitive to smell and the communication they generate after meows, all while 2) They make a war of demarcating territory and in the same way that they are known to be the alpha. 3)Everyone protects and worries about the cat, actually most of the males only let her do what she wants without bothering her, because she is the only female with hormones left.
Very humane behavior if you look at it closely. Animal nature giving us reasons to clean up more.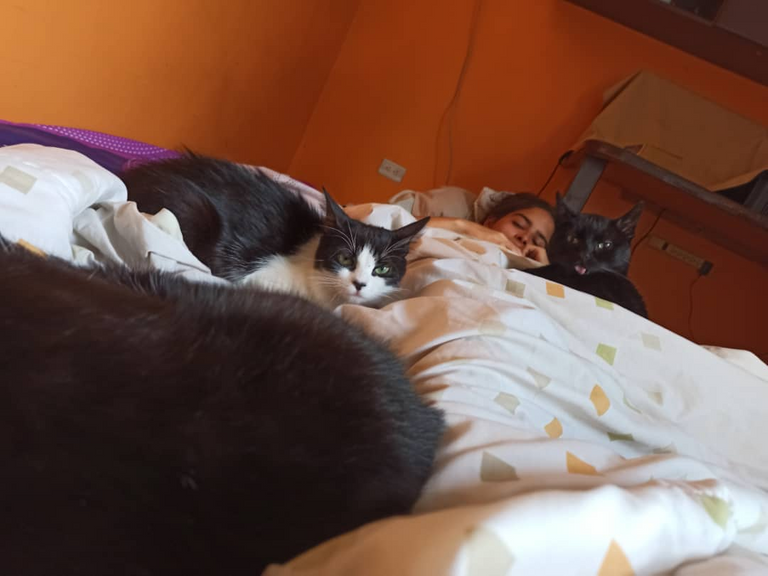 Some solutions we found.
1)Being a puppy it is always necessary to play with it, to keep it distracted and draining its energy so that it does not suffer from anxiety at night. 2)Feed her very well, at the beginning when we rescued her we gave her a very big amount of protein since we didn't know what the necessary amount was, but thanks to this the cat recovered very fast. So we assume that it will be a good thing this time too. 3)Massages on her abdomen and on the upper part of her tail, it seems that this calms her down a lot, some massages like scratching her below her belly, and others scratching her on the bone they have before starting the tail.
At the moment it is calming down little by little, we will wait to give him another heat at least to have hormones and can grow a little more, always have to make some extra efforts or prepare better for when they return to reach those days that seem to be very close.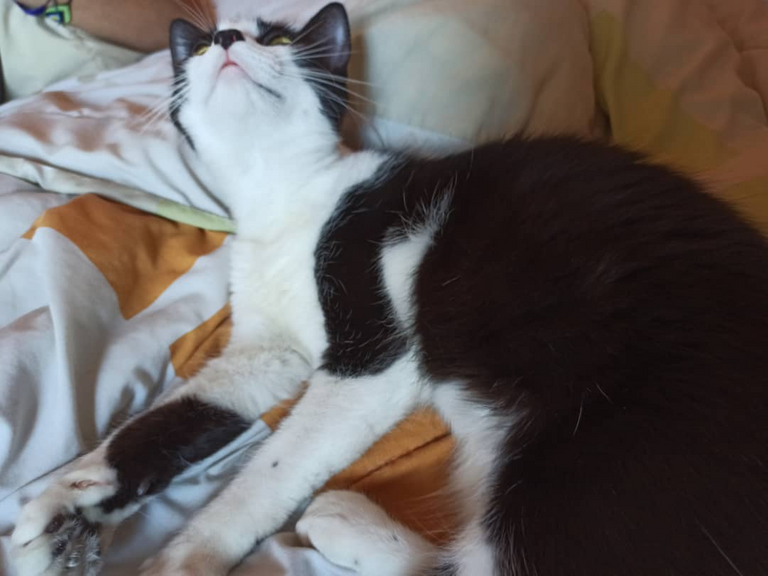 I hope you enjoyed reading this colorful story of a loving kitten.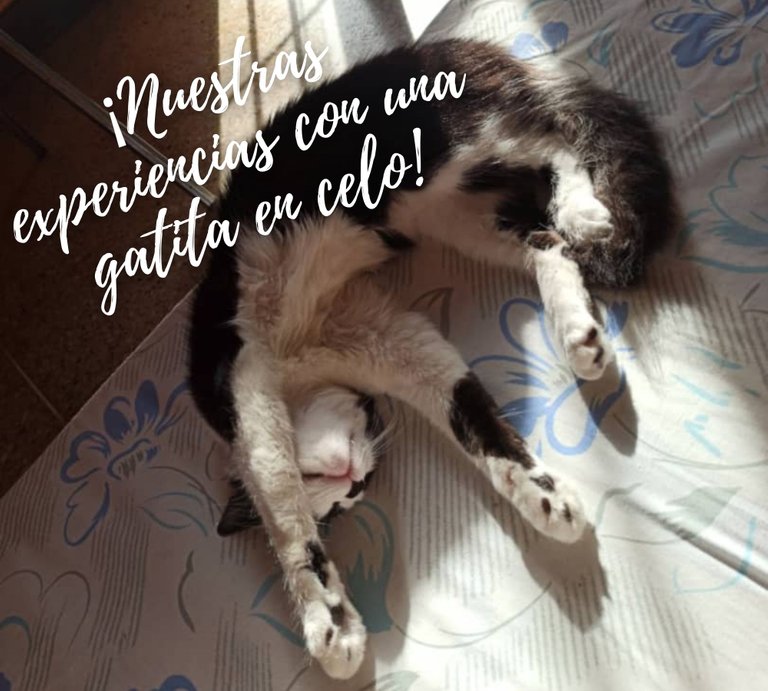 Cuando rescatamos a Adiwaju llamamos a un veterinario para que la evaluará, nos dijo que era una gatita de quizás 3 meses y que el siguiente paso era el de esterilizarla, pero luego investigando mejor decidimos que lo más beneficioso para ella era esperar a que su primer celo llegara debido a que es necesario que los gatos reciban las hormonas naturales que su cuerpo produce para crecer. Así llegamos a una casa con 11 gatos y nuestra preocupación aumento, (hacer lo correcto en ocasiones no es hacer lo común); Ya aquí buscamos precios en los veterinarios para llevar a la gata tan pronto sea necesario y además nos diera tiempo de reunir el dinero requerido para la operación.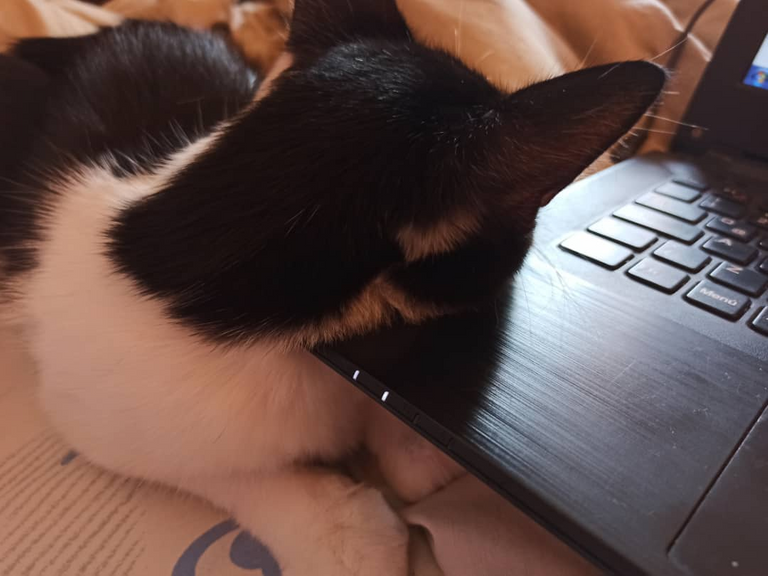 Adiwaju siguió creciendo, disfrutando la vida con su nueva manada sin problemas y siguiendo el consejo ya de varios conocedores solo esperaríamos a qué por lo menos pasaran dos celos. Es una gatita pequeña aún, pesa al rededor de 700gr y quizás mida unos 20cm de alto, quitarle sus ovarios solo impediría que pudiese crecer más y eso sería muy egoísta de nuestra parte, pero ¿alguna vez han tenido una gatita en celo?
Una semana ha pasado desde que comenzamos a notar algunos síntomas en la gata, síntomas que se fueron haciendo evidentes como:
Estaba mas cariñosa que de costumbre.
Siempre ha sido una gatita cariñosa, duerme junto a nosotros desde el primer día que llego, pero últimamente estaba mas cercana, buscaba caricias en la noche, se metía dentro de las sabanas, se frotaba de mi para que la cargara, o si le acercaba un juguete ella solo buscaba que lo frotara sobre su pelaje. "Solo pensé... Ah no, seguro es que descubrió que me ama demasiado" jajajaja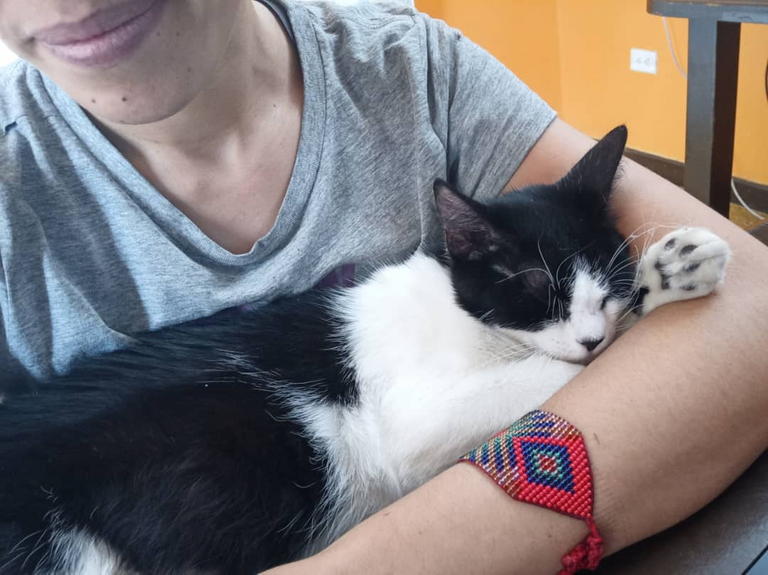 Comenzó a levantar la colita y con un ronroneo agudo muy extraño.
Un día en la mañana muy temprano como de costumbre nos encontrábamos sirviendo le la comida a los gatos, Adiwaju se comenzó a frotar el pecho y el rostro con un paño de cocina que estaba sobre el mesón y nuestra arrendadora quien es conocedora de gatos, me dice con voz certera que la gata estaba en celo.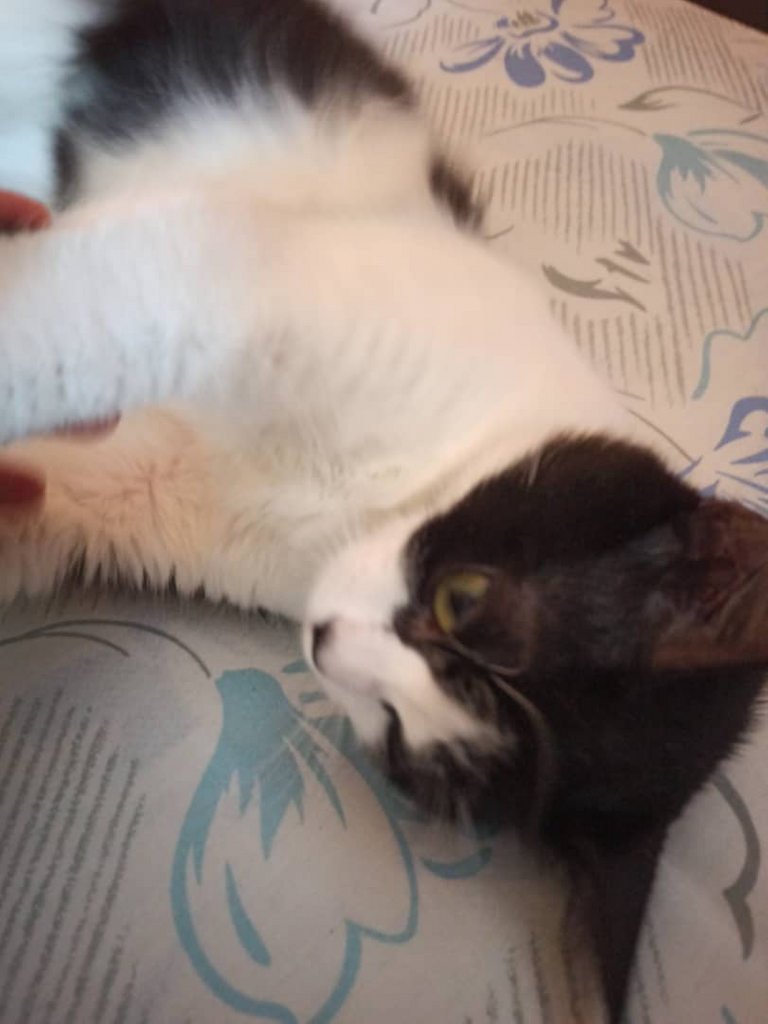 Y efectivamente así en el transcurso del día nos fuimos dando cuenta de que la gata ahora pasaba al lado de los gatos levantando su cola, agachaba el pecho y hacia un sonido muy parecido al de los patos cuando están jugando (sonido de garganta).
Los gatos machos comenzaron a querer montarla.
Claro que después de aquella entrega y cariño que la gata exigía, algún gato iba a querer buscarla, pues los gatos de aquí están todos esterilizados pero de igual forma se encontraban alborotados con todos estos maullidos típicos del celo.
Al poco tiempo comenzó a hacerse mas seguido y la gata comenzó a estar mas inquieta y mas ruidosa cada día, de igual forma la metemos de noche para que no se armen trifulcas y ella duerma.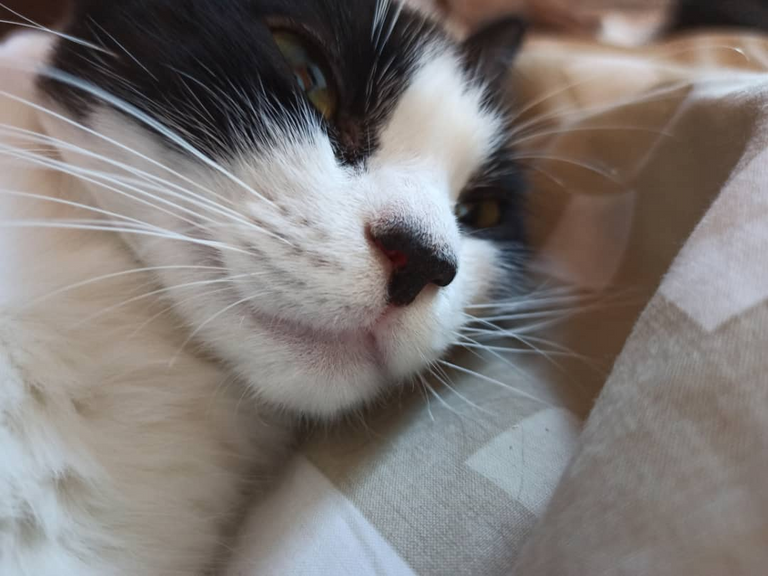 Algunas de las cosas que notamos:
1)Los gatos a pesar de estar esterilizados, tienen sensibilidad al olfato, ademas de la comunicación que generan tras los maullidos, todo esto mientras 2)Hacen una guerra de demarcar el territorio y de ese mismo modo que se sepa que ellos son el alfa. 3)Todos protegen y se preocupan por la gata, realmente la mayoría de los machos solo la dejan que haga lo que quiera sin molestarla, porque es la única hembra con hormonas que queda.
Conductas muy humanas si lo vemos de cerca. La naturaleza animal dándonos razones para limpiar más.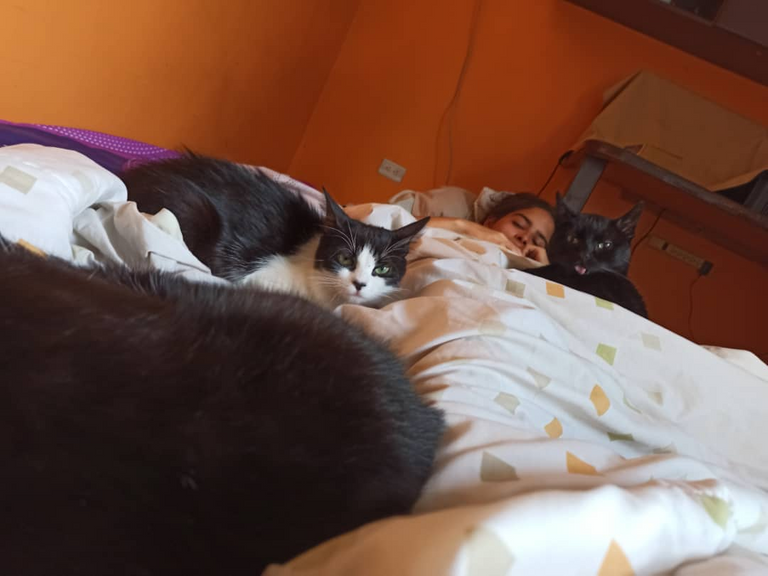 Algunas soluciones que encontramos.
1)Al ser una cachorra siempre es necesario que juguemos con ella, para mantenerla distraída y drenando su energía para que no sufra de ansiedad en la noche. 2)Alimentarla muy bien, Al comienzo cuando la rescatamos le dábamos una cantidad muy grande de proteína ya que no sabíamos cual era la cantidad necesaria, pero gracias a esto la gata se recupero muy rápido. Por lo que suponemos que también sera algo bueno en esta ocasión. 3)Masajes en su abdomen y en la parte superior de su cola, al parecer eso la calma muchísimo, unos masajes como rascandole mas abajo de la pancita, y otros rascandole en sobre el hueso que tienen antes de comenzar la cola.
Por los momentos ya se esta calmando poco a poco, esperaremos a que le vuelva a dar otro celo por lo menos para que tenga hormonas y pueda crecer un poco mas, siempre habrán que hacer algunos esfuerzos extras o prepararse mejor para cuando vuelvan a llegar esos días que al parecer están muy cercanos.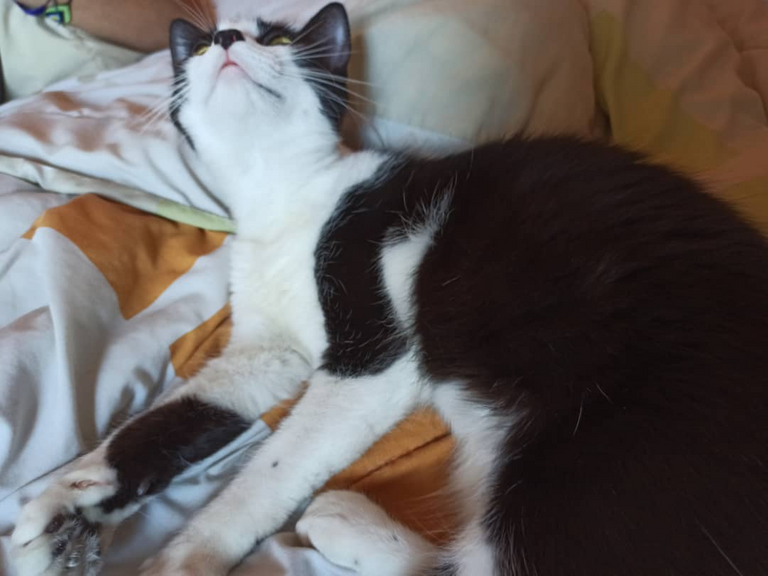 Espero hayan disfrutado de leer esta colorida anecdota de una gatita amorosa.