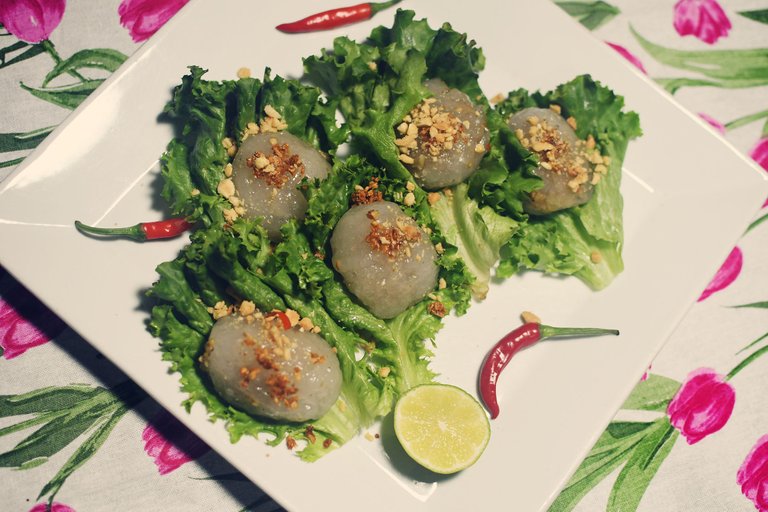 This week on weekly plant based challenge 6 we had choices both from the sweet and savory side. I chose one item for the first time. I chose tapioca. This was on the sweet side but as I am a bit of a rebel, I chose to use tapioca in a savory dish. Perhaps this is a disqualifier but I will go ahead anyway.
I was born in Thailand and came to Canada when I just turned four. I have a recollection of having eaten something that I loved sometime during those four years. My mother stopped cooking special things when we came to Canada. She got sick right away.
Three years ago I remembered these tapioca balls that I had eaten in Bangkok as a child. They were stuffed with meat. I looked into it and found the thing that I used to eat. By that time I had stopped eating animal products. I tried making them veganized. It turned out pretty good except that I couldn't really put too much into it. At the time we were living with Marc's parents. It was difficult to use the kitchen freely.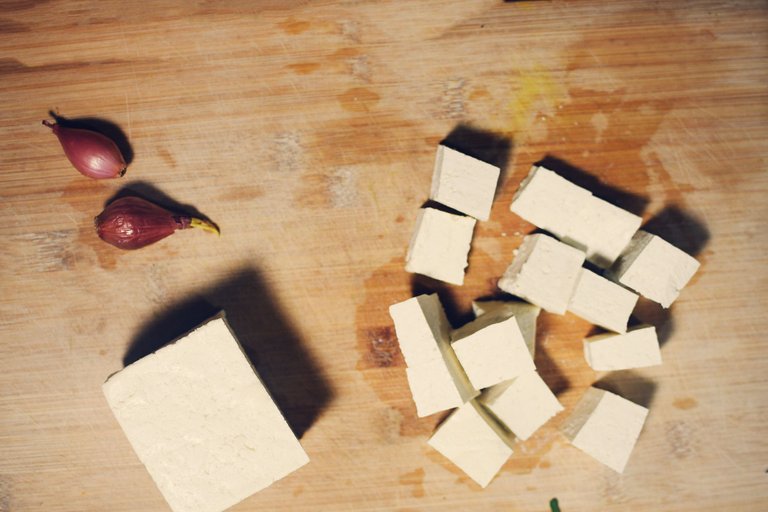 There are probably many ways to do a plant based version but this was the most available to me.
I did the plant based version my way. I used tofu and mushroom as the base.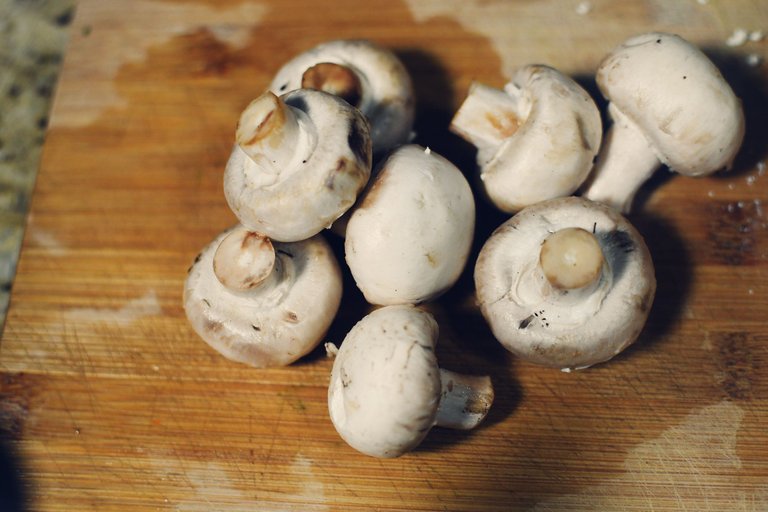 The sago needs to be soaked for around fifteen minutes. Some recipes say hot water but I used room temperature and it was fine.
At first I started with 1 cup but ended up using all of the bag which was around four cups. I added a cup of water for each cup.
After a few minutes massage it gently to soften it but don't turn it into a paste. I like the texture of the little balls.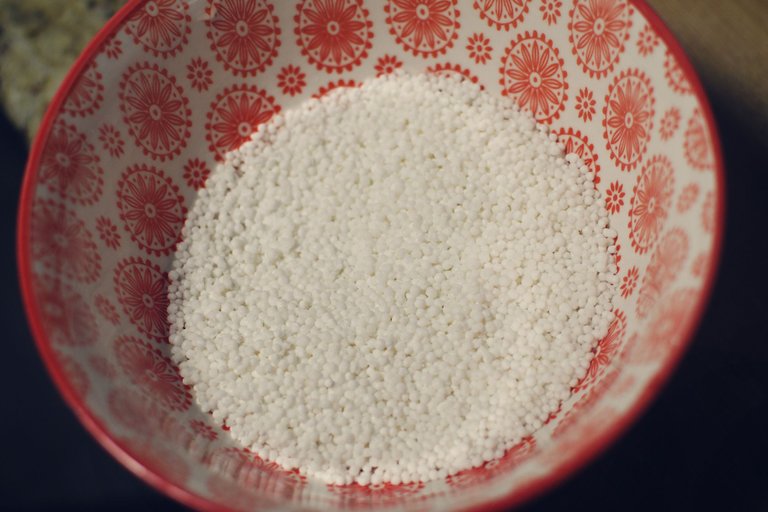 Stuffing
Half a brick of tofu (around 3 cups shredded)
2 cups shredded mushrooms
1 small onion finely diced
2 or 3 shallots minced
3 or 4 garlic cloves minced
1/2 cup chopped preserved radish
1/4 cup chopped peanuts
2 table spoons chopped cilantro
1 teaspoon minced ginger
2 or 3 red chilies (if you like the heat)
3 tablespoons of soy sauce
Juice of a lime
3 tablespoons tapioca flour or more if needed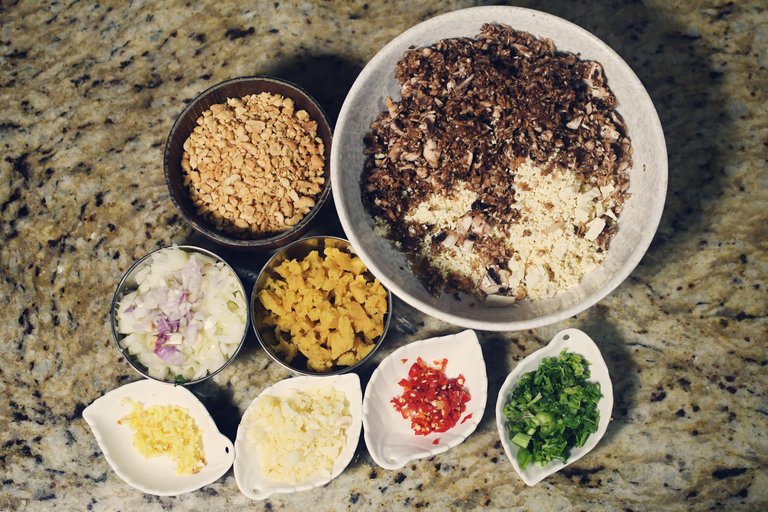 Start by cooking onions, garlic, ginger and cilantro than add the other items.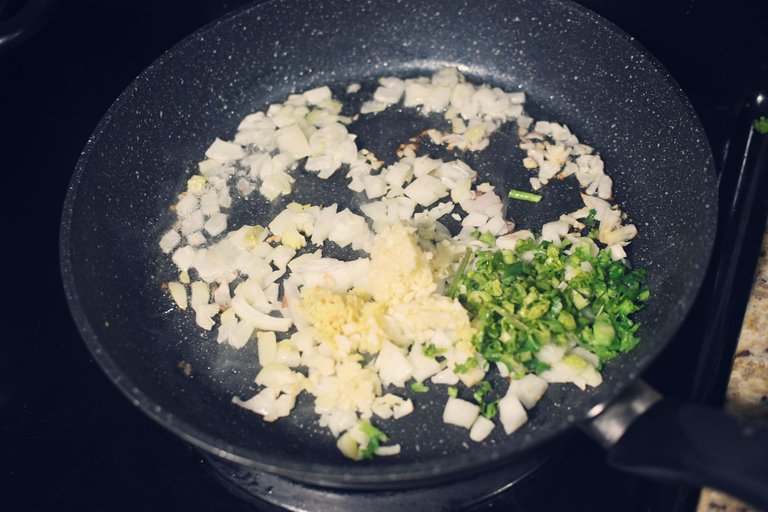 I added around three tablespoons of tapioca flour to hold it together. I could have added a lot more and made it easier, but I didn't want to take the flavors away.
There was just enough to be able to gently form a ball. It doesn't need to be a ball really. You will destroy the shape anyway.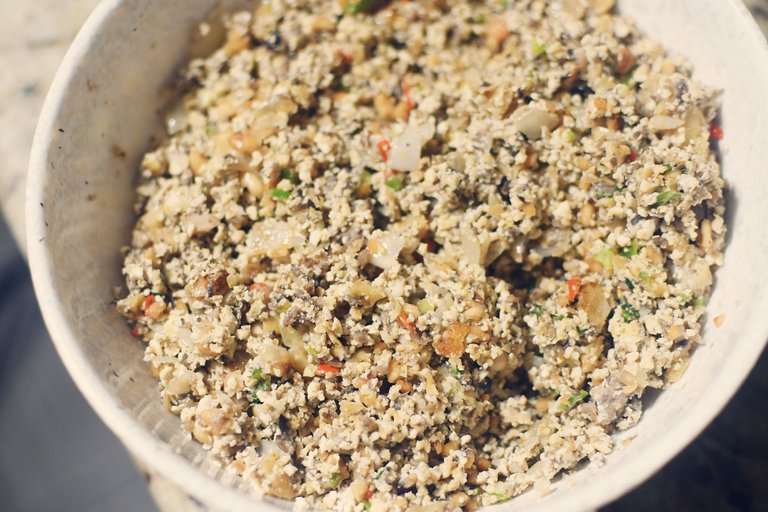 I'm not a pro so I did it my way. I made balls half the size of golf balls then put them in the fridge for half an hour.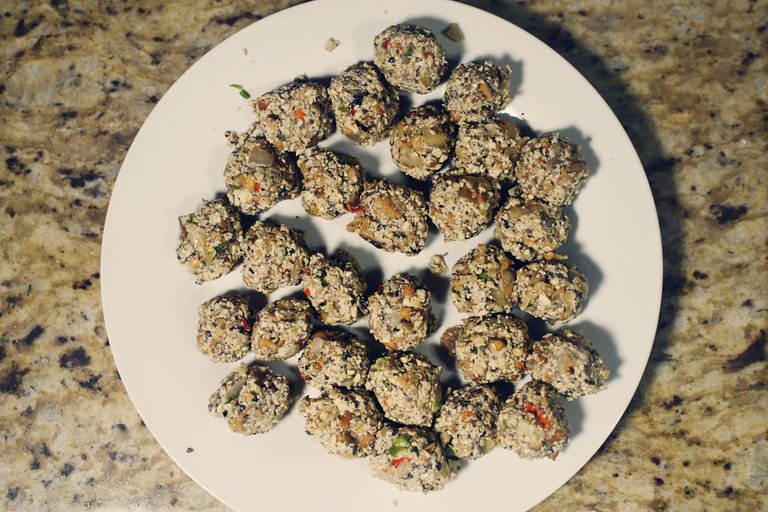 Make a ball with the tapioca that is bigger than the filling, then flatten it. Hold it in your hand and add the filling. Carefully pull up the sides and cover with tapioca. This requires patience for someone like me who has not done this more than twice. I intend to do this many more times though.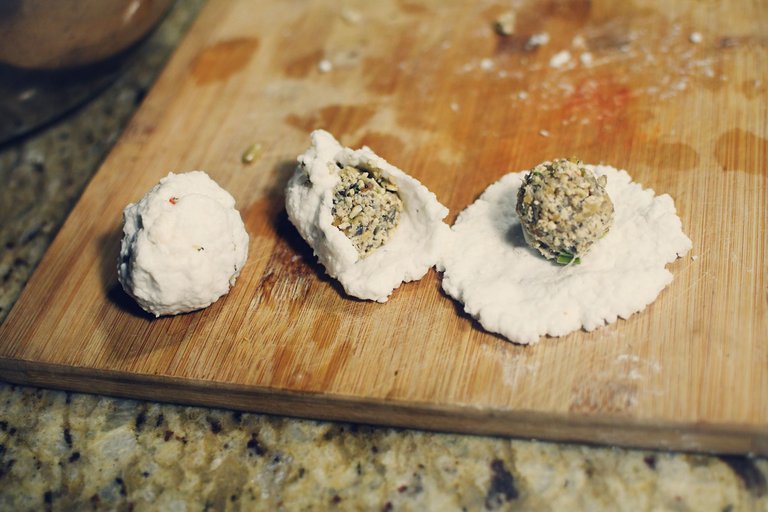 I used a bamboo steamer to cook them but I made the mistake of not lining it. They stuck and were difficult to remove. Fortunately I had many left that were not cooked so I lined the steamer with parchment. I would have used banana leaves but I ran out.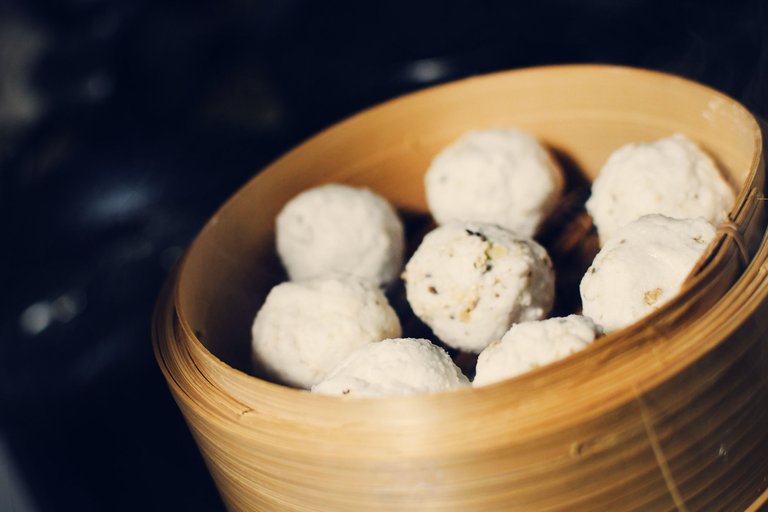 The common garnish is fried garlic in oil.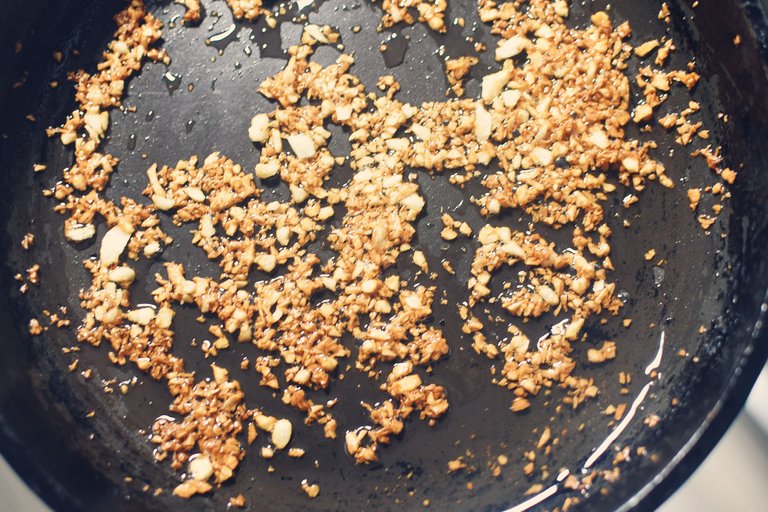 It is usually served in a lettuce leaf. In Thailand leaf lettuce is usually the main one used.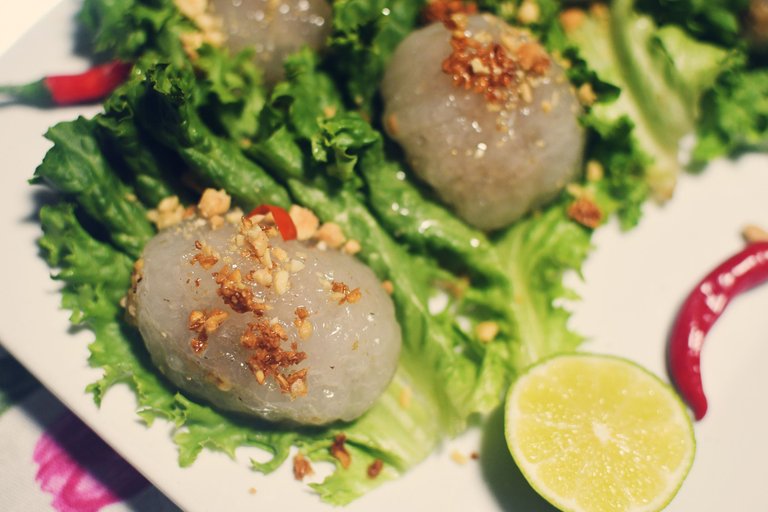 I don't know if it's something that is done with this but I sprinkled extra crushed peanuts as well as the fried garlic.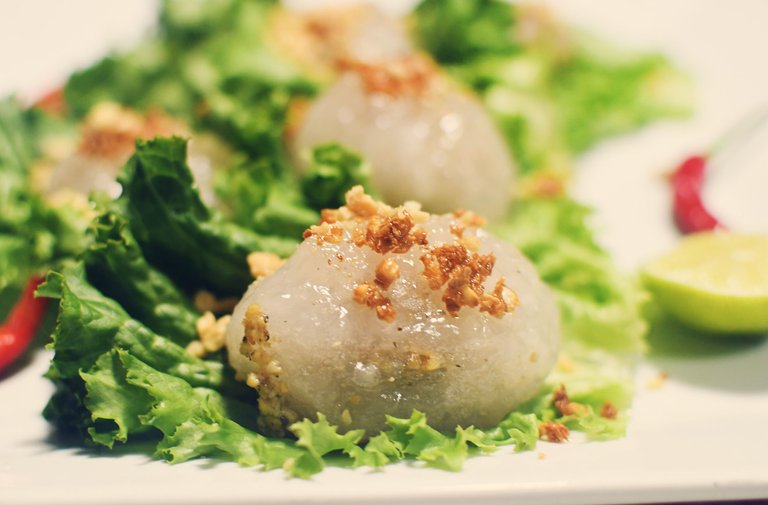 After wrapping it in a lettuce leaf, you pop it in your mouth.
Thank you Marc for your participation.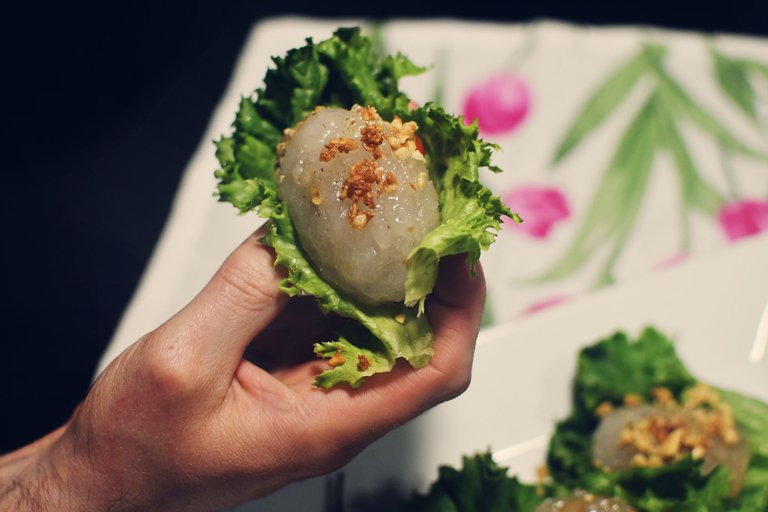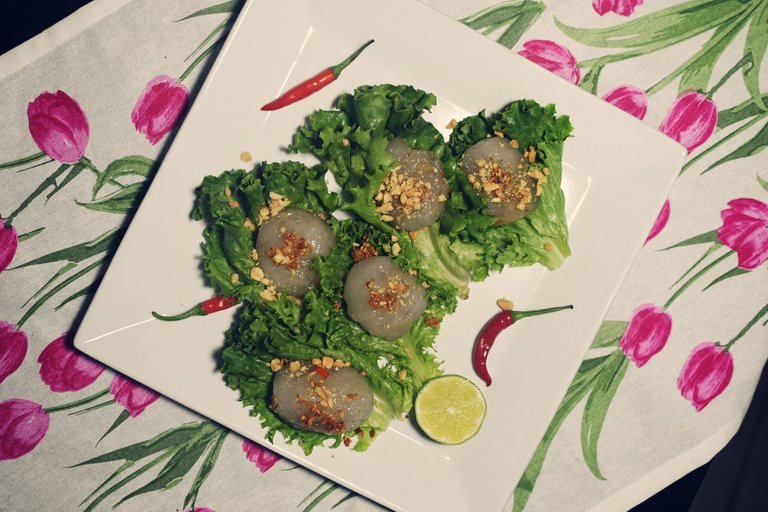 I just couldn't get enough of this. The plant based version is light so you can eat them all!
Thank you for stopping by folks!

design by: @KidSisters