Un ritual por la familia
Desde que comencé a trabajar mi espiritualidad asistiendo a ceremonias de Ayahuasca, e incluso más cuando obtuve las Runas, siempre tuve el anhelo de llegar a tal punto de confianza y expansión como para dirigir un ritual que involucrase a mis hermanas. Ellas son mujeres de gran poder, y una en particular tiene perspectivas inamovibles que le hacen difícil confiar en la habilidad de otros. Sin embargo, es ella en este momento la que necesita más ayuda y así me lo hizo saber ayer.
Su esposo se encuentra en Estados Unidos desde hace algunos años, y está pasando por un momento muy complicado. Ella naturalmente quiere ayudarlo con todo lo que tiene, pero la distancia y las dificultes financieras la restringen considerablemente en ese respecto, así que me pidió una lectura de Runas para descubrir qué debía hacer. La lectura al principio fluyó sin interrupciones y las piedras le dieron muchos mensajes específicos que no eran, sin embargo, lo que ella estaba buscando, y así me lo comunicó. Así que varié por completo el trabajo y convertí la lectura en un ritual, invitando a mi otra hermana a unírsenos. Sin guardar las tres Runas originales que ya había estado leyendo, extraje otras cuatro Runas de la bolsa y las organicé como corona sobre las anteriores. Luego les pedí a ellas que respirasen profundamente y visualizasen a mi cuñado en un nuevo estado de libertad personal.
El ritual fue corto pero hermoso y, aún más importante, mi hermana se sintió más tranquila y determinada al terminar. Mi sentimiento ahora es de enorme logro, pues ya he cruzado un umbral importantísimo que estuvo en mi visión por años. No fue ni por asomo la única señal de apertura y poder durante el día, además. Esto es lo que estoy llamado a hacer y lo hago con gran dicha.
A ritual for the family
Since I began to work on my spirituality attending Ayahuasca ceremonies, and even more when I obtained the Runes, I always wanted to reach such a level of trust and expansion that I could head a ritual that involved my sisters. They are women of great power, and one of them in particular has unmovable perspectives that make it difficult for her to trust the skills of others. However, she is currently the one who needs more help and she told me as much yesterday.
Her husband is living in the United States for a few years now, and he is going through a very complicated time. Naturally, she wants to help him with everything she has, but the distance and financial constraints restrict her considerably in this regard, so she asked me for a Rune reading to discover what she had to do. At first the reading flowed without interruptions and the stones gave her many specific messages which were, nevertheless, not what she was looking for, and she told me so. I therefore completely changed the work and turned the reading into a ritual, inviting my other sister to join us. Without storing the three original Runes that I had been reading, I extracted four more Runes from the bag and organized them as a crown above the previous ones. I then asked them to breathe deeply and visualize my brother-in-law in a new state of personal freedom.
The ritual was short but beautiful and, even more importantly, my sister felt lighter and more determined upon finishing it. My feeling now is one of enormous achievement, for I have crossed a very important threshold that had been in my vision for years. Additionally, this was not in the slightest the only sign of opening and power during the day. This is what I am called to do and I do it with great joy.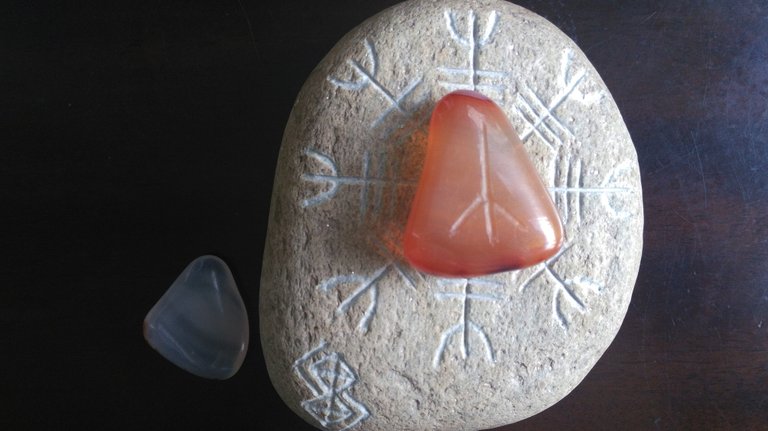 Runa nocturna: Kenaz
Tesoros guardados y dones reservados. Alegría infantil. Celebraciones y distracciones potentes.
Mensaje diurno: Algiz invertida
Vulnerabilidad, desnudez. Sospechas sobre las intenciones de ciertos individuos. Es imposible crecer sin tomar riesgos, exponte y ofrece tus sacrificios voluntarios, el Universo sabe recompensar. Haz recuento de todas tus opciones e instrumentos, planifica cómo dar buen uso a lo que sabes. No dilates tu estadía en lugares que te incomodan, presta atención a tus corazonadas. El cuerpo es tu mejor trípode, puedes estabilizarte incluso en terreno irregular. Abre todos los canales, estúdialos, así sabrás cuáles son productivos y cuáles te drenan. Observa tus programas, somételos al escrutinio de otros, el descubrimiento es siempre un salto de fe. Quien comparte de buena gana siempre tiene en abundancia.
Night Rune: Kenaz
Stored treasures and reserved gifts. Childlike joy. Celebrations and potent distractions.
Daylight message: Algiz inverted
Vulnerability, nakedness. Suspicions about the intentions of certain individuals. It is impossible to grow without taking risks, expose yourself and offer your willing sacrifices, the Universe knows about rewards. Do a recount of all your options and instruments, plan on how to make good use of what you know. Do not delay your stay in places that discomfit you, pay attention to your hunches. The body is your best tripod, you may find stability even on irregular terrain. Open all channels, study them, thus you shall know which ones are productive and which ones drain you. Observe your programs, subject them to the scrutiny of others, discovery is always a leap of faith. Those who share in good will always have in plenty.

This and all of my daily readings are part of my shamanic service to the community and the whole world.
---
Esta y todas las lecturas diarias son parte de mi servicio chamánico a la comunidad y al mundo entero.
---
Para servicios personales / For personal services
drrune#6424 // +584129966082
---