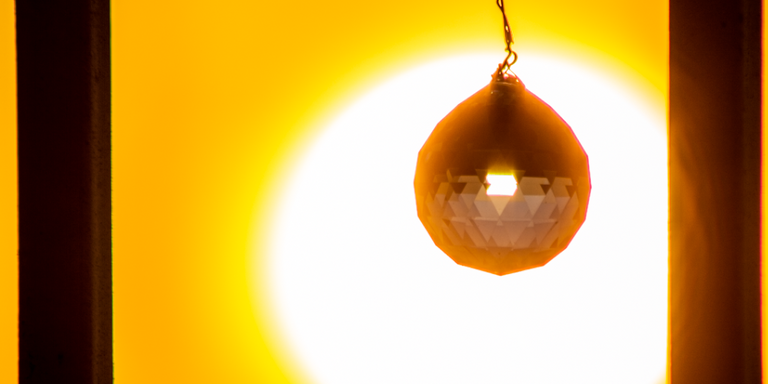 Turning our eyes from the Illusion
A few days ago I was listening on YouTube to a teacher of meditation called John Butler who was talking about God, and something said caught my attention: "I'm the obstacle", referring to the fact that the more convinced we are about the reality of the material illusion, the less we allow the passage of the Light of Divine Consciousness and, therefore, the unhappier and more complicated our lives are. In other words, we're our own obstacles for our evolution.
If we refer back to the famous Myth of the Cavern by Plato, we'll see the same idea expressed very simply. In a grotto many people are sitting with their eyes fixed on the background wall while a fire burns at their backs, so that they see their shadows projected on the wall moving as if they had a will of their own, and thus they're convinced that's life. However, one of those present decides to turn around and notices the fire, but even more, he sees the exit of the cavern and the light of the Sun streaming in through it. The curious one understands then that the game of shadows on the wall is a lie.
Similarly, our physical life is made out of fictions, opinions, dilemmas, concepts, names, identities... none of that is true, they're all illusions, masks, and they distract us from that Profound Light at our backs. The more we focus on these illusions, the more opaque we are and hence, the less we can feel and see that Light that already exists within us all anyway. As we elevate our vibration, the opacity declines, we become more transparent and so does the world around us, revealing that great Truth. So the work of awareness is alchemizing that density with which we came into this world, gain more transparency (honesty, coherence, vulnerability) and thus become increasingly cleaner channels for that Light.
Apartando nuestra mirada de la Ilusión
Hace unos días estaba escuchando en YouTube a un maestro de meditación llamado John Butler quien conversaba sobre Dios, y me interesó mucho algo que dijo: "Soy el obstáculo", refiriéndose al hecho de que mientras más convencidos estamos sobre la realidad de ilusión material, menos permitimos el paso de la Luz de la Consciencia Divina y, por lo tanto, más infelices y complicadas son nuestras vidas. Es decir, somos nuestros propios obstáculos para nuestra evolución.
Si nos vamos al famoso Mito de la Caverna de Platón, veremos esta misma idea expresada de una forma muy sencilla. En una gruta muchas personas están sentadas con sus ojos fijos a la pared del fondo mientras un fuego arde a sus espaldas, de tal manera que ven sus sombras proyectadas en la pared moviéndose como si tuviesen voluntad propia, por lo que están convencidos de que esa es la vida. No obstante, uno de los presentes decide voltear y se percata del fuego, pero más aún, ve la salida de la caverna y la luz del Sol entrando a ella a raudales. El curioso entonces comprende que ese juego de sombras en la pared es una mentira.
De la misma forma, nuestra vida física está hecha de ficciones, opinions, dilemas, conceptos, nombres, identidades... nada de eso es verdadero, son sólo ilusiones, máscaras, y nos distraen de la simpleza de esa Luz Profunda a la que le damos la espalda. Mientras más enfocados estemos en estas ilusiones, más opacos somos y por ende, menos podemos sentir y ver esa Luz que de todas formas ya existe en nosotros. A medida que elevamos nuestra vibración, la opacidad se reduce, nos transparentamos y el mundo a nuestro alrededor también se transparenta, revelando esa gran Verdad. El trabajo consciente es, pues, ir alquimizando esa densidad con la vinimos a este mundo, volvernos más transparentes (honestos, coherentes, vulnerables) y así convertirnos en canales cada vez más limpios para esa Luz.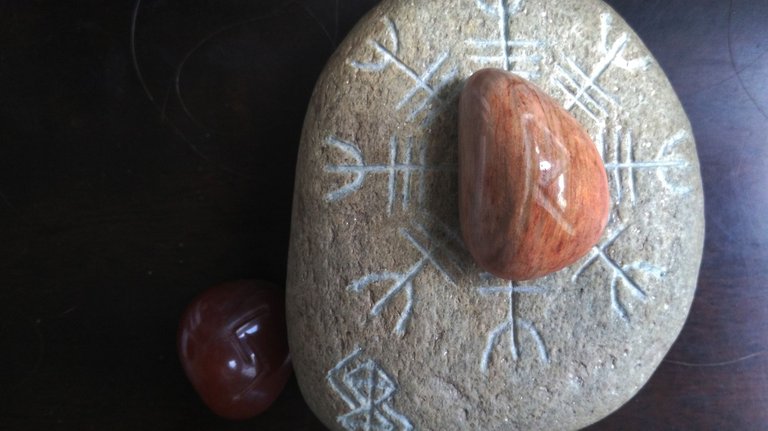 Night Rune: Jera
Trips, parties and family gatherings. Movements to secret locations. Bodily transformation through memories.
Daylight message: Raidho
Circle, dance. Recognize and take advantage of the connection you have with your surroundings, with your tribe; loneliness and shadow are illusions, but the fire of the spirit is real. Events of the past repeat almost to perfection, giving you the opportunity to make different decisions. Inquire into your memories, what you see now you have seen before and will see again. Every word said and action performed return, observe the consequences that you are living today and modify your attitude in accordance with tomorrow. Everything moves, nothing remains static, join the elliptical dance of stars and planets, commune with Creation. Actively engage in the revelation and construction of different realities, do not think of the result, it is the process that matters.
Runa nocturna: Jera
Viajes, fiestas y reuniones familiares. Movimientos a locaciones secretas. Transformación corporal a través de memorias.
Mensaje diurno: Raidho
Ronda, baile. Reconoce y aprovecha la conexión que tienes con tu entorno, con tu tribu; la soledad y la sombra son ilusiones, pero el fuego del espíritu es real. Eventos del pasado se repiten casi a la perfección, dándote la oportunidad de tomar decisiones distintas. Investiga tus memorias, lo que ves ahora lo has visto ante y lo verás de nuevo. Toda palabra dicha y acción realizada retornan, observa las consecuencias que vives hoy y modifica tu actitud en concordancia con el mañana. Todo se mueve, nada permanece estático, únete a la danza elíptica de estrellas y planetas, comulga con la Creación. Participa activamente en la revelación y construcción de realidades distintas, no pienses en el resultado, es el proceso lo que importa.

This and all of my daily readings are part of my shamanic service to the community and the whole world.
---
Esta y todas las lecturas diarias son parte de mi servicio chamánico a la comunidad y al mundo entero.
---
Para servicios personales / For personal services
drrune#6424 // +584129966082
---