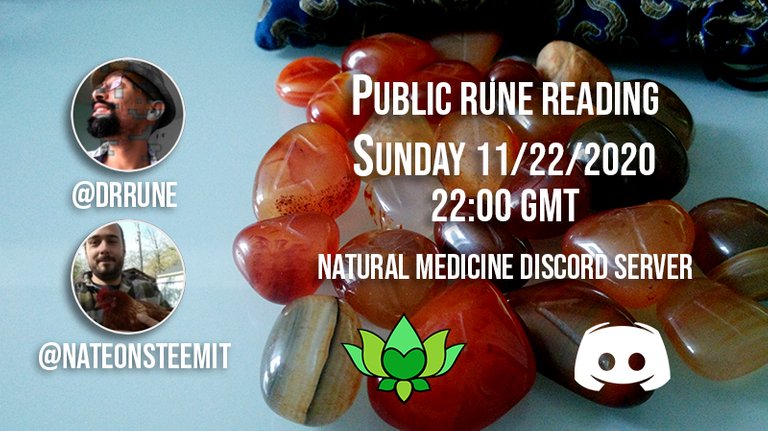 ---
Hello, my friends! As you know, one of my specialties is working with the Runes, an ancient oracle that traces its origins back to the time of the first Germanic tribes and perhaps much earlier. I've been using them for the past two and a half years and they've been key to my personal development and spiritual process during that time.
I know many of you are intrigued by this oracle and would like to know more about how it works. I've done private readings for certain members of the community, such as @vincentnijman and @riverflows, which have remained so (although Vincent did share a post about it at the time.)
Now, @nateonsteemit has asked me for a reading and suggested that it be made public on the Natural Medicine Discord server, and you're all invited to join! This is the first time that I'll offer this service in such an open setting and I'm quite excited. If you're interested in knowing more about the Runes and my service with them, or if you've actually been thinking of asking me for a reading but haven't made your mind, this is the chance to see a real-life demonstration of the process.
The reading will take place on Sunday, November 22nd, at 16:00 Texas Time, 18:00 Caracas Time, 22:00 GMT, on NM's TALKING CIRCLE. I'll start by explaining a bit about the Runes and how I do the readings, and then I'll go right to the point. After Nate is satisfied and the ritual is closed, I'll answer any questions that may arise and you can ask me for a reading of your own if you want.
Hope to see you all there! Blessings!

---
Para servicios personales / For personal services
drrune#6424 // +584129966082
---