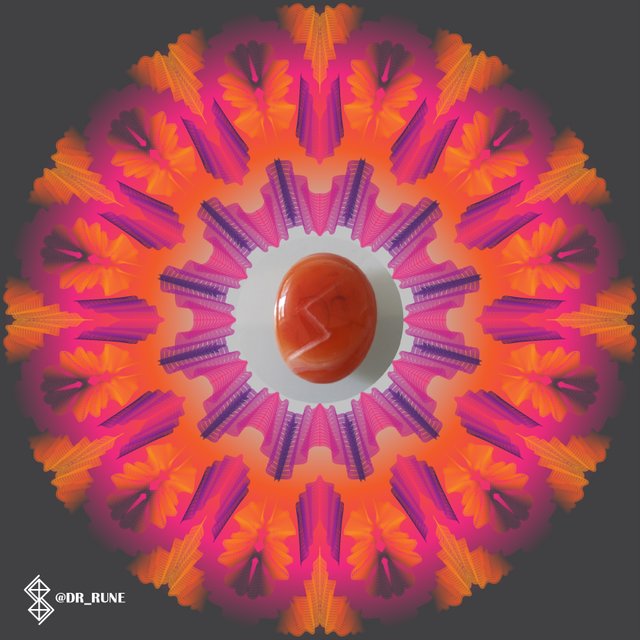 ---
Para esta Runa sentí la influencia de varios astros, el Sol, Marte y Júpiter además de Venus y Plutón. Finalmente me decanté por estos dos últimos pues de alguna manera contienen la energía de los demás (y también para facilitar mi trabajo gráfico), pero me pareció pertinente mencionar este hecho a los lectores ¡Bendiciones a todos!
Sowelo. Fulgor, Sol, Paz
Exaltación, enaltecimiento, majestad. Ve a todos a tu alrededor con los ojos del Amor y reconocerás su gloria. Observa tu entorno y reconocerás la perfección de la Creación, manifiesta y refulgente. En las sombras más profundas brilla una Luz imperecedera, toma consciencia de esto, agradece y suelta la angustia, todo está bien. Deja entrar la alegría, permite que tu corazón florezca, acepta tu fortuna. Ríe y celebra la vida, estamos aquí un instante y nos unimos con el Flujo luego. Con el retumbar de tambores y el ardor del fuego, se abre la cortina y se deshacen los velos. Recuerda las verdades de tu infancia, son tan ciertas ahora como entonces, hay un poder en tu interior que es indestructible. Lo sagrado es cotidiano, la santidad es permanecer aquí y servir con sencillez y humildad. Todo tiene un justo lugar, incluso lo terrible. Todo puede ser apreciado, todo puede elevar el placer de respirar y sentir, la elección es y siempre ha sido tuya.
Chakra: Corazón
Planetas: Venus, Plutón
For this Rune I felt the influence of various astral bodies, the Sun, Mars and Jupiter in addition to Venus and Pluto. Ultimately I leaned toward the latter two because they somehow contain the energy of all others (and also to ease my graphic work), but I found it pertinent to mention this fact to the readers. Blessings to all!
Sowelo. Blaze, Sun, Peace
Exaltation, uplifting, majesty. See everyone around you with the eyes of Love and you shall recognize their glory. Observe your surroundings and you shall recognize the perfection of Creation, manifest and effulgent. In the deepest shadows shines an imperishable Light, be aware of this, be thankful and let go of anguish, all is well. Let the joy in, allow your heart to flourish, accept your fortune. Laugh and celebrate life, we are here only briefly and then we join the Flow. With the thunder of drums and the ardor of fire, the curtain opens and the veils are undone. Remember the truths of your childhood, they are as certain now as they were then, there is a power within you that is indestructible. The sacred is common, holiness lies in remaining here and serving with simplicity and humility. Everything has its rightful place, even the terrible. Everything can be appreciated, everything can elevate the pleasure of breathing and feeling, the choice is and has always been yours.
Chakra: Heart
Planets: Venus, Pluto

Como parte de mi proceso chamánico y narrativo, hago lecturas diarias de Runas para compartir mensajes acerca de la vibración y energías de la semana con una audiencia más amplia. Espero con todo el corazón que sean beneficiosas para la comunidad en pleno y sus círculos extendidos
---
As part of my shamanic and narrative process, I do daily Rune readings to share messages about the vibration and energies of the week with a wider audience. I wholeheartedly hope they can be of benefit to the whole community and its extended circles.