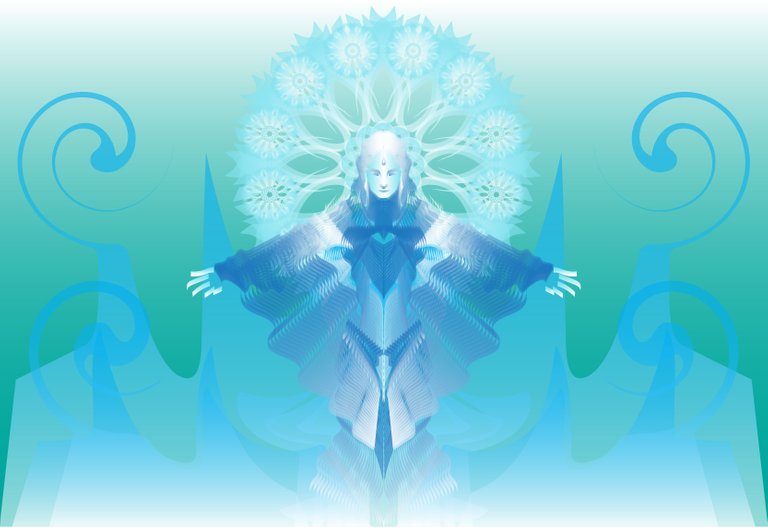 ---
In this material existence, we are all two things: light, dark. order, chaos. cold, warm. And regardless of our gender identity, our sexuality, our race or creed, we are also both male and female. The essence of these two energies permeates all of our being from top to bottom, from surface to core. This is a truth that applies even to stars and galaxies, undeniable and profound.
Therefore, although I am a man, the Sacred Feminine is in me too. It rules my emotions and my empathy, it is the power of my intuition, the way I deal with my feelings, my inner calm, my capacity to embrace and nurture. Over the years, I have come to appreciate this part of me and cherish it, although it was a hard, long road. Fortunately, I have had magnificent examples of femininity in my life, beginning with my late mother, who laid for me a firm basis of responsibility, unconditional trust, and taught me very early the harsh facts of grief and suffering, that I may now enjoy constant peace and freedom.
My sisters have always been my shining example of courage, of dignity and ambition; my protectors and leaders. Their resilience and personal sway have enabled me to identify my own virtues and make good use of them, to detect my own flaws and overcome them. They have also given me the awareness to navigate the complexities of social life, especially after I started fostering friendships and intimate relationships with other women. Truth be told, it was not easy to grow up with them, especially as the youngest at home, but once I went out into the world in earnest, I realized how valuable that experience had truly been, for no matter how tough other women I met could be, they were never as tough as my sisters.
Throughout my life, I have met many more wonderful, astonishingly brave women, some as mother figures, voices of authority; others as friends in equal standing. I have had many lovely partners for whom I have nothing but praises. I have loved and been loved by women fiercely and proudly, and for that I am thankful to no end. Like the goddesses of myth, the mystics and witches of legend, and the princesses and queens of both fantasy and history, they have helped me shape my understanding of Love, Wonder, Magic, Pleasure and Joy.
Humanity stands now at the heart of the crucible. We are now seeing the Old World, the Old System, the Old Empire collapse, and a new one shall soon rise, built by other hands, astride loftier dreams. So I write these words as a message of encouragement for all women out there, that they may rouse their passion and march abreast to the challenges that are coming.

Declaration for the Rising of the Queen



Mothers, Grandmothers, Daughters, Sisters, Ladies, Queens, Goddesses. Teachers all of Lunar Mysteries, Partners of Life, heed me!
The dominion of oppression and forceful silence is coming to a swift and definitive end, and this Earth that we call home now emerges from the smoke and the fire cleansed and changed forever. Under the Light of Venus Morning Star and the Tide of Moonlight, you are now called to fulfill a role that has been denied to you for millennia: Leadership.
Aye! it is now your time to take up the Scepter and the Crown, to wield the Power of Nations. This I tell you honestly, speaking from my burning heart. The palaces and manors, the parliaments and assemblies, the great houses of worship all open their gates to you.
The walls that have kept your anguish concealed, the chains that have kept you restrained, are now crumbling and shattering beneath the weight of ages. The path is clear and you are summoned to craft the novel realities in a stage that has been reserved for the sword and the gun for far too long. It is no small task to mend so many wounds, to heal so much grief, to bridge such wide chasm of division, but you are up to it, prepared for generations in the upholding of the principles of community and tribe.
Forsake your tribulations, abandon all doubt and hesitation. Arise now, with your songs and your tears and your scented dance. Arise and meet fate head on. I say again, this is your moment to shine, this is your time to open your petals and spread your wings. Fear not, you shall not be alone. I for one stand with you, as many of my kin.
Lead and build and bring the Dawn, and remind us all how great we can be when no borders restrict us, when no enmity moves us to conflict, when we acknowledge each other as we have always been: One Family, One Love.
---
I also call for all men to embrace their female energy, to explore their emotions and acknowledge their feelings fully. Being truly vulnerable is difficult, but I guarantee you, it's profoundly rewarding and beautiful! Be blessed!