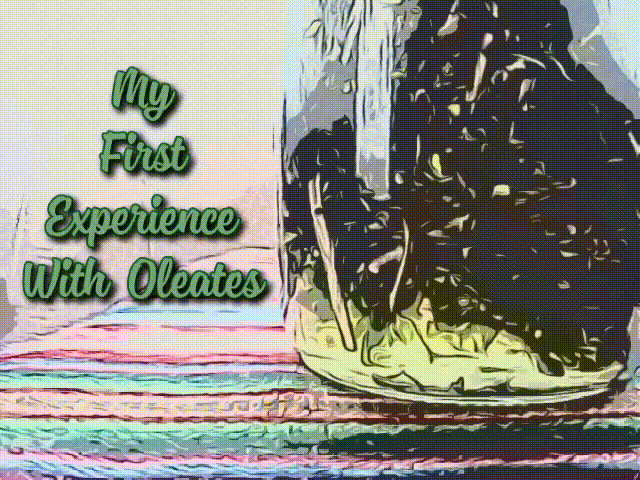 Hello Hive, been missing doing a post for while and now I finally get to sit down and do one!
Actually the reason for me not blogging lately is that I've been kind of in a mental war with modern technology, trying to avoid spending much time in front of screens and such.
I have to admit it gets tough at times not to rely on computers and the entertainment they offer to cope with the inner anxieties. Every now and then, watching some videos or reading stuff on Hive can be quite relaxing, and if I don't give myself that chance then I have a lot more time on my hands which I either use productively or be forced to face my demons.
Today I'm on the friendlier side of things and once again see technology as part of the natural evolution we've had as a social species. Will it ever become balanced with the wildly natural world? Does it really serve us spiritually, socially and offer us freedom? I don't know, but I feel there are many proper ways of interacting with it and I intend to keep doing so.
So, enough rambling and off to the core of the post.
A month ago approximately, Eli had a visit from a friend who makes macerated oils out of medicinal herbs, which are also commonly called "oleates", and taught her the process.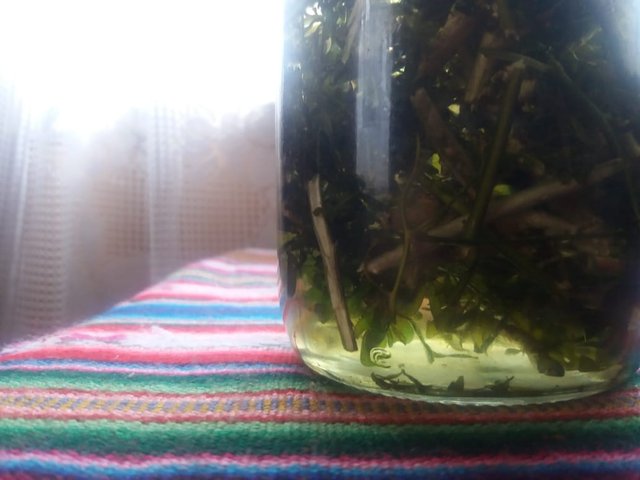 Basically, you fill up a glass jar with the dried parts of the plant that are more loaded with the active components, leaving at least two fingers worth of distance from the top of the container.
---
---
After 25 days of waiting and shaking the jars once a day - every day - you open them up and filter them with whatever you have at home. In this case, we used some old kid tights which did the job pretty well, though I'm guessing some cheesecloth would go even better.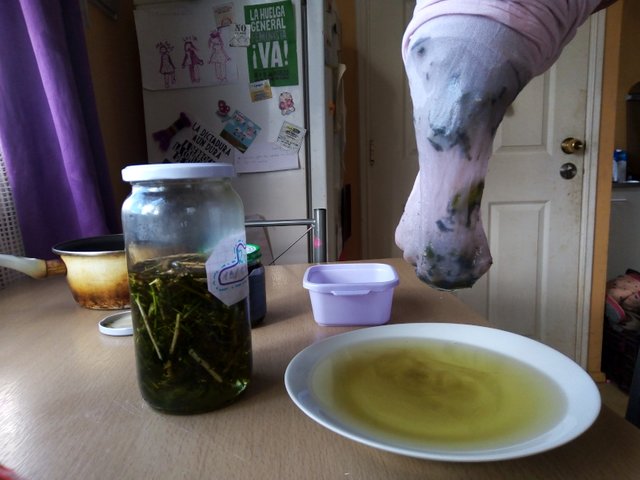 ---
---
I didn't really participate in the maceration process but since Eli was having difficulties finding the moment to filter them, I took up the task upon me. To be honest, I had a ton of fun doing this. Some good music and some cannabis micro-dosing had me completely tripping while filtering these oils.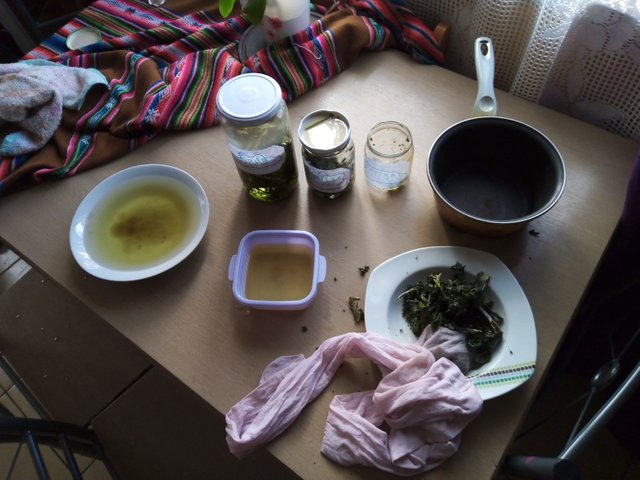 ---
---
We didn't have enough rue (ruda is the spanish word for this plant in case you're wondering on the reason for the tag) to fill up the jar more than what's seen on the pic. As said before, you can fill it up to the point where you leave two fingers distance from the top.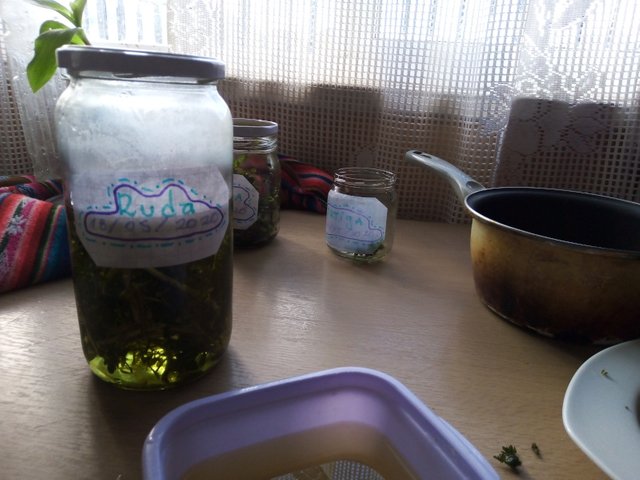 ---
---
I thought a while about what to do with the leftovers but came up with nothing other than using them in the kitchen. Time passed and we forgot to use them so now they went to the compost. Any suggestions on what to do with the organic waste of this process?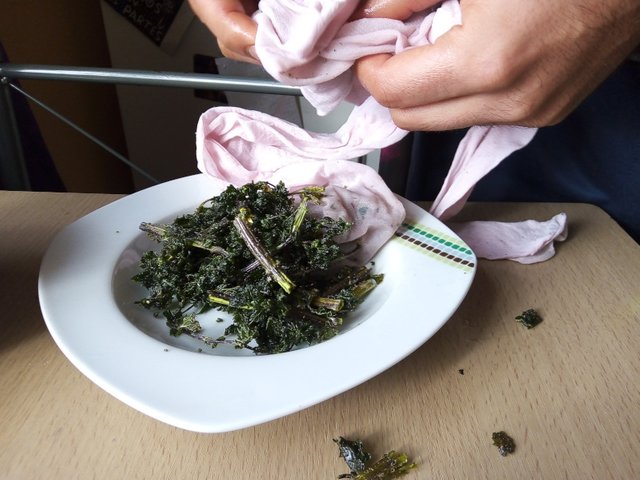 ---
---
Since we had three different plants (rue, balm, and nettle), we used one of the feet for each, as well as the middle part to avoid mixing the different oils.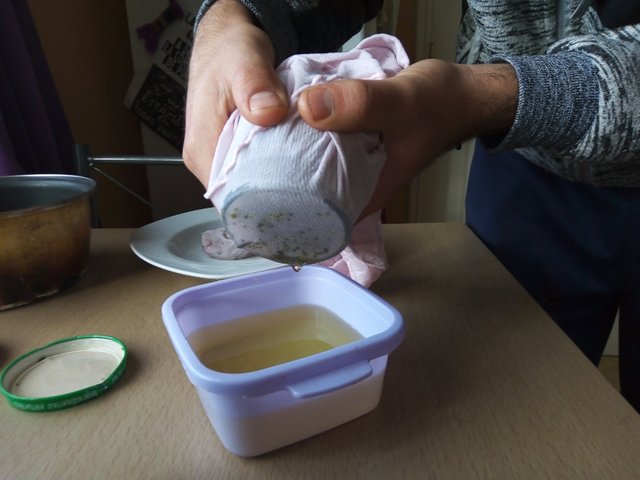 ---
---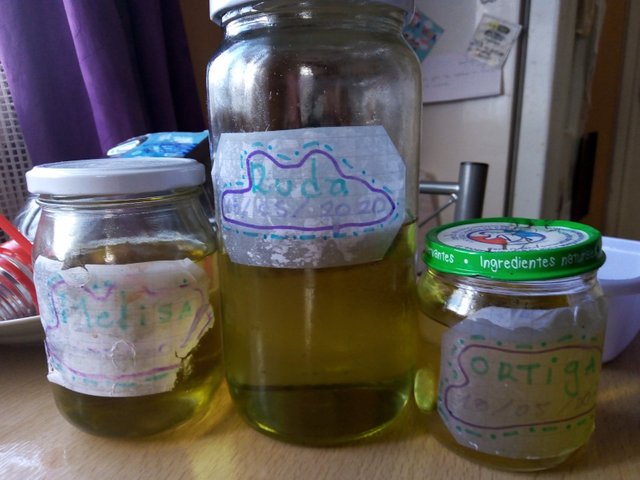 Here is the final result, all three oils ready for usage! The names on the tags are in Spanish so: ruda is rue, melisa is balm, and ortiga is nettle. We've been using mainly nettle for our hair and the results have been pretty good though I don't have any pictures to show for it. My hair has been thickening a lot and gaining strength so that has me pretty satisfied.
We didn't know what the rue oil could be used for and after doing some research I found out that it's mainly for magical and energetic uses. What's funny is that before I had read anything about this oleate, intuitively I massaged my face with some of it and it felt wonderful, I can't describe the pleasure it gave me. Maybe it was the weed, but I felt a profound connection with it, as well as a sort of inner "cleanse".
You know what? I'm going to rub some on my face right now. Massaging the temples feels soooo goooood, I'm drooling 🤤
Before I leave I'll list some of the main uses for the macerated oil of each plant.
Rue:
Analgesic
Alleviates ar pain
Reduces varicose veins
Rheumatism
Antihelmintic (fights parasites)
Energetic cleanse
Nettle:
Removes dandruff flakes from your head.
Strengthens the hair root.
Improves blood flow.
Strengthens nails.
Balm:
For massaging people who suffer depression.
Place around the nose if you suffer asthma or bronchitis.
Hope you enjoyed this post, thanks for reading!