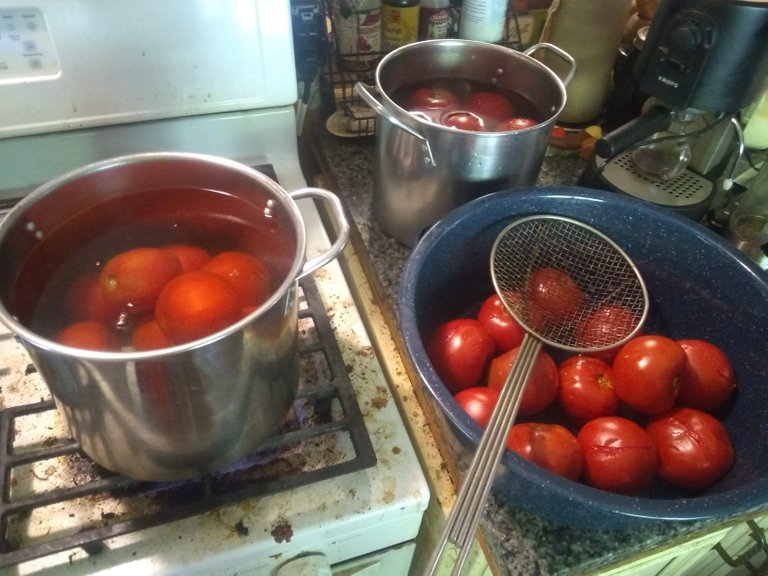 Blanching tomatoes makes the removal of the skin very easy.
At first glance, this post may be understandably taken as something to do with making tomato soup.
I grew lots of tomatoes this year in our Fantastica garden (there are still a few yet growing and being harvested), but most of the varieties are smaller tomatoes. Seeds were chosen in January (including chocolate pears, Barry's crazy cherry, green striped zebras) for the best choices for small hands and big minds as we were planning for the after-school garden club and the youth environmental group more than for anything.
Then the global pandemic happened, and the garden took on a mind of its own.
As many of you know from my sporadic posting, I have been trying my hand at canning along with growing a massive garden this year. Beans, pickles, jams, sauces and more ~ we have a pretty nice collection at this point! However, the tomatoes have been plentiful for many things, just not canning.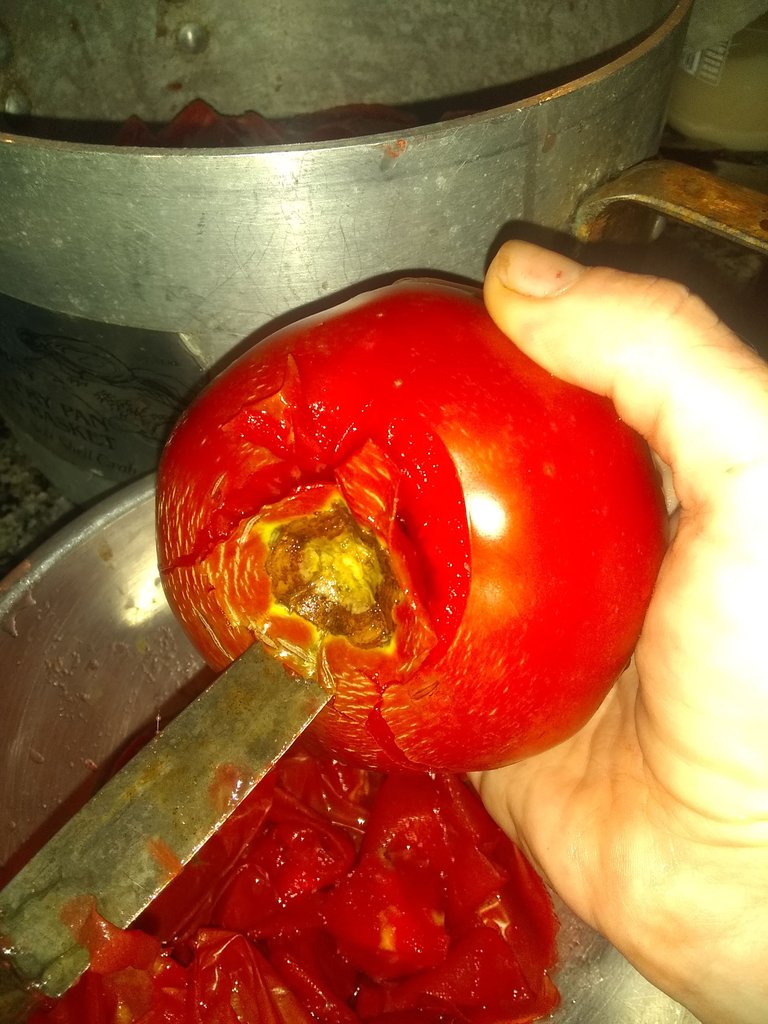 Once the tomatoes are blanched, a paring knife makes for easy coring.
The weekend before last I bought a bushel of peaches to can. We are slowing down in the harvest in our gardens, but I am still picking enough to process a couple times a week along with what we eat at the table. I also will sometimes stockpile it for several days and then do a bigger canning event. I had plans of processing a lot of produce last week on Tuesday, Wednesday, Thursday, and Friday. As you can imagine, I am staying busy.
The girls made zucchini bread for the freezer, I made habañero hot sauce to can, we canned green beans, I had processed half the peaches into peach butter, and things through the week were in full swing.
And then last Thursday afternoon happened.
It was a nightmare. I am writing a song about it, perhaps I will share that with you one day. Today all I will say is that we lost a four-legged loved one in our home, suddenly, violently, and tragically.
There were a lot of tears, along with plenty of stoic "stiff upper lip" moments too. I had some friends come collect the children and send them for a sleepover elsewhere Thursday night. Two of my good brothers took care of the grave duties. I sat by the creek and worked on that song I mentioned. And I really wished I had some whiskey.
But it's still harvest season.
So Friday I got myself out of bed, made myself some coffee, and got back to work. The rest of the peaches weren't going to process themselves or keep from going bad on my behalf. The food waiting to be picked wasn't going to hop in the basket without me. I worked through the tears, I worked through the unbridled sadness in my mind and my heart. I did my job, to the best of my ability, all the same.
The kids had a sleepover already planned for Friday night, with two girls coming over. So when the kids came home Friday afternoon, they brought friends. That stiff upper lip worked hard to curl into smiles here and there, because that's what we moms do when its a tough time ~ we still smile and let our kids know everything is okay.
Rabbit came home Friday night as he had been working out of town all week (now some of you ladies understand why I had such a long to-do list for myself last week!) and we started processing our grief together, and we worked on balancing helping the kids to deal with their grief along with having good time with their friends.
Saturday was numb. We didn't really do much. The kids played and we sat together, listening to the creek, just breathing, and getting done only the most necessary of tasks. We shared the time and allowed ourselves and each other the opportunity to process the nightmare of our Thursday.
But it's still harvest season.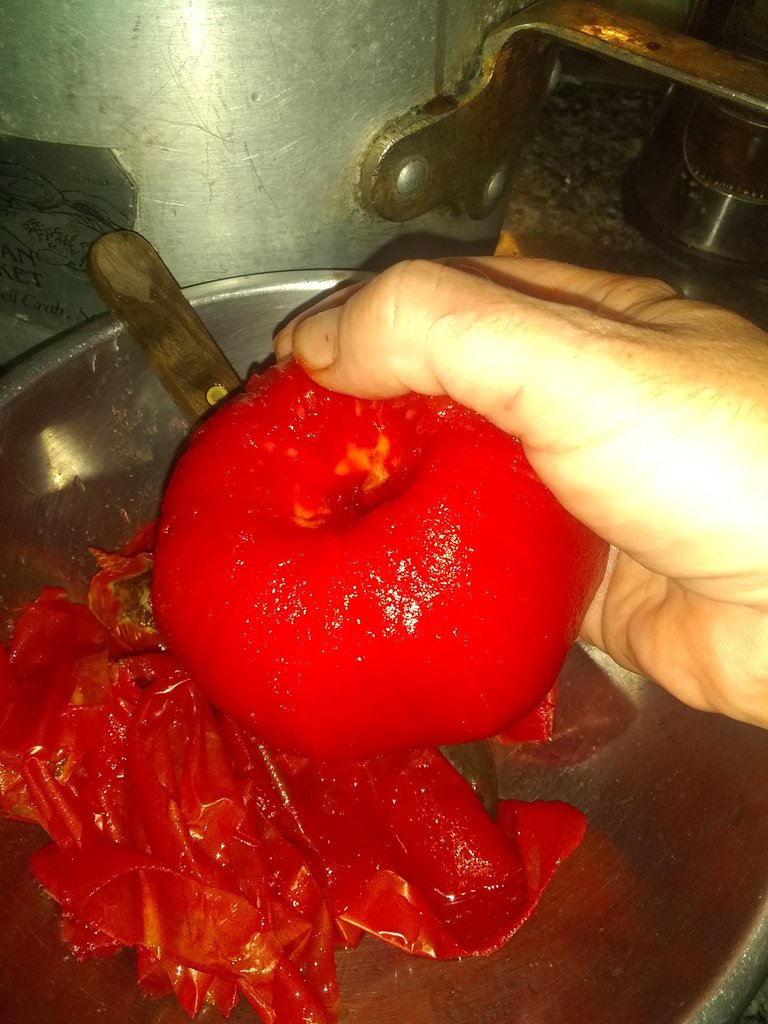 Here's a peeled, cored tomato for the pot.
I really needed to get out of the house. I had not left the house since Monday, and sometimes it's nice to be able to just take a drive. Where we live every view is gorgeous in these mountains. However, sometimes it's hard to just go take a drive…
and it's still harvest season…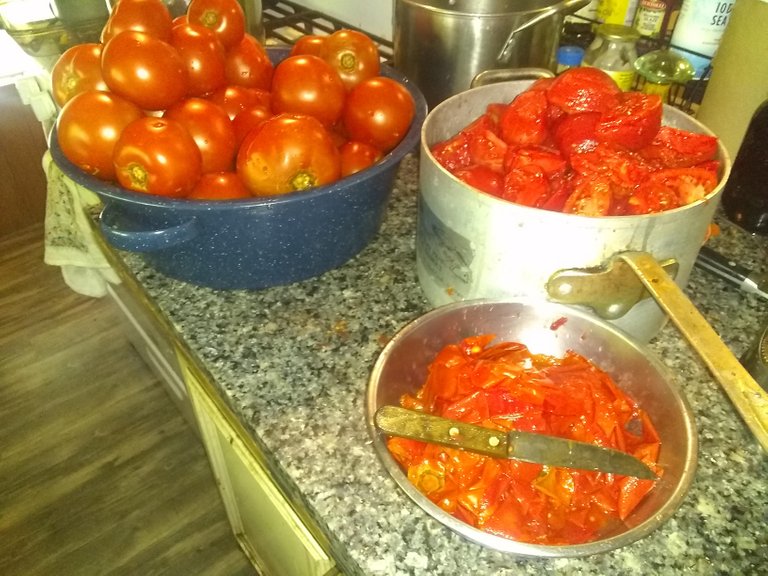 Blanching, peeling quartering ~ in process
Just about any direction we drive out of our house, we can drive towards and through farms. They are nestled all about the feet of these majestic mountains. I checked around to find a couple of potential places that we could find someone selling tomatoes on Sunday, since it's church day in the Bible Belt and Sunday is the most likely day folks take off around here. It's also still very rural and plenty of folks aren't on the internet or found any way other than word of mouth.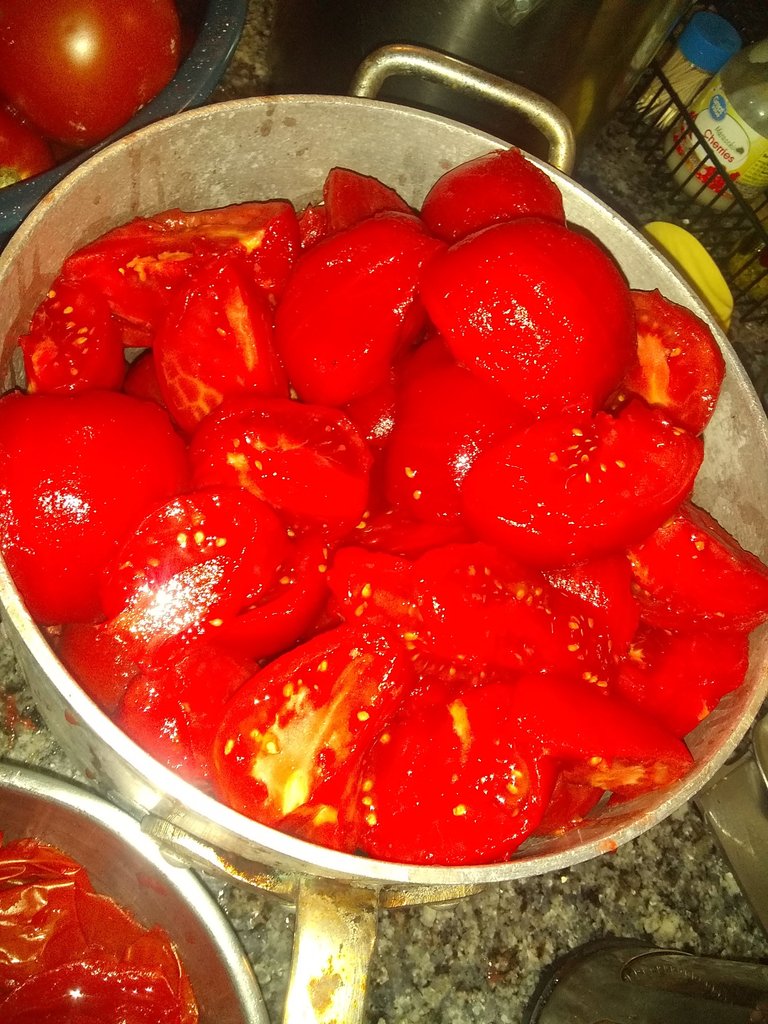 This one pot of quartered tomatoes gave me 6 quarts of soup.
Rabbit took me for a drive, "to get tomatoes". I chose a route that would give us several chances to find what we were looking for in a nice Sunday afternoon drive. We went clear across the county, from the Pigeon River to the French Broad River, and to a place so tiny it has one tiny store, one tiny restaurant, a few churches, and a school. We drove up to a barn and on the honor system loaded up three boxes of tomatoes, drove back across the road to the store, and left the money ($14 USD per box) for the tomatoes.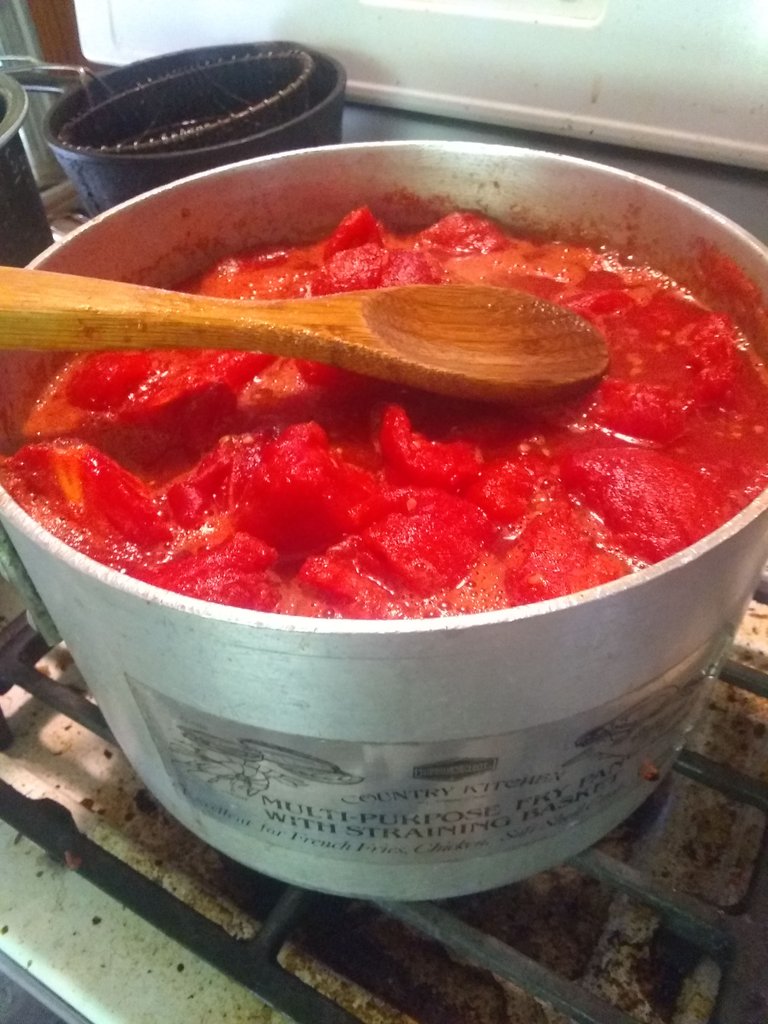 Here's the start of the cooking part of the soup, which will cook for about three hours.
At this point I would like to add, the little drive for the farm was named Sterling. I am a big believer in synchronicity, and it doesn't escape me that what I was really picking up was something much more valuable than just a few boxes of farm fresh tomatoes.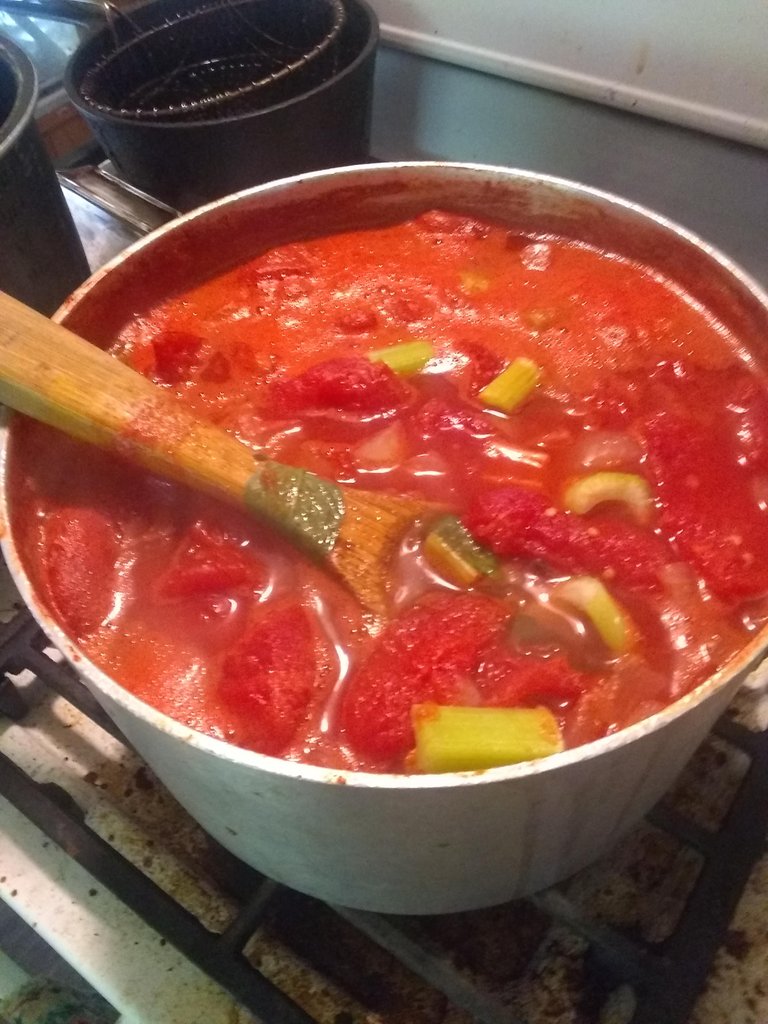 About an hour in, I added celery, garlic, and onion, along with a heap of fresh garden basil.
Two hours in the car to clear my head was amazing. The promise of quarts of tomato sauce and tomato soup in the pantry for our winter stocks, was lightening and heartening. The work to keep my mind and hands busy this week while Rabbit is again out of town working and grief is still processing itself, is priceless.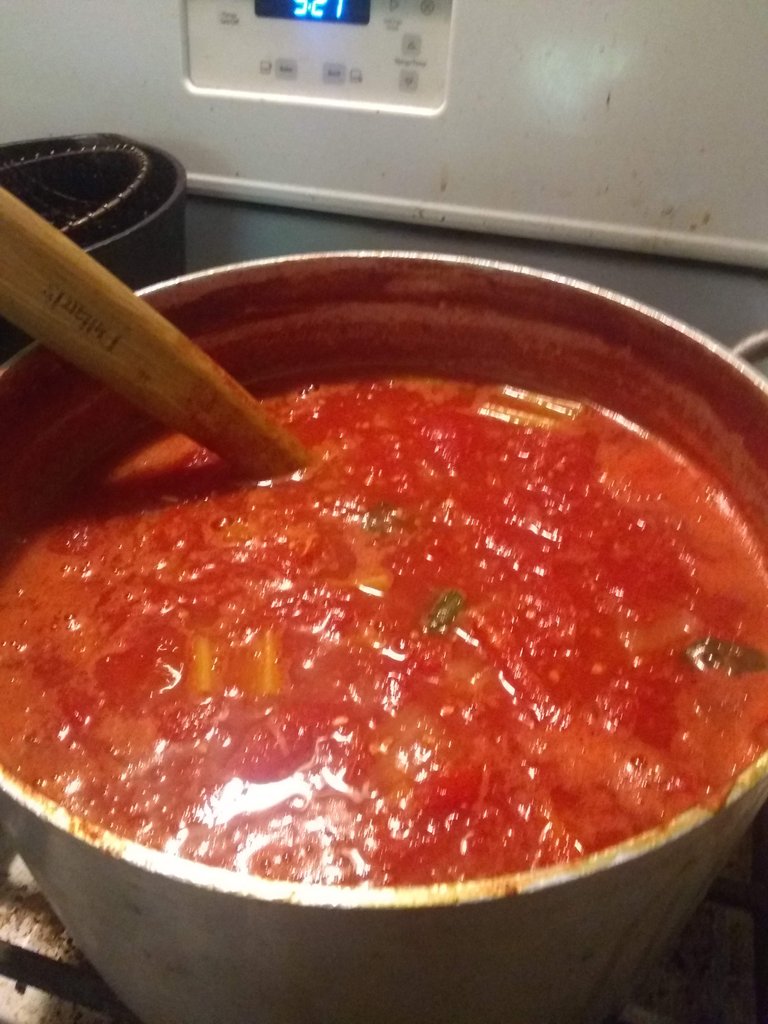 I have finally made it to the puree stage. I just use an immersion blender in the pot, as I don't remove the seeds.
There is truly something to be said about the ability to allow the hands to work in order to calm the mind. Taking time to grieve over experiences that cause us to feel loss or pain is important ~ but so also is still putting one foot in front of the other. Other people have showered me with compliments over the years for my huge heart, but also for my strength. I agree that I am strong, for sure. Yet, not so often noticed by folks who don't feel so strong, is that strength doesn't work 100% of the time. In the words of my daddy, "Even Rambo has tears streaming down his face sometimes". Can you tell I am a child of the American 1980's?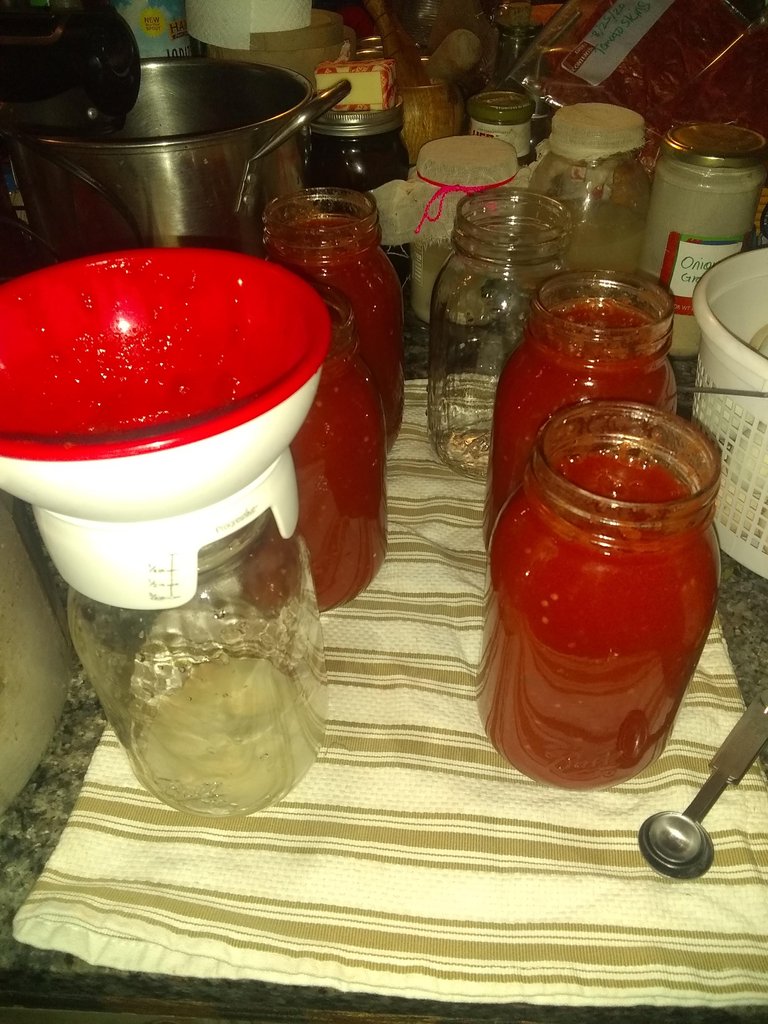 Time to transfer the soup to the quart jars
However, a falter in step or a step made with tears streaming down your face is still a step being taken. One foot in front of the other…
...one box of tomatoes after another…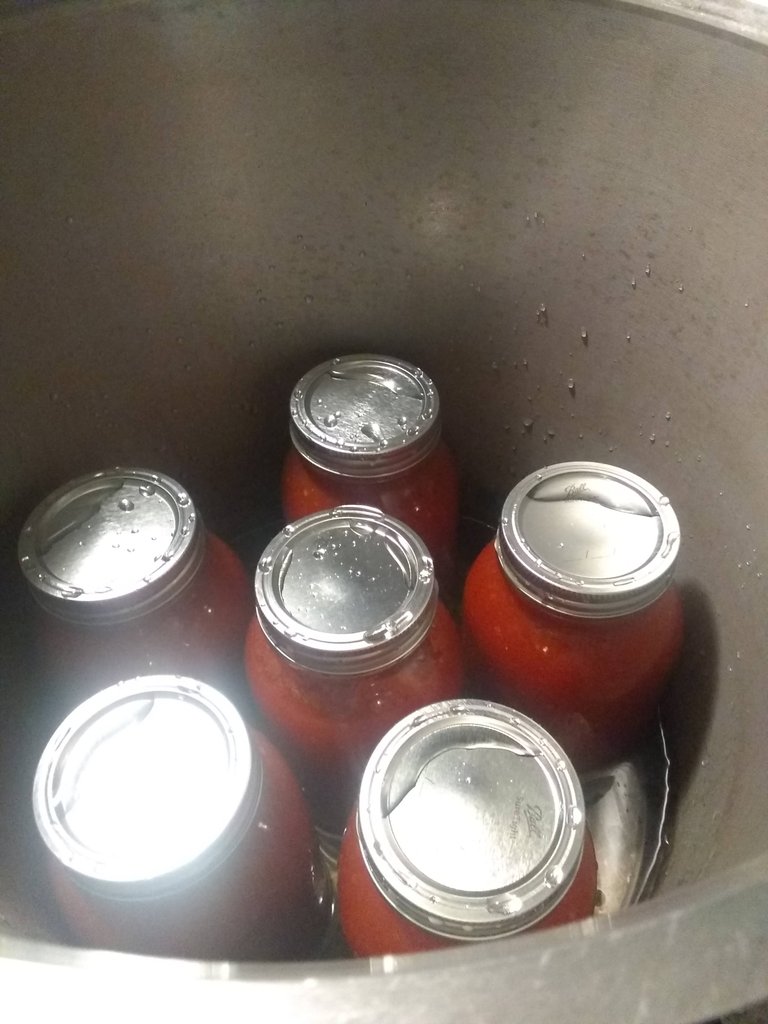 Into the canner the soup goes. I guess we all keep a little better and longer under pressure.
Come winter, when a hot bowl of homemade tomato soup sits steaming next to a grilled cheese sandwich, I will remember this lesson once again, and I will taste the secret ingredients in that soup ~ perseverance, balance, and love.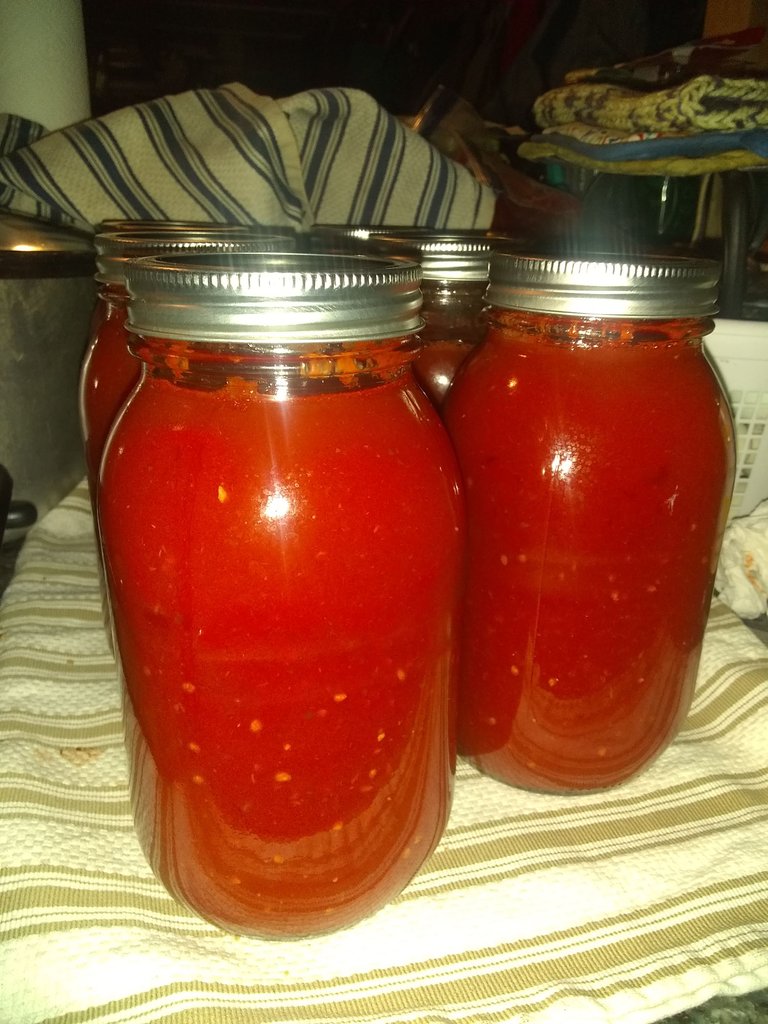 Thanks for sharing this journey with me! May you find your footing for the next step forward on your own path.