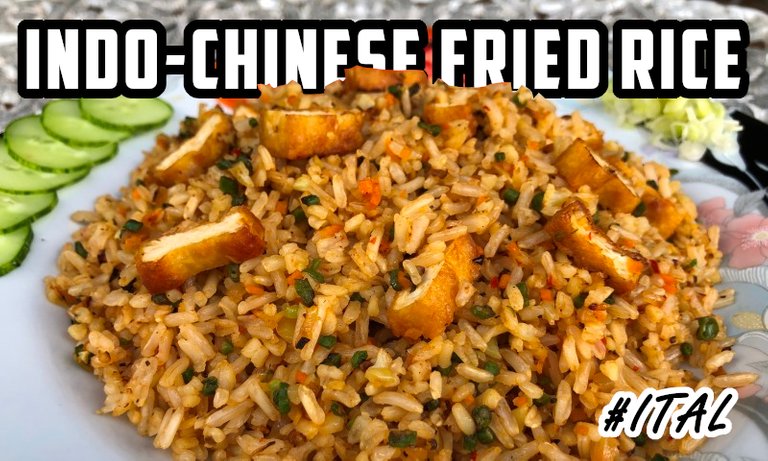 My family has never seen me cook non-Indian style fried rice, so I wanted to show them I know some other flavors too. 🍚
What I made is my standard generic "Indo-Chinese Ital Fried Rice," and it was a hit with the family. Apparently I haven't made this in so long they forgot I've made fried rice this way for them before.

More Fiyah 👨‍🍳 🔥🔥🔥
     Indo-Chinese food is a very underappreciated fusion cuisine, and you have to eat Gobi Manchurian once to know what you're missing out on.
     When I make fried rice, it's usually full of cinnamon sticks, bay leaves, mustard seeds, cumin and a plethora of other spices and ingredients. I wanted to prove to my Cambodian family I can abandon the turmeric sometimes and make an "East Asian" style fried rice too.
     Unfortunately, I never completely abandon my usual flavors, so I went heavy on the garlic ginger because this fried rice has no seed spices. The most important thing for any fried rice is a super hot wok. I can't stress that enough, you need serious flames 🔥🔥🔥.

🧄🥕 Indo-Chinese Fried Rice Ingredients 🍚🧅

Frying Ingredients
⋆ cooked long-grain brown rice (yesterday's rice is best) - 3 cups
⋆ vegetable oil - 2 tbsp
⋆ salt - ¼ tsp
⋆ onions (finely diced) - ¼ cup
⋆ ginger (minced) - 1 tbsp
⋆ garlic (minced) - 1 tbsp
⋆ longbeans (finely diced) - ¼ cup
⋆ carrots (finely diced) - ¼ cup
⋆ cauliflower (finely diced) - ⅓ cup
⋆ carrots (finely diced) - ¼ cup
⋆ green onions (sliced) - 2 tbsp
⋆ fried tofu (sliced) - ½ cup
Sauce Ingredients
⋆ vinegar - 1 tsp
⋆ sambal or chili sauce - 1 to 2 tsp
⋆ soy sauce - 1 tbsp
⋆ black pepper - ¼ tsp
⋆ sea salt - ¼ tsp

👨‍🍳 Preparation Method 🔥

STEP 1

     Heat a few tablespoons of vegetable oil in a wok on a high flame and add the onion.

     Stir-fry until translucent and fragrant.

STEP 2

     Quickly add the minced garlic and ginger and stir another 30 seconds or so.

STEP 3

     Add the long beans and stir-fry a bit more.

     The aim is not to overload the wok, keep it hot, and add vegetables bit by bit, but work fast.

STEP 4

     After the beans have cooked a bit add the carrots, stir-fry a bit.

STEP 5

     Add the cauliflower and stir-fry a bit..

     Don't forget to keep your flame on high, it will help keep things from sticking.

STEP 6

     Add the green onions and stir-fry a bit more.

STEP 7

     Now add the fried tofu and toss, stir-fry for a bit.

STEP 8

     Add the the cooked brown rice and the sauce, toss to incorporate.

STEP 9

     Continue to stir-fry another minute or two until rice is heated through, and your Indo-Chinese fried rice is ready.
     We like to eat fried rice with fresh cucumber and tomato, but you can serve it any way you like and adapt the recipe to your liking. It's a very generic-style fried rice you build a fancier one from, but the @KidSisters love this simple style fried rice, so I try to keep those customers happy.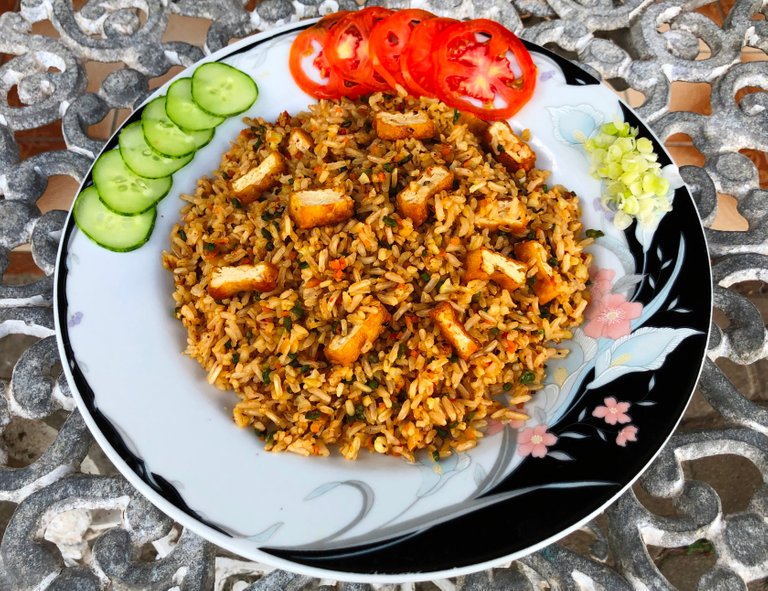 Monkey-B made it clear, she prefers this simple fried rice more than Indian yellow fried rice.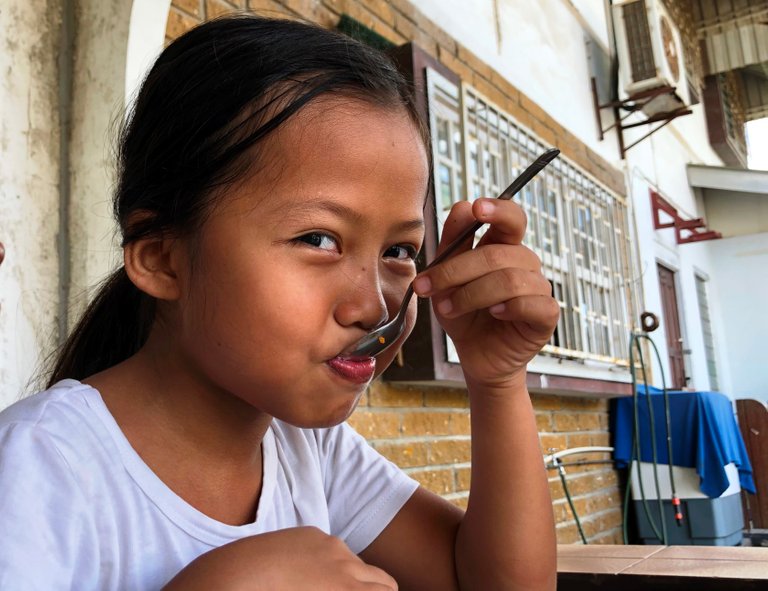 Fair enough, as long as the family is happy and healthy, that's what counts. Even though I prefer Indian-style fried rice, this is still delicious, and a safer flavor mix for a wide variety of palates.

🙏 THANKS FOR READING 🙏
If you enjoyed this post, please upvote and reblog.