Saludos bellos lectores de
#hive
/Greetings beautiful
#hive
readers.
Hay cosas que no se pueden guardar, reservar ni callar y como a mí no me gusta ser para nada egoísta... hoy les comparto a ustedes una mascarilla de tantas que he probado para mantener mi rostro cuidado y se trata de la arcilla, tal como habrán leído en el titulo de este post.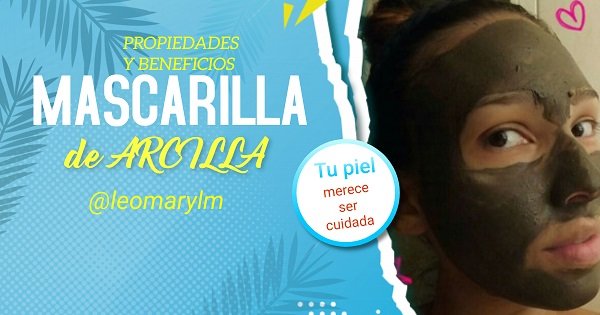 Me gustan los tratamientos naturales, este es uno de ellos y rico en propiedades, aportando varios beneficios (pueden verlos en las imágenes anotados, pero también se los dejo aquí)
are things that cannot be kept, reserved or silenced and since I do not like to be selfish at all ... today I am sharing with you one of so many mask that I have tried to keep my face careful and it is about clay, such as you have read in the title of this post. I like natural treatments, this is one of them and rich in properties, providing several benefits (you can see them in the annotated images, but I also leave them here)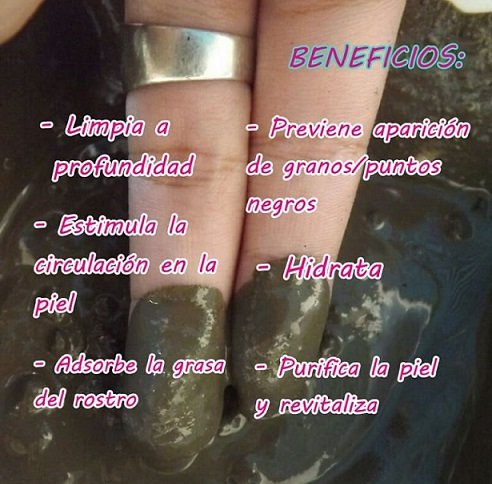 Es hidratante / It is hydrating.

Arrasa con las impurezas, eliminando las toxinas acumuladas bajo la piel / Sweeps away impurities, eliminating toxins accumulated under the skin.

Adsorbe las grasas del rostro / Adsorbs fats from the face

Purifica y revitaliza la piel / Purifies and revitalizes the skin

Posee alto contenido en minerales, antioxidantes que logran regenerar los tejidos brindando nutrientes / It has a high content of minerals, antioxidants that manage to regenerate tissues providing nutrients.

Y te preguntarás...¿Cómo realizarla? /And you will wonder ... ¿How to do it?
Muy sencillo es el procedimiento para realizarla y aplicar en tu rostro, debes contar con un envase plástico o de vidrio (no metálicos, pierde sus propiedades), mezcla 1 cucharada de arcilla y un poco de agua mineral; mezcla bien hasta formar una pasta uniforme y aplica en tu rostro con movimientos ascendentes, dejándola por 20 minutos hasta que este seca y luego retírala con agua tibia.
Very simple is the procedure to carry it out and apply it to your face, you must have a plastic or glass container (not metallic, it loses its properties), mix 1 tablespoon of clay and a little mineral water; Mix well to form a uniform paste and apply to your face with upward movements, leaving it for 20 minutes until it is dry and then remove it with warm water.

¿Cada cuánto tiempo? / ¿How often?
Importante pregunta...A continuación te doy la respuesta:
1 vez por semana para mejorar la tez del rostro, ya que su abuso puede resecarlo.
NOTA: puedes también aplicar unas gotas de aceites esenciales, por ejemplo: el argan (luego les estaré compartiendo sobre este aceite),almendras, rosa moqueta, o hasta 1 cucharada de miel; con esto la pones más poderosa y repotenciada para trabajar tu piel.
La arcilla la encuentras en tiendas naturistas y las hay tanto verde, blanca y roja;tu eliges cual comprar asesórate con el vendedor y naturalista de la tienda.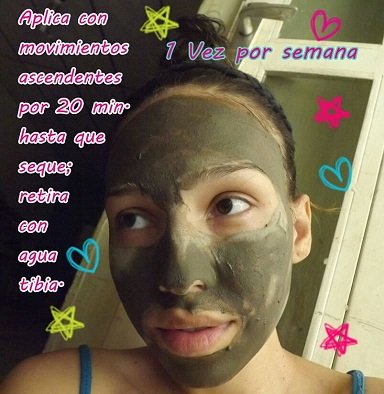 Important question ... Here is the answer:Once a week to improve the complexion of the face, since its abuse can dry it out.

NOTE: you can also apply a few drops of essential oils, for example: argan (I'll be sharing about this oil later), almonds, carpet rose, or up to 1 tablespoon of honey; with this you make it more powerful and repowering to work your skin.

You find the clay in health food stores and there are both green, white and red; You choose which one to buy, consult the seller and naturalist of the store.


Las fotografías son de mi autoría tomadas con mi celular Alcatel Tetra/The photographs are my own, taken with my Alcatel Tetra cell phone.

Gracias por leer mi post/Thanks for reading my post

Un fuerte abrazo, hasta el próximo Post/Until the next Post