Okay, so turmeric is all the rage. You know, that brilliant yellow powder that stains everything it comes into contact with—your new tea towels, your apron, your fingertips, and even your stainless steel rasp? It's used commonly in Indian and Ethiopian cooking. But raw turmeric? That's not been so common, at least around these parts.
Lately, though, I seem to find it kicking around all over the place. It looks a lot like fresh ginger, just smaller and with a bright orange flesh. The first time I picked it up, I have to admit it was all about the novelty and I really had to scour the internet to figure out what to do with it. I have since learned to put it in scrambled eggs and a warm milk drink with honey and cinnamon that's also pretty great. But as much as I like routine, I decided it was time to shake things up a bit. So guess what? I made a shake out of it! (Obvious pun totally intended) And it's healthy; I mean like superhero healthy!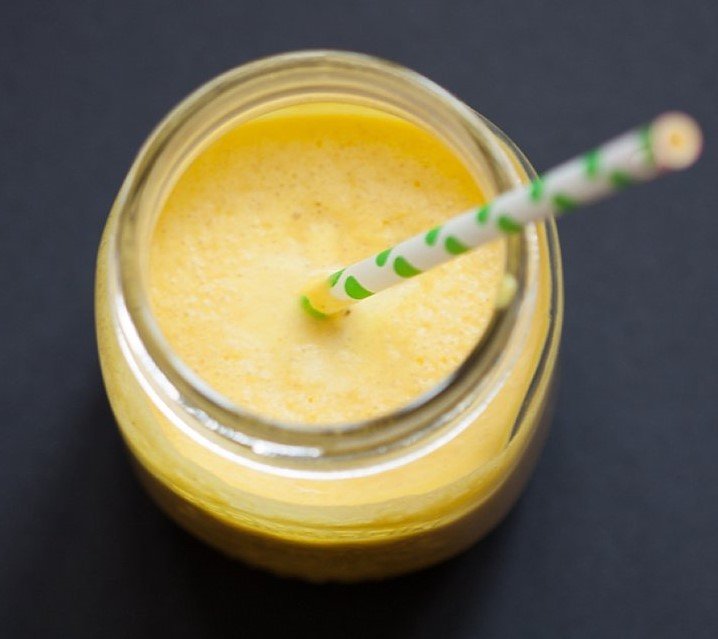 Let me give you the scoop. There was a prof from naturopathic school (a hilarious character who liked to tell us about his Ayahuasca trips). Despite his experimentation with psychadellic herbs, he knows his sh$t about science. And this man is in love with turmeric. I mean, people in India and China have been in love with it for centuries, but for the West this love affair is a pretty new thing. Thankfully we have finally come around to it in these parts, because it is indeed a superfood. It can make you live to be a million years old, it can cure cancer, and it stops inflammation on the spot. Duh.
Ok, but seriously, the orange-yellow pigment of this gem is not just beautiful (though its colour really is gorgeous!), it also houses curcumin, a ferociously potent pharmacological agent that boasts MANY health benefits, including alleviating pain and reducing inflammation. Who doesn't need that on a regular basis? Its used most commonly to treat joint disorders, digestive problems, and to help protect the liver. And there's also some evidence to suggest that it's helpful in preventing and treating certain types of cancer. You can see why our prof was so fond of it, and consequently why I am too! (And for the record, I'm only teasing about the ayahuasca. It has many indications and is highly prized in certain cultures.) And this radiant shake, with its creamsicle-like flavouring, brings back memories of the icy childhood treat. Considering how good you'll be feeling after drinking it, I hope the great memories come flooding in for you too.
Healing Turmeric Shake Recipe
(Vegan, Dairy-free, Gluten-free)
Not just adored for its beautiful looks, this shake (or smoothie) will deliver some serious nutritional power. Fresh turmeric can be found at any well-stocked grocery store, health food store, or middle Eastern market. If you can't find it, substitute dried powdered turmeric in half the amount.
What We'll Need
1 large blood orange, zested and peeled. (I used a Sicilian blood orange, which was particularly pleasing.) Set aside ¼ tsp zest.
4 coconut milk ice-cubes (Freezing coconut milk is simple. Just freeze full-fat coconut milk in an ice cube tray overnight)
¼ cup almond milk (or you can use coconut milk)
½ tsp freshly grated turmeric (it stains very easily so be careful)
Optional: Stevia or honey
Directions
Place the orange flesh, ¼ tsp of the zest, coconut milk ice-cubes, milk of your choice, and ¼ tsp turmeric in a high speed blender and blend until smooth. Add more turmeric if you're feeling feisty. Sweeten with honey if you like and blend again.