---
Quieren seguir conociendo de este maravilloso mundo?
Do you want to keep on learning about this wonderful world?👋
Del yoga tienen muchos juicios preconcebidos que lo etiquetan como una disciplina fastidiosa o muy lenta, también se dice que las posturas son muy difíciles de lograr, pero déjenme decirles que solo es lo que ven desde el exterior. El yoga trabaja el autocontrol del movimiento, depende del tipo de yoga que también quisieras practicar. Se encuentra el Vinyasa Yoga, en donde resulta mas fluido, uniendo la respiración en cada movimiento a diferencia del estilo Hatha Yoga, la cual tiende a ser más básico y concentrándose en la alineación de las posturas.
Yoga has many preconceived judgments that label it as an annoying or very slow discipline, it is also said that the positions are very difficult to do it but let me tell you that it's only what you see from the outside. Yoga works on self-control of movement and depends on the type of yoga you would also like to practice. Vinyasa Yoga, where it is more fluid, joining the breath in every movement as opposed to Hatha Yoga style which tends to be more basic and focusing on the alignment of postures.
Para los amantes del fitness existe el Power Yoga que tiende a ser mas físico y dinámico, en donde las posturas se realizan aplicando más fuerza y repeticiones. Lo importante de todo, es explorar el yoga y sus vertientes y así ver cual se adapta mejor a tu sensación.
For fitness lovers there is Power Yoga which tends to be more physical and dynamic, where postures are performed by applying more force and repetition. The important thing is to explore yoga and its aspects to see which one adapts better to your sensation.
¿Porque debemos practicar Yoga?/Why practice yoga?

El yoga combina un conjunto de elementos que lo hace muy atractivo para tu salud desde una vista integral. Se concentra en todos los aspectos del ser; desde el equilibrio, aumento de autoestima, claridad mental, auto conocimiento, respiración consciente, te mantiene constantemente en forma y experimentaras el despertar de tus canales energéticos llamados "chakras". Que por cierto, les debo un post sobre ello.
Yoga combines a set of elements that makes it very attractive for your health from a holistic view. It focuses on all aspects of being; from balance, increased self-esteem, mental clarity, self-awareness, to conscious breathing, it keeps you constantly in shape and you will experience the awakening of your energy channels called "chakras". Which, by the way I owe you a post about it.
Hoy te traigo la tercera postura, especificando sus beneficios y como realizarla.
Today I bring you the third posture, specifying its benefits and how to perform it.
"Ashwa Sanchalanasana" Postura ecuestre/ The equestrian pose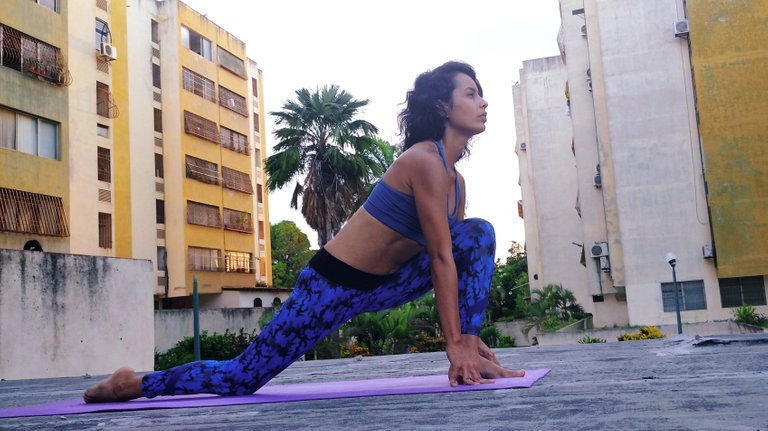 Su nombre viene del Sánscrito "Ashwa" Caballo, "Sanchalana" un paso adelante y "asana" postura. Forma parte de la secuencia del Surya Namaskar "Saludos al sol"; es una postura completa que trabaja toda nuestra zona baja del cuerpo, se caracteriza por trabajar el balance ya que se encuentra tus brazos en el suelo, lo que te ayuda a buscar la estabilidad utilizando tus miembros, también te aporta frescura y calma.
Its name comes from the Sanskrit "Ashwa" Horse, "Sanchalana" a step forward and "asana" posture. It is part of the Surya Namaskar sequence "Greetings to the Sun"; it is a complete posture that works all our lower body area, is characterized by working the balance because it is your arms on the ground, which helps you seek stability using your members. Also gives you freshness and calm.
Beneficios/Benefits

Flexibiliza los músculos de la zona de las caderas, piernas, ingle, abdomen bajo, rodillas, tobillos y pies.
It makes the muscles in the area of the hips, legs, groin, lower abdomen, knees, ankles and feet more flexible.
Masajea toda nuestra parte abdominal, ayudando al sistema digestivo en su proceso.
It massages our entire abdominal area, helping the digestive system in it's process.
Gracias a la apertura de pecho, mejora la capacidad pulmonar. Cuando nuestro pecho y pulmones se encuentran en buenas condiciones, activa nuestro corazón aportando vitalidad.
Thanks to the chest opening, it improves the lung capacity. When our chest and lungs are in good condition, it activates our heart bringing vitality.
Vamos a realizar la postura/ We're going to do the posture

Es parte de nuestro saludo al sol, en sánscrito Surya Namaskar, partiendo desde esta secuencia, nos encontramos en Uttanasana "la postura de la pinza" la segunda postura anteriormente publicada.
It is part of our greeting to the sun, Surya Namaskar. Starting from this sequence, we find ourselves in Uttanasana "the pincer posture". If you don't know what it is, run to my previous publication of "Yoga World".
Inhalo, me sostengo con mis manos y coloco pierna derecha hacia atrás, mantengo el balance con mis manos y mi pie.
Inhale, hold with my hands and put my right leg back, maintain balance with my hands and foot.
Exhalo, coloco rodilla derecha al suelo y pierna anterior en 90°
Exhale, place right knee to the ground and front leg at 90°
Manos en el suelo alineado con mis hombros
Hands on the floor aligned with my shoulders
Columna erguida y pecho aperturado
Upright spine and open chest
Respira conscientemente y disfruta la postura
Breathe consciously and enjoy the posture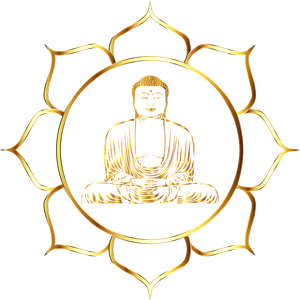 Gracias por leer
Como toda práctica requiere de nuestra voluntad y amor
nos vemos en el próximo post
Namaste
Thanks for reading
Like all the practices we need courage and love
see ya at the next post
Original photo
Camera: Redmi 8A
Fuentes Bibliograficas: www.himalayanyogaashram.com/www.yogapedia.com/www.kresent.com

CC0 Creative Commons
---
▶️ 3Speak