Once upon a time, my sweet tooth would always be looking for something...sweet and...sugar-laden; that is until a fairy godmother, a fellow Hive foodie @plantstoplanks, who by the way must be half my age; but much wiser on matters relating to good and healthy and nourishing food preparation; came along and rescued this old gal.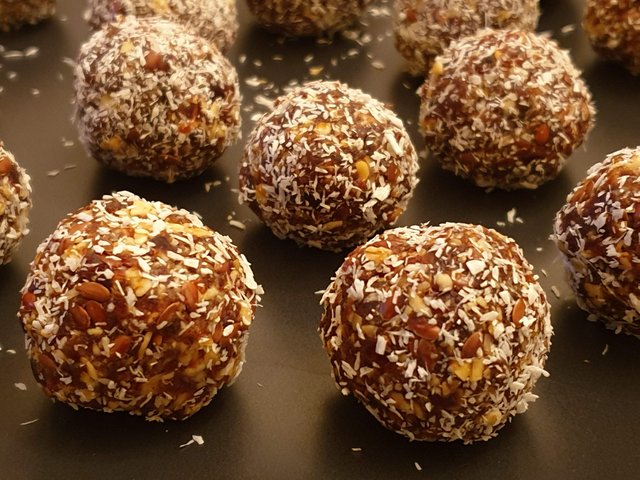 This lovely lady has showed us how to use Dates as a natural and much healthier sweetener and how to make some really delicious sweet treats. I will never forget seeing her haul of gorgeous, luscious Meedjool Dates, ripe and ready for devouring!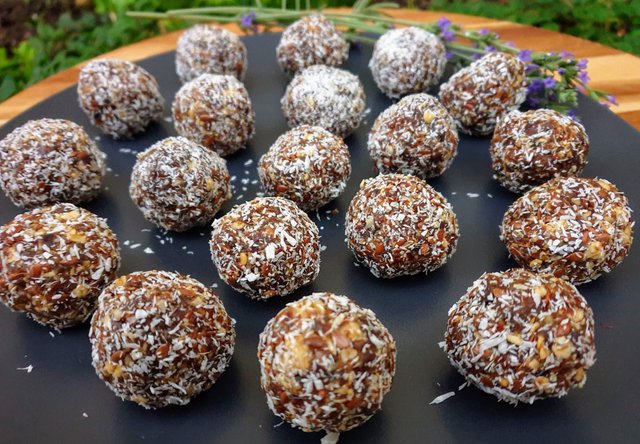 So I'll be totally honest and tell you what happens if I get hold of a slab of Chocolate; I could very easily make it disappear, but put some delicious Date Energy Balls in front of me, and I will behave like a model child, but only because these little balls of energy leaves me satisfied in no time at all!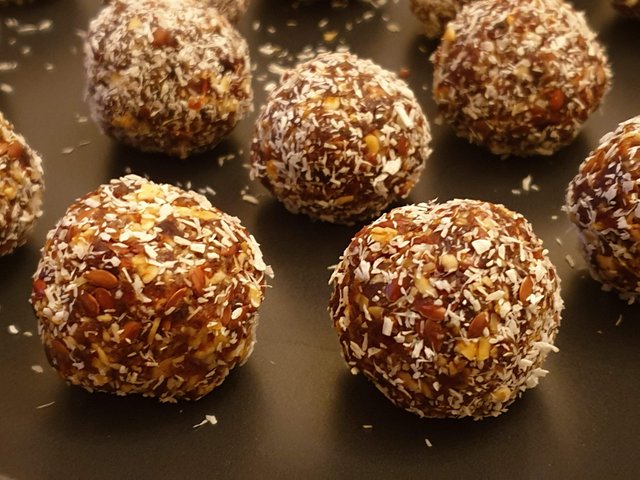 No wonder as they're loaded with good carbs, protein, healthy fats plus fiber; the perfect guilt-free energy snack!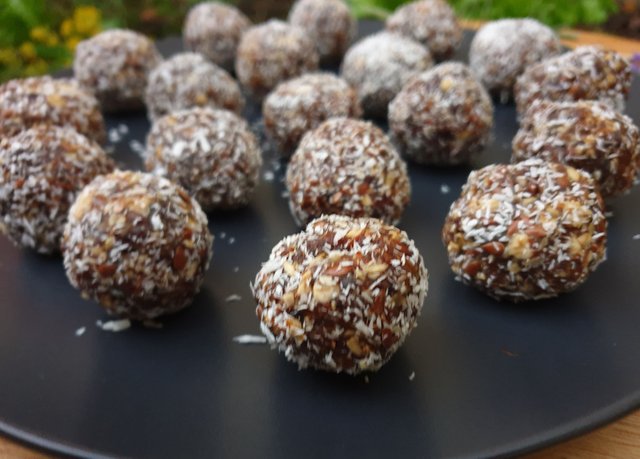 These 5-ingredients no-bake energy Date Balls are super quick & easy to make and healthy to top it all!
5-INGREDIENTS DATE ENERGY BALLS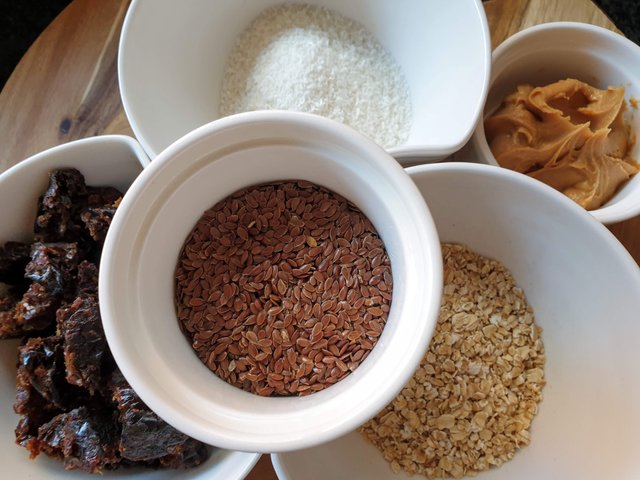 See I told you, there's no Sugar in these Sweeties!
2 cups Dates, diced
- excellent for heart health and strengthening bones PLUS the high fibre content slows down digestion and prevents blood sugar level spikes.
1/2 cup unsweetened Peanut Butter
- contains potassium and protein which lowers the risk of high blood pressure, heart disease and stroke.
1/3 cup Flax Seeds
- is an amazing anti-inflammatory plus has a load of other health benefits.
1/3 cup Rolled Oats
- Lower Cholesterol Levels and is rich in anti-oxidants.
1/3 cup Coconut
- is high in manganese, essential for bone health; rich in copper and iron which helps form red blood cells, as well as selenium which is a vital anti-oxidant.
Pulse on high till mixture is smooth and will hold together to form balls; you may have to add a little extra peanut butter.
Form into small balls and roll in extra Coconut, store in refrigerator.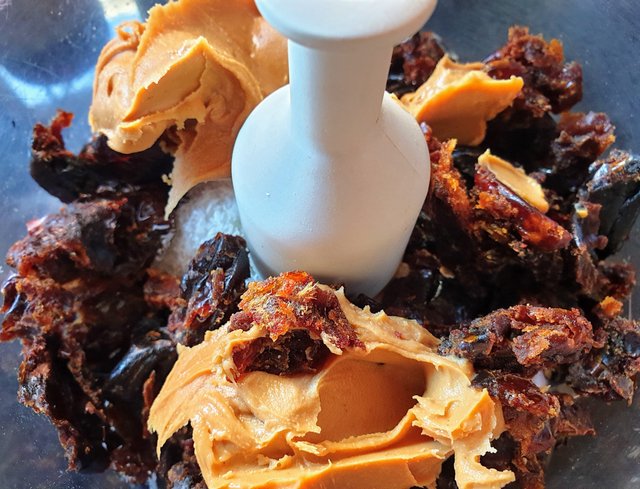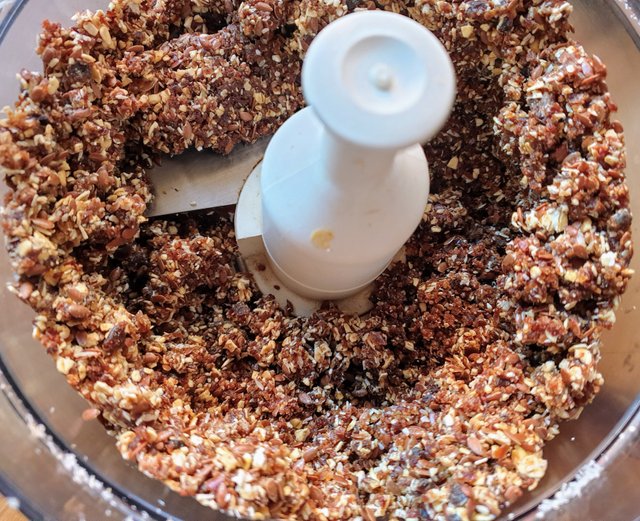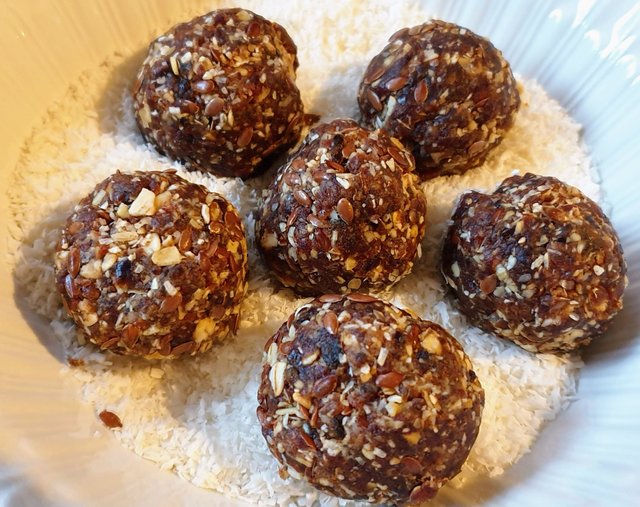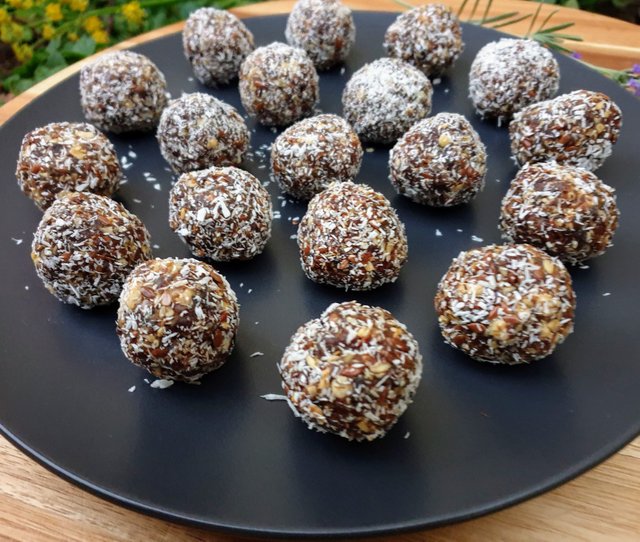 One can vary the ingredients by adding:
Sunflower Seeds
– Full of Vitamin B which is excellent for the nervous system

Nuts, Macadamia's my favourite
– full of healthy fats and a low glycemic food

Raw Cacao Powder
– contains flavonoids which is an excellent antioxidant

Almond Butter
– monounsaturated fats which lowers cholesterol and risk of heart disease
BON APPETIT FRIENDS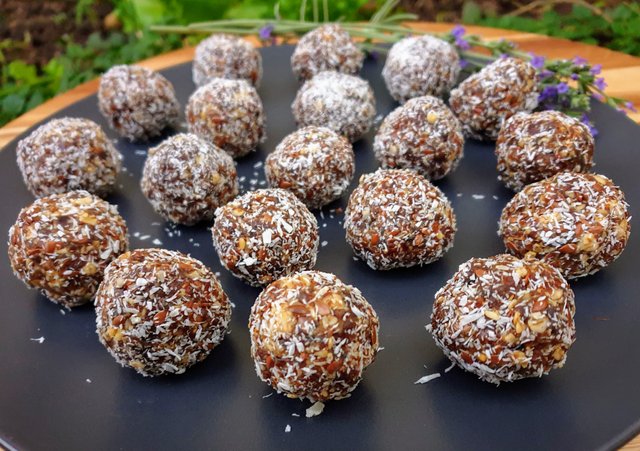 Hope you enjoyed these little sweet treats as my contribution to @lenasveganliving's Fruits and Veggies Monday.


Original Content by @lizelle

Thank you for stopping by

Copyright @lizelle - All Rights Reserved


Banner created by @derangedvisions