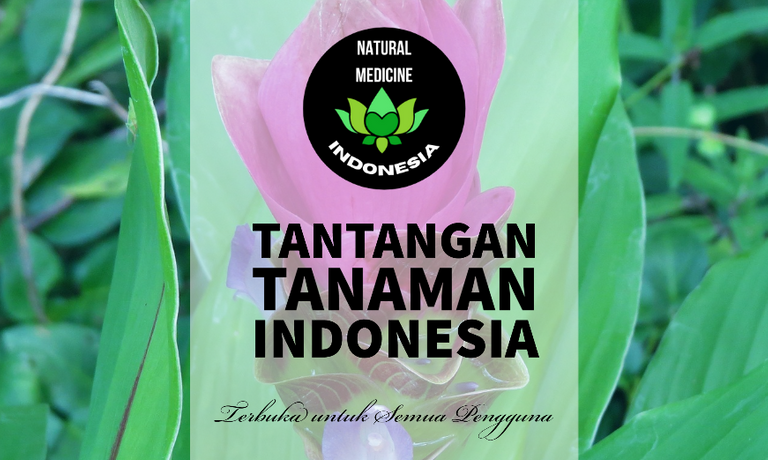 Kami MENCINTAI konten tentang Natural Medicine "Pengobatan Alami" dari pengguna Indonesia di HIVE! Dari tanaman leluhur hingga memasak, hingga meditasi dan berkebun, kami melihat Indonesia memiliki penawaran TERBAIK dalam tema kesehatan dan tanaman herbal! Tantangan ini adalah untuk membantu menyebarkan berita dan memberikan dukungan bagi pengguna tag #naturalmedicine di Indonesia dan tentunya tag #lotusindonesia!

Namun, dua minggu ini (hingga 17 Mei) kami melakukan sesuatu yang sedikit berbeda! Anda harus memilih salah satu dari sepuluh tanaman herbal dan menulis postingan tentangnya! Kami memiliki dua set hadiah HIVE.
- Set HADIAH PERTAMATA 25 HIVE HANYA UNTUK PENGGUNA INDONESIA.
- Set HADIAH KEDUA 15 HIVE untuk PENGGUNA BUKAN DARI INDONESIA.
Bergantung pada kualitas dan jumlah entri, kami mungkin menawarkan lebih banyak HIVE.

Berikut ini adalah SEPULUH TANAMANAN HERBAL INDONESIA yang bisa kalian pilih untuk diikutsertakan dalam tantangan Minggu ini:
- 1. Kunyit atau kunyit jawa (ya, mereka adalah jenis yang berbeda!)
- 2. Jahe - varietas apa pun, tetapi spesifikasikan yang Anda - pilih.
- 3. Asam jawa
- 4. Cengkeh
- 5. Jeruk Nipis
- 6. Pandan
- 7. Jintan/jinten
- 8. Llengkuas
- 9. Pala
- 10. Satu tanaman Indonesia pilihan ANDA

BEBERAPA IDE KONTEN UNTUK MEMULAI
Harap jangan hanya menyalin informasi yang dapat kalian cari dengan mudah di Internet!!! Dan coba cari melalui HIVE SEARCHER untuk posting lain tentang tanaman ini, karena kami ingin membaca sesuatu yang BERBEDA dan unik!
Bagaimana TANAMAN HERBAL pilihan Anda dapat digunakan dalam perawatan kecantikan atau spa?
Bagaimana kakek-nenek Anda menggunakan tanaman tradisional tersebut?
Bereksperimenlah dengan TANAMAN HERBAL tersebut sebagai resep untuk pertama kalinya.
Jika Anda pernah mengunjungi Indonesia sebagai seorang traveler, jelaskan pengalaman Anda bertemu dengan TANAMAN HERBAL tersebut.
Tulislah resep tentang kesehatan menggunakan satu atau lebih TANAMAN HERBAL tersebut.
Bereksperimenlah dengan memasak hidangan berbasis tanaman (tanpa penggunaan bahan hewani) dengan resep Indonesia untuk pertama kalinya. Anda bahkan dapat mengikutsertakannya ke dalam tantangan @naturalmedicine Plant-Based Minggu ini untuk dikurasi oleh @justinparke!
Apakah Anda menanam TANAMAN HERBAL tersebut? Jelaskan #gardenjournal.

KONTEN SEPERTI APA YANG KAMI PILIH
Konten asli
Jelas, foto asli
Cerita asli
Postingan yang diformat/disusun dengan baik

Beberapa Aturan Penting Lainnya

Tanggal Deadline & Hadiah
Entri terakhir pada pukul 5 sore waktu Indonesia, 17 Mei.
Kami mungkin memiliki SATU pemenang atau berbagi dengan beberapa pemenang, tergantung pada berapa banyak yang kami dapatkan dan kualitasnya. Tantangan dapat diperpanjang jika tidak ada cukup entri dalam dua minggu pertama.
Posting yang sangat bagus dapat dinominasikan untuk mendapatkan vote dari OCD.
Kami akan me-reblog konten yang bagus dengan @lotusindonesia, dan @naturalmedicine, mungkin juga mereblog @uplotus dan @lotushares untuk akan meningkatkan karya Anda agar lebih banyak eksposur.
'Tips HIVE' dapat diberikan oleh @naturalmedicine untuk konten yang sangat baik.

Earn Instantly For Writing Natural Health Content

Earn LOTUS and HIVE rewards for sharing your natural health content on www.naturalmedicine.io. If you don't already have a HIVE account, you can sign up for FREE here. We support writers sharing about medicinal plants and other healing practices written by Indonesian content creators. Read more about it here.

DelegateIICommunityIIDiscordIILotuschat