I showed you how to purchase LOTUS in the last tutorial while also mentioning the importance of burning LOTUS. To reiterate, LOTUS tokens are currently used to enter in contests through burning tokens. Though we are working on future use cases such as trading them for services and goods, and more. In the use of exchanging LOTUS for goods and services, you will need to know how to send LOTUS to a specific user.
That said, I have put together this pictorial guide to help you complete the process involved with the sending of LOTUS tokens. In this example, I will be sending LOTUS to the account @null as an example of how to burn LOTUS. @null is an account which is locked away from access by anyone as nobody ever has access to the keys for this account. Thus, tokens sent to @null are removed from circulation. This is what we mean whenever we mention burning LOTUS.
As always, if at any point you get stuck or confused, please reach out to me on Discord (@alchemage#4235) or reach out to us in our Help channel in our Natural Medicine Discord Server (NOTE:You must be a member of the community to access this channel).
---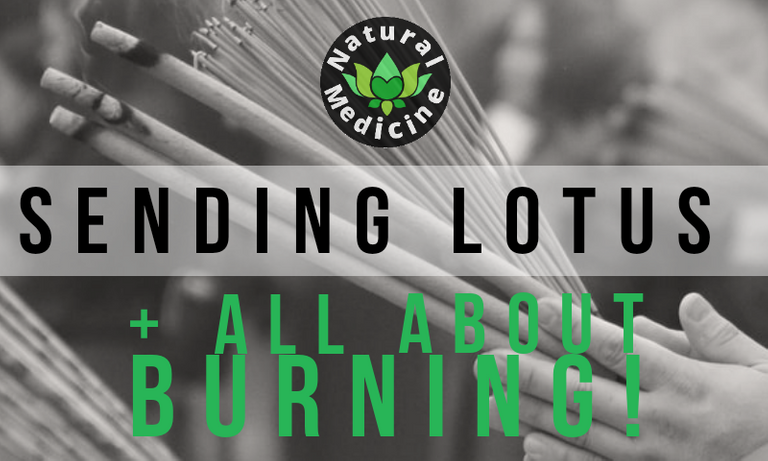 How to Send/Burn LOTUS Tokens
---
There are a few ways that you can burn your LOTUS tokens. For instance, you could either use PeakD, or you could use Hive-Engine. I will be showing you how to use PeakD to accomplish this task.
As I assume you all are familiar with PeakD, or other similar frontends (Hive.blog, NM.io, etc), I am not going to walk you through the logging in process. So once you have logged in, you will need to click on your username located at the top right corner of the page. This will bring a drop down box with various links to navigate the site. From here, you will need to click on Wallet.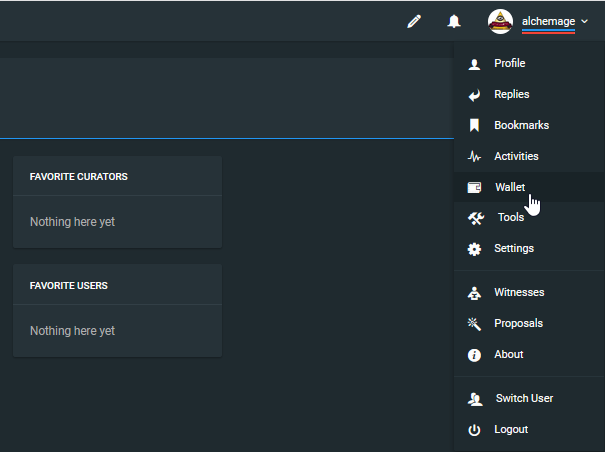 Clicking on this will take you to your HIVE wallet showing you each different amount of liquid HIVE, HIVE Power, and HIVE Backed Dollars which you currently possess. On the left hand side of the page, you will see a list of different links, one of which being HIVE ENGINE WALLET. Click on this to open up your token balances on Hive Engine.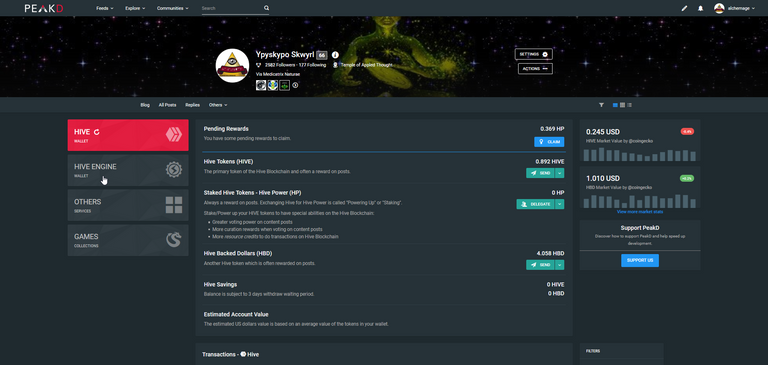 Now that you're in your Hive Engine wallet, find the LOTUS token in the list of any other tokens. There will be a SEND button on the far right side of the page in line with the LOTUS listing. Click on this button.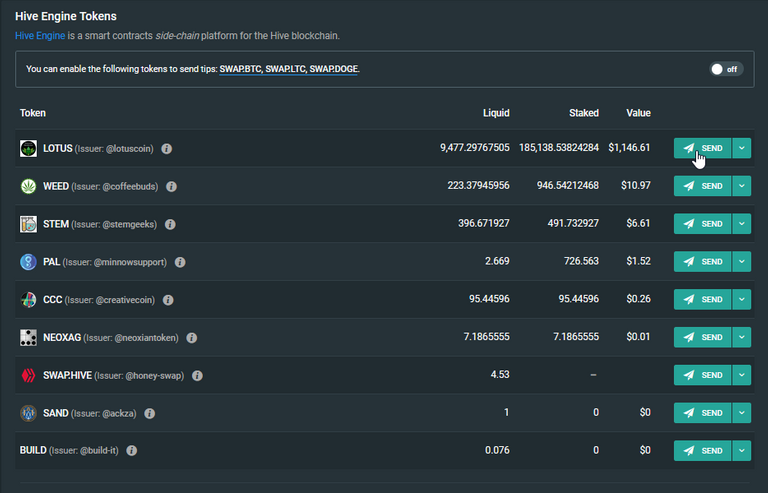 Clicking SEND will open a popup window to transfer LOTUS to another account. Fill out the To: field with the recipients account name (the @ is autogenerated), and the ammount you wish to send in the Amount field. In this example, I have entered @null as the recipient of 100 LOTUS with the memo signifying that this is an example burn for a contest entry. If you are sending LOTUS to another account on the Hive blockchain, the memo field is just a way to leave a note about the transfer or send a message. Memos are extremely important when transferring tokens in other ways which require addresses for wallets, but you won't cross that with LOTUS token. For our purposes, you'll only need to use it as mentioned previously.
Click CONTINUE to proceed to confirmation of the transaction.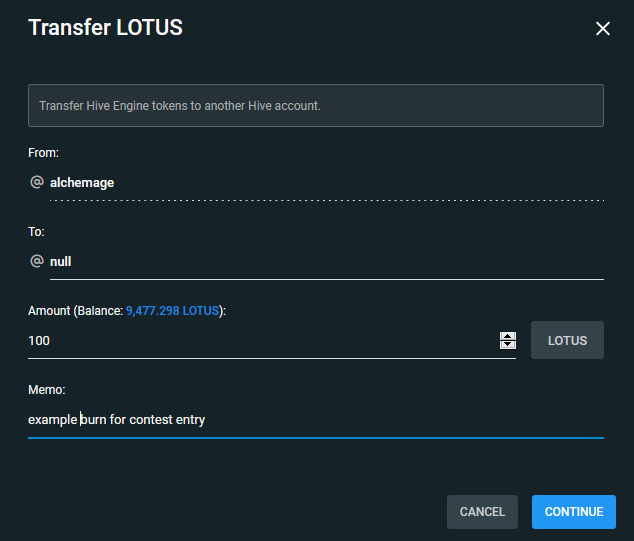 Next, a popup will appear which requires you to enter your ACTIVE key in order to confirm the transaction. Enter your ACTIVE key and press CONFIRM to proceed with the transaction.

You will then be brought back to your Hive Engine wallet and a small popup in the bottom right corner of the screen will appear mentioning that the transaction will run in the background and that the transaction may take 10-15 seconds to reflect in balances.


Refresh your page, return to Hive Engine wallet, scroll down and you will find your recent transaction history. The most recent one should now reflect the sent LOTUS transaction. If you are burning LOTUS to enter into a contest, you will need to take a screenshot of this transaction and upload the image with your entry post as verification of completing the burn.
Congratulations! You have successfully sent/burnt your LOTUS tokens and are more proficient in navigating the blockchain! Pat yourself on the back and take a nice break. :)

Earn Instantly For Writing Good Natural Health Content
If you would like to earn rewards for sharing your natural health content on www.naturalmedicine.io, you can sign up for a free FREE account by emailing welcome@naturalmedicine.io. Read more about us on our Welcome Page. We support writers sharing about herbalism, TCM, yoga, meditation, vegan and other healthy diets, as well as earth centred practices such as foraging, permaculture and biodynamics.


Please consider delegating to help keep this collective going. For any questions, come ask in our friendly Discord here !