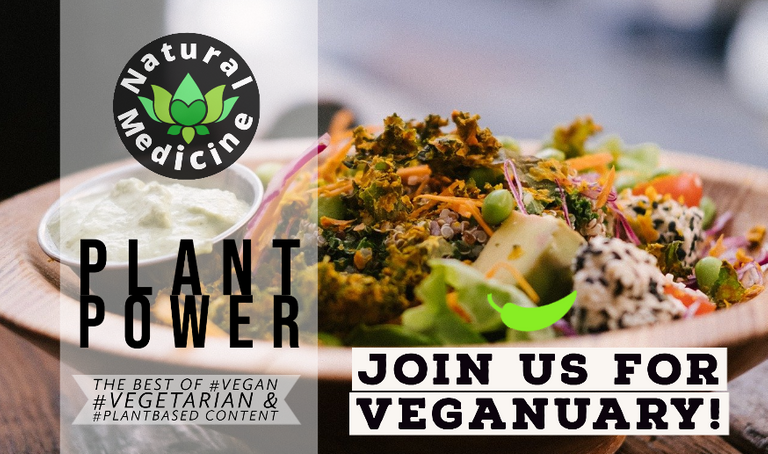 Have you been meaning to try a plant powered life for some time? Are you just a little bit full of Christmas turkey? Are you feeling the sadness of the environmental disaster that is the meat industry? Or maybe you want to just be a little bit healthy?
Why don't you join us for Veganuary?
As @plantstoplanks informed us in her post, Veganuary
...was started back in 2014 as a way to encourage people to go vegan for the first month of the year. A play on the words "vegan" and "January." It's been going strong since then, gaining traction every year. Up to this point over one million people have signed up to give it a go. There are tons of great resources on the website with recipe ideas, shopping guides, health information and so many ways to connect and learn. As with any lifestyle change, having a great community to join and be a part of definitely helps make it more fun and sustainable.
She offers some great tips to get started!
Try meal planning
Take one day at a time
Follow some vegan blogs on social media - be inspired
Don't worry if you slip up - just start again
You'll also find great inspiration by following some vegans on HIVE - @carolynstahl, @plantstoplanks, @justinparke and @sreypov post some delicious recipes! And you can find even more on @naturalmedicine's PLANT POWER curation, curated by @justinparke every Thursday on HIVE.
How We'll Support You
Upvoting your post
Reblogging and tweeting
Tips
OCD nomination for excellent content
Curation support and post beneficiary via PLANT POWER
Fancy Winning 100 HIVE?
For those that want to go a little bit further, submit your post under this blog with a screenshot of ANY purchase of LOTUS via LeoDex (log in with your HIVE keys). At the end of Veganuary, we'll put your entries in a draw to win 100 HIVE!
Each post is worth 5 ENTRIES, and each 20 LOTUS is worth 1 ENTRY into the raffle. Extra super plant powered recipes will recieve bonus entries of up to 5.
So say you write 1 post and buy 100 LOTUS - that's 10 entries into the raffle. Write 3 posts and buy 20 Lotus, that's 16 entries into the raffle. If one of those is FREAKING AMAZING, we'll give you a bonus entry or 5!
Oh, and don't forget to reblog and mention this challenge AT THE END OF YOUR POST.
We'd love to invite sponsors for this challenge, so if anyone fancies throwing a little into the pot, that'd be appreciated!
Some Ideas For Blogs
You don't need to be an amazing vegan cook to enter the draw! Here's some ideas:
Write about your past experiences with Veganuary, or with veganism
Write about why veganism might be an environmentally solid dietary choice
Write about vegan foods that ARE NOT good for the planet!
Try a plant based version of your favourite meat dish - it doesn't have to be successful!
Document your efforts, diary style, each week
Do a review of your favourite vegan cookbook or blog site
Experiment with making vegan cheese
Try or review a vegan product
For inspiring us to make this challenge for Veganuary, @planttoplanks wins 20 percent beneficiary on this post, so give it an upvote to support her! @justinparke is also awarded 10 percent, as he'll be busy curating you all (sorry Justin - but, you know - PLANT POWER!)

Earn Instantly For Writing Natural Health Content
Earn LOTUS and HIVE rewards for sharing your natural health content on www.naturalmedicine.io. If you don't already have a HIVE account, you can sign up for FREE here. We support writers sharing about herbalism, TCM, yoga, meditation, vegan and other healthy diets, as well as earth centred practices such as foraging, permaculture and biodynamics - read more about us on our Welcome Page!


DelegateIICommunityIIDiscord

---
Posted on NaturalMedicine.io