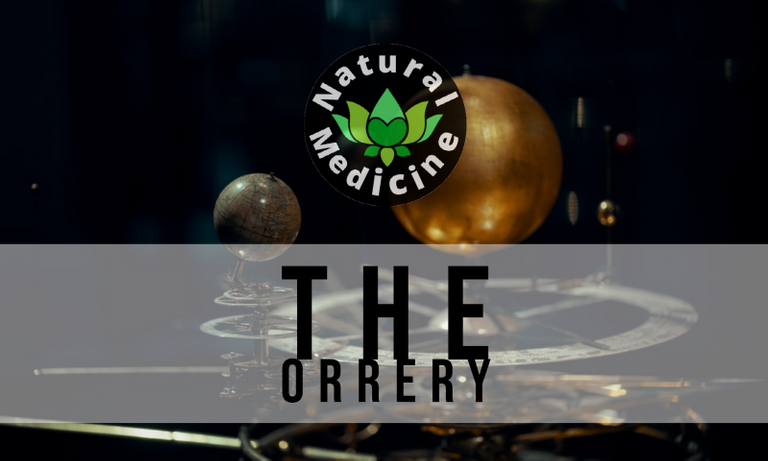 ---
Unless indicated otherwise, all images in this post are extracted from Astro Dienst.
---
Hello, my friends! Welcome to another edition of The Orrery, the editorial for all topics mystical, oracular and esoteric! I decided to keep these publications fortnightly in order to give myself some breathing room and also to take better advantage of the planetary movements throughout the month.
Speaking of which, I'm sure you all have pretty interesting stories to tell about your processes during this intense period, with Mercury Retrograde in Scorpio, Mars Retrograde in Aries and the New Moon in Libra this Friday. I thought today I could explain a bit about retrograde motions and the planetary aspects. I'll conclude by giving you my summarized assessment on the current transits with regards to our collective circumstance. If you already have access to your Birth Charts, you can also leave me specific questions in the comments about what these transits might mean for you personally, which I'll happily answer to the best of my ability.
Let's begin!
---
𝐖𝐡𝐚𝐭'𝐬 𝐰𝐢𝐭𝐡 𝐭𝐡𝐞 𝐫𝐞𝐭𝐫𝐨 𝐦𝐨𝐯𝐞?
---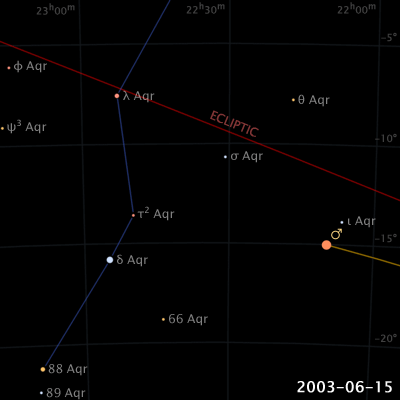 Mars' retrograde motion in 2003. Source
First off, planets never go backwards. However, in the course of their orbital rotation, they regularly seem to do so from our earthbound perspective. This motion is merely an illusion with no astronomical implications, but from an astrological, psychological and spiritual standpoint, they're profoundly significant.
When a planet goes retrograde, it's as if it's turning its sights to the past, becoming much more introspective and self-critical. As I briefly mentioned in the previous edition, a planet is a psychical actor, a character in a narrative if you would, and when that character retraces its steps, that expression of ourselves strolls down memory lane and we're made to ponder questions such as "How did I get here?" or "Why did I do this?". This revision usually isn't comfortable or easy, but it's unavoidable and it does provide powerful insights, so the best we can do is take advantage of it by exercising restraint in actions, thinking before making life-changing choices and meditating in search for deeper understanding.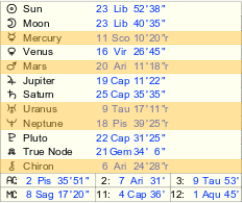 Although Mercury's retrograde phase is the most common and well-known to us, all planets, asteroids and even mathematical points such as the Nodes, go retrograde at some point except for the two luminaries, the Sun and the Moon. In fact, there are currently other four celestial bodies undergoing their retrograde phases: Mars in Aries, Uranus in Taurus, Neptune in Pisces and Chiron also in Aries, as you can see in this table.
---
𝐓𝐡𝐞 𝐀𝐬𝐩𝐞𝐜𝐭𝐬
---
Simply put, the aspects are angular relationships between different points of a chart such as the Ascendant, Mid-Heaven and Nodes (which I'll explain in later publications) or the planets themselves. Some of these relationships are considered harmonious or helpful, while others are considered analytical or challenging. There are five major aspects and quite a few minor aspects, all of them involving a concept called Orb, which is a kind of tolerance field surrounding a planet, luminary or point, allowing for the formation of a particular aspect beyond the exact degrees of location. This is a very advanced topic that I won't discuss in this entry.
Let's focus on the five major aspects:
Conjunction (0 degrees, Harmonious)

: This is said to be the most powerful aspect of a chart. Planets/points in conjunction are working together directly, and they potentiate each other, their meanings and energies intertwined as if they were a single entity. Think of it as a marriage, brotherhood or sorority.
Sextile (60 degrees, Harmonious)
: This is a balanced relationship where the planets/points help each other from a distance. It's similar to the Trine, but less intense. Think of it as an alliance or agreement.
Square (90 degrees, Challenging)

: An aspect of tension, it means that the energies of each actor aren't fully developed or deployed because of the influence of the other actors. Every part is holding the other in check. Think of it as a disagreement or argument.
Trine (120 degrees, Harmonious)

: An extremely beneficial relationship where the actors play their parts in unison, bringing the best in each other without crossing any lines or disturbing the flow of energy. Think of it as a good friendship.
Opposition (180 degrees, Challenging)

: The peak of tension between actors, where each is studying the other. This aspect can be very insightful and reflective, and it embodies the concept of psychological projection. You could think of it as a rivalry or even an enmity, depending on the context.
One thing you must understand is that even tense aspects can be very productive and beneficial if used properly. Of course, squares and oppositions are the hardest to grasp and handle, but they can be just as useful as trines or conjunctions. Similarly, harmonious aspects don't necessarily mean pink-tinted glasses, sometimes two planets helping each other can spell tremendous conflicts for the consultant or the event in question. Like everything else in the Universe, there are infinite shades of grey in this topic.
---
𝐀 𝐪𝐮𝐢𝐜𝐤 𝐢𝐧𝐭𝐞𝐫𝐩𝐫𝐞𝐭𝐚𝐭𝐢𝐨𝐧 𝐨𝐟 𝐭𝐡𝐞 𝐜𝐮𝐫𝐫𝐞𝐧𝐭 𝐩𝐥𝐚𝐜𝐞𝐦𝐞𝐧𝐭𝐬
---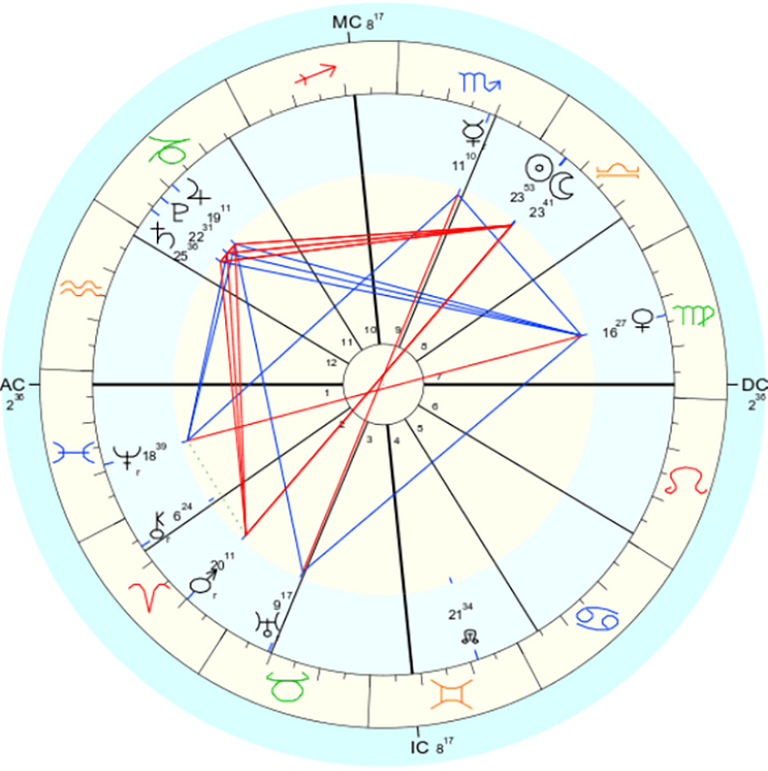 I'll conclude this entry with a short explanation of the positions you see above, taken yesterday almost at the exact time of the perfect conjunction of the Sun and the Moon (New Moon) in Libra. These explanations are based not only on astrological study, but also on Tarot and Runes, which I've used many times in combination with the Chart to extract specific messages.
The Great Conjunction of Jupiter, Pluto and Saturn in Capricorn has been the main issue this year, the collapse of the Old World. Everything we've taken for granted, the rules we've observed, the state of the global financial system, international diplomacy and domestic administration, they're all being tested and mostly ravaged by this huge concentration of energy. Pluto (Transformation, Revelation, Death, Invulnerable Essence) is digging out all sorts of dirt and secrets, both in the halls of powers and in other areas of our lives; I see it right now as a great rift of rock, magma and sulfur splitting the Chart in two, right in the middle of Saturn (Law, Accountability, Authority, Patriarchy, Restriction) and Jupiter (Global Economy, Air Travel, News Media).
This reshaping of the world we know is being further empowered by Mars in Aries, gauging people's individual strength, fueling public anger, focusing personal decision-making and encouraging a profound, strategic study of priorities. Mars is usually conflict-centered, but in this case it's taking its time to act and doesn't want to cause more damage, aware that the situation is already dire and there's great need for honest, sensible leadership. The Sun (Open Consciousness, Novelty and Divine Authority) and the Moon (the People, the Home, the Past and the Ancestors) in Libra, are encouraging feelings of deep revision, of studying history in search for clues to the present conundrums of our society, of seeking new purpose in traditions and practices long believed obsolete, and fostering a balanced, simple and beautiful approach to destabilizing situations.
Mercury (Logic, Communication, Movement, Pattern Recognition) in Scorpio is the Magician and the Archaeologist investigating the darkest fears, the deepest desires, the hidden motivations, while Uranus (Technology, Climate Change, Electricity, Higher Awareness) in Taurus is awakening the planet to the abuses of mankind, making us see and feel the consequences of our destructive imprint on the Earth, but also bringing a more elevated perspective, like the Eagle seeing the entire world from above. These two in opposition are thus actually working together, one from below, the other from above, almost without disturbing or contacting each other.
I feel that the hardest conflict in this moment, however, is between Venus (Material Reality, Pleasure, Truth, Love) in Virgo and Neptune (Illusion, Illness, Mysticism, Magic) in Pisces. These two planets are putting a stark decision before us: dispersion and daydreaming, or organization and work; unbridled empathy or self-centered progress. Neptune is in sextile with Pluto and Jupiter, and it rules contagious diseases; Venus is in Trian with all three planets in Capricorn. With all the mess in public opinion about COVID-19, we must be organized, disciplined and effective, avoiding falsehoods, ditching conspiracy theories and demanding far more responsibility from our representatives. Although there are no magical instant cures for the ailments of our civilization, we can tackle them orderly and accurately.
---
Hopefully, this interpretation will be of use to you. Be sure to check the transits in your Chart and don't forget that the Universe never stops moving and evolving, what might be dire today may be easy tomorrow, so stay in the Present Moment, breathe and connect with the frequency of Love. Blessings to you all!
---
5% of this post's rewards will go to @andreaa22, who has been posting some really nice content about spirituality and healing in the community lately!

Earn Instantly For Writing Good Natural Health Content
If you would like to earn rewards for sharing your natural health content on www.naturalmedicine.io, you can sign up for a free FREE account by emailing welcome@naturalmedicine.io. Read more about us on our Welcome Page. We support writers sharing about herbalism, TCM, yoga, meditation, vegan and other healthy diets, as well as earth centred practices such as foraging, permaculture and biodynamics.


Please consider delegating to help keep this collective going. For any questions, come ask in our friendly Discord here !