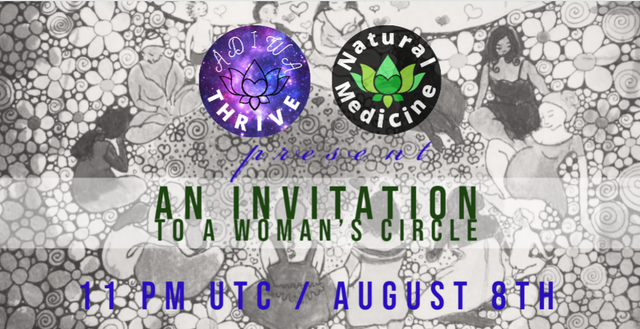 Adiwa Thrive and Natural Medicine are so excited to present the first Sacred Woman's Circle on HIVE, this Saturday August 8th at 11pm UTC!!!!
The gathering will be on @naturalmedicine's Discord and we will have space for 8 women to be part of the tribe - both English and Spanish speakers are more than welcome. 💛
Adiwa Thrive y Natural Medicine están muy emocionados de presentar el primer Sagrado Círculo de Mujeres en HIVE este sábado 8 de agosto a las 11pm UTC!!!!

La reunión será en @naturalmedicine's Discord y tendremos espacio para que 8 mujeres formen parte de la tribu - tanto las que hablen inglés como las que hablen español serán más que bienvenidas. 💛
It will be guided by Paola Cedeño (@VioletMoon) a beautiful medicine woman, mom and angeologist from Venezuela - with the help of @neyxirncn as a translator and apprentice.
The focus in this Woman's Circle will be on healing through our words - having the opportunity to see us reflected in women from all age and nationalities.
During approximately two hours, we will have a space to get to know each other, to share the struggles we might be facing at this moment and to work on a mandala to help us connect to our intuition and help us raise an intention.
Será guiado por Paola Cedeño (@VioletMoon) una bella mujer medicina, madre y angeóloga de Venezuela - con la ayuda de @neyxirncn como traductora y aprendiz.
El enfoque de este Círculo de Mujeres será sanar a través de la palabra - teniendo la oportunidad de vernos, a nosotras mismas, reflejadas en mujeres de todas las edades y nacionalidades.
Durante aproximadamente dos horas, tendremos un espacio para conocernos, para compartir las luchas que podemos estar enfrentando en este momento y para trabajar en un mandala que nos ayude a conectar con nuestra intuición y a levantar una intención.
You will need
To bring a concern you would like to work on.
A candle.
An incense or some kind of smoke as a palo santo or a herbal smudge.
Paper and colors/paints.
A camera to see each other on video! (Optional)
Necesitarás

- Traer una inquietud que te gustaría trabajar.
- Una vela.
- Un incienso o algún tipo de sahumerio como un palo santo.
- Papel y colores/pinturas.
- ¡Una cámara para vernos en video! (Opcional)
Cost
500 LOTUS, payable to @violetmoon.
If you're not sure how to buy and transfer LOTUS, please read this post and this post or pop into the #help section of Natural Medicine Discord.
However, if you're not able to afford the LOTUS, please don't let that stop you - contact @neyxirncn or @riverflows who will help you out.**
After the Woman's Circle, if you feel it has benefitted you, HIVE donations of any amount are welcome.
@naturalmedicine will also organise a burn of the equivalent amount to continue to support the value of Lotuscoin by decreasing supply.
Costo

500 LOTUS, enviados a @violetmoon.
Si no estás segura de cómo comprar y transferir LOTUS, por favor lee este post y este post o entra en la sección #help del Discord de Natural Medicine.
Sin embargo, si no estás en posición de pagar LOTUS, ¡no dejes que eso te detenga! Ponte en contacto con @neyxirncn o @riverflows que te ayudarán.
Después del Círculo de Mujeres, si sientes que te ha beneficiado,serán bienvenidas donaciones de HIVE en cualquier cantidad que desees.
@naturalmedicine también quemará de la cantidad equivalente para continuar apoyando el valor de Lotuscoin disminuyendo el suministro.
We hope to see there! For more information, drop in to our Discord and get in touch with @neyxirncn!

Earn Instantly For Writing Good Natural Health Content
If you would like to earn rewards for sharing your natural health content on www.naturalmedicine.io, you can sign up for a free FREE account by emailing welcome@naturalmedicine.io. Read more about us on our Welcome Page. We support writers sharing about herbalism, TCM, yoga, meditation, vegan and other healthy diets, as well as earth centred practices such as foraging, permaculture and biodynamics.


Please consider delegating to help keep this collective going. For any questions, come ask in our friendly Discord here !