Painted Mountain Corn harvest was a week or two ago. After going to seed and being harvested, the corn plants wilted and began to die off. With the heat of summer coming in, the clover we planted in the corn rows has started to wilt and die as well.
Corn takes a lot from soil as it grows. Something making that much biomass so quickly takes a lot of energy. Something to be acutely mindful of when you plant your crops is what you're asking of the soil in that place. Thankfully, I have abundant systems in place to counter that taking, and today I started a new agricultural experiment: we planted a small patch of painted mountain corn from seed we grew here.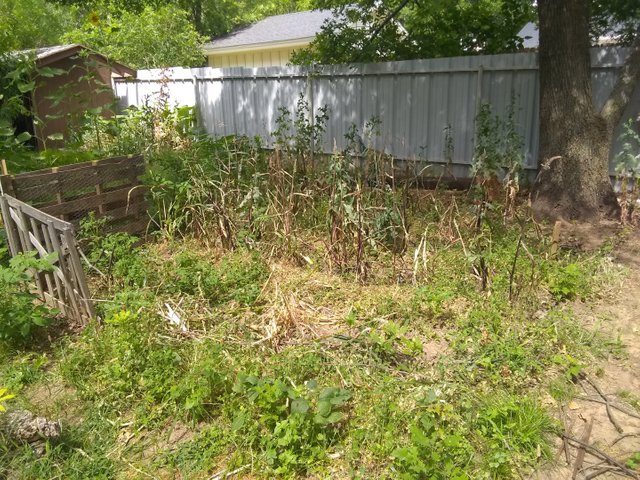 One row chop and dropped
Lots of ideas are going into this project right now, and this post will go into detail on those ideas.
The experiment is taking place in the small patch that we planted first late this past winter. It was planted in the first half of February, the exact date escapes my memory. This patch got little sun at that time, and it was our least productive patch. Small plants, small ears, very little total harvest. It was planted with 3-5 plants in holes 4 inches deep spaced 6-8 inches apart. It took the plants a while to come up and grew slowly because corn likes warm soil and sun. Painted mountain is a variety that's both frost and heat tolerant and can withstand drought and flood. It is bred for extreme environments with progressive climate change in mind. It was first bred in the mountains of Colorado by crossing many native varieties, so it's an open pollinated radical hybrid flour corn.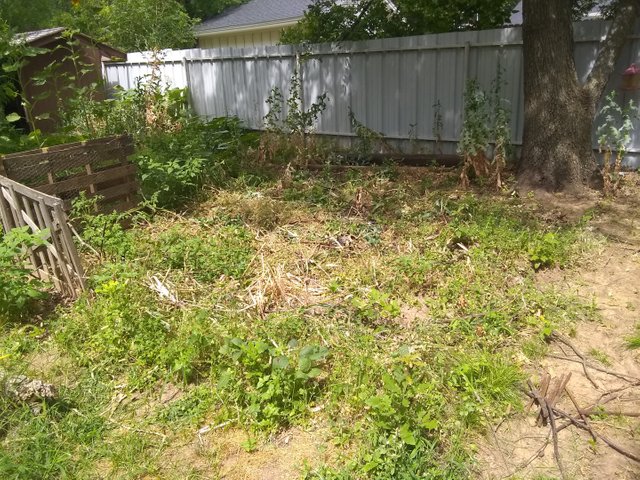 After chop and dropping the corn stalks.
The first step in this project was to chop and drop the corn stalks in place. I don't believe in ripping up roots and composting those plants in another place, just to cart the compost back. I let things compost in the soil they grew in. This will also help with microbial relationships. The new plants growing here will be growing in the roots of their ancestors so to speak, benefitting from the relationships their predecessors made.
The seeds we selected were from some of the largest cobs. The offspring of the plants that did the best here in this soil. I didn't choose to use the biggest because those are for the seed we'll save for next year. I picked three cobs that formed and grew fairly well, not the little nugget cobs, as I like to call them. The smallest cobs right now will be eaten. Priority is being given to establishing a small seed bank so I can have seeds next year to grow and maybe to share and work on establishing a local DFW adapted breeding program. This is a longer game than I anticipated, but that's okay. We're playing it.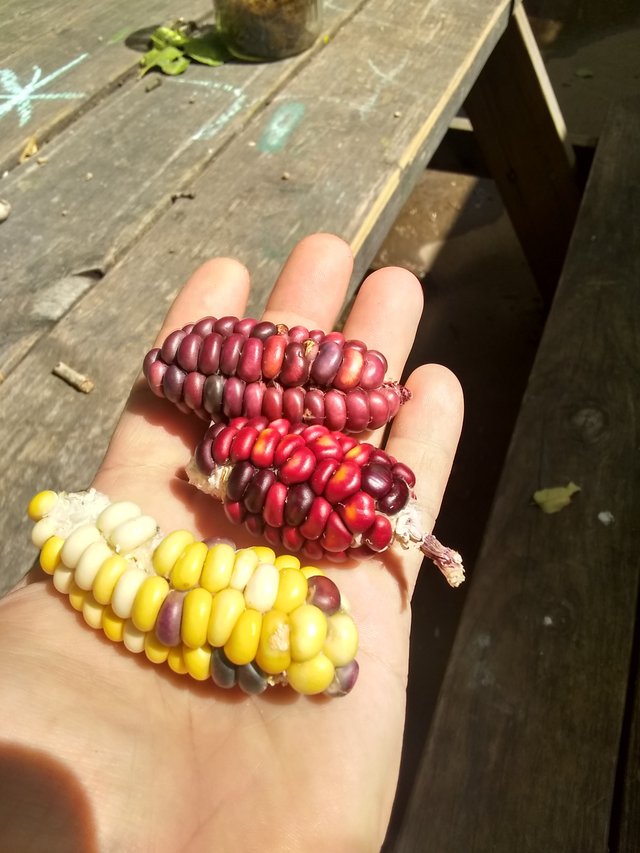 The three cobs we planted from today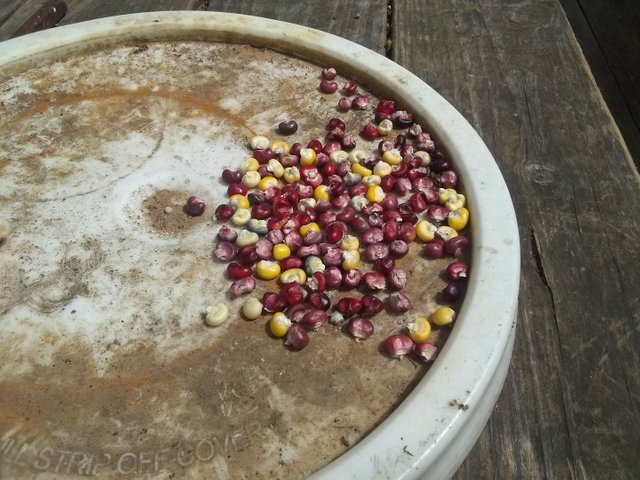 158 corn seeds from this soil, ready to go back to this soil
After the old crop was chopped down a few inches above the ground, I harvested comfrey to put in the rows. More biomass in comfrey alone was returned to this place than was grown and harvested from it. If there were leaves in the rows that hadn't composted down yet, I used them to cover the comfrey and take advantage of the fact that it's a green material for compost, meaning the nitrogen from it needs to be locked up with carbon to keep it in the soil and not have it release to the air. I mixed in the corn stalks, weeds, and clover remnants with the comfrey as well. If there were no leaves left in the rows, I added leaves. Three rows each took one bag of leaves, one row had enough still. One of the bags was about half worm castings and worms. It went in the second highest row because nutrients move down stream. That will allow the nutrients from those fifteen pounds of worm castings to be distributed easily through the rest of the patch.
The usual American grumble of "shit rolls down hill" played over in my mind as I worked this project. It turned in my mind from a complaint from the paradigm of centralized leadership to a proverb for a natural world. In nature, shit is an important piece of the nutrient cycle. If you're putting nutrients into a system, remember that those nutrients can be carried downhill easily, so out them uphill of where you want them to work.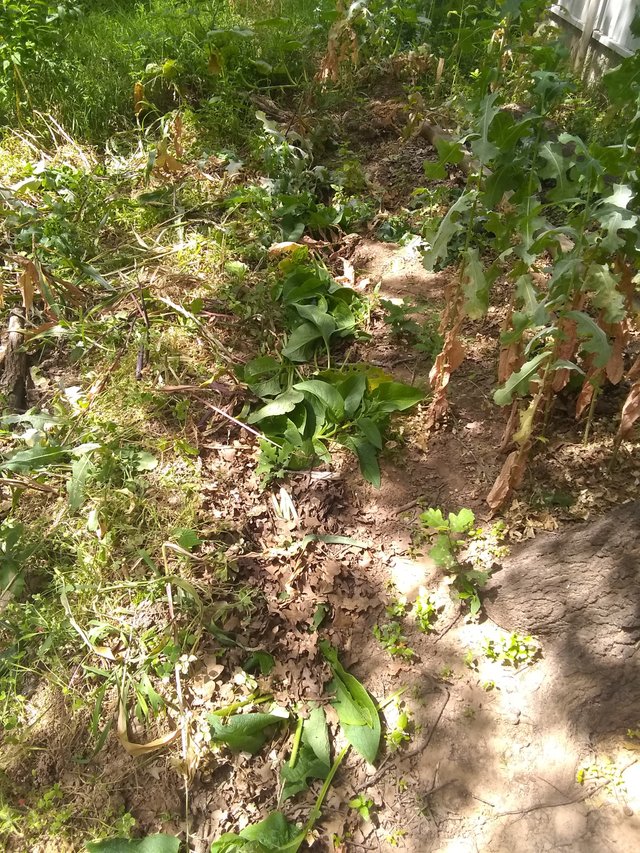 An offering of comfrey
Clover was planted on the rows early this year as a ground cover that mulches and fixes nitrogen into the soil by way of a relationship that clover forms with soil microbes. As the clover grows, more nitrogen is fixed in the soil, but it isn't available to other plants. As the clover dies back for the year, that nitrogen is released and made available to other plants. That makes this a good time to plant this corn, because that nitrogen will be made available progressively while the new corn grows. Lots of relationships are being formed and drawn on here in this project.
In the process of applying the organic matter and harvesting comfrey, I was able to observe a lot of fungal activity. Tons of mycelium in the leaf bags, mushrooms and fungal remnant (decaying mushrooms) on logs, and my first, albeit tiny, turkeytails to be observed on this property.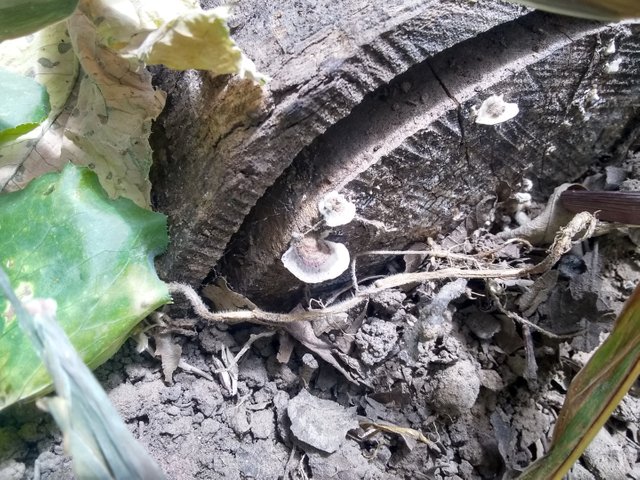 Turkeytail mushrooms growing in the corn patch
Turkeytails are exciting for me for a few reasons. They were the first medicine I learned to work with and harvest from the wild about a year and a half ago. Since then I've developed a lot of helpful plant relationships, but turkeytails will always be dear to me. This past winter, I was able to help a woman clean up her property as her husband had died and her acre and a half plot had fallen into disrepair because tending it was her husband's specialty. She's a retired woman with college aged kiddos that were in school, so the church got a group of men to go and help her get the property under control and presentable. She had a couple of dead oaks that had been dead for years and had many turkeytails on them that were past their prime. There was another more freshly dead tree that hadn't yet fruited with turkeytails, so I brought that tree home, hoping that it would fruit with as it decayed. Parts of it are all over the yard now, including this piece in the small corn patch. I won't be surprised if we get a large crop of the beneficial fungi when the moisture and cool weather return.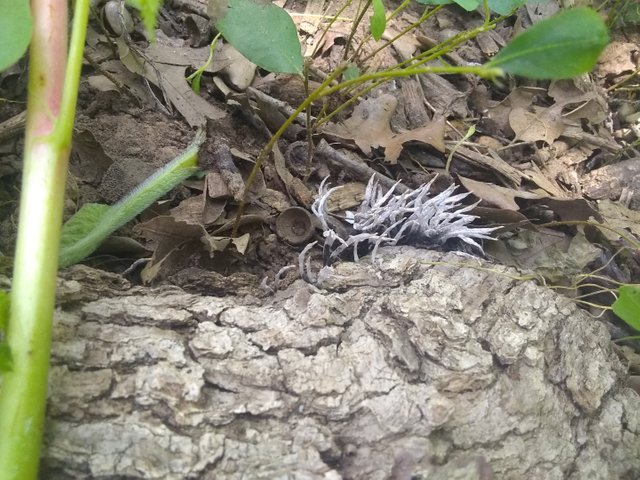 Some kind of fungal remnant under the comfrey by the big peach tree.
After applying the organic matter, I watered it all lightly as I went in for lunch to keep the leaves moist and give the worms some time to get out of the top layers and into the soil.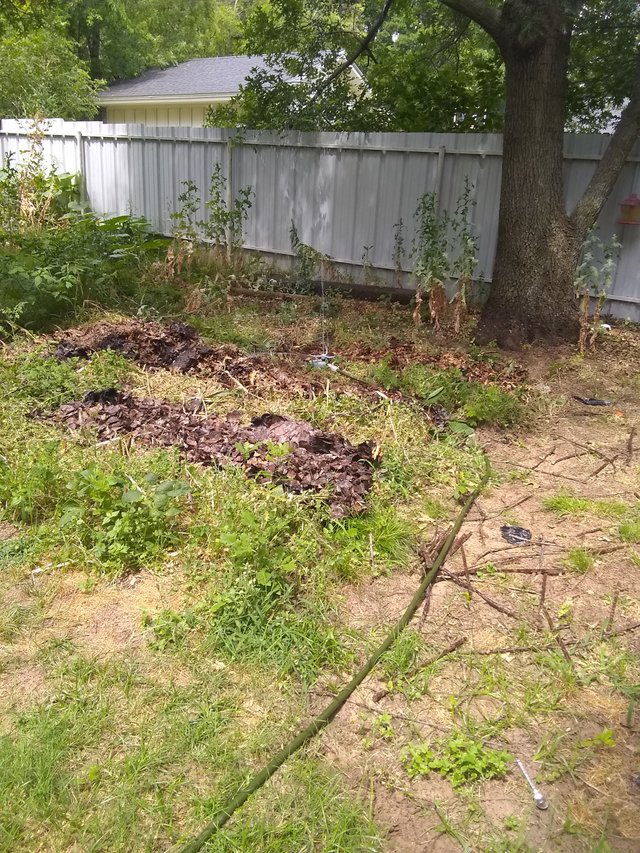 Watering after applying organic matter between rows
When the kids and I went out to plant, we did something different. The first round, we tried a hybrid industrial/traditional planting style that didn't work out well at all. Today we did a little more along the lines of an industrial planting. One seed per 3-4 inch deep hole, spaced 8-12 inches apart. This will take a lot less from the soil and allow us to experiment some. The Hopi blue appears to be doing very well with a hybrid planting style, and I want to see how this painted mountain feels about a more modern conventional planting. I know when to admit the usefulness of an industrial style, though I can't say I care much for having a crop that's that spread out. I like a sense planting. It's no wonder modern corn fields are so vast.
I think Hopi blue, being a more ancient corn, has more memory of the old traditional planting style. It was planted with four to six seeds per eight inch deep hole spaced about a foot apart. Similar to the first planting of painted mountain.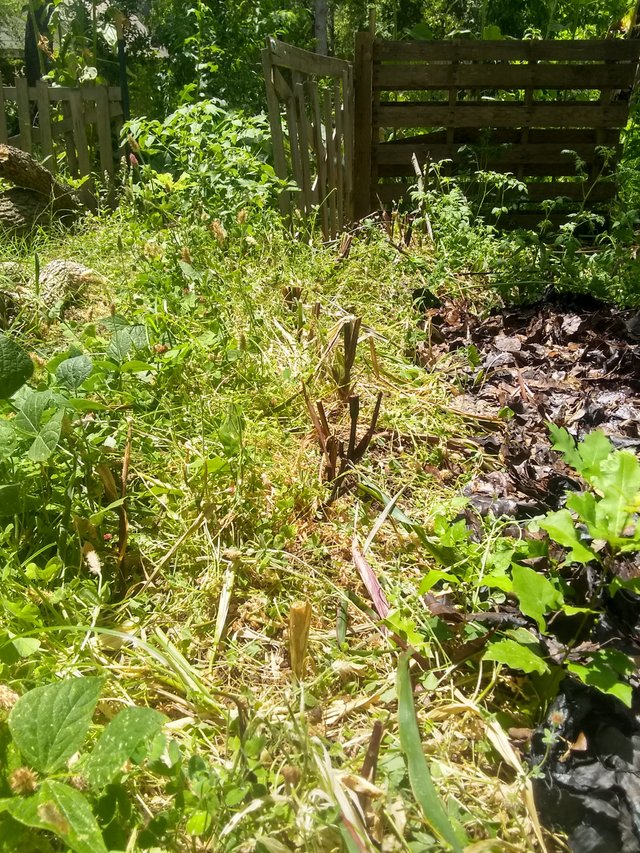 Stubs of stalks from chop and dropping

See the little cherry tomatoes growing between corn rows? The chickens planted those.
Breathing is a little more laborious today again. I went for a covid test at the doctor's office today because they recommended it on account of my shortness of breath. Being a human on Earth, there's ho other sensible explanation for shortness of breath than a trendy "pandemic," right? I strongly doubt I have the virus, and so does the doctor, who didn't advise me to cancel my plans this weekend. Good deal.
I've been inside resting and writing for a few hours now, and it's time to get outside and make a chicken coop and maybe another comfrey bed. I'll set this to post later tonight so as to spread the posts out for today. Thanks for reading and supporting, I love the input and discussion lately and it's been a lot of fun getting back into a regular posting routine. Remembering what I loved so much about this site when I joined a few years back.
Love from Texas
Nate 💚