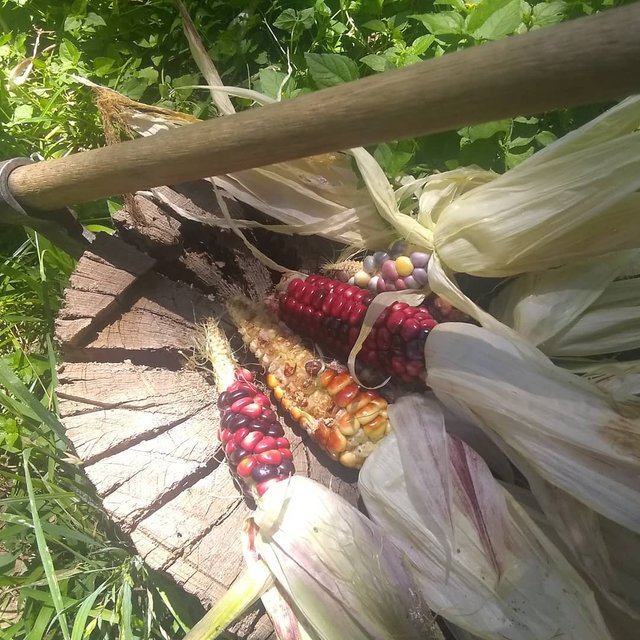 @artemislives, I'm still working on that post about place, it's just moving slow. More questions than answers, and deeper work than I'd thought. It'll happen in it's time though, like everything.
I'm listening to this song as I write. I'm in a place right now that's hard to talk about with any but my dearest closest friends. It's deep and strong and I don't know if it's dark or not, but there's a resolve that I'm tempering that'll come on hard as soon as it's developed.
I know my posts have been militant lately. No apologies, that's just how my mind's been. Like I said, life here is weird lately. But I've been learning and working on the medicinal independence as always, not slowing down anywhere except my digital life. Maybe, given recent events I should slow elsewhere, but I'll carry on til I know where to slow down.
One day when we were out shooting, I found some plants in the pasture while waiting for my friends to arrive. I used the PlantNet app to identify them, and one was wormwood. In my men's group, there's another guy that's into herbs and he told me to keep an eye out for it. Being a plant that I've never worked with, I saved some to tincture.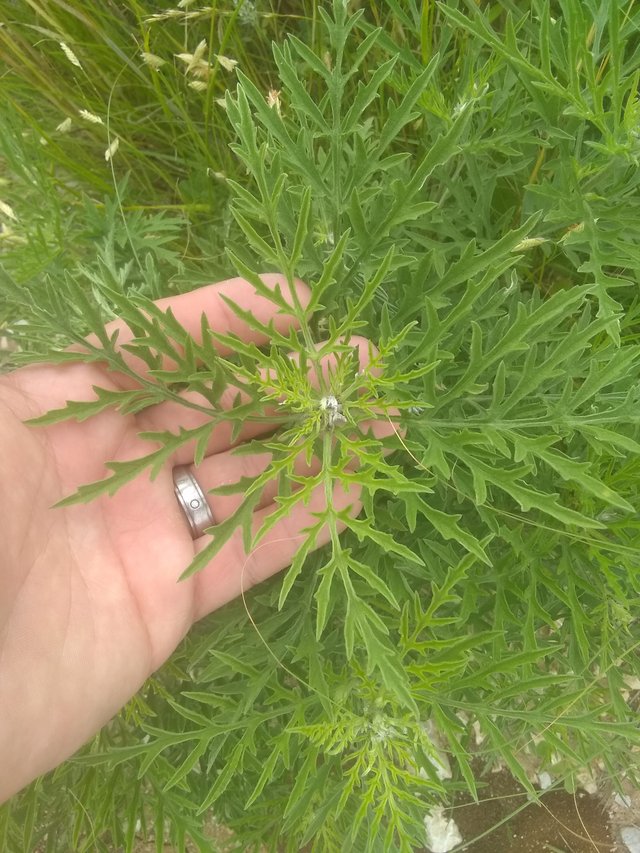 I know wormwood is a big part of absinthe, but that's not my goal here. According to WebMD:
Wormwood is used for various digestion problems such as loss of appetite, upset stomach, gall bladder disease, and intestinal spasms. Wormwood is also used to treat fever, liver disease, depression, muscle pain, memory loss and worm infections; to increase sexual desire; as a tonic; and to stimulate sweating.
That's a hell of an endorsement and a long list of reasons that I'm foolish not to have pursued wormwood earlier. I'm to the point now that I really need a book or something to record all the things I have medicines for. Perhaps I'll use the notebook I got from @bobydimitrov last year. It's got a few lists and notes in it from other tasks, but medicines would be a great thing to keep track of inside it.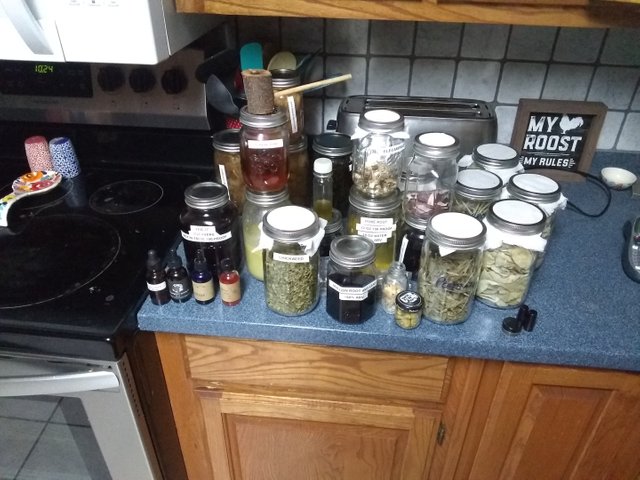 That's a lot of jars of medicines, representing hundreds of hours of work and research, and hundreds of dollars invested.
This week I was sent to the hospital from work. I had an arhythmia and high blood pressure that I think was brought on from wearing these goddamn masks. To benefit from the time off, we harvested corn and potatoes.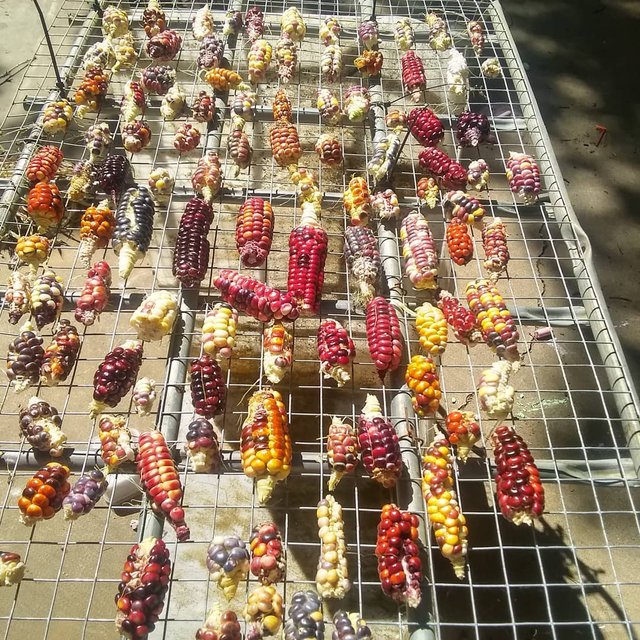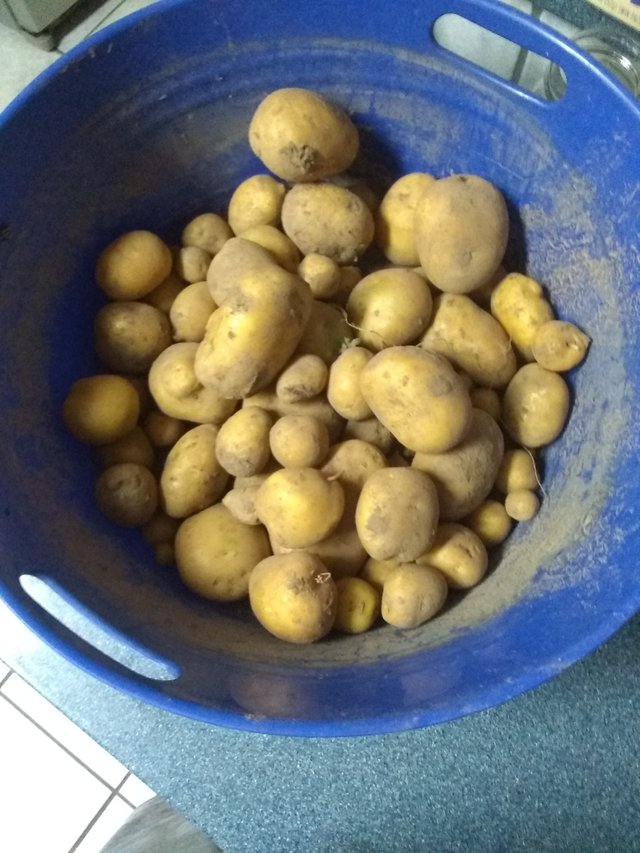 My figuring was way off when I figured we'd have a lot of corn. That was by industrial planting standards, and I didn't plant industrially. Maybe I should have, but whatever. This is what we got this year, and I'll save seeds from the strongest, most fertile plants.
Farmer Sam and I saved the silks as we shucked the corn. Corn silk tincture is a gentle urinary system support. We got enough from our painted mountain corn harvest to make a quart of medicine. A part of the harvest that's usually discarded. My conscious omnivory doesn't just apply to animals.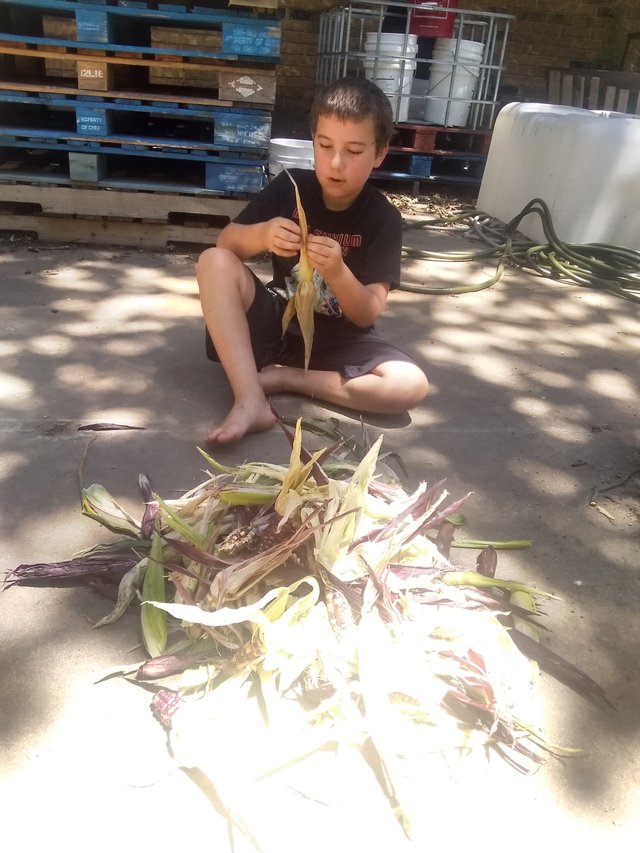 This weekend, Melissa is out with her best friend and little sister, and farmer Sam is with my parents. I took the younger kids out to pick mimosa flowers after lunch because they're in season and I don't know about y'all, but I could use a gentle natural antidepressant lately. Actually, I made the comment to @riverflows that I'm down for some uppers, antianxiety, antidepressants, and hallucinogens because I need a fucking break from this existence. I'm tired.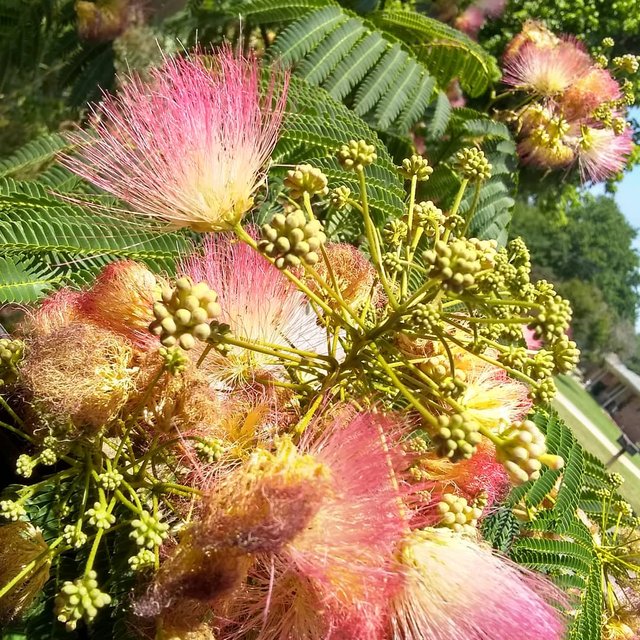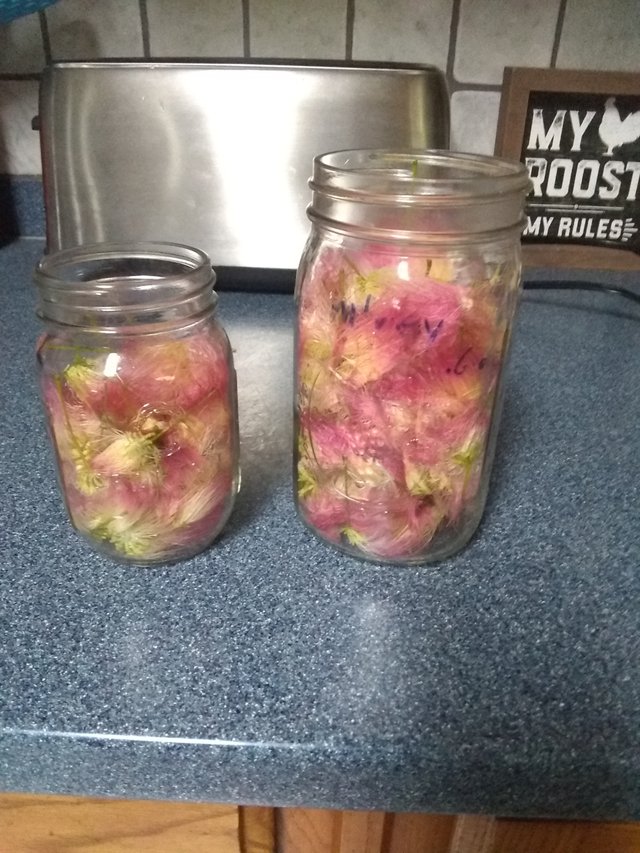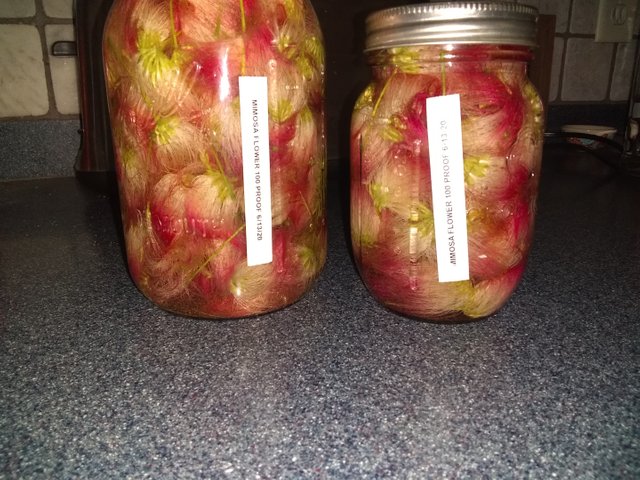 Enough harvest for three pints! That's a lot of medicine.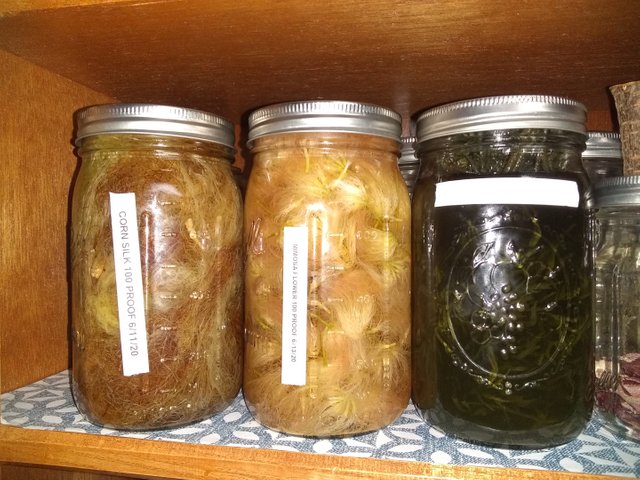 Three new medicines brewing in the cabinet
Mimosa is considered a non-native invasive tree here. It can be found along the edges of tree patches and forests all over the US. It fills the low canopy niche wherever it's found, fixing nitrogen for other trees. Whoever deemed it an invasive tree forgot to mention that we're not tending nature as we ought, and we're setting up a space for non-natives to fill the ecosystemic niches we leave open.
On a personal note, I need an escape lately. I'm stressed and ragged and burned out again. Ready for the season to change, but I don't know if I'm ready for the season that's coming. I think I need some more time with meditation and Win Hof breathing. Those used to help when I got so heavily parasympathetic. During the covid shutdown, I was able to spend so much time outside healing and meditating. Now it's like those roots I dug into the soil have been ripped out and I've been tossed back to the steel and concrete machine. Back to normal in a way, but so traumatically thrown back.
A new resolve against these systems is growing. A new dedication to my place and my reason.
Anyways, it's midnight and I've got to watch a lot of kiddos tomorrow. I'm gonna hit publish and hit the sack.
Love from Texas
Nate💚