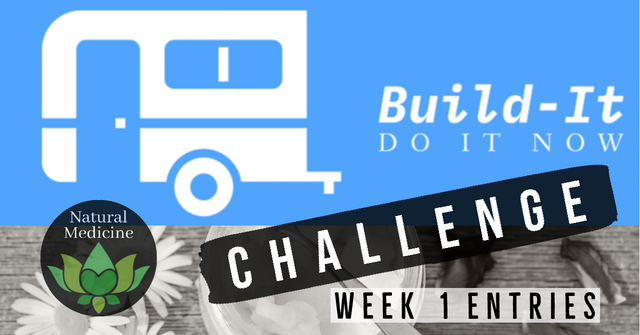 CHRISTMAS IS COMING! And with Thanksgiving, and the snow falling, and the sun shining, and all the real life stuff we've been busy with, it's been hard to find time to MAKE and CREATE and BUILD!
But there's never been a better time for it - personally, I've been thinking CHRISTMAS presents as I prepare for this challenge. What 'natural medicine' related gift can I make for my loved ones? And I'm excited about making soap, and a still, and.. and ... and.... AND so many people have BEGGED to extend the due date!
And so the team at Build-It and the team at Natural Medicine thought, what the heck, let's extend this due date until DECEMBER 21ST which is solstice!
Each week we'll reward entrants with some tokens for their efforts, but we won't be making the final decision til just before Christmas.
Who are Build-IT?
Build-it are about empowering and strengthening DIY projects, how to tutorials and life hacks. They were set up to reward high quality DIY and 'how to' projects and you can earn 'build' tokens by using recommended tags such as #diy, #build-it, #how-to, #doityourself and #build. They even have a condensor - https://build-it.io/.
Natural Medicine often sees these tags alongside #naturalmedicine because many of our folk are equally into self sufficiency and resourcefulness, making their own rather than buying from a store. We've run challenges like this before where we've seen all kinds of 'make your own' projects such as making your own deodorant or clothes washing powder, and of course lots of yummy healthy food recipes!!

The Entries So Far
We're going to include two posts that came in via a comment just as we posted this challenge. One's an awesome vegan recipe and the other is a bamboo bike build! Congratulations @justinparke and @stortebeker - you both recieve a few LOTUS and BUILD tokens for your efforts.
Only two official entries so far (that is, they followed all the rules!)
Double Purpose Herbal and Beautification by @olivia808, about growing a garden and making a herbal moringa linament
A Garden Bed for the Kids by @porters
Both of you will be rewarded with some BUILD and LOTUS tokens.
The Challenge (In Case You Missed It)
This challenge is a little different because we're going to ask you to 'make' your own project from scratch - something you have never made before but always wanted to. We want you to document it as a step by step 'how to' in an engaging and creative a way as possible.
Try to choose something challenging! We love Build-It's tag line: DO IT NOW! This could be a great opportunity to start that project you've been putting off for ages!
You must 'build' or 'make' something that relates to 'natural health' - this, of course, is very broad! And remember, Christmas is COMING! Some ideas:
Make your own bath salts to gift to a friend
Build your own altar for meditative rituals
Build an outdoor fire bath for self-care
Make your own deodorant
Make your own apple cider vinegar or try pickling for the first time
Set up a self watering system for your permaculture garden
Make your own still for essential oils
Make a hydrosol out of your favourite herb and package for gifting
Try making your own vitamin pills, tea or herbal cookies
Make your own soap
Make your own colloidal silver
Make your own vegan cheese

𝚃𝚑𝚎 𝙿𝚛𝚒𝚣𝚎𝚜! (DUE DATE DEC 21st AEST 9 am)
This ones a HUGE one because we recognize we're asking you to do something quite BIG and CREATIVE!
The Rules
Original entries and photos only
Posts MUST be posted from NaturalMedicine.io OR Build-It.io
Use #naturalmedicine and #buildit as your first tags (we don't mind which one goes first)
Resteem this if possible!
REFER BACK TO THIS POST AND BOTH TRIBES IN YOUR POST!
DROP YOUR LINK HERE! If you forgot to do that on last week's post, it's not too late - we'll still consider your post if you drop it in the comments BELOW THIS POST.

All the curation and author rewards in LOTUS for this post will be burnt to help the ecosystem.

We need YOU! Please consider delegating to help keep this collective going. The minimum entry for membership is 20SP (free for members under 150SP), and helps give YOU upvotes, contests, meditation sessions, an awesome discord support group, and so much more!
50SPII100SPII200II300SPII500SPII1000SP