Natural Medicine is the longest running natural health curator on the Steem blockchain. We've been really lucky to have extra support from @tribesteemup & the lovely @canadiancoconut, which enables us to earn a little bit extra on our posts so we can put this into the growing of our Tribe and community so that YOU benefit via upvotes and the chance to win in our fortnightly contests.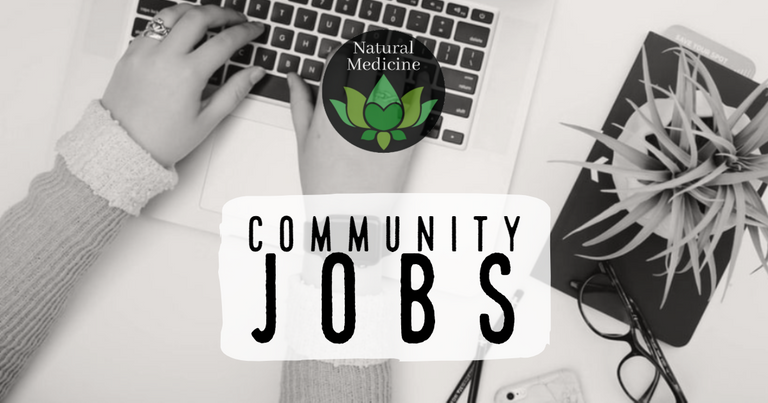 We always have lots of things to talk about, and each post helps us earn a little bit extra so that YOU get the rewards. It's taken a lot of effort from the team to get this far, and now it's your turn to chip in to make this community even better. If you're a delegator, and have benefited from Natural Medicine in any way, now is your chance to give back whilst earning a little for yourself as well. We only allow delegators to benefit from this job offer, as we know they are dedicated to our community!
In our Discord channel, we're opening up writing jobs that need filling. We hope - no, we expect - that community members will step up to contribute.
In return, you'll get a percentage of the post payout, plus LOTUS from our new account @lotuspayroll. We created that account just so we can easily see 'wages' under one account, and it's funded by @naturalmedicine and @uplotus curation/author rewards.
You don't need to create an image as that will be done for you, but posts should be written in excellent English and follow our usual posting guidelines. You can find good examples of our posts in the #learnlotus channel in Discord. All submissions should be discussed by contacting @riverflows on Discord, and if you have an idea for a post, we're all ears!
Post submissions are via welcome@naturalmedicine.io.
Jobs To Date
21/12 @Natural Med Folk Any volunteers.from community to chip in to write a Lotus Help post? We need one on how to instal and use keychain on your browser, with screenshots. Clean and detailed, simple for new users. Submit to @riverflows via DISCORD message, remuneration is part beneficiary on post. @LOTUS🌱CURATOR can simply draft in Steempeak as you have keys. Image supplied. (COMPLETED - NO LONGER AVAILABLE)
21/12 Lotus For Canna post required. Please read other posts in this style as per #learn-lotus channel, i.e, LOTUS FOR SCIENTISTS. Post should outline how #naturalmedicine tag may get LOTUS token rewards for posts which detail canna as natural medicine/healing. Payment is part post payout, image provided, send text/code via Discord @riverflows.
21/12 Looking for @MEDITATOR 🙏 FOLK to fill roster for MINDFUL LIFE curation in new year. Expressions of interest in #mindful-life-chat-🙋 Curation to follow existing template and to go out Tuesday nights UTC. Payment is 80 percent of post payout. Can select multiple dates - reliable curators needed. (Partly Filled - Curators Still Wanted)
21/12 Looking for someone to write a post about Witnesses and why they are important, and how to vote for them. Simple screen shot images required to clearly explain to new users.
24/12 Someone to wrap the letters around the LOTUS image of our circle logo, and make the lotus spin around or something really groovy like that! Price negotiable.
30/12 Send us your best natural health post ever and we'll revamp it and post it under @naturalmedicine account. We'll credit you of course and give you half the post payout for doing zilch! We're hoping to increase traffic to Natural Medicine (and steem) by getting seen on Google, so your old posts that are no longer earning could really help!
Earn Instantly For Writing Good Natural Health Content
If you would like to earn LOTUS and STEEM rewards for sharing your natural health content on www.naturalmedicine.io, you can sign up for an free FREE account by emailing welcome@naturalmedicine.io. Read more about us on our Welcome Page. We support writers sharing about herbalism, TCM, yoga, meditation, vegan and other healthy diets, as well as earth centred practices such as foraging, permaculture and biodynamics.


We need YOU! Please consider delegating to help keep this collective going. The minimum entry for membership is 20SP (free for members under 150SP), and helps give YOU upvotes, contests, meditation sessions, an awesome discord support group, and so much more!
50SPII100SPII200II300SPII500SPII1000SP