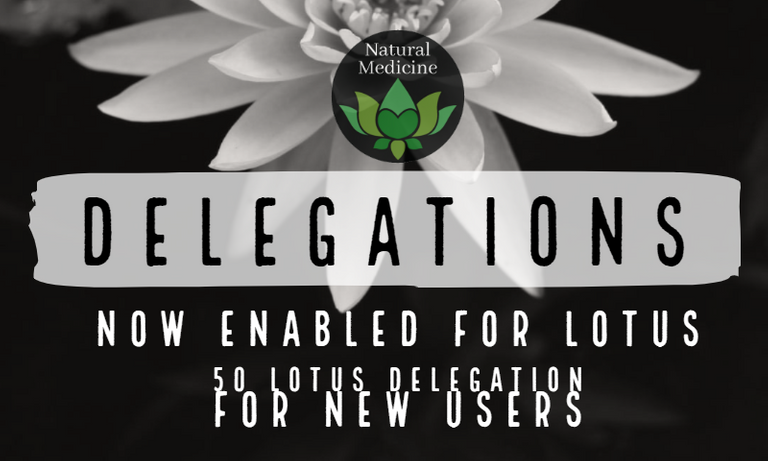 If you're a new user and have just arrived, and are blogging about Natural Medicine related content from yoga to meditation, herbalism to permaculture, healthy eating to veganism and everything in between, you'll notice you might have a little bit of LOTUS in your wallet. You can check that in the wallet of www.naturalmedicine.io just here.
What is Delegation?
It's essentially a loan.
The system of 'delegation' is an important function of the Steem Blockchain's economic system. It means that small accounts (plankton and minnows) can have an equitable influence on voting and curating content, without the need of 'owning' their own stake in the system.
Because NaturalMedicine.io is built on this blockchain, we operate in the same manner.
This is a way that larger accounts can help smaller accounts. With a larger amount of LOTUS, your vote on content becomes bigger, which helps the author as well as your own curation reward.
The higher your LOTUSPOWER, the greater the value of your vote, thus greater author and curator rewards.
Delegated LOTUS (as with any delegated tokens on Steem) is 'staked' by default, and cannot be turned into liquid LOTUS to be sold off — that's because it's not yours to sell off and profit from, it is still owned by the person who loaned it to you. This is what is called LOTUSPOWER (LP), and can also earn you daily reward through a system we have implemented called Proof of Stake (PoS).
You can read more about why having staked LOTUS in your wallet is good for you and the economy in these posts:
Free Sign Up & 50 SP LOTUS Delegation
If you are a new user and have signed up via Natural Medicine, we delegate you 50 LOTUS to get started. This ensures you are immediately able to start earning LOTUS. You can sign up by emailing us at welcome@naturalmedicine.io with your preferred username/s. We usually can get your account running within 24 hours, often much sooner - and for free! We often delegate a little extra STEEM to new users who write quality natural medicine content too.
How Do I Delegate My LOTUS To Others?
Sign in to your Steem Engine account

Go to your token wallet, and look at your LOTUS balance. At the very right-hand side of the line you will see this symbol: ↔︎



Click on this to delegate your LOTUS to another account.

Simply enter the account name of who you want to loan LOTUS to, then enter the amount you wish to delegate, and click 'DELEGATE LOTUS'



TA-DA!
It's that simple!
And you can always choose to remove the delegation at any time, for any reason. Simply follow the same procedure, except now you will find an icon next to the delegation icon in your wallet:!


Click on that, and simply enter in the name of the account you wish to remove delegation from (you may choose to delegate to several accounts).
I invite you to consider that it may be a matter of courtesy to let that account-holder know that removing the delegation, and possibly the reasons; and that is your choice, too.
And that's delegation of LOTUS in a nutshell.
If you have any questions or want to know more about this, jump on into the NM Discord and ask, there will always be someone available to help you.
Until next time, be kind to one another!
😊🙏🏽💚





Earn Instantly For Writing Good Natural Health Content
If you would like to earn LOTUS and STEEM rewards for sharing your natural health content on www.naturalmedicine.io, you can sign up for an free FREE account by emailing welcome@naturalmedicine.io. Read more about us on our Welcome Page. We support writers sharing about herbalism, TCM, yoga, meditation, vegan and other healthy diets, as well as earth centred practices such as foraging, permaculture and biodynamics.

We need YOU! Please consider delegating STEEM to help keep this collective going. The minimum entry for membership is 20SP (free for members under 150SP), and helps give YOU upvotes, contests, meditation sessions, an awesome discord support group, and so much more!
---
If you'd like to learn more about www.naturalmedicine.io, LOTUS and other particulars, please read our WELCOME page.
---