Our dear @minismallholding is taking a break from the newsletter this week as she's preparing for another lockdown in South Australia, from midnight. I'll be keeping her seat warm today and doing the housekeeping, complete with a brand new LOTUS GARDEN image with baby chickens fresh from my own garden.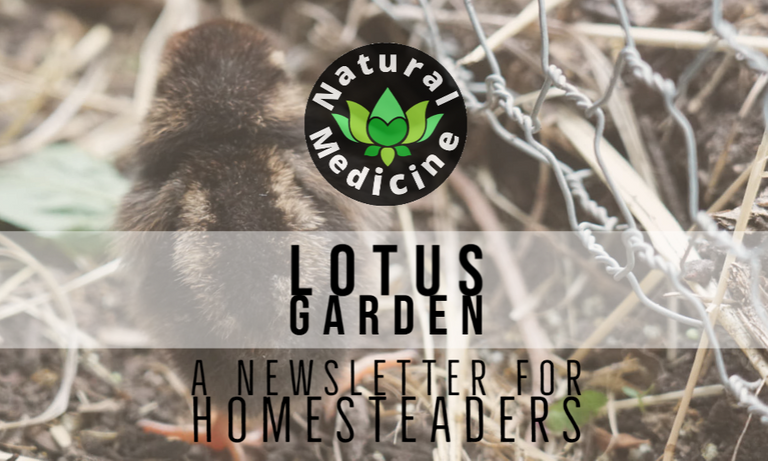 Things happening in the community.
Natural Medicine has a couple of November challenges on - one's a bit of a triple challenge where you chose to dissect a quote, write about #mentalhealthawareness or tell us what plants you'd want to use in a survival situation. All are really perfect for homesteaders, so check the entry details that are pinned to the community blog. Ecotrain also have a great QOTW this week on the positives of coronavirus and I'm LOVING reading people's responses - perhaps this year hasn't been a write off after all. Cool to see a lot of people starting gardening for the first time! @eco-alex has barely had time to write at all as he's busy starting his ecovillage empire - watering systems, solar and buildings don't build themselves, you know! Don't forget that the #gardenjournal challenge by @simplymike will be coming up soon, so take those garden photos and start thinking about what you want to share with others on HIVE.
---
Welcoming Newcomers
My absolute favourite this week has been African blogger @maxdevalue. He's not new to the platform but he popped into our Discord this week to say hi and it's the first time he's been on my radar. In fact, we submitted this post for an OCD vote which was accepted. I have to include a few passages for you to read - but seriously go check out his work. He writes beautifully and is thoughtful and passionate - AND he's doing a tremendous amount to build resilience into his communities via food production and water storage.
Each year, we used to eat over 100 varieties of fish, fresh water that sustained fish were available in those days, but now for instance, in Africa like I've said before, we consume a lots of carbohydrates. Though we eat different foods, but most of them are high in carbohydrates. But it were not so in our history. These four foods has become the main food that we eat daily; Rice, Yam, Beans and Cassava. We keep looping around these foods year in and out. Please brothers, this is not normal at all, but we may think it's normal. We may think that all these processed food in the market are prosperity and civilization but it's not normal. When you go to the market, you see big heaps of vegetables, but they're all same types of vegetables in each stand/shop that you turn to year in and year out. You can see lettuce 🥬 cabbage, pumpkin leafs etc. but every shop sells the same things.
When you walk to restaurants nowadays, they may have numerous lists in their menu but if you look at those foods, you'll agree with me that most of them are with same ingredients. To eat less varieties but higher amount could cause a lots of problems; health problem is number one, this is because we consume one type of food and as result has stored one particular nutrient in our body than it's needed. We eat too much meat, too much carbohydrates, we drink and eat one particular thing a lot, even though we eat very much, but our body is actually being starved for other minerals and nutrients needed which only varieties of food, fruits and vegetables can give us.
This is the first problem because when our body have too much of something but lacked in others, it causes a lot of health problems. I'm not a nutritionist, but I'm saying from experience. This is what I've passed through and still experiencing till date. This was why I decided not to depend on the food that money can buy for me because my little money may not be enough to buy those necessary food for my family that our body needs. Now I try to raise gardens with different vegetables in it; not necessarily to make money from them, but first; to be able to feed my family and my poor neighbors with sufficient alkaline foods.
---
Some highlights of the week
As I watch my garden grow in the southern hemisphere, in the northern hemisphere things are slowly down. I've loved @samstonehill's posting this year from his home in France, waxing lyrical about the utter potential of gardens to nourish, heal and raise us. He's not just raising these lovely leeks, but two garden gnomes, who are pictured smiling in their French countryside paradise below.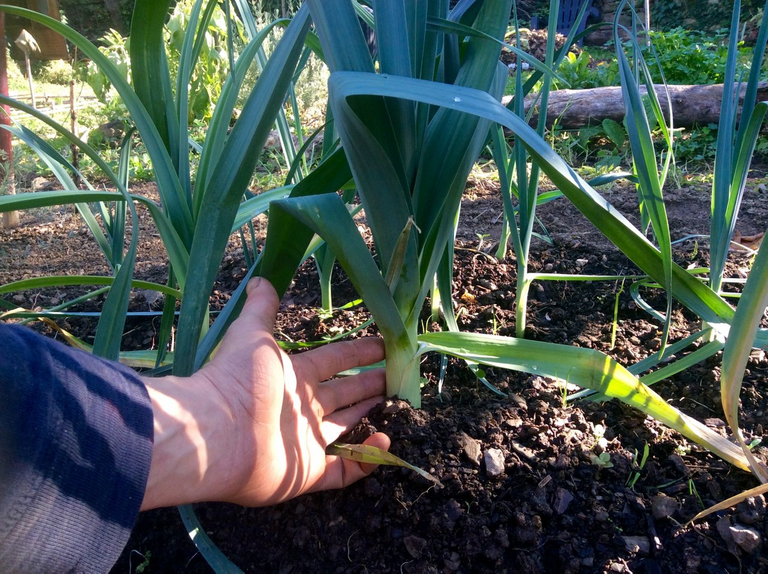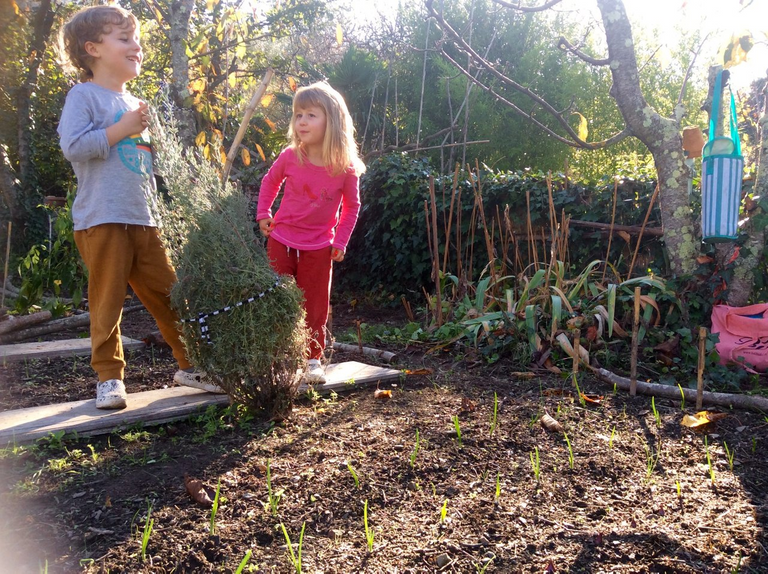 @senorcoconut's been super busy and we haven't seen him around a lot, but we were stoked to read this detailed post from him about killing rabbits. Maybe I feel a bit of glee about that as I have a bit of a rabbit plague in the garden at the moment. Whilst he's killing, skinning and eating them, @nateonsteemit is trying to keep his from escaping. Seems like bunnies are a bit of a theme this month and it's not even Easter.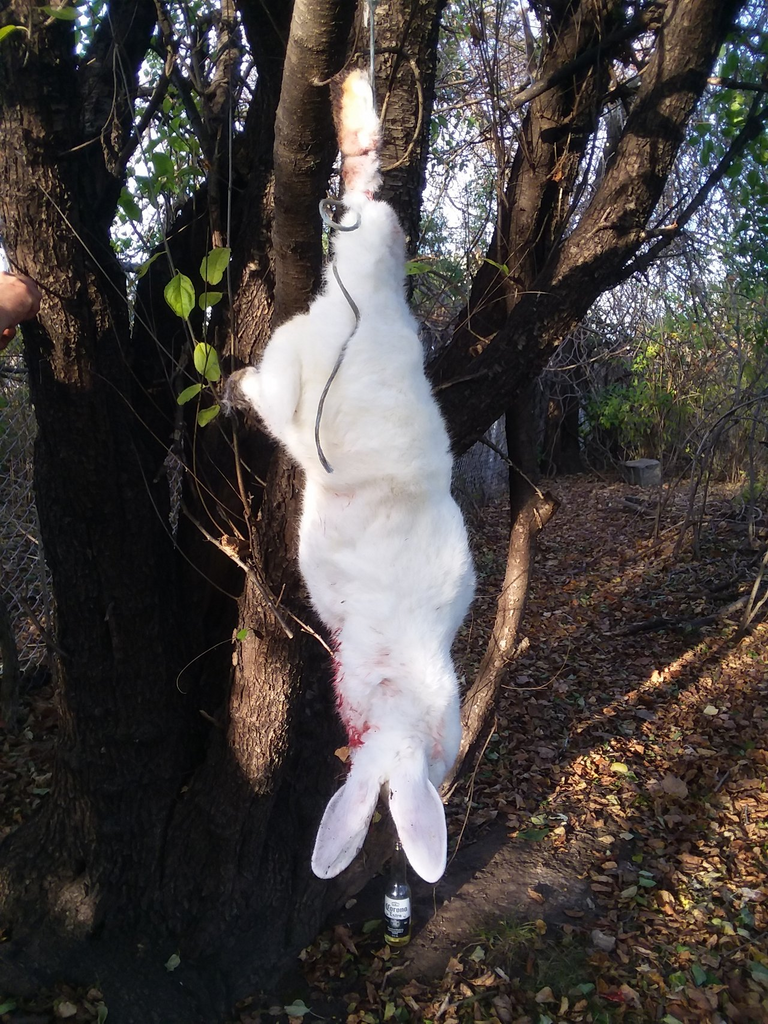 In other parts of the world ginger is growing! I was excited about @gertu's post on ginger as I've just started growing it - check out this ginger bud! Nice to see a post from India too by @mdaminulislam. Amazing how many medicinal plants grow in our own gardens - I think it's a real benefit to learn what might nourish and assist us without depending on mainstream medicines, especially in this day and age where we can't rely on supply chains and it's important to maintain immune function.
Each week one of our featured authors will be selected to be a 5% beneficiary of The Lotus Garden newsletter. This week @minismallholding will receive this award - it totally sucks being in lockdown after living in a COVID free state for so long. As I leave the rest of the rewards to power up Natural Medicine, I'm happy to also set newcomer @maxdevalue a small beneficiary too.
---
Thank you for stopping by. This week's newsletter was brought to you by @riverflows.

Earn Instantly For Writing Homesteading Content
If you would like to earn LOTUS and HIVE rewards for sharing your natural health content on www.naturalmedicine.io, you can sign up for a free FREE account by emailing welcome@naturalmedicine.io. Read more about us on our Welcome Page. We support writers sharing about herbalism, TCM, yoga, meditation, vegan and other healthy diets, as well as earth centred practices such as foraging, permaculture and biodynamics.


Please consider delegating to help keep this collective going. For any questions, come ask in our friendly Discord here !