What is Wasabi?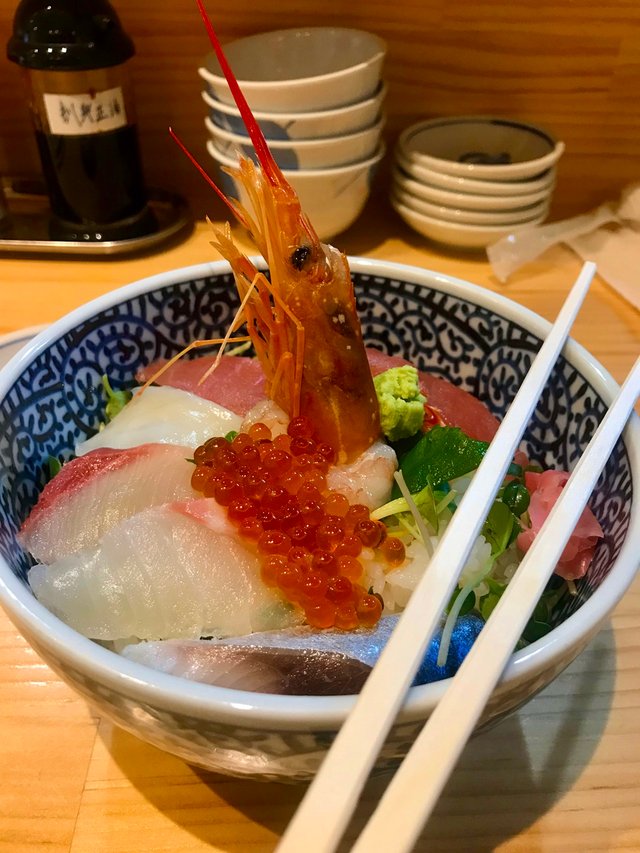 Wasabi is a well known traditional Japanese condiment and a part of Japanese food culture. Most restaurants serve wasabi on the side of sushi and sashimi. Wasabi's roots, stems, and leaves are all edible. Many people think that wasabi paste is made from the root, but actually it is the lower portion of the plant's stem. It has a strong and hot flavor like mustard or horseradish.
วาซาบิเป็นเครื่องปรุงรสที่คนญี่ปุ่นใช้นิยมนำมาใช้ในการประกอบอาหาร ร้านอาหารที่ขายซูชิและซาชิมิ หรือปลาดิบก็มักจะเสริฟวาซาบิควบคู่มาด้วย วาซาบิสามารถกินได้ทั้งราก ลำต้นและใบคะ วาซาบิที่ทานกันอยู่นั้น คนส่วนใหญ่คิดว่าทำมาจากราก แต่จริงๆแล้วมันทำมาจากส่วนของลำต้นคะ ซึ่งมีรสชาติ ฉุน เผ็ดร้อนเหมือนมัสตาร์ด ซึ่งเป็นพืชในตระกูลเดียวกัน
Wasabi's Beneficial Properties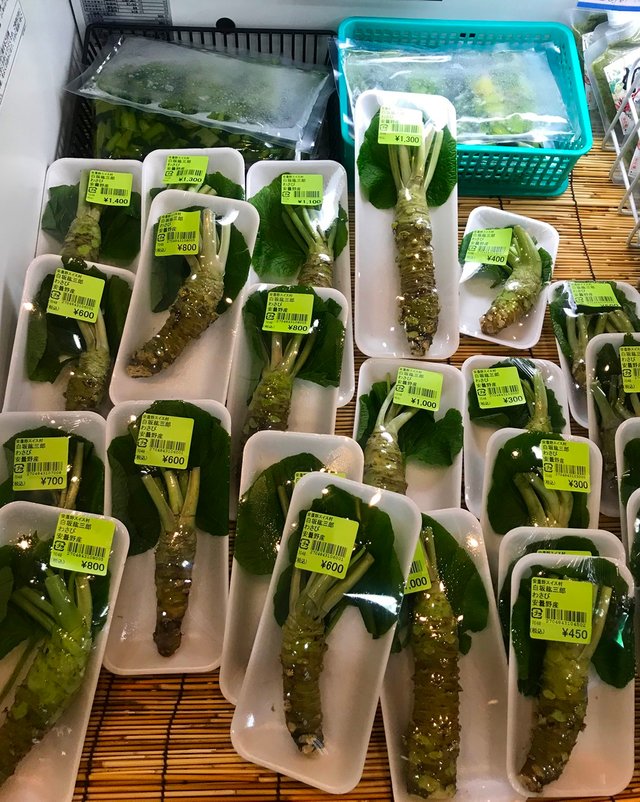 Wasabi has various medicinal properties such as helps with detoxification, improving blood flow, inhibiting cancer, nourishing skin, preventing tooth decay, and relieving fever. Besides all that, wasabi prevents food poisoning because it is rich in allyl isothiocyanate, which kills bacteria in food
วาซาบิ มีสรรพคุณมากมาย เช่น ช่วยล้างพิษ เพิ่มการหมุนเวียนของเลือด มีสารยับยั้งเซลล์มะเร็ง บำรุงผิว ป้องการฟันผุ และอาการหวัด นอกจากนั้นยังช่วยป้องกันสารพิษในอาหารอีกด้วยคะ เพราะในวาซาบินั้นมีสารallyl isothiocyanate เป็นจำนวนมาก ซึ่งสามารถฆ่าแบคทีเรียในอาหารได้
How to Cultivate Wasabi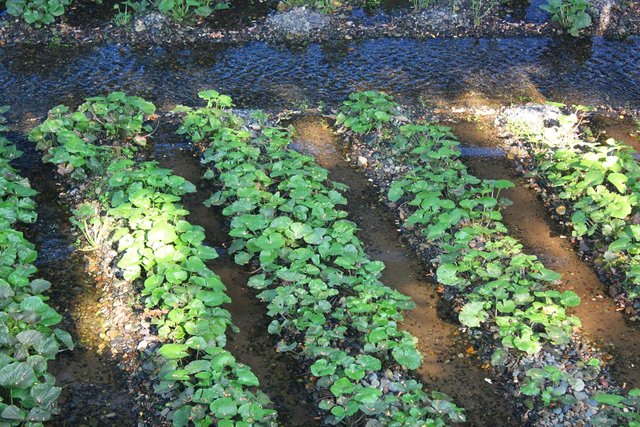 Wasabi plants need clear water so it is cultivated along mountain streams thrives at temperatures between 10-20 degrees celsius, avoiding direct sunlight. It is not a simple plant to grow and takes up to 18 months until harvest. The major production areas in Japan are Shizuoka, Nagano, Akita, and Iwate prefectures.
วาซาบิ เป็นพืชที่ต้องปลูกในพื้นที่ที่มีน้ำสะอาด บริสุทธ์ ดังนั้นมันจึงมักปลูกที่ต้นน้ำบนภูเขา และมีการควบคุมอากาศที่ 10-20 องศาเซลเซียส และหลีกเลี่ยงการโดนแสงแดดจัด มันจึงเป็นพืชที่ปลูกไม่ง่ายเลย การเจริญเติบโตใช้เวลาประมาณ 18 เดือน จนถึงการเก็บเกี่ยว จังหวัดที่ปลูกวาซาบิมากในญีปุ่น คือ จังหวัดชิซูโอกะ นากาโนะ อะกิตะ และอิวาเตะ
Daio Wasabi Farm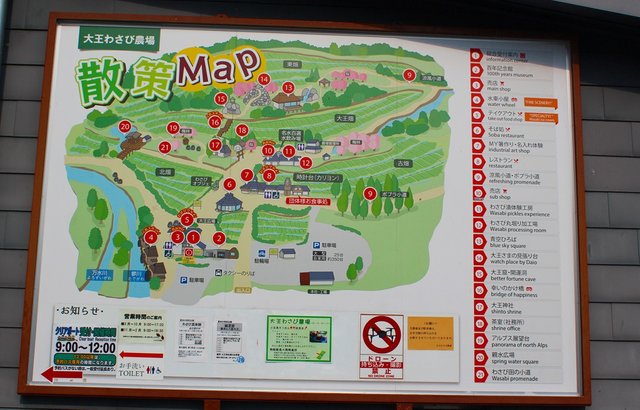 Last year I had a chance to visit Daio Wasabi Farm in rural Azumino in Nagano. It is a sightseeing spot for tourists as you can explore at your leisure and learn about cultivating wasabi. Inside the farm is divided into many zones such as shops, restaurants, wasabi field, and wasabi picking experience areas. If you have time I think you'll enjoy food that is made from wasabi and have fun with the farm's activities.
เมื่อปีที่แล้ว มีโอกาสไปเที่ยวที่จังหวัดนากาโนะ และได้ไปเเวะเที่ยวที่ฟาร์มวาซาบิ ไดโอะ ตั้งอยู่ในเมืองอะสุมิโนะ ที่นี่ปรับปรุงให้เป็นสถานที่ท่องเที่ยว คุณสามารถสำรวจฟาร์มด้วยตัวคุณเอง และได้เรียนรู้การเพาะปลูกวาซาบิ ภายในแบ่งออกเป็นหลายโซน เช่น ร้านค้า ร้านอาหาร โรงเพาะชำ และพื้นที่ทำกิจกรรมเก็บวาซาบิ หากว่าได้มาเที่ยวที่นี่แล้ว หวังว่าคงจะเพลิดเพลินกับอาหารที่ทำจากวาซาบิ และกิจกรรมต่างๆของที่นี่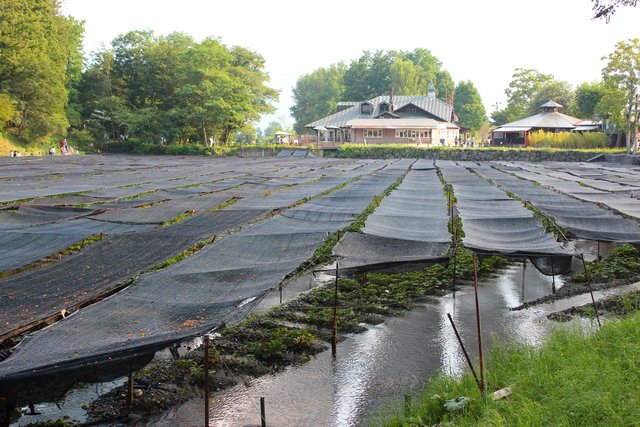 There are various products made from wasabi such as smoky cheese, Japanese sweets, wasabi paste, and pickles.
มีสินค้าแปรรูปมากมาย ที่ทำมาจากวาซาบิ เช่น สโมกี้ชีส ขนมญี่ปุ่น วาซาบิสำเร็จรูป และผักดอง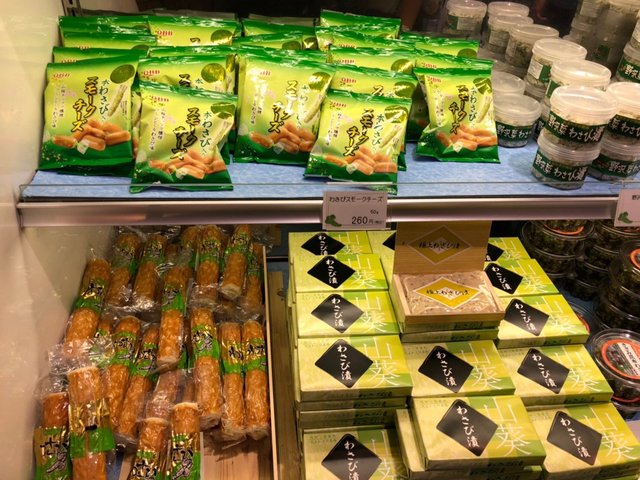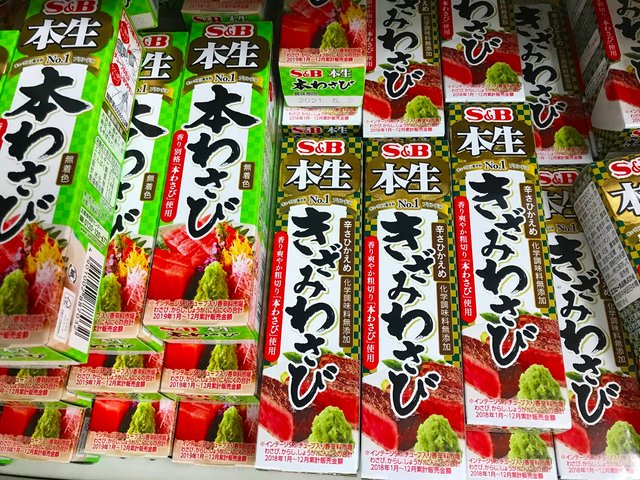 How to Eat Wasabi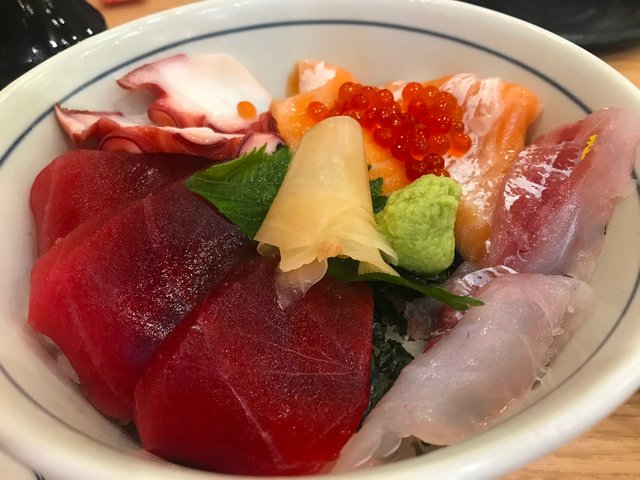 Japanese usually have wasabi with sushi, sashimi, soba, and anything else. You can purchase fresh wasabi at supermarkets but availability depends on the season. Japanese commonly use wasabi paste because it is easy to find anywhere in supermarkets or convenience stores. Of course, fresh wasabi is more expensive than wasabi paste but it doesn't keep long.
โดยปกติคนญี่ปุ่นจะทานวาซาบิกับซูชิ ปลาดิบ โซบะ และอื่นๆ แต่ก็สามารถหาวาซาบิสดได้ตามซุปเปอร์มาร์เก็ต ซึ่งมีตามฤดูกาล ส่วนวาซาบิสำเร็จรูป หาซื้อได้ง่ายกว่าตามซุปเปอร์มาร์เก็ต ร้านสะดวกซื้อคะ แน่นอนว่าวาซาบิสดนั้นราคาจะสูงกว่าแบบสำเร็จรูป แต่ไม่สามารถเก็บไว้ได้นาน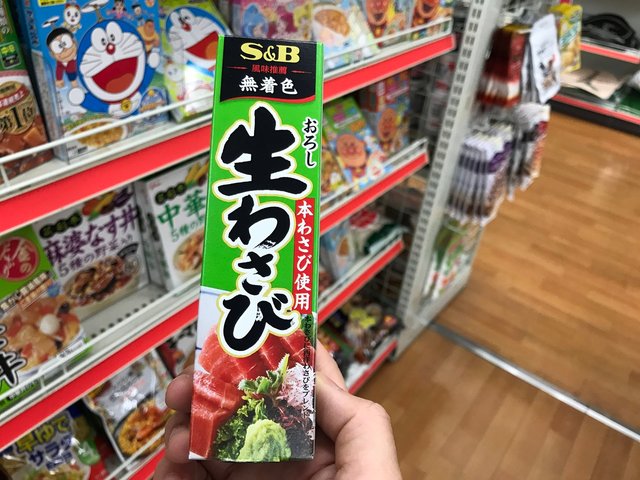 Thank you for stopping by my post. If you enjoyed reading my post, please upvote & follow me for more posts and photos about life in Japan 🇯🇵 and Thailand 🇹🇭