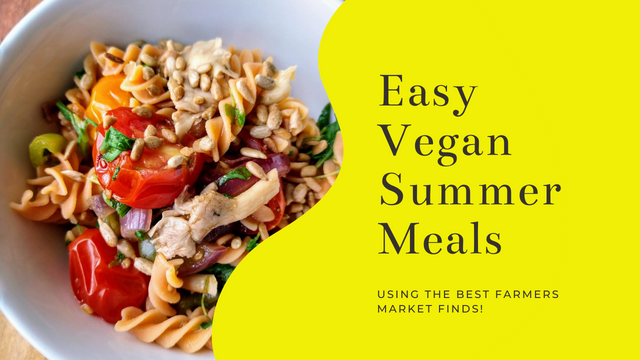 Hello friends! Though I try to share what I am working on in my kitchen on my other social media, it has been a while since I have done a mega roundup on my blog of some of my favorite meals from the last month. A lot of these I probably could write up a whole blog post on, but they also fit nicely together as a summer collection. The farmers market and garden are absolutely booming with seasonal produce. Come take a look at how I've been using the summer bounty!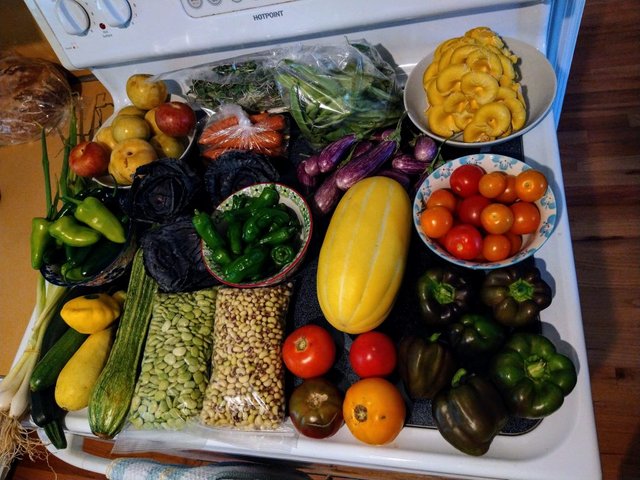 As you can see in one of my latest market haul photos, we are spoiled for choice here in the Southern USA right now. Summer squash is still around for a while longer, as are the tomatoes and peppers of all sorts. In just this one haul I had purple bell, shishito, and a medley of hot peppers. The shelled beans have also just popped up, so I am stocking back up on the butter beans and pinkeyes. Eggplant of all colors and sizes is also found at almost every vegetable stand. I'm loving the more recent addition to the mushroom selection and can't get enough of the oyster varieties, and the plums and figs are just coming in to season to replace the berries on their way out. I'm also finally finding some juicy summer melons. I'm sure I'm forgetting some, but you get the picture.
---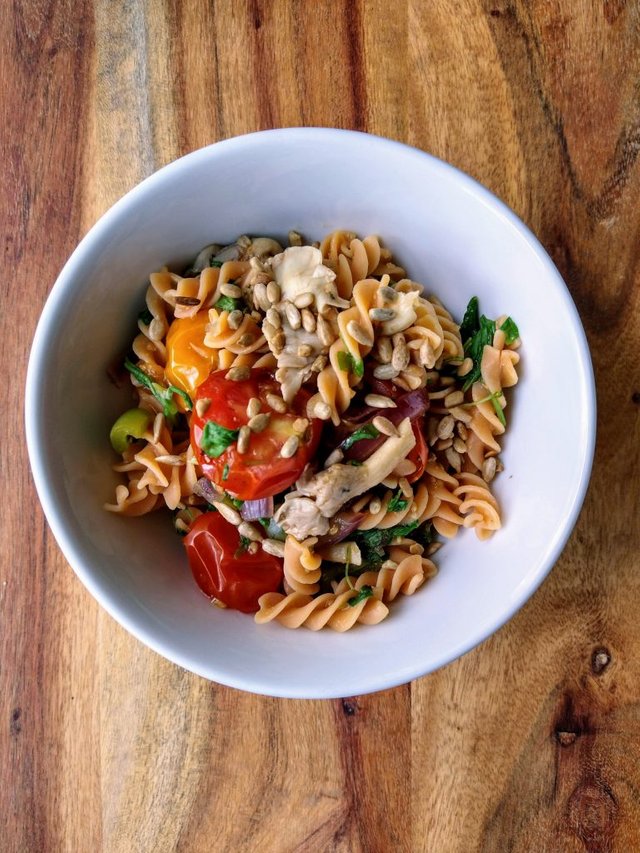 To kick off the roundup, what's better than another bowl of pasta? Of course this is my current favorite noodle made from red lentils. For a quick vegan meal you can't beat the legume-based varieties to hit your protein and fiber all in one punch. I probably could have made this a one-pot meal, but cleaning a pasta pot AND a skillet isn't too tough to make this unapproachable. While the pasta cooked I sauteed red onion, one sliced Fresno chile, and the golden oyster mushrooms before tossing in the halved cherry tomatoes to blister. I finished it off with some balsamic vinegar and arugula wilted in at the end. A sprinkling of sunflower seeds added a nutty crunch!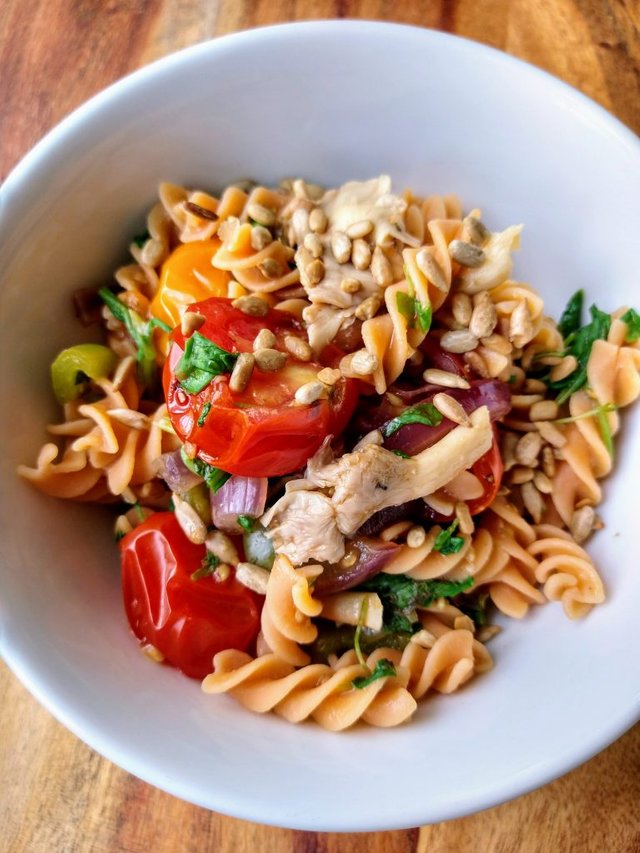 I pretty much always have a box or two of pasta on hand just for meals like this. I believe this was a Saturday night medley to put to use some of the fresh market haul without wearing me out for Sunday's mega meal prep kitchen day. ;)
---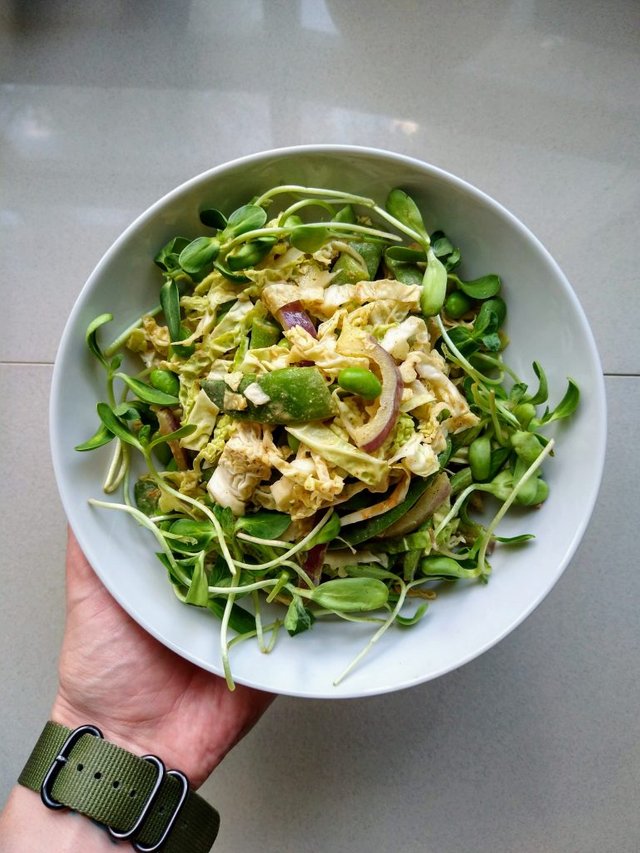 Up next was a favorite from another recent week. A mostly raw salad to top up the daily greens intake. Savoy cabbage with lightly steamed Roma beans and edamame, sliced raw purple bell pepper and more greens to serve it on. The microgreens were sunflower sprouts--so delicious! The dressing was lick-the-spoon good. A quarter cup of rice wine vinegar, 3 tablespoons plain peanut butter, 3 tablespoons of liquid aminos, minced fresh ginger and a teaspoon of gochujang for a little heat. This one hit all the flavor notes--nutty, fresh, tangy, spicy and full of texture in each bite.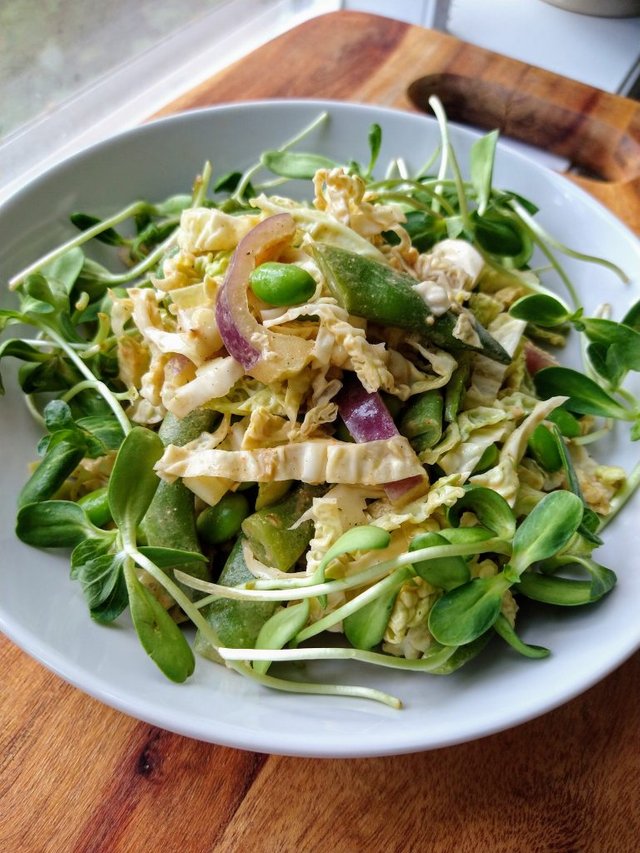 If you still think salad isn't satisfying, give this one a try. I haven't seen the sunflower sprouts again, but will most certainly buy them at my next opportunity or may need to look into sprouting my own.
---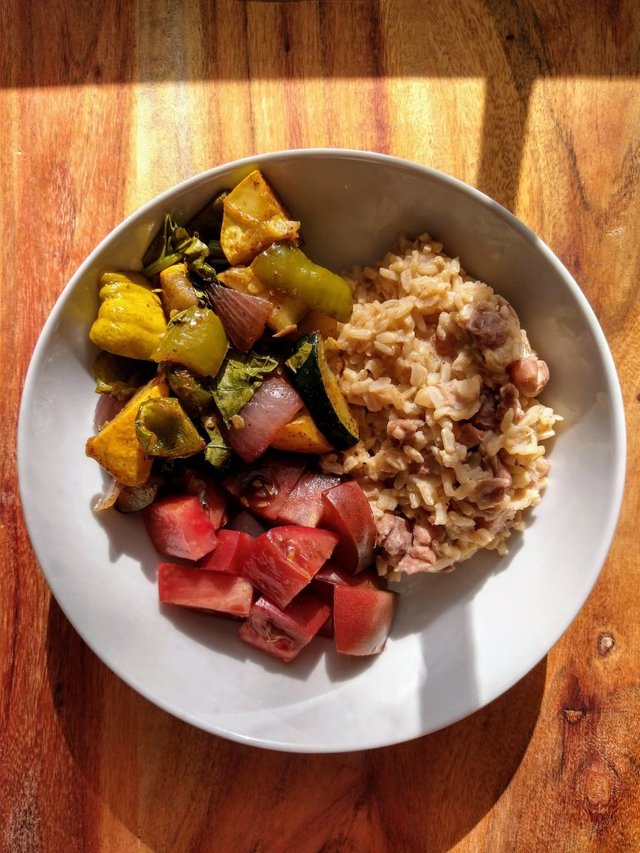 Next up I called on the boyfriend for a little assistance. This was another weekend meal. If you haven't guessed, as much as I love cooking I really don't like spending a lot of time cooking on Friday or Saturday nights. Sunday, yes, but the rest of the weekend it is nice to chill a bit. Luckily the boyfriend is the grill master, so I gladly hand off some cooking duties to him when the occasion arises. This was a medley of summer veggies I'll have him grill often this time of year. Onions, patty pan from the garden, zucchini, bell peppers and anything else we have on hand. Lightly seasoned and a little drizzle of whatever flavored balsamic I am in the mood for that night. This time I believe it was the Jalapeno Lime to go along with the chili powder and cumin with which I seasoned the rice. I think he pulled some kohlrabi leaves right from the garden to add on top once the veggies were grilled.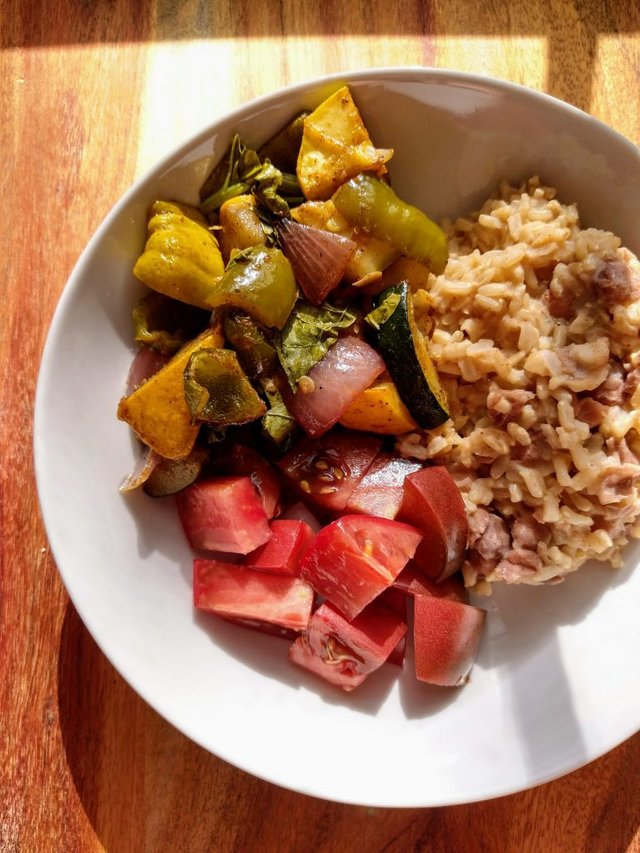 The tomatoes were some of the first heirlooms of the season, which I just have to enjoy some raw to get that perfect unadulterated taste of summer. To round out the meal I had made a one-pot mix of rice and pinto beans. I think I might have left them cook a bit too long, but they still tasted delicious with all of the summer veggies. You could just as easily roast or saute the veggies to recreate this combo if you con't have access to a grill!
---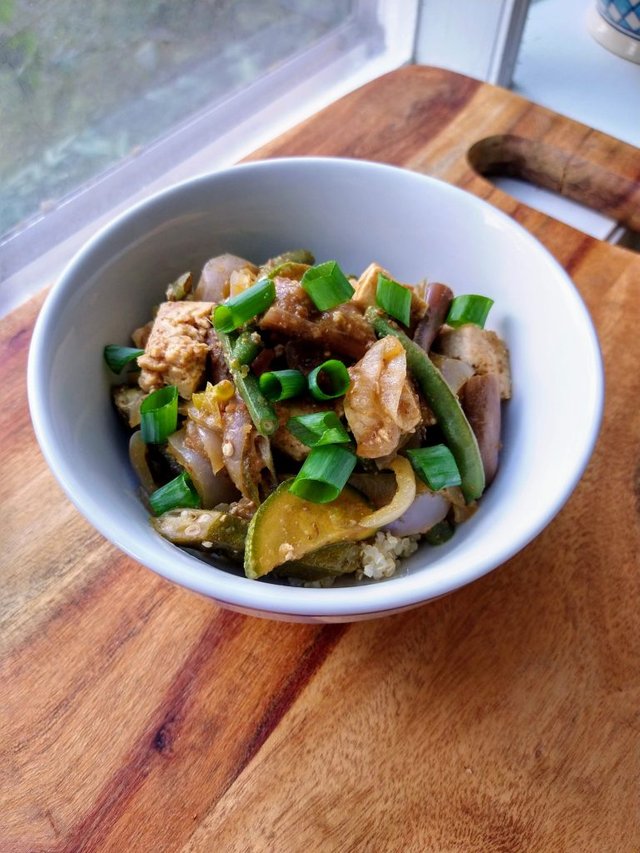 I'll finish out the meal prep inspo with the first of the okra and eggplant I believe I got for the summer. After growing up in New Jersey, with no okra in sight, the pointy little veggie has become one I do purchase often this time of year. I continue to learn how to work with it in ways that I enjoy. Eggplant (aubergine, brinjal or whatever else you'd like to call it) is still not an absolute favorite of mine, but it is so abundant I can't help but grab some each week. I do have a penchant for the fairytale variety which is smaller and comes in a gorgeous purple and white skin. Though unfortunately it does lose that lovely hue once cooked.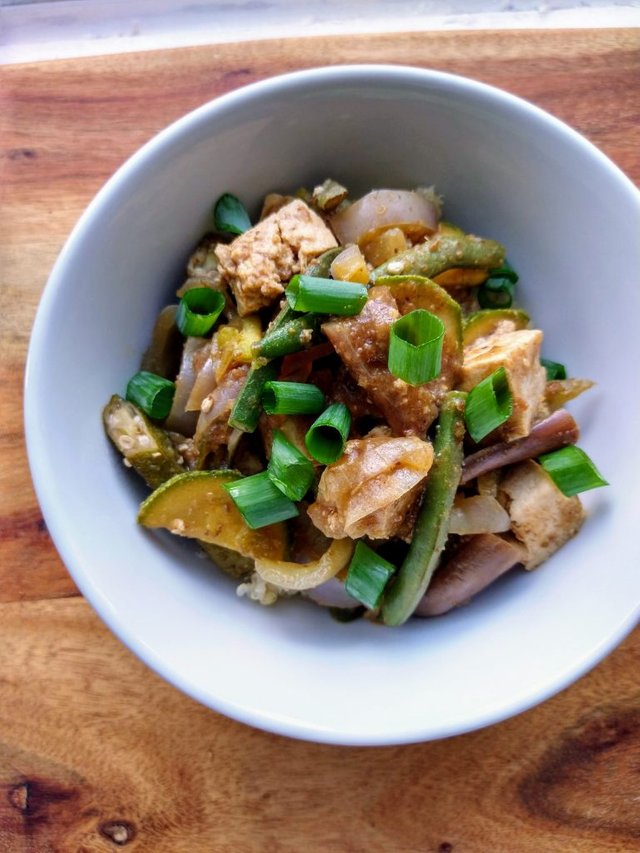 This medley also had onions, green beans and zucchini tossed in along with tofu and a bed of quinoa for a base of plant-powered protein. I used the date-based teriyaki sauce from Vegan Richa for the perfect flavor to bring it all together. I love using dates for a sweet element instead of the loads of processed sugar you find in premade sauces!
---
There you have it! Not an exhaustive list of everything we've been enjoying in our bowls, but a nice little medley of flavors to whet your appetite and perhaps give you a few ideas on how to use up some of these seasonal items I hope you are all buying or growing right now. For once there wasn't a cucumber in sight for this post, but rest assured we're thoroughly pickled over here still. I believe our flourishing cucumber plants might just about be on their last leg, but butternut is on the way soon...
What fruits and veggies are you enjoying while the season lasts? Happy cooking (and eating)!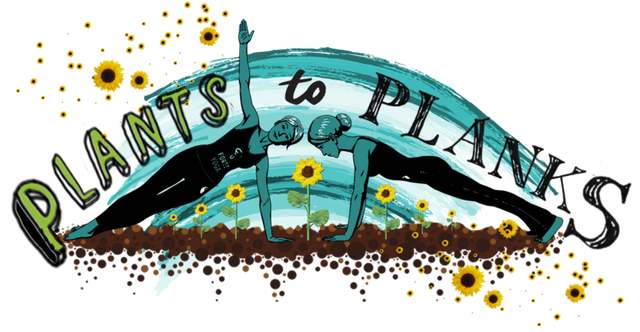 Banners by @woman-onthe-wing and @dksart

Join The Best Natural Health Community on Hive
---
Posted from my blog with SteemPress : https://plantstoplanks.com/easy-vegan-summer-meals/
---