What a beautiful week it's been to arrive back in Winchelsea after an entire season spent in Somerset, UK, in the warmest Spring they've had since records began. I feel a little topsy turvy, not least because I've spent two weeks in a very dark hotel room in Melbourne in mandatory detention - but that's another story. For now, I'm thankful to be outside and assessing the garden, mostly weeding and meeting my four new Australorp chickens, left by the housesitters, and figuring out what seeds I should be planting and what has self seeded, and what greens I can harvest for dinner.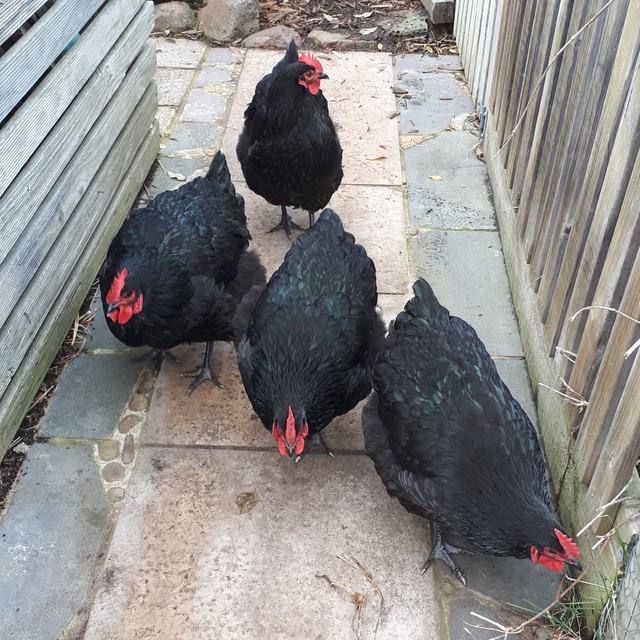 Having plucked a huge amount of fat spring onions and what I call sprung garlic - garlic in unwanted places, pushing up like clumps of chives from the ground I'd left them in last year, and heaved a lot of pumpkins into the dry under the gazebo, I decided to take this small amount of surplus to the Food is Free mini stall on Barwon Terrace.
As things would have it, Richard and Bree were out saying goodbye to a visitor, so I waved hello and crossed the road to chat to them about what's been going on in their garden. They've been digging up the invasion of grass, hoping to plant fruit trees on this unused land that, as Bree laments, takes hours upon hours of work a year to maintain. It's not a nature strip, we agree - it's a grass strip. Nature strip vegetable gardening is becoming more acceptable as councils like Moreland in Melbourne bow to public pressure. So long as it's not a public hazard, fruit trees would be a lot more valuable, and a mulched area of land far less to maintain.
It's lovely to see the couple make progress on their beautiful Barwon Terrace property, distinctive for it's beautiful fence decorated with old ironwork and tea tree. I love the way their vegetable garden is situated between the fenceline and the house, instead of to the back of the property. It says something about their openness to invite the community into the space and the visibility of what they are doing. I'm envious of the new greenhouse Richard had picked up on Facebook marketplace, and we talk about soil biomes and various podcasts that detail how to regenerate soil to best serve an edible landscape. I love their new fence, made of chicken wire and recycled hardwood fence posts. A huge tobacco plant towers near the greenhouse - far more beautiful than the end product that turns up in chemical infused cigarettes. It reminds me in form of mullein, which I'd like to grow, and have only just discovered is seen as a weed in some parts of Victoria where it has naturalised.
Richard's eyes shine when he speaks of how he can use his land to serve both local and wider communities, dreaming of adding systems like worm farm grey water filtration and a biodigester which turns waste into cooking gas. They call these new technologies 'freedom technologies', separating them from the green-washed products that don't realise the full potential of alternatives to truly environmentally friendly house and garden systems.
We talk about other systems, too. We talk about how community is so essential in uncertain times. Whilst I wasn't here during the pandemic, social media informed me that this shire was no different to what I was seeing in the Mendips in the UK - people sharing abundance in times of supposed scarcity. Yes, we ran out of toilet paper too - and flour, and yeast - but what there was no shortage of was people willing to help out. There were food drop off points, phone calls to the vulnerable, medicine and food deliveries for those who were 'shielding' from the virus. Whilst many shops were shutting up, and the world seemed stalled, people's generosity was far greater than what the media would have us believe.
How do we truly come together as a community to thrive in times of scarcity, we wonder. How do we begin to share resources, knowledge and skills that are important for society's evolution. As we sip rooibos tea, native to the South Africa where Richard was raised, we talk about how individual and natural landscapes are used to service mainstream economic models that can have devastating effects on the earth. Deforestation and intensive agriculture, for example, can lead to imbalances in environments where viruses like this latest one are possibly born. How do we survive the next one, if one should arise, and how do we provide for each other? Individuals are only as strong as the communities in which they belong.
Big questions to ponder on this warm, sunny afternoon as I drop off pumpkins and spring onions to the Food is Free stall, and leave with chillis and a small handful of mandarins.
With Love,



Join The Best Natural Health Community on Hive


PeakD - The Best Way to Experience The Hive Blockchain


MINDFUL LIFE is a Natural Medicine project which supports meditators on HIVE
Discord II Community