Ah, goodness. I'm full of gooey love for people. Today we got together for our Gardeners Meet Up which we used to hold once a month before the pandemic. So many people had been asking me when we were holding our next meeting that I decided to do it, despite only very recently being only allowed to have outdoor meetings of ten people at once.
So when I got down there, I expected to have to direct people into groups of ten, or to have the police turn up (the sign's been up in town all week), which would been even more interesting since there was at least ten of us not wearing masks. Masks have been mandatory in Victoria for a while now, but there's still a few of us not wearing them for either reasons of belief, or hidden disabilities. I thought the police might do a drive by and ask us questions, but they didn't. It did make me laugh - most people just joked 'oh, watch us scatter!' and you're talking older people, country folk who I thought might be a little more conservative, but nope. They just shrugged it off, saying the police had bigger fish to fry and that what are they going to do, book a gardeners group? We joked about us being on the front page of the paper: REBEL GARDENERS GROUP FULL OF ANTI MASKERS! DEFIANT GARDENERS BREACH COVID LAWS TO SWAP TOMATO VARIETIES!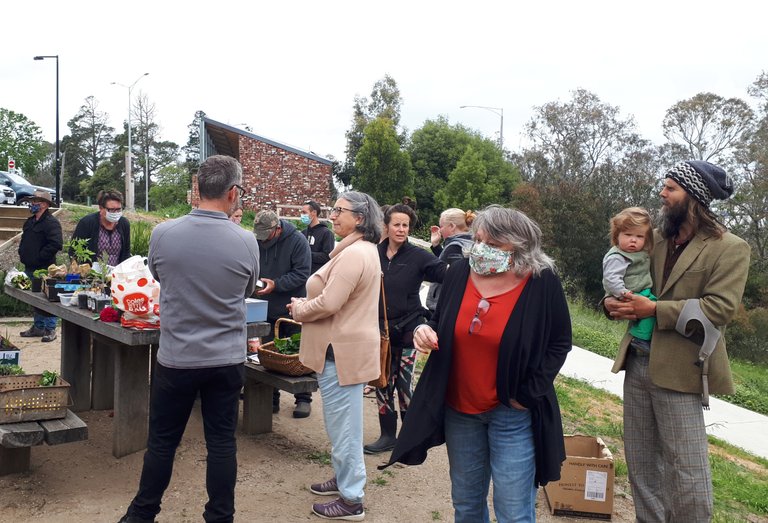 I got a few interesting tomato varieties, one being an Australian variety that fruits early, has thick stems and compact growth - although I didn't think I'd plant more tomatoes, looks like I'll be sqeezing a few more in. There was quite a bit of produce as well - broad beans, leeks, cauliflower and silver beet, and bunches of roses, jars of seeds to share, eggs, lemons and even home made soap and honey.
The only annoying thing was my son's dog, who I was puppy sitting - she was very yappy and excitable and hard to control! I didn't get to speak to half the people I wanted to, but caught up with a few and made some great plans to cement some community gardening events. Richard (South African, avid permaculturist/biodynamics guy) has talked me into joining in a community leadership program run by the council so I'll put in my application for that soon, and join him and another woman in starting some kind of community exchange for the town, such as labour working bees on a roster system with people who sign up for it, open garden days, and workshops. I feel a bit excited about this community building again, after a time of being really disillusioned and set back because of the lockdown laws and everything apparently at a standstill.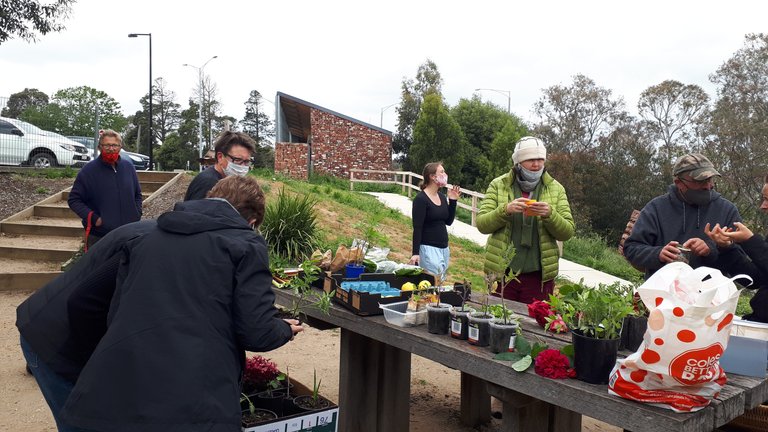 Anyway, everything feels super positive. I feel sad for Europe at the moment being in lockdown whilst we've been on 0 cases for a few days now. I'm sure it's in the community still and it wouldn't suprise me if we get another outbreak at some point, but for now life seems at least a little bit back to normal.
Honestly, catching up with people who love gardening and care about community is enough to make your heart burst.
Even if we were apparently breaking the law.