It was Ella's first camping trip. Well, the first one since she was a kid, anyway. She hates tents and her back suffers sleeping on poor mattresses on the cold ground (well, who doesn't suffer camping on a crap mattress on the cold ground, amirite?). But, somehow she was persuaded, which had something to do with us lending her and my boy our van, which is really like a mini house - at least on the mattress front. It was my birthday, too, and I wanted a camp trip, so she couldn't say no. Being the polite and lovely girl that she is, she also couldn't say no to my birthday dinner request of homemade naan, cooked over our new campstove (which I really must review on HIVE at some point!).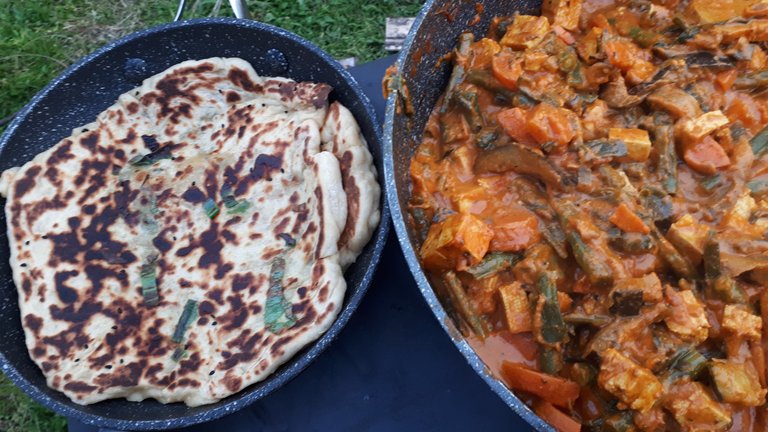 The recipe they followed was this one, with a few vegan tweaks. I'll reproduce it here, with the dairy free alternatives. We also had to make a garlic free garlic naan (yeah I know right?) because of the husband's garlic intolerance. Plus, we're all addicted to nigella seeds on like everything at the moment - stir fry, rice, home made foccaccia and even ground in coffee. Exotic, huh?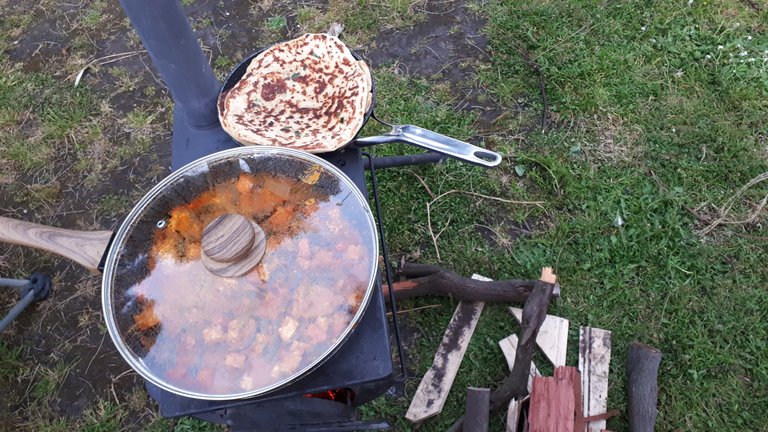 We served the naan with a vegetarian (and vegan) curry with a tomato and coriander base, and lashings of coriander. I tell you, I've never had such fluffy, fresh and delicious naan - even in India. Sorry, India!
And Edie, the kid's gorgeous schnelpie puppy, agreed. She was as full as we were, having pinched one when we weren't looking. With all that thievery and playfulness, she was tuckered out.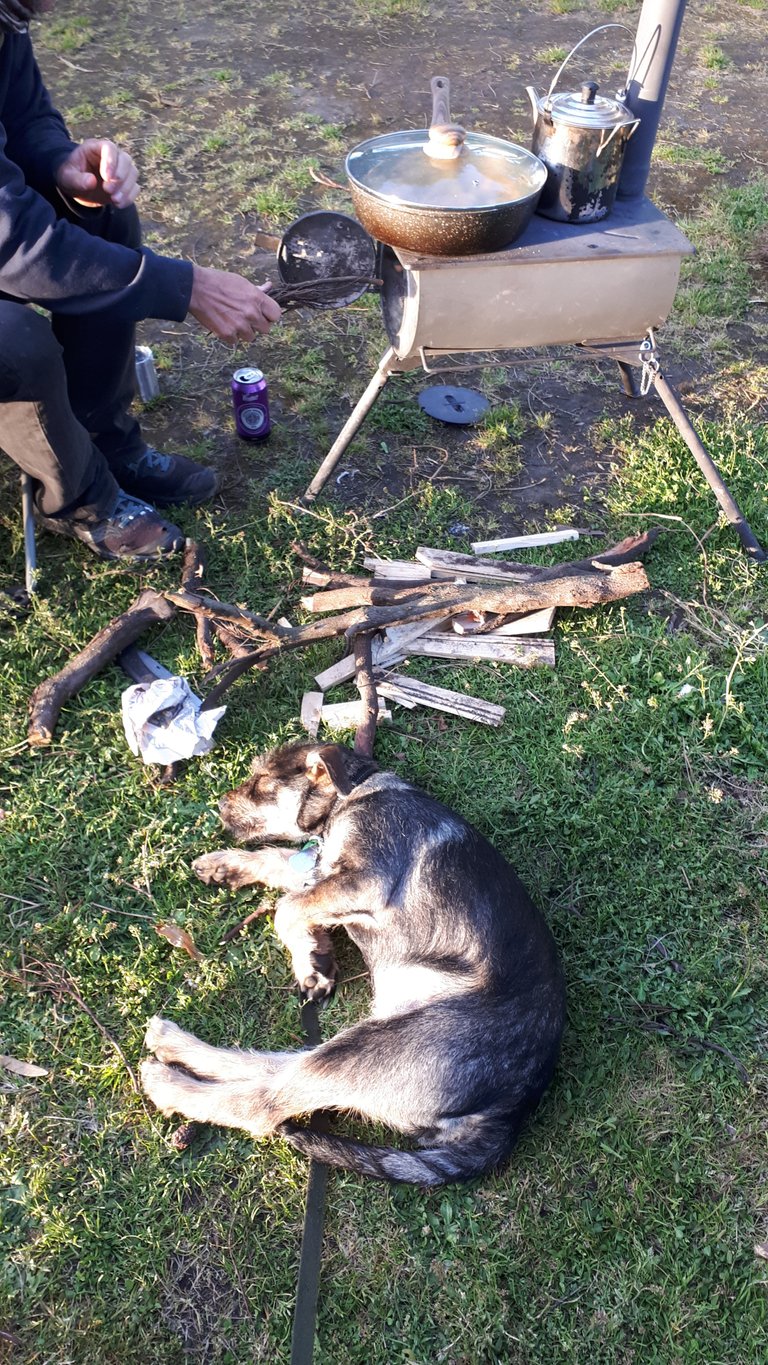 Did Ella enjoy her camping trip? She loved it! The van was comfy, the weather was great, the camp oven was fabulously enviable, and it was peaceful and relaxing!
3.25 cups +3-4 tablepoons all purpose plain flour
1 teaspoon salt
1 cup water lukewarm
1 tablespoon sugar
2 teaspoons active dry yeast
1/3 cup coconut milk lukewarm
2 tablespoons plain coconut yogurt
3 tablespoons olive oil
2 large spring onions, finely chopped
nigella seeds/kalonji
Butter, to brush on naan
3 tablespoons vegan butter (we used nuttelex)
3 tablespoons chopped spring onions (the green bits)
3 tablespoons green garlic tops
1 tbsp coriander
Mix the salt and flour, and then in a separate bowl, mix the lukewarm water, sugar and yeast, letting it go frothy and bubbly. Mix this with the coconut milk, coconut yoghurt and oil, and add the lot to flour. It'll be really, really sticky - keep adding the remaining tablespoons of flour. Don't worry about the stickiness - it will eventually get less sticky as you need it, but it WILL be sticky. Knead until the dough is formed - about ten minutes. Cover and allow to rise for about 45 minutes - don't skimp on time!
Punch the dough lightly to release the air, and then divide into about 8 parts. Oil on your hands will stop your hands sticking to the dough. Cover with a towel and let rest for about ten minutes.
Meanwhile, melt the butter and add the onion and herbs. Heat up an iron skillet on medium-high heat - a thick bottomed pan or a cast iron skillet is ideal. Take a dough ball and roll it into an oval shape, around 10 to 11 inches long and 6 inches wide - we used a wine bottle to roll it a little easier. It's not meant to be rolled like a paratha, but we found the rolling pin helped. You can oi the dough and the pin to stop it sticking.
Transfer the rolled naan onto the pan (you can oil the pan, but we only had butter at this point and that worked fine). Brush the naan at this point with the garlic butter and flip it when bubbles appear. Cook til brown on both sides. Brush with more butter.
You'll see the Manali recipe also charred them, but as you can see from the picture, we didn't lose anything by skipping this step.
Have you ever made naan? What are your tips and secrets?