Plant based doesn't have to be lettuce and mung beans and wasting away. Those myths have been truly shot to the ground, and if you're still a man arguing about the manliness of plant based meals, you really need to get plant educated. There's more than enough protein in plants to fill your belly and give you energy to be manly, whatever that means to you.
But sometimes, you gotta go hard on that satisfying 'meaty' taste, rich with flavour, a little smoky and spicey maybe, filling and suprising.
Which makes me want to rave about the best pie filling I've ever made. In fact, it's great for lasagne, spaghetti bolognaise, or shepard's pie - good, hearty meals that would make any man happy.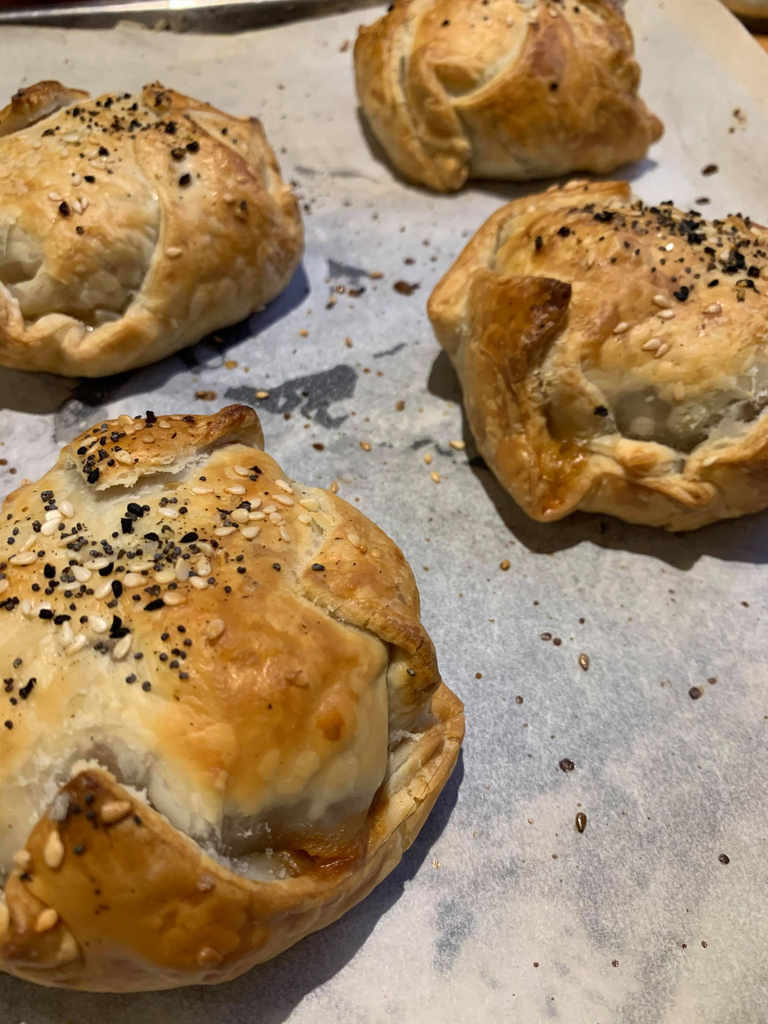 It's the most extraordinary vegan ragu you have ever eaten. I'm serious. This recipe was enough to make my spag bol loving husband to admit he preferred this to the meat version. That's a serious claim. Ottolenghi, in his new recipe book 'Flavour' said so many iterations of this recipe were made they could have sunk a small ship, before finally arriving at this one.
Of course, the second time I made it I adapted it a little more to suit. It IS a long ingredient list - and the way the recipe is put together is a little daunting, so I wrote it out differently so I could send it to all my friends so THEY could make it too. I think I have just saved at least one cow by doing this.
The umami taste in this is just perfect. It's smokey and a little spicey if you like it that way, rich and full of flavours and good. It's definitely not lettuce wrapped around a carrot.
And it's pretty darn addictive.
Arguably, you could use any sort of mushroom in this - I suggest porcini has got that special flavour but I imagine perhaps shitake would also work. Porcini is NOT cheap here - hence why I reduced the amount, but it still tasted amazing.
If you are making the pies, here's a top tip - put the filling into muffin trays, freeze them and wrap the pastry around the frozen 'cups' of ragu. Super easy for a quick midweek pie feast - you could even serve it with mash and gravy!
STEP 1
First of all, simply food process the vegetables until finely chopped or do it by hand (I did it by hand). Toss them together in a bowl with the tomato paste, miso paste, soy, cummin and harrissa. Cook this at 200 degrees for about 20 minutes, stir, and bake for another 20 minutes or until browned around the edges and bubbling. At this point it will smell absolutely delicious.
| OTTOLENGHI | RIVERFLOWS |
| --- | --- |
| 3 carrots, peeled and chopped | 3 carrots, peeled and chopped |
| 2 onions, chopped into large chunks | Half a bunch of finely chopped spring onions |
| 300 g oyster mushrooms | 6 large field mushrooms or 10 large button mushrooms |
| 60 g dried porcini, roughly blitzed | 30 - 40 g dried porchini, finely blitzed |
| 4 garlic cloves, finely chopped | 4-6 garlic leaves or a large handful of garlic chives, fine chopped |
| 3 - 4 plum tomatoes, chopped | 3 large tomatoes and 1/2 can tinned tomatoes |
| 120 ml olive oil | 80 ml olive oil |
| 70g white miso paste | 2 heaped tablespoons red miso paste |
| 90 ml soy sauce | A generous splash of tamari or soy sauce |
| 2 tsp crushed cummin seeds | 2 heaped tablespoons of cummin powder |
| 40 g rose harrissa | 1 heaped tablespoon harissa (test for spiciness and adjust accordingly) |
| 4 tbsp of tomato paste | 4 tbsp tomato paste |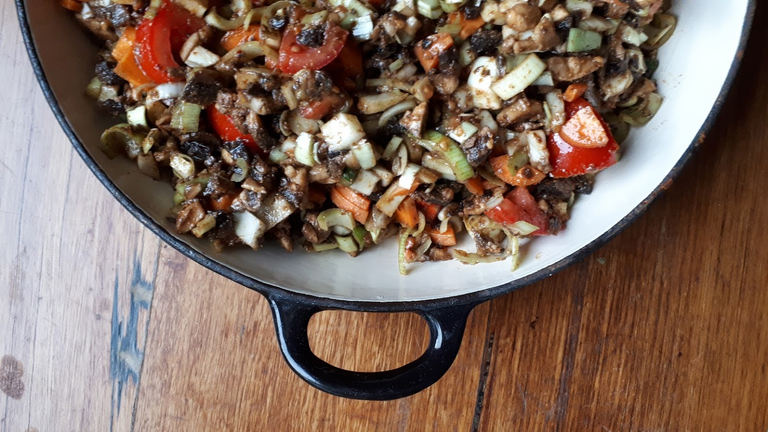 First bake the vegetables til browned and smelling insanely delicious
STEP 2
Due to the size of my pan, I could not fit a litre of stock in as the recipe called for, so we went with half a litre, and added more after about 25 minutes. We never used up the whole litre, but the pearl barley and lentils were cooked. Thus, it's only necessary to use the water to cook the pulses, so a simple check will solve the small dish issue.
| OTTOLENGHI | RIVERFLOWS |
| --- | --- |
| 180 g brown or green lentils | Scant cup of lentils |
| 100 g pearl barley | 1/2 cup of pearl barley |
| 160 g coconut cream | scant 1/3 of a tin coconut cream |
| 100 ml red wine | 80 ml of red wine and a swig for the cook |
| 1 litre vegetable stock | 1/2 litre of stock and more if needed |
| salt and pepper | salt and pepper, plus a spillage of peppercorns on the kitchen floor |
STEP 3 - MAKE THE PIES
Double check your puff pastry to make sure it doesn't have lard or animal fat in it. Cut into squares. Fold the edges over to make pies, like so.
Sprinkle with seeds or cracked black pepper (ours had onion seeds and sesame seeds). Cook in medium oven til golden brown and piping hot.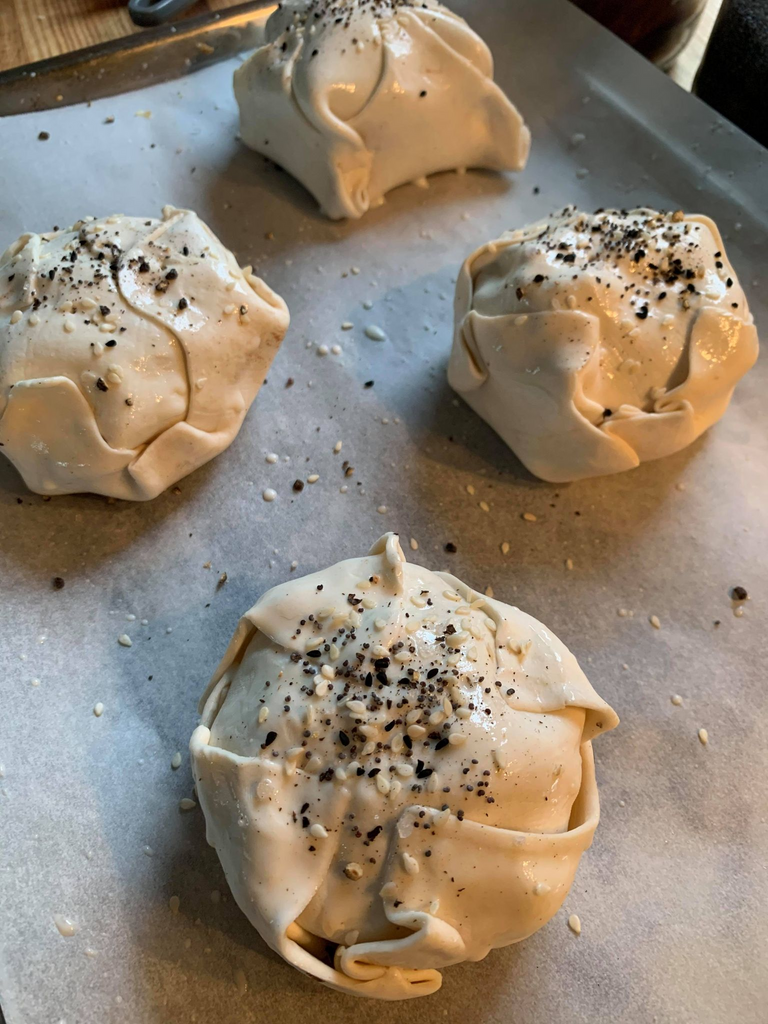 My son and his girlfriend have very meat loving friends that wouldn't have a clue about how to cook at all, let alone plant based meals. Last time they went for dinner, they had tomato soup. Long story short, my son made these pies for them and they nearly died with amazement, finding them meaty, satisfying and 'as good as any meat pie you'd eat', they said. Now if that's not proof in the pudding pie, I don't know what is.
Manly? Well, as much as a good meat pie can be 'manly', I suppose, if you're still old fashioned enough to believe food has a gender type.
Can vegan food be 'manly'? What stereotypes do people through at non meat eaters? What food would you serve up to a vegetarian? Would you rather eat meat any day? Can you get enough nutrients from a plant based diet to be a sexy, virile, strong man?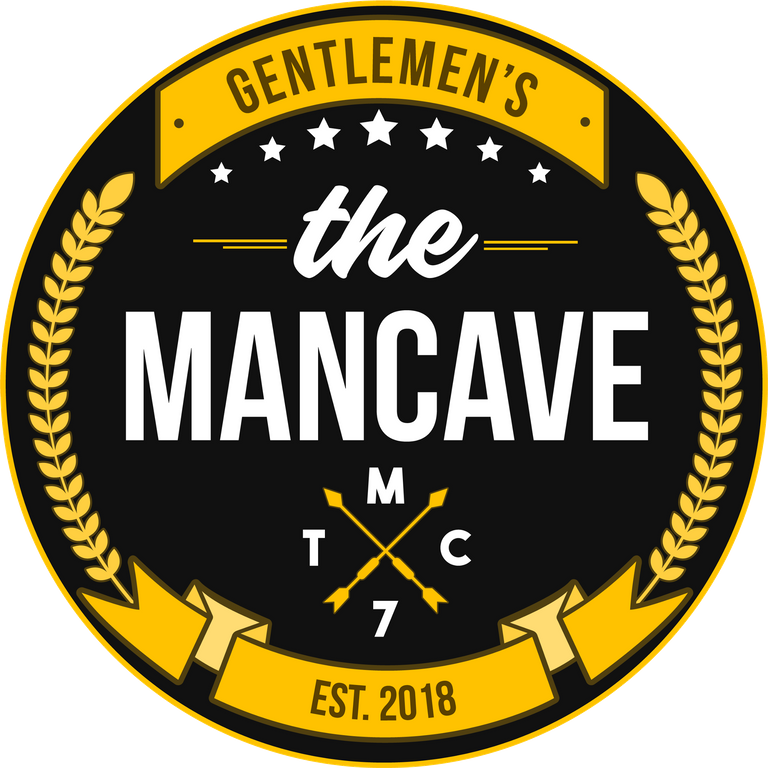 Natural Medicine and Man Cave present the MANLY MAN PLANT BASED CHALLENGE. Check out the challenge here - it's on for the rest of the month, so choose a topic or a viewpoint and go for it! You can win BRO and LOTUS tokens as well as HIVE!
With Love,


Join The Best Natural Health Community on Hive