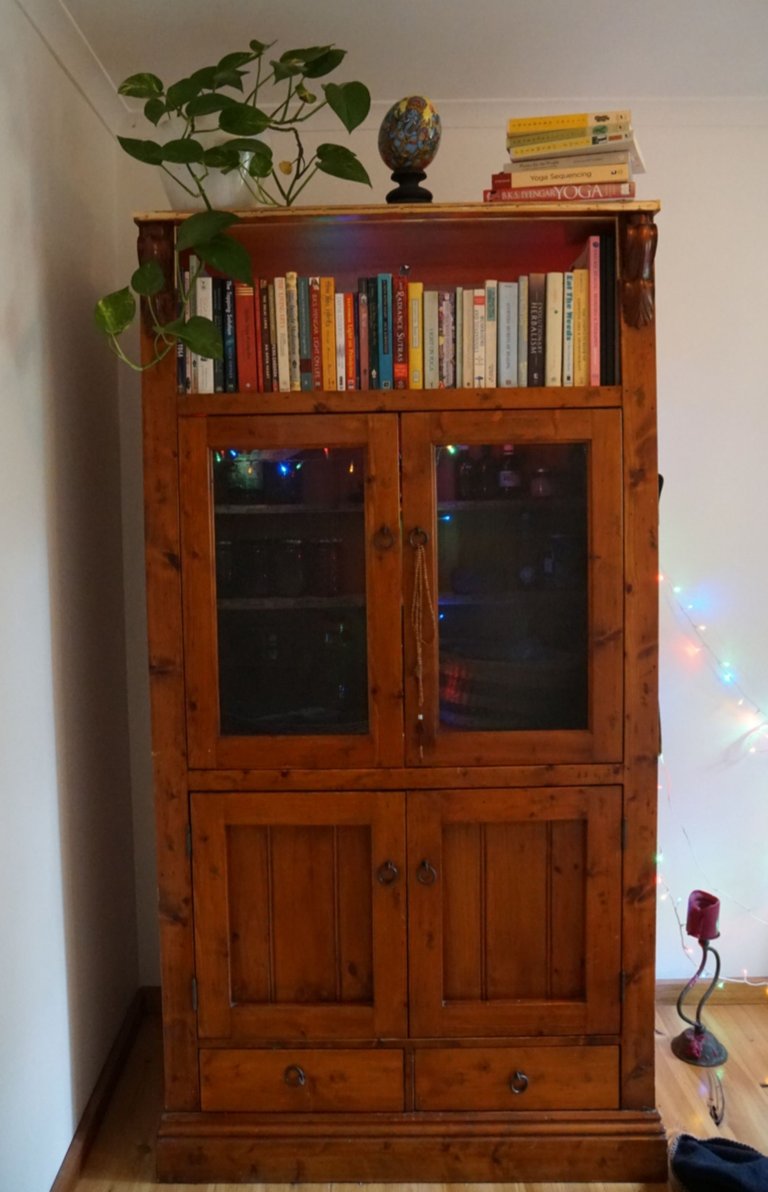 Do you ever find just thinking about things makes something appear? I'm sure it's because it's where we put our attention - had I not thunk about it, I wouldn't have seen this huge cabinet on the side of the road not a block from where I live, with a cardboard sign proclaiming 'FREE'. I'd been practicing yoga in my room but every time I stood, I was staring at a makeshift bookshelf with books and drying herbs and tinctures. Clutter does not a good yoga practice make - messy room, messy mind and all of that.
I really needed a big medicine cabinet in which I could contain everything in my woman cave/yoga room really, something I could shut the doors on and then forget about it as I breathed and moved through my meditative practice. Then - voila! It appeared.
It wasn't perfect. In fact, it was so tall and wide we couldn't get it into the room, so we had to knock the top of it off. But it was free, and furniture is expensive, and it's only hidden in my yoga room, so - did it matter? I'm as pleased as punch, so I'd say it's just fine. Nothing a plant wouldn't soften, and a few books. We also knocked a decorative curved piece of wood from the top of the bookshelf which was a little ornate for me. It fits my yoga and herb books - well, most of them anyway - the rest are on the larger bookshelf.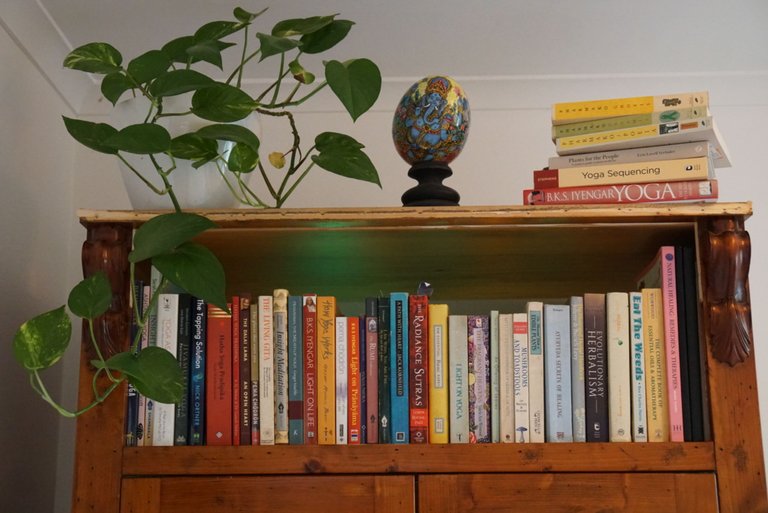 I had to make some small adjustments, too - in the middle section, I added two shelves with a board I'd found in the 'free' bin at the wood yard. It was a rough sawn bit of pine with a split or two, perfect for my purposes. I wouldn't say my carpentry skills are great, but hey, it's inside a cupboard. Fending off jokes about orangutans and saws (for context, entertain yourself with this video which show just that) I managed to screw in a few supports for them to rest on, and I'm pleased with how the jars sit. There's also a kind of pull out desk so at a pinch, if we go back to remote teaching, I can work in my yoga room.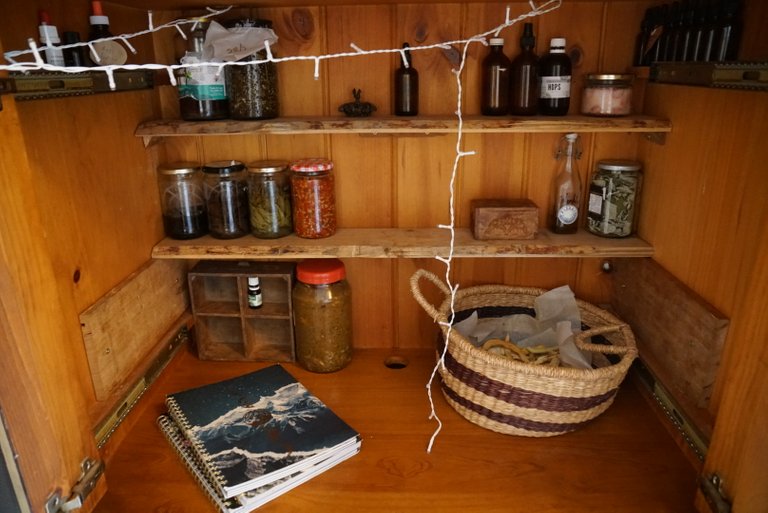 My tincture bottles sit along the slide rail that the doors are attached to - a perfect fit! Underneath sits all my seeds and the dehydrator, and the two drawers underneath that contain all my yoga and personal notebooks and journals, and things like tins, beeswax, and other medicine & natural cosmetic making ingredients. It's pretty dark inside the cabinet so I need to get some kind of light to go inside it, but for now, I put in fairy lights which thread across the room and into the cupboard. It's now my disco yoga room. I do love my little cave - it's very much *my* space where I can journal, stretch, meditate, think, read away from the rest of the house. If the door is shut, the husband knows not to enter it.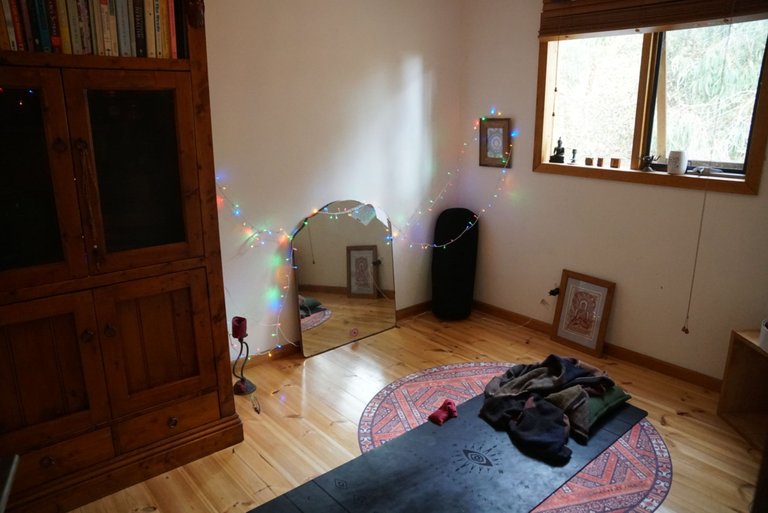 Today, it's pouring with rain for the first time in six weeks so I'm busy reading and pottering, and a bit of yoga as well. The heater is on and it feels very cosy and conducive to creativity. I've decided to pull apart a herbal book I bought at a yard sale for $1 - the spine is ruined and the pages are falling out, and it has tiny print so I don't use it for the purpose for which it's intended, so I thought maybe a couple of cute framed herbal prints would be nice in my cave.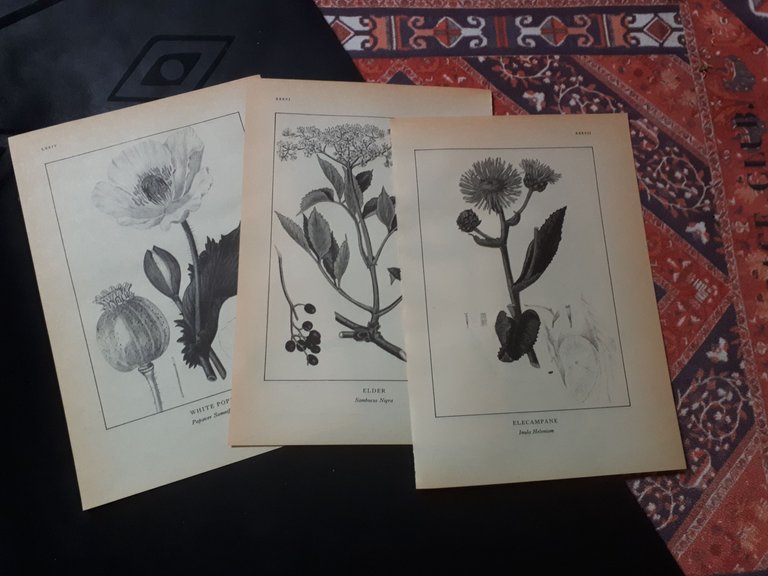 I'm also sorting through my seeds ready for going down to the greenhouse for a bit of potting up - there's a hole in the plastic of the roof I need to sort out, and I need to repair the back door which twisted in the wind and put another bed in there as well. There's so much to do I'm kinda annoyed at the rain.
I'm thinking about more herbs I can grow - definitely a curry plant, and I'm wondering if a tamarind would grow here or at least in the greenhouse. Sometimes it's depressing thinking about leaving to go travelling and knowing that no one will tend the plants and the garden as well as I will, but it's a trade isn't it? Stay at home and tend the garden or venture into the wild lands of the earth for some adventure. A kind of duality - my cancer moon homebody conflicting with my airier parts where I long for adventure.
What will become of my cabinet then? It'll be put on the roadside with a 'free' sign on it I suppose. It's why I don't bother buying furniture - besides, there's so much waste in the world I just feel bad if I do. The only furniture we have that's not built, modified, free or gifted is our leather sofa. I'm kinda proud of that ethic in a demographic that happily spends a lot of money on domestic items because it's a symbol of wealth or they're brainwashed into believing that's what one does - build a house and spend money furnishing it. I guess I'm feeling a bit smug. I'm sure others would look at my imperfect cabinet and recoil, but it's mine and I love it!
Time to go rearrange some bottles methinks, and check to see if that second batch of mugwort, tulsi and lavender oxymel is ready.
Do you have a medicine cabinet? Do you repurpose old furniture? What's your best kerbside find?
With Love,