I want to say coriander, parsley, and three sorts of basil, you know, if it was a desert island situation and I was ensuring I had a good herb garden to help my general health and culinary dreams of baked fish I'd caught with my bare hands diving into crystal blue water and drinking tulsi tea as the sun goes down. But I don't think it's that kind of challenge (read about Natural Medicine's November challenge on HIVE here - there's three to choose from AND a bonus manly man plant based food challenge!) - I think it's more a running away from zombies challenge. Heart beating fast, maybe a deep cut or two from leap frogging a barbed wire fence to get away from the horde that's cornered you in an alley, and then you've got that damn cold that you got off that family you holed up in the supermarket before you escaped by crawling into the air vents and breaking out onto the roof.
Okay, whatever the scenario, choosing three herbs is really super tough. If it's a bug out situation, I've likely got a bug out bag with antibiotics and a decent first aid kit, or one of the first things I've been smart enough to do is break into the local pharmacy and get the hard stuff whilst everyone's in the supermarket holding tight onto 24 packs of toilet paper. I've likely pierced the brains of the pharmacist zombie with shards of glass I've broken off the smashed sunglasses cabinet, and been stuffing my backpack with painkillers, asthma medication, antiobiotics, valium and anything hard I can get my hands on. Plus, lots of magnesium, because my muscles are sore from running and tonight I'll have a bad case of restless legs.
But yeah, I'll probably pick up those quality, expensive, top shelf herbs they keep in the naturopath's cabinet (we have resident naturopaths in some pharmacies in Australia which is pretty cool) and grabbed the herbs I know will support me and I can't seem to live without. Plus, I'll be supplementing my diet with plants I forage on the way - elderberries, dandelions, nettles and plantain are common, depending on the time of year, and I'd hope to find mushrooms too, maybe kill a kangaroo or two. That is, if the marsupials haven't turned into the walking furry dead. If you've ever heard a koala at night, you'd know how frightening that would be.
Anyway. Back to my choices. What would you choose?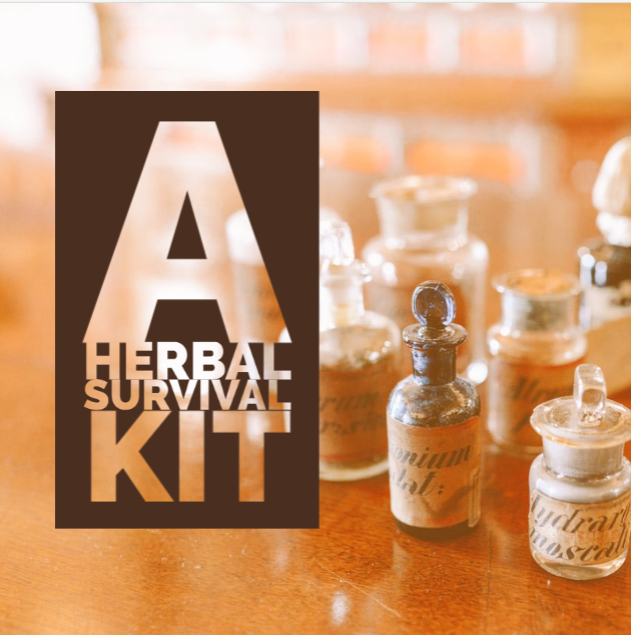 Ashwagandha
I've written about this herb before. In fact, I'm super excited to be growing it in my garden - the seeds have popped up in the green house and I hope to plant and establish a few plants (alongside mullein, St John's Wort, tulsi and a few other herbs I've been meaning to grow for years). Ashwagandha is a powerful adaptogen, helping your body cope with stress. It's been used for thousands of years for energy, concentration and reduce cortisol levels. Damn if I'm not going to need that when zombies are hot on my heels. Seriously though, I drink it in my morning brew as well, along with reishi and cocoa, and in my opinion it's better than coffee - less jittery and sustains me well. I'm more alert and less stressed when I am taking it regularly. Some studies say it helps with muscle strength too. Perfet when I'm wielding tree branches to fight off zombie kangaroos. If I'm cheatting in this 'three herb' challenge, I'd also grab St John's Wort from the shelf because it's good for depression and anxiety. Better than prozac. Damn I hate choosing just three things.
Yarrow
Okay, this is where things get even trickier. I don't WANT to choose three. And I know I don't want to add plantain to this list (great for cuts, insect bites, and even teas for hayfever and stomach upsets or anything to do with internal bleeding, including UTI's) because I'm going to be able to forage it easily. But if I'm bugging out fast and rummaging through my collection of dried herbs, I'd probably grab yarrow. It's a stypic - that is, it helps with bleeding. You can just crush it or use the powder, or maybe make a salve. It's used as a painkiller and is great for deep cuts as well. You can also use it for fevers and for colds and flus, and it helps fight bacterial infections. If you're interested, read more about yarrow online - it's truly a beautiful healing plant. It's less common wild here in Australia, so I'd choose that and hope to find plantain on the way.
Tea Tree
I'm Australian, so it's a no brainer to throw in this essential oil in my bag. A big bottle of it. It's so good that they used it as part of soldier's first aid kits in WW1 (or maybe WW2 - I'm going off memory here, but you get the point) for fungal infections. It's brilliant for that, and for an antiseptic and antibacterial. It's also good for asthma - you put it in hot water and throw a towel over your head to trap the steam and inhale. Trust me, you want this in your kit. I travel everywhere with it - we have a bottle in both bathrooms and in the Landrover.
And when you aren't looking to see if I've only got three, I'm going to throw in some lavender. And some echinacea. White willow bark. Chamomile. Garlic of course. Calendula. Oh, I just realised I totally cheated on this challenge. I've totally used up my quota, haven't I? Oops.
With Love,


Join The Best Natural Health Community on Hive