When I was a kid, my Mum taught me to respect books. I was not allowed to dog ear them, where you folded the pages over to mark your spot, and we were given bookmarks to do that job instead. Books were precious, revered and worshipped. The bookshelf took pride of place in our house, and every house I've ever lived in, the bookshelf has been one of the first things to go in. So for me to tear up a book is a bit strange.
But then, books aren't as expensive as they used to be. They are easy to pick up at garage sales and opportunity shops. And some books, as much as I like them, I really never open. What's the point, then, if they're not being enjoyed? So I had little qualms in tearing apart this edition of 'A Modern Herbal' that I picked up at a garage sale for the grand old price of $1. New, this book costs upwards of $70, so by all accounts, this find was a bargain - but the thing is, it was already falling apart and the print is so tiny I can barely read it. It's also quite a big book - if I was to purchase it, I'd buy it in two parts, as it's sold online. I've already put it on my wish list.
Why tear it apart, you ask? Well, for the plates. They're really cute illustrations of various herbs, which I wanted to frame and dot about the house. I purchased some super cheap wooden frames for $2 each and began figuring out which ones I wanted and where. There's some frames in my house I hate and that I was a bit bored of, and I wanted to change things around a little, as I often do.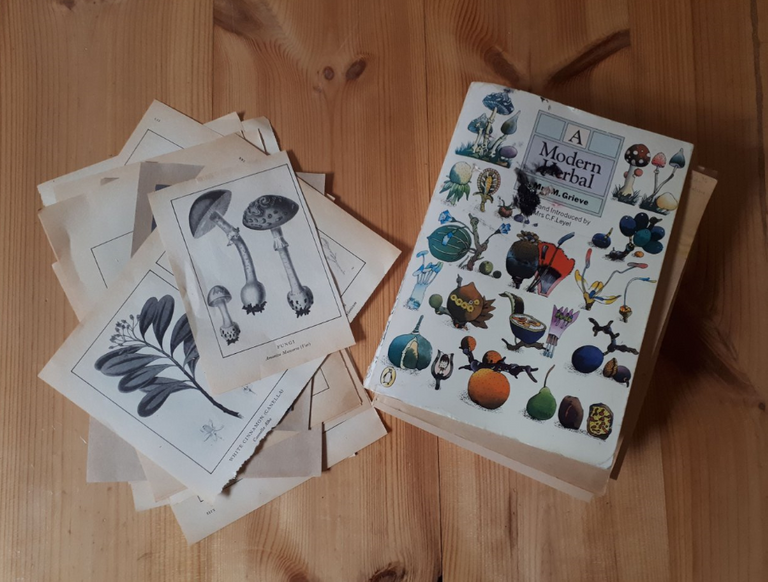 This one by the front door is the flyagaric mushroom. I like the way it's under an Acid Trance flyer for a club night called 'Enlightenment' from the hubs clubbing days - 'enlightenment' and mushrooms seem to go hand in hand.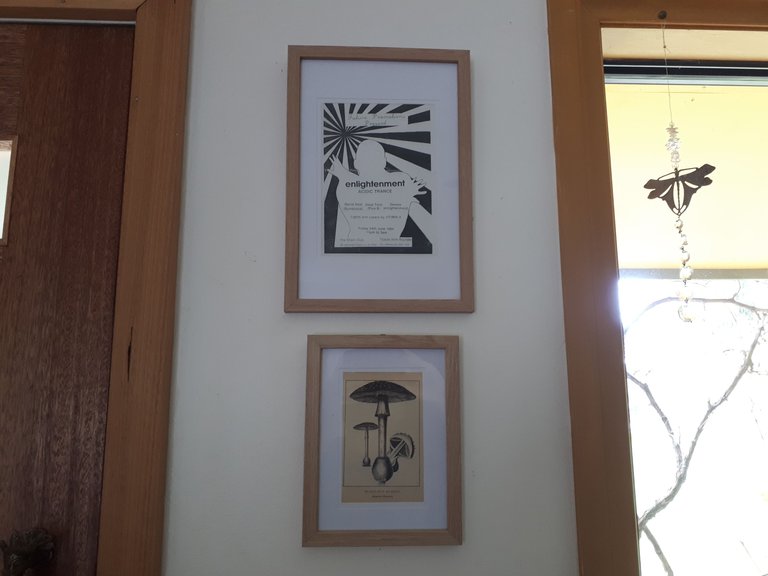 Next is elder and elecampane, in the kitchen. I have three or four elder trees in the garden and they provide shade for the chickens, plus, I make elder syrup for the winter. Elecampane I've recently been using in fire cider and the inulin in it gives it a lovely sweet taste. It's great for the lungs.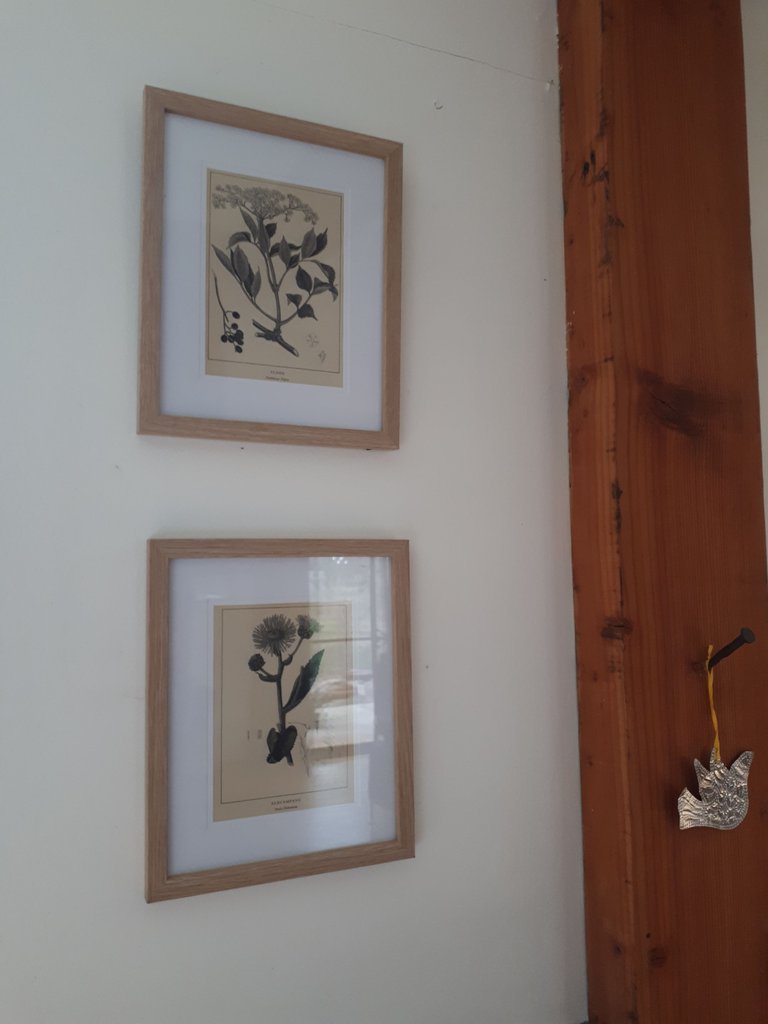 In my herbal cabinet in my yoga room I've placed willow, horseradish and marshmallow.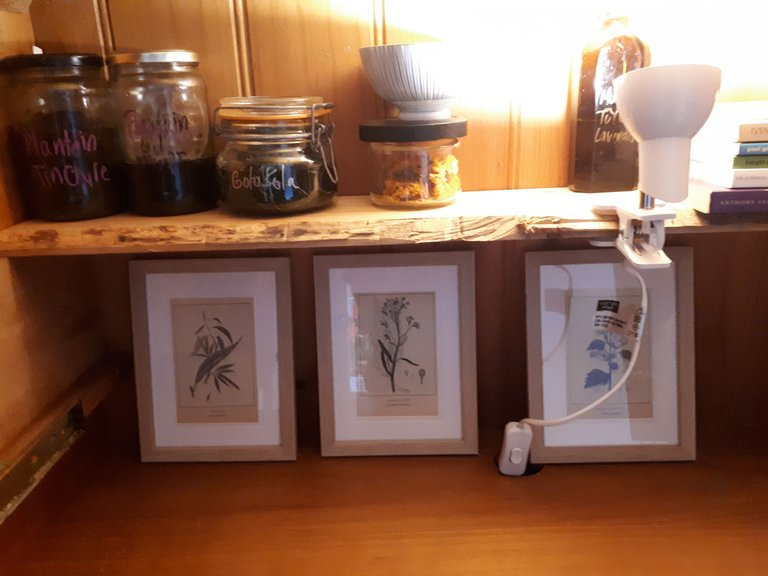 On the other side of the kitchen is white poppy. I did have cardomom underneath it, but the frame fell off the wall and broke, so it's sitting on the windowsill waiting for a new frame.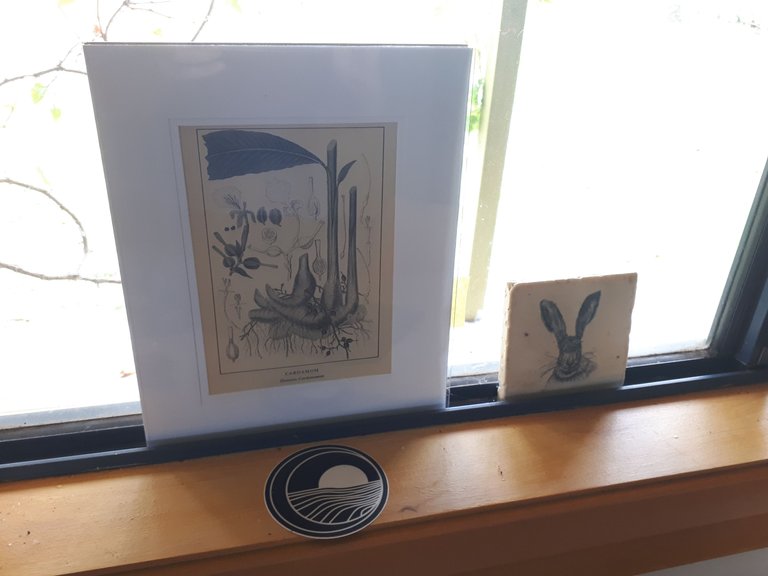 The next four are coriander, ginger, liquorice and coltsfoot. I'm actually going to put the ones in the medicine cupboard and these on the floor in some kind of arrangement on the wall in the yoga room, where the medicine cabinet fits, but I have to be feeling the muse to arrange them on the wall. The fence pail frames I've had for a very long time and I was about to chuck them, but I think they'll look good in an arrangement with the cripser birch frames.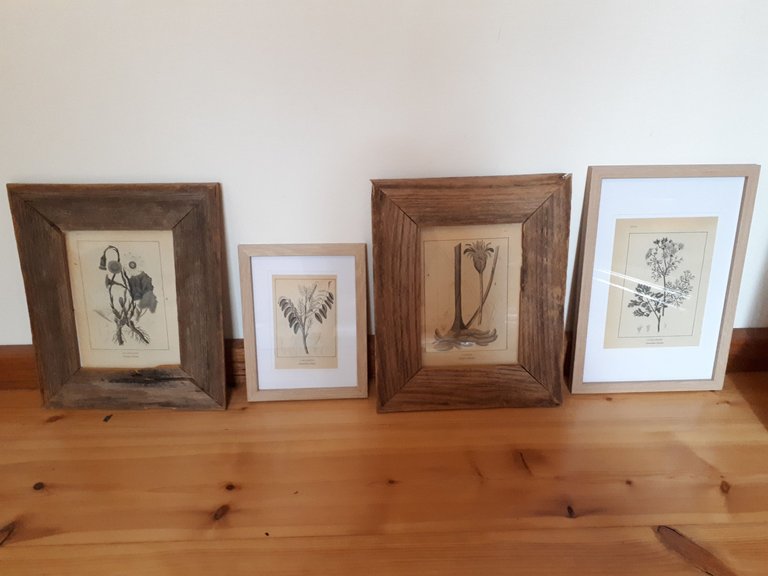 I really love botanical drawings, and of course I'm really in love with herbs and always have been, so it feels appropriate that they take pride of place on my walls. I like they seem to fit nicely with the other art I have on the walls - landscapes, a red fox, a drawing of Saraswati bought in Bali and a beautiful illustration of a flyagaric mushroom I bought Jamie from an art gallery once, an indigenous dot painting from desert country in Australia, and a few Albert Namijiri prints. The herbal plates don't overwhelm the space, but seem to just fit as part of our identity as a herb worshipping household.
What do you think? Have you put book plates in frames before? Do you like or possess botanical illustrations?
With Love,