Mushrooms were probably my sister's favourite food when we were growing up (mine was peas). We'd go to the local market and buy big bags and tuck into them raw on the way home. Being mainly vegetarian mushrooms are also a favourite of mine, not because they are like meat, or a substitute just because I like mushrooms. Mushroom pasta, mushroom pie, mushroom stroganoff, mushrooms on toast, mushroom risotto. They are just so versatile.
Mr SpringWorth is into growing mushrooms, we bought one of the grow your own boxes this year and though the daily spraying providing an exercise in memory we enjoyed the results and he's looking into options to start growing them without purchasing a starter kit every few weeks.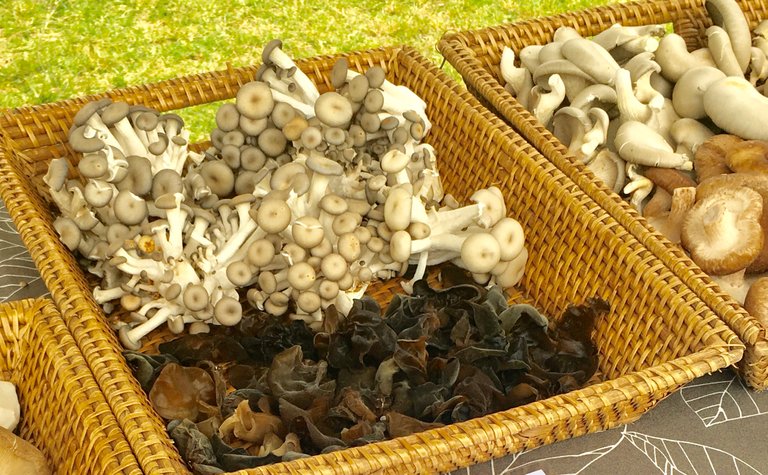 Until then we'll have to make do with buying fun mushrooms, like these woodear and shimejii.
shimejii are Japanese mushrooms, they look a bit like enoki but are grey coloured. Apparently they grow on fallen oak, beech or elm trees.
woodear aka black fungus or cloud ear were the weirdest looking of the bunch we bought, very thin but firm texture, they didn't fall apart when you handle them (a bit like super soft leather or kombucha scoby without the slime) and did resemble cloud shapes a little.
Mr SpringWorth had big plans for them but realised that keeping it simple would probably allow the mushrooms to shine (and get dinner on the table in a reasonable timeframe). Mushroom stir-fry and coriander rice was decided. The woodear were blanched in hot water for one minutes and then stir fried with garlic, ginger and chilli with the shimejii and a few sliced spring onions. We used the mushroom water to cook the rice and then added some coriander and spritz of olive oil after draining.
The contrast in texture between them was really good, the shimejii were soft and light were the woodear were more substantial.
I had a random idea to use up some really old wonton wrappers from the freezer to make wonton crisps. I'm not sure they were vegan but I'm a flexitarian. I separated them, sprayed on a little olive oil and then put them into the oven directly onto the rack. They were a little floury but I would make them again, Mr SW not so much of a fan.