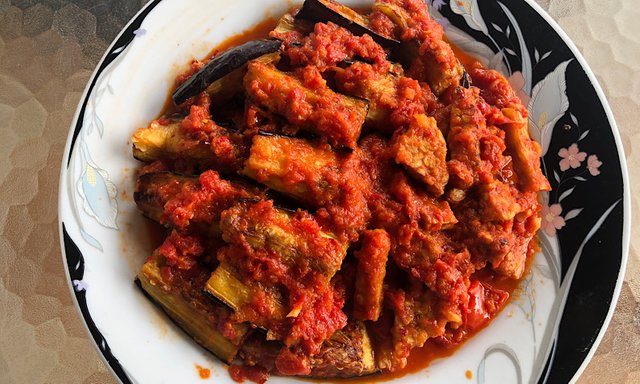 Hello again everyone. Today I will to share my balado sauce vegan recipe.
This balado sauce recipe, you can make with tempeh or tofu with eggplant as you want. Just you want to make with tempeh off fire then put tempeh.
The balado food eat with brown rice and aloe vera juice.

🍅🌶 'Bout the Balado Business 🧄🍆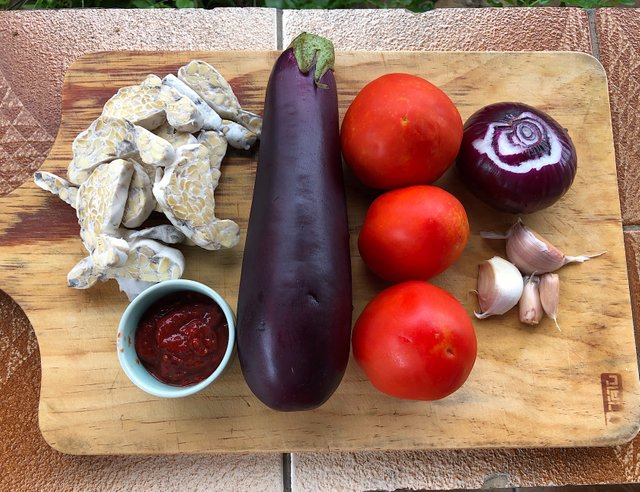 Ingredients
3 tomatoes
1 red big onion or 3 small
4 cloves garlic
3 big chilies a little spicy (here not have I use 2 tbsp suriname sambal)
1-1/2 tablespoon palm sugar or to taste
2 tablespoons soy sauce
1 teaspoon salt

👨‍🍳 Cooking Method 👩‍🍳

Step 1

Cut eggplant put a little salt then mixed up, keep a few then clean water.

Step 2

Cut potato, onion, chilies, garlic then put in machine all and grind it.

Step 3

After grind already .

Step 4

Then fry eggplant or tempeh or tofu fry until brown.

Step 5

Heat oil in the pan put tomato sauce grind already fry it.

Step 6

Then put salt, sugar, soy sauce fry it until looks not have water.

Step 7

Then to taste and put eggplant or tofu fry it one or two minutes off fire.

Step 8

Balado eggplant already.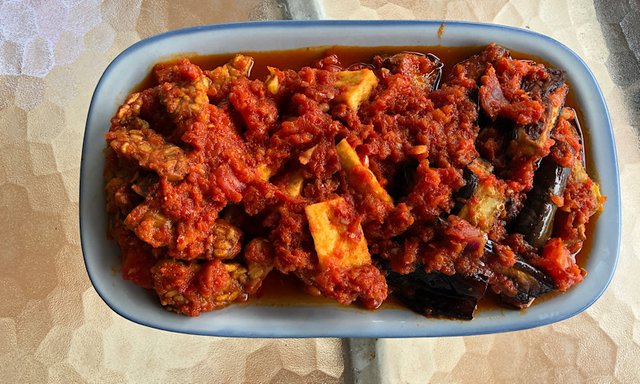 This is balado eggplant, tofu, tempeh. One balado sauce recipe, I can make three other. And as you want to eat which one.
But you don't forget, when you make it with tempeh you need off fire then put tempeh mix it, already. Do like that then more delicious.

🙏 THANKS FOR READING 🙏
If you enjoyed this post, please upvote and reblog.

WE PROUDLY SUPPORT