#Hive Daily tarot reading / Thoth Cards November 18th 2020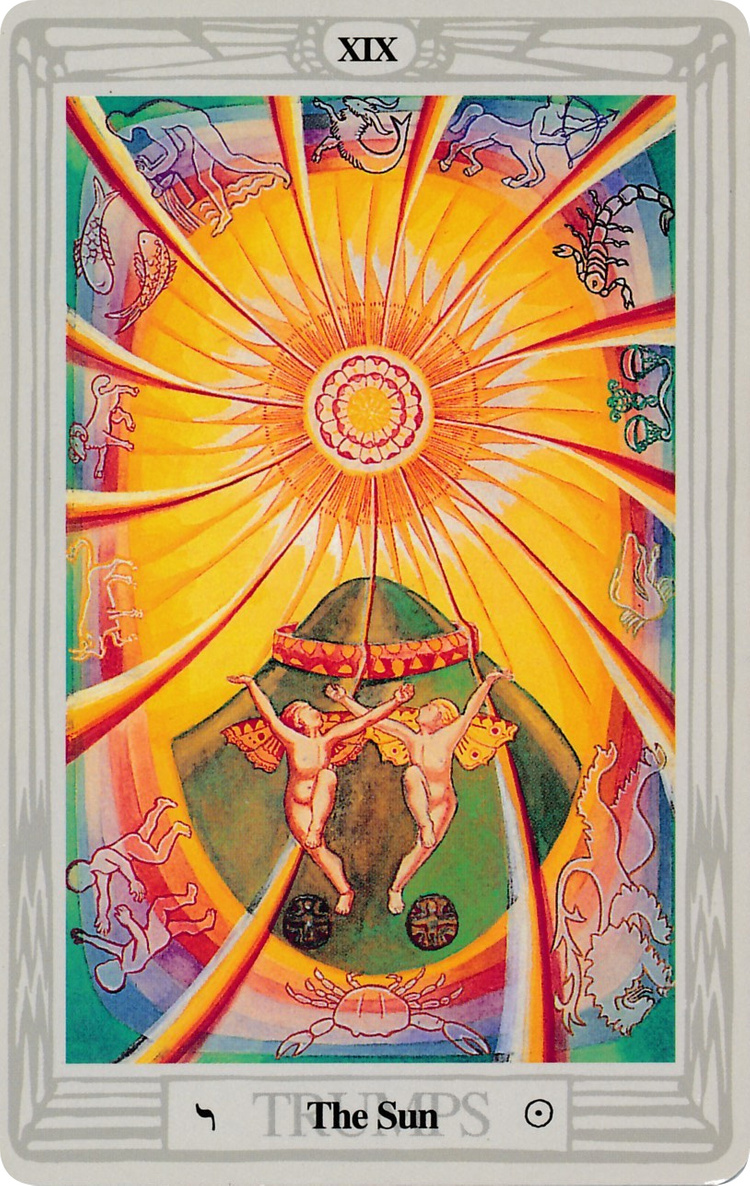 Source
Atu XIX - El sol
Palabra clave: Evolución (espiritual) y
placer.
Aquí el sol ilumina con sus rayos todas las casas astrológicas.
Debemos recordar que para la mitología hindú el sol es el gran maléfico, porque da luz y vida a todo tipo de criaturas, pero también las ata a su luz.
Hay un profundo significado en este arcano; vemos al caín y al abel trascendidos como verdaderos hermanos, y dos huevos órficos a sus pies.
Las casas astrológicas representan las tipologías del karma, eso es un tema largamente estudiado y en este momento no podemos extendernos en él; lo importante aquí es el siguiente mensaje: Todas las criaturas que caminan hacia la evolución siguen sus propios caminos, pero todas son hermanas. Es el hermano lo que hay que reparar en nosotros mismos, integrar nuestra sombra.
Disfruta de este día, pero piensa en lo que dije.
Da tu luz a todos sin duda alguna;
las nubes y las sombras no te importan.
Haz del habla y el silencio, la
energía y la quietud,
formas gemelas de tu juego.
Si quieres saber más sobre este interesante tarot visita: https://book-of-thoth.net/
Atu XIX — The Sun
Key word: Evolution (espiritual) and
pleasure.
Here The sun illuminates all the astrological houses with his rays.
We have to remember that for hindu mitology the sun is the great malefic, because he gives light and live to all kind of creatures, but also tied them to his light.
There is a profound meaning for this arcane; we see the cain and the abel transcended as true brothers, and two orphic eggs at thier feet.
The astrological houses represents the tipologies of karma, that is an issue for a long studied and right now we can not extended in this; what is important here is next message: All criatures are walking to evolution follow their own paths, humanity as a brotherhood. It refers to integrate our shadow.
Enjoy this day, but think about I said.
Give forth thy light to all without doubt;
the clouds and shadows are no matter for thee.
Make Speech and Silence,
Energy and Stillness,
twin forms of thy play.
If you want to know more about this interesting tarot visit:
https://book-of-thoth.net/
---
Rose Cross of the Golden Dawn