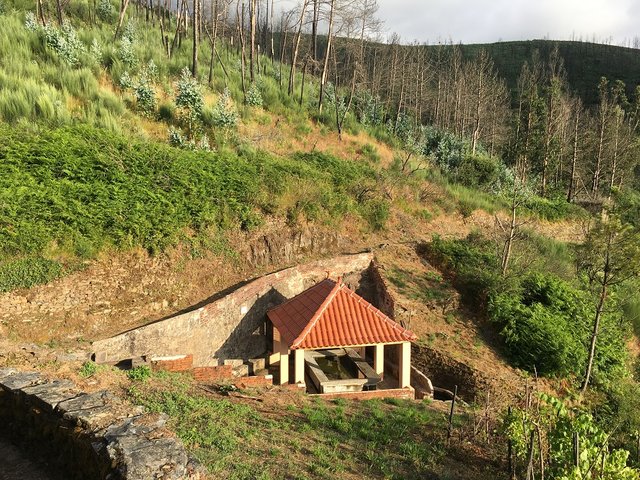 A reservoir with constantly running, natural, mountain water. It was constructed in the 1970s for people without washing machines. It's a pretty, ZEN place in my little village, at a stone's throw distance from my house. I wrote the following story there, this afternoon

His muscular lower legs and huge feet were resting in the crystal clear and pretty cold ( luckily more pretty than cold ) water.
For a moment, he forgot everything on his to do list, all regrets from the past and all worries about the future.
Hypersensitivosaurus just was.
Submerged in the now
one with nature
not resisting anything
going with the flow.
He was part of the water and the water was part of him. There was no separation, no struggle, just harmony.
That is, until his feet became too cold, with *goosebumps and brain freeze ( please don't laugh. Dinos have brains too, especially this raptor ) as a consequence.
On the way back to his cave, after having filled his now receding stomach - daily exercise was doing the trick - with water, he notice three ants fighting with young caterpillar. Although the latter was probably 10 times larger and 20 times heavier than the ants, the caterpillar seemed to be losing the fight.
Slowly but steadily, the persistent ants dragged the caterpillar toward their colony.
Hypersensitivosaurus had to resist the urge to save the caterpillar. He reminded himself that this was nature. The ants needed to eat too and they were the best cleaners he'd ever set his ... eyes on.
"Survival of the fittest," he thought which, in turn, made him aware of his own fitness or lack of it.
I still have a lot of work to do, to get back in shape, he thought. But if I just keep putting one foot in front of the other, "paso a paso", I'll get there eventually.
Every little step counts.
And thus he continued on his journey towards improved health and happiness.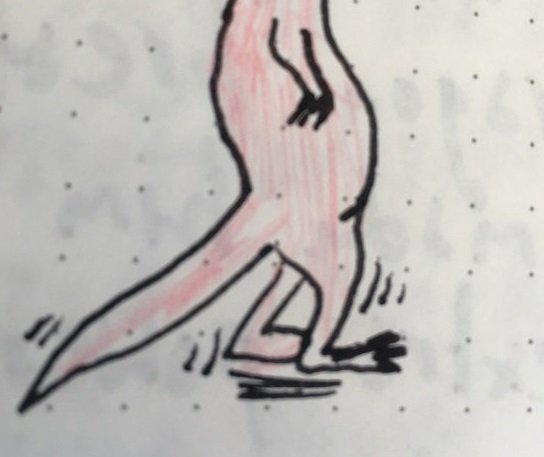 *Raptors and chickens are related. Which didn't mean they liked to be called a "chicken"

Hypersensitivosaurus is the main character in my upcoming children's book series ( also meant for adults ). I aim to release at least one of these books in 2020.
This extremely sensitive - and at times SuperZENsitive velociraptor - spawned from 50 thousand words that I wrote last November for NaNoWriMo ( National Novel Writing Month ). In this 'attempt at a novel', that might still become a novel one day, a guy is struggling to write a book titled 'The Story of Hypersensitivosaurus', a book that slowly but steadily takes over his life.
For those interested in this book, I recommend you to scroll back to my posts from November last year ( starting here ) or - prior to that - to the hatching of hypersensitivosaurus and the little video game that I made, that eventually inspired the book.


MINDFUL LIFE is a Natural Medicine project which supports meditators on HIVE


Discord II Community





Creating Abundance on Hive

Join The Best Natural Health Community on Hive