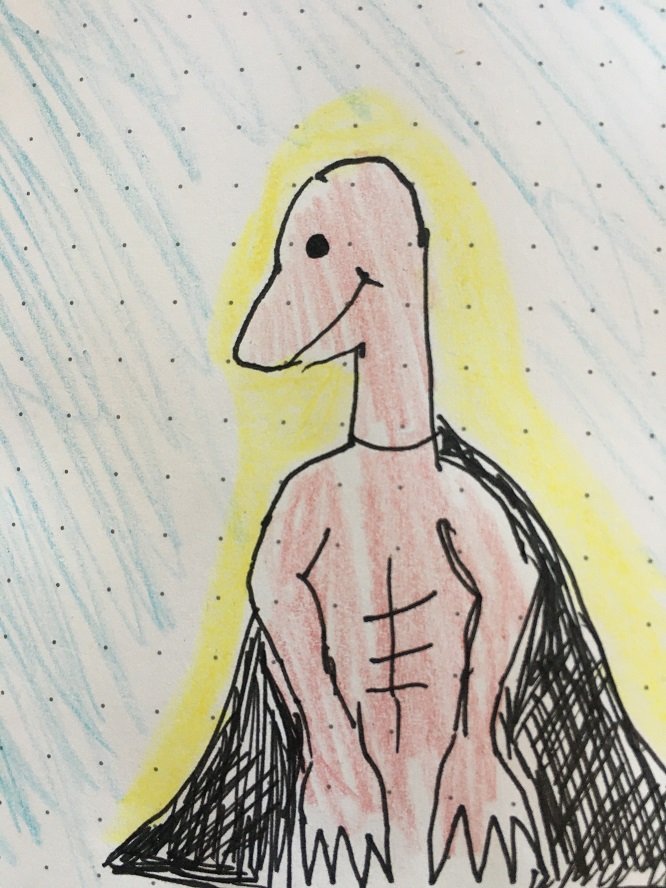 He had been lurking inside his cage cave for about a week and although outside the sun had been shining almost continuously, the darkness had managed to creep in. It had been trying to take over his body and soul. He was stronger than that though and reminded himself that darkness didn't really exist, that it was just the absence of light.
So one day, he just stepped out into the light, started talking to those close to him, soaking up the sun rays, swimming in natural water, living life to the fullest.
He leveled up instantly and the SuperZENsitivosaurus - that was looking back at him in the smooth-as-a-mirror lake - felt like an entirely different creature.
It was interesting to find out that a bunch of animals started to reach out to him now, asking for a helping hand or a piece of advice. They were clearly suffering, struggling, much like the hypersensitivosaurus that he had been in the past.
Part of him really felt like helping them out, lending them a hand, but there was also a voice in his head that told him that he should really focus on himself first. That he still had some work to do and that focusing on the drama of others might still drag him down.
The time had come to prioritize himself and the world around him, first and foremost. He made sure to keep strengthening his body and mind, and to only help those that reached out to him, if he really felt up to the task, not out of guilt or pity.
He needed to be in a good feeling place as much as he could, otherwise he would never be able to help others. He was tired of draining his batteries again and again as it seemed like every time this happened, charging them to full power took more effort than he'd like to admit.
Therefore he continued adding bursts of power to his reptile batteries, by doing all the things that he loved to do, as often as he could and by being more playful about the things that he liked a little less but that just needed to be done.
The world deserved the best version of him and he promised to make sure that it got what it asked for...