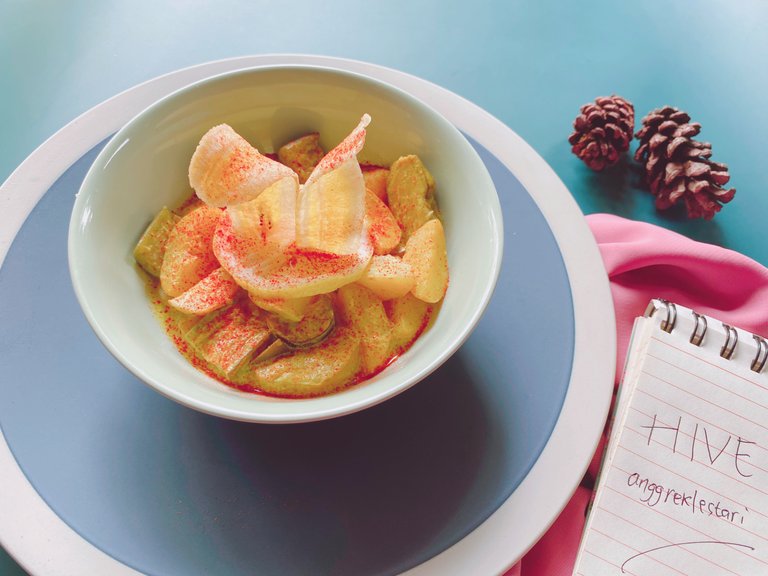 Curry usually refers to chicken or meat as the main ingredient. Chicken curry or meat making is fairly complicated because it takes a long time to make the chicken or meat perfectly cooked.
Plant-based curry is easy to make. Especially, if you use vegetables that can be cooked simultaneously. So it will save more time.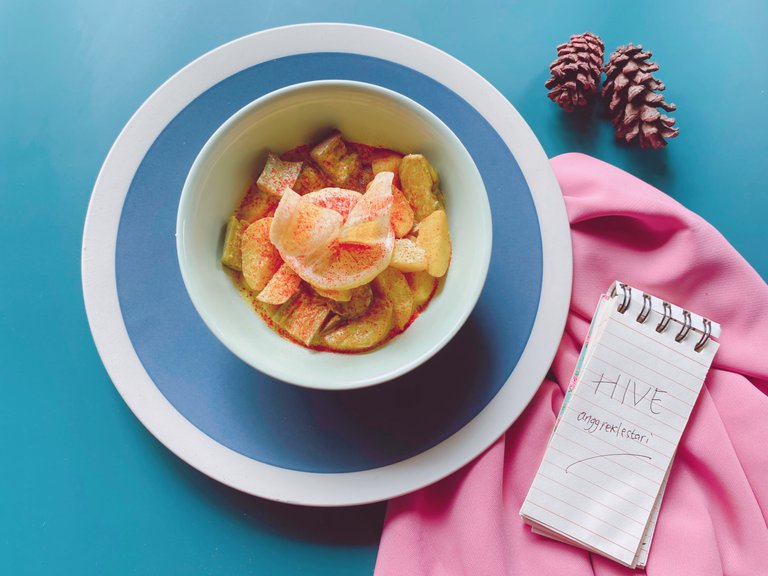 ---
This time I will share with you the recipe for Potato with Eggplant Curry. This recipe is also suitable for those of you who are vegan or vegetarian.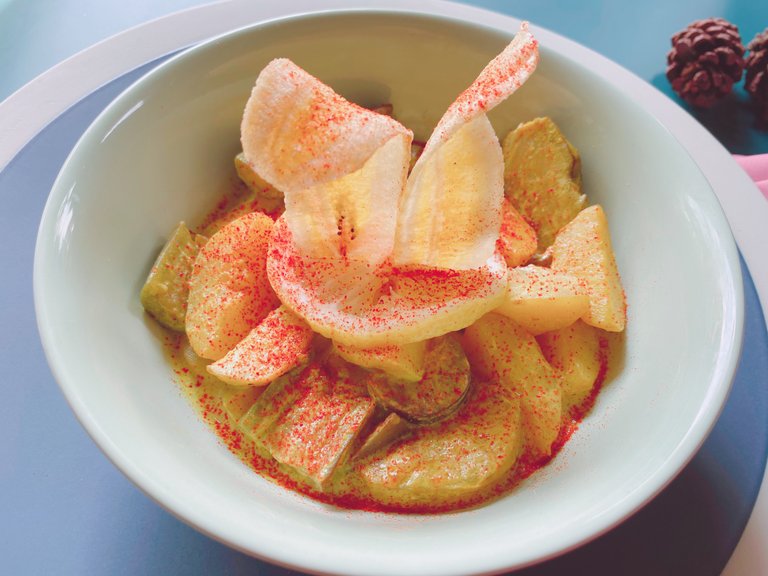 I guarantee it is very easy to make. You can also customize vegetables with the stocks you have, such as carrots, sprouts, and types of beans. But what needs to be considered is the level of cooking time of the various vegetables that you have. Do not let you put vegetables that have different cooking times together.
Let's get started!
---
Ingredients: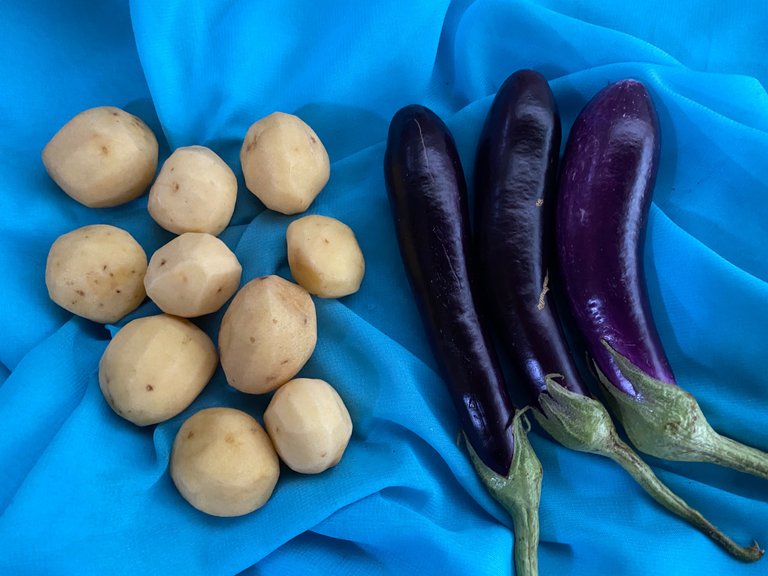 300 grams of potatoes
100 grams of eggplants
500 ml of water (adjusted to the thickness of the sauce you want).
60 ml of coconut milk or coconut cream
---
Seasoning Ingredients: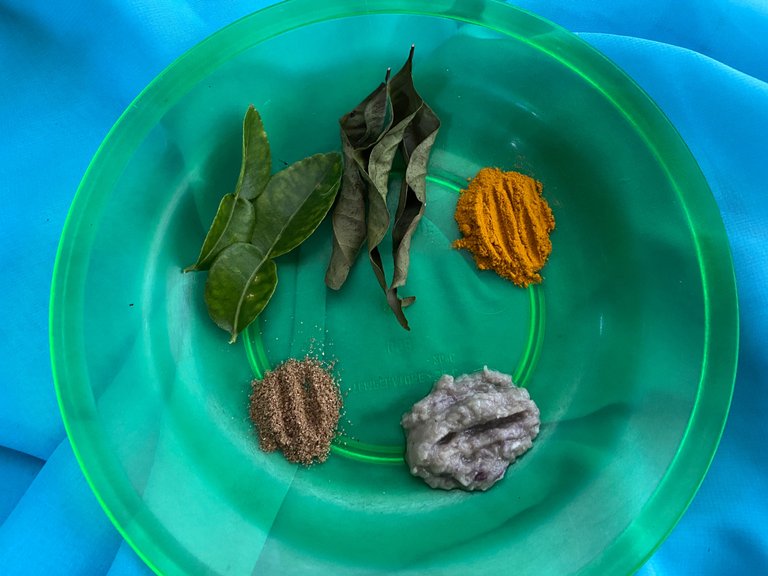 1 tablespoon of onion paste (blender 5 cloves of red onion, 2 cloves of garlic, one teaspoon of salt, you can add enough oil).
1-2 tablespoons of turmeric powder.
1 tablespoon coriander powder.
2 pieces of kaffir lime leaves.
2 pieces of bay leaves
(Optional) Vegetable or mushroom broth. Can be replaced with the type of broth you have.
---
---
---
How to make
- Step 1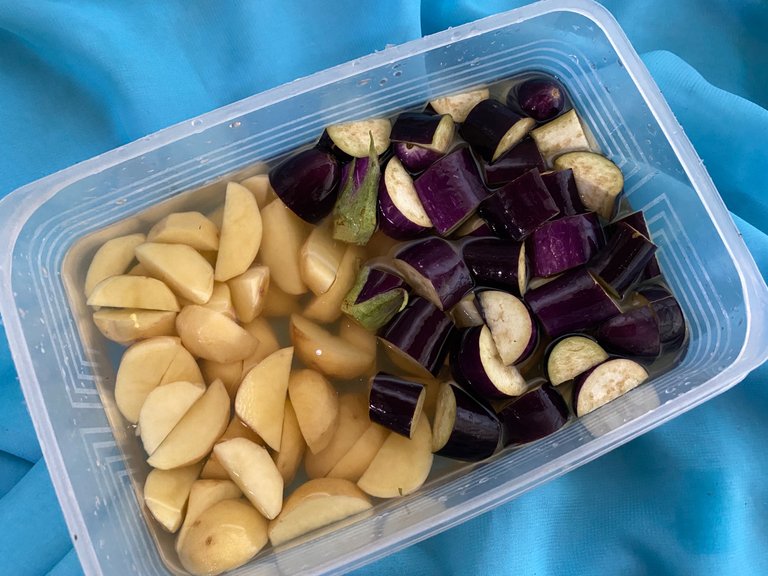 Cut the potatoes and eggplants. Don't forget to soak them so they don't change in color.
---
---
---
- Step 2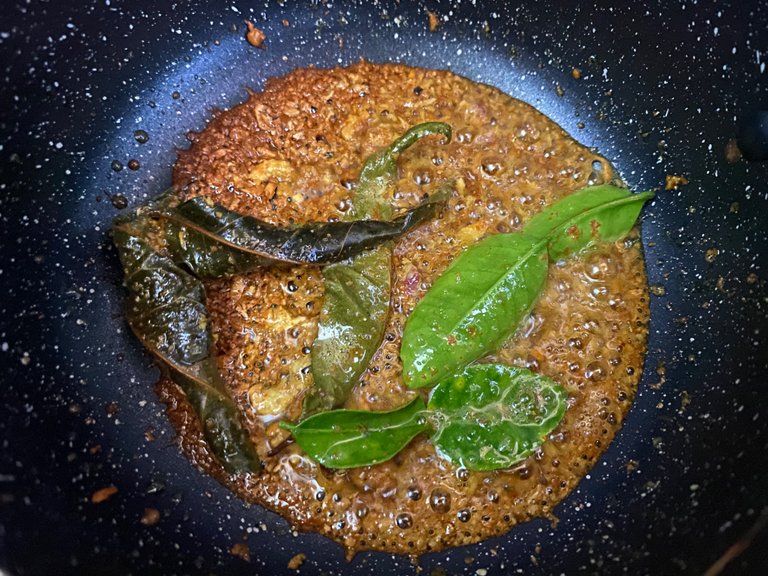 Heat the oil, then saute all the seasoning ingredients. Stir well for a while, don't burn it because the onion paste burns easily.
---
---
---
- Step 3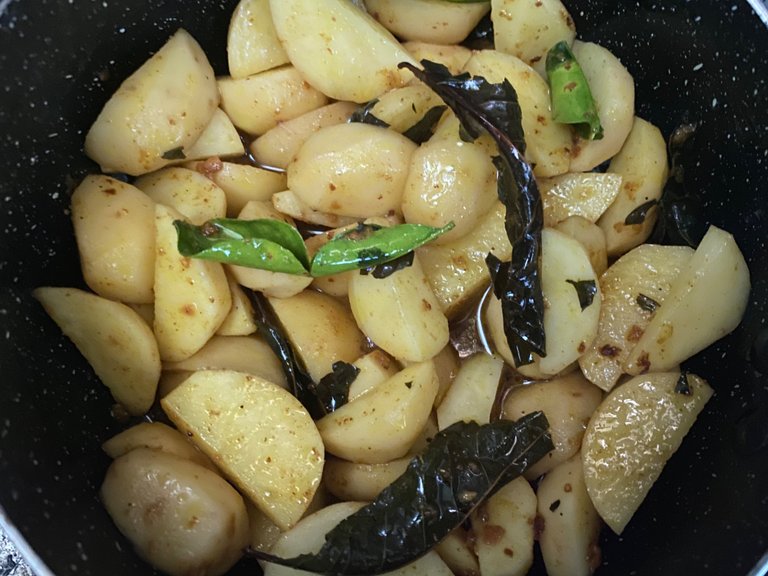 Add potatoes. Sauté briefly before adding water. However, if you smell a little burnt, you can immediately add water.
---
---
---
- Step 4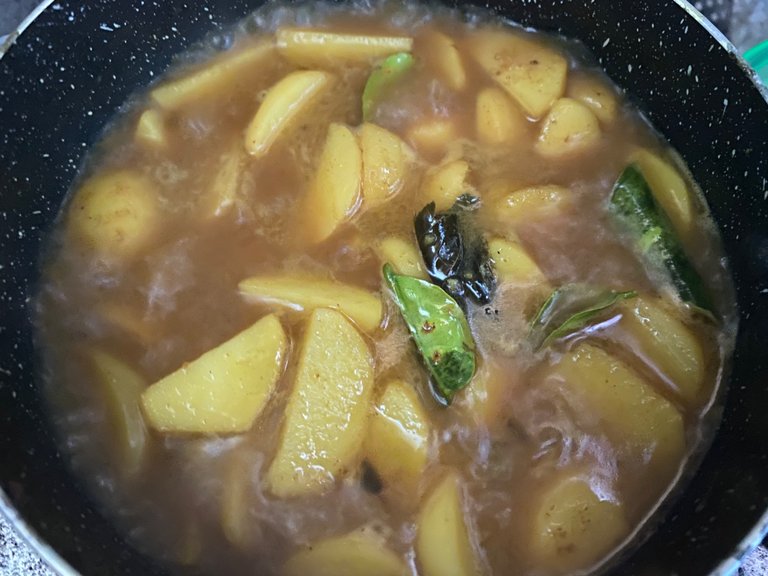 Add water. Then cook until potatoes are half cooked. Stir it occasionally.
---
---
---
- Step 5

Add the eggplants when the potatoes are half cooked. Then cook again until cooked.
---
---
---
- Step 6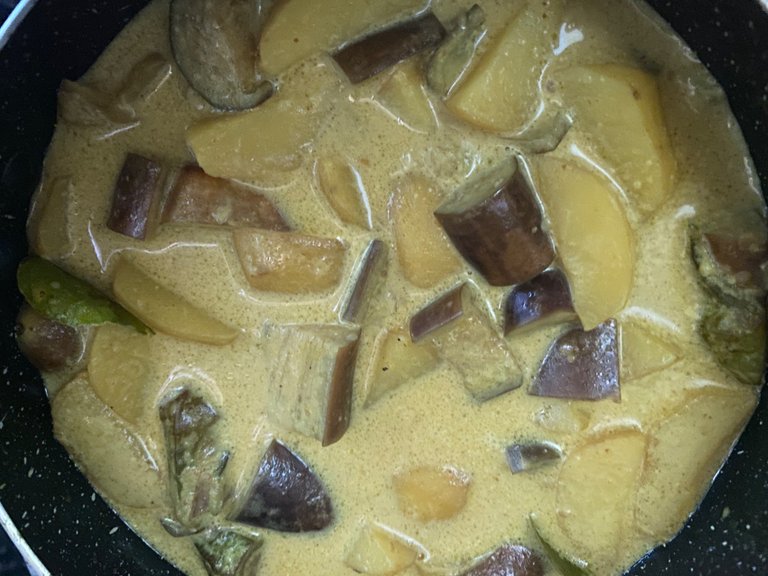 Before we lift this curry, add thick coconut milk or coconut cream. Stir briefly. Don't forget to correct the taste. Add a pinch of salt if it's less salty.
Note: You can also not use coconut milk, but the sauce will not be thick and not savory.
---
---
---
- Step 7

Remove and serve.
---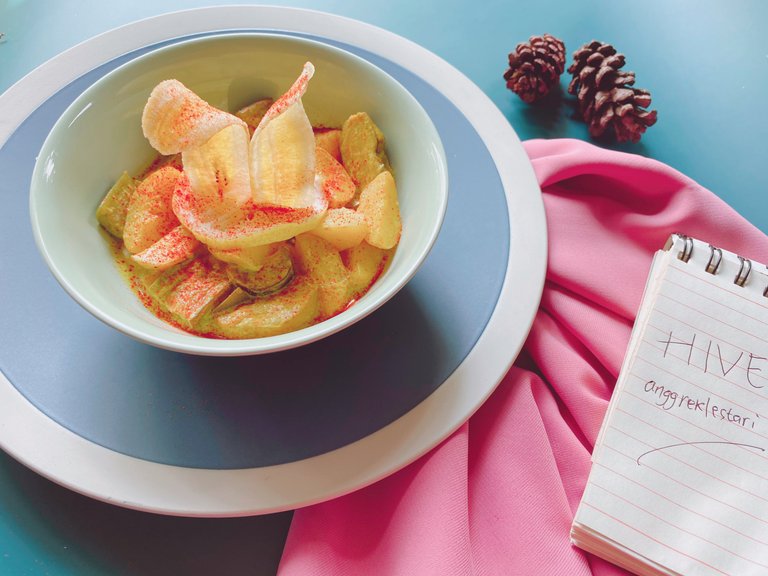 If you like it spicy, you can serve this curry with the addition of chili powder or pieces of chilies to add a strong impression of the curry which tends to be spicy.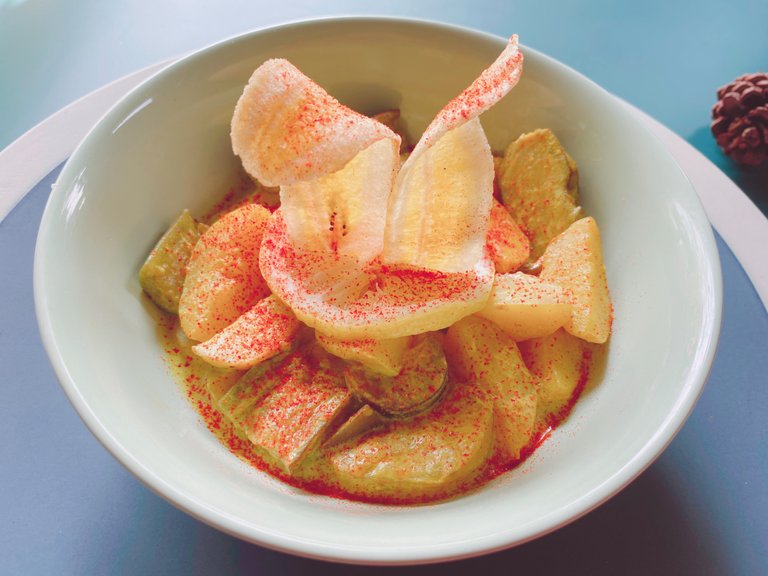 I also add banana chips to the curry dish as garnishes.
---
---
---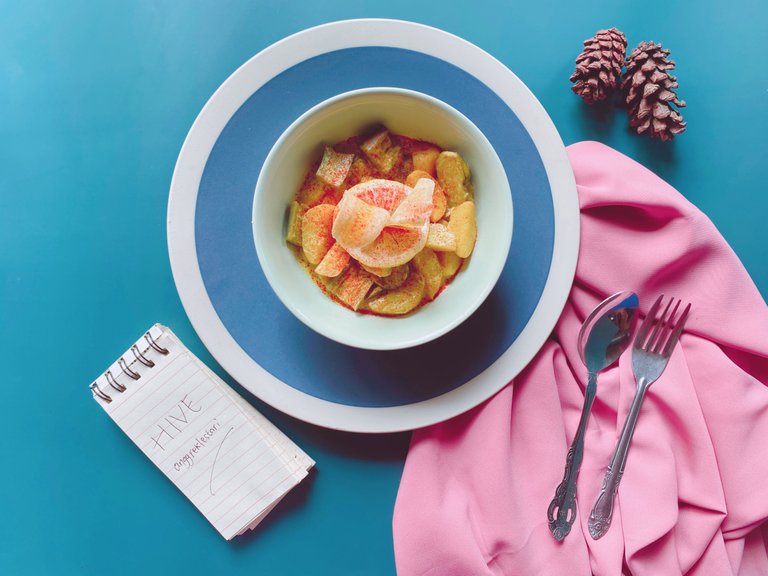 That was how to make plant-based curry made from potatoes and eggplants. Very easy to make it.
What do you think of my recipe this time? Have you ever made curry? What are your favorite ingredients in curry?
---
---
---
Regards,
Anggrek Lestari.
---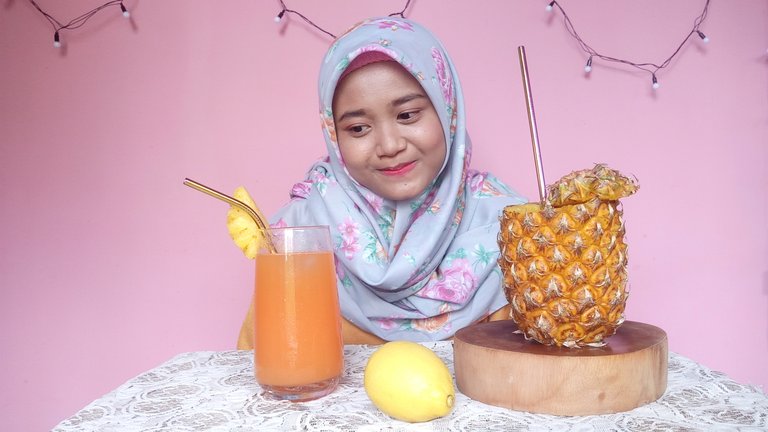 If you like my food content and want to support me at the next level, you can send me BTC or ETH or even HIVE/HBD. Thank you so much!
BTC Address: 1JkuWUJvK6bjkm6D3ZhtEdpaeSQUn7YLuU
ETH Address: 0x42bb580e4660daa7f578c2741027abc6f062ef46