I made today this delicious quinoa salad. This salad is packed with plant-based protein and vitamin.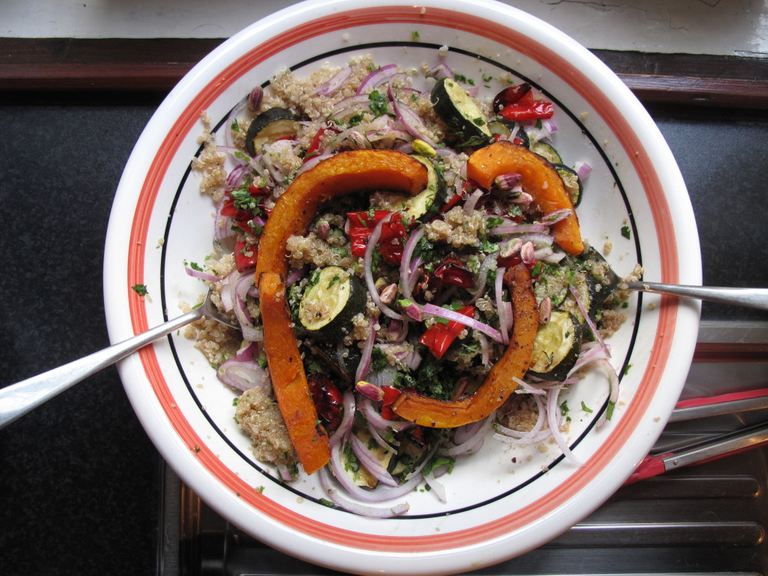 Ingredients
Half a Butternut Squash – peeled, and sliced into small pieces
2 Courgettes – sliced into 1cm pieces
2 Red Peppers – cut into 2cm square pieces
1 Red Onion – sliced thinly
50g Pistachio Nuts
30g Coriander – chopped finely
100g Quinoa – washed
50g Amaranth
Small bag Spinach Leaves
Extra Virgin Olive Oil
Balsamic Vinegar
Cracked Pepper
Rock Salt
DRESSING
2 Tbs Lime Juice
1 Tbs Bragg Amino
1 Tbs Agave
1 tsp Toasted Sesame Oil
1 Tbs Balsamic Vinegar
1 Tbs Mirin
1 tsp Harrisa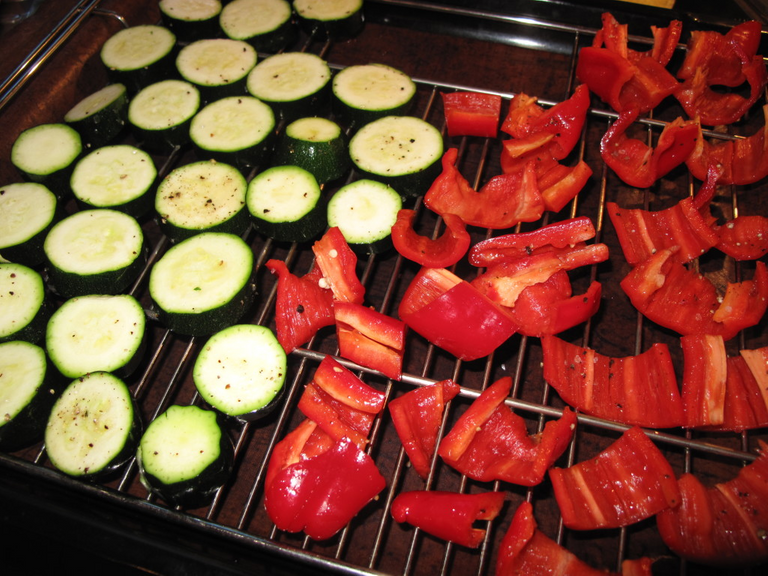 Instructions
Pre heat the fan forced oven to 180 degr. Bring two small saucepans ⅓ filled with water to boil. Add the Quinoa to one and the Amaranth to the other, bring to boil then simmer.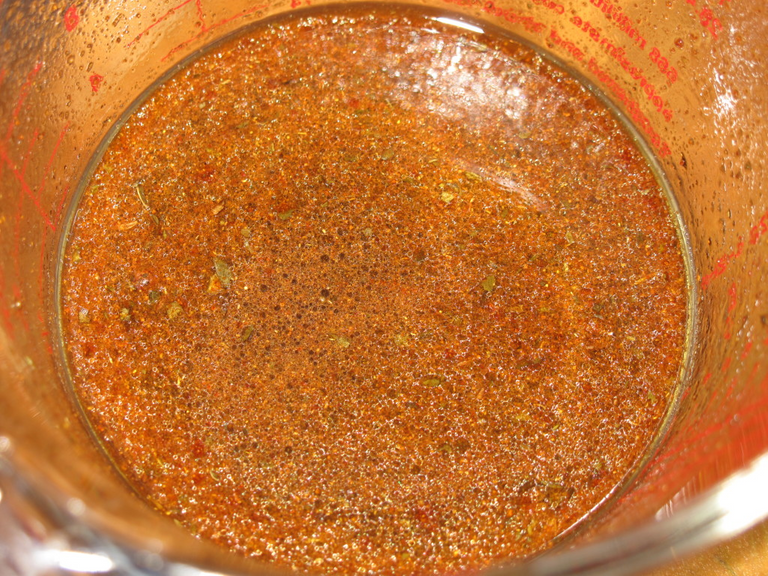 Quinoa simmer for approx. 12min and the Amaranth approx. 20min
Drain and spread on a large flat surface to cool faster – I used a very large salad bowl.
Using two bowls, place the peppers and courgettes in one and the Squash in the other.
Spray olive oil on both and season, add a slug of balsamic vinegar to the squash.
Place courgettes and peppers on a wire rack in the oven over a deep tray and the squash on a nonstick baking tray.
Place the pistachio nuts on a very small baking tray and bake for 8 min.
Bake peppers and courgettes for approx. 35min and the squash for approx. 40-45min. Remove and allow to cool.
To make the dressing, place all the ingredients in a bowl and mix either using a whisk or hand blender.
In a very large salad bowl, place the quinoa and amaranth, season then pour over the dressing and combine well.
Add the courgettes, peppers, coriander and red onions.
Combine well using two large spoons.
Sprinkle the pistachio nuts over the salad and arrange the squash over the top.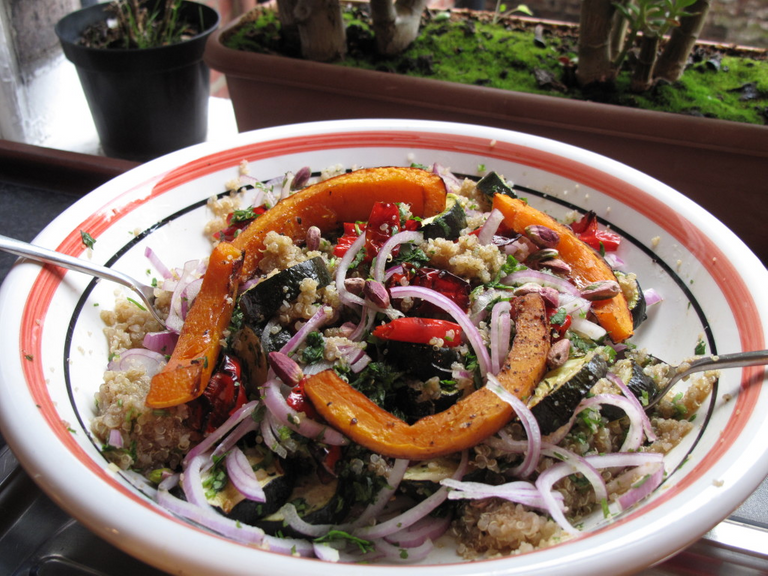 Place a handful of spinach leaves on a plate and spoon the salad on top.
Serve and Enjoy!!!