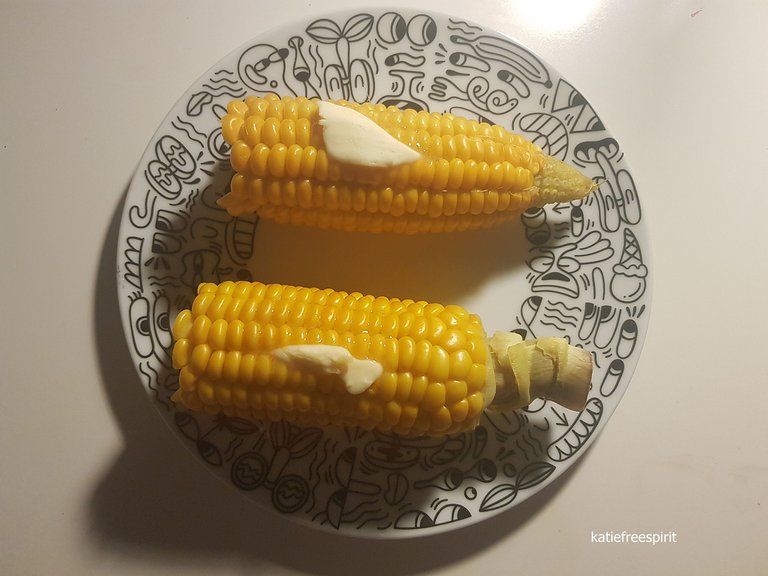 Corn appeared in my kitchen today. I spotted it at the fruit and vegetable market, bought one flask, and thought it might be a nice snack, e.g. for dinner. Such cooked corn with butter, which dissolving on hot corn envelops it with its buttery taste.
Dzisiaj w mojej kuchni pojawiła się kukurydza. Wypatrzyłam ją na targu, kupiłam jedną kolbę i pomyślałam, że może być fajną przekąską, np. na kolację. Taka ugotowana kukurydza z masełkiem, które rozpuszczając się na gorącej kukurydzy otula ją swoim maślanym smakiem.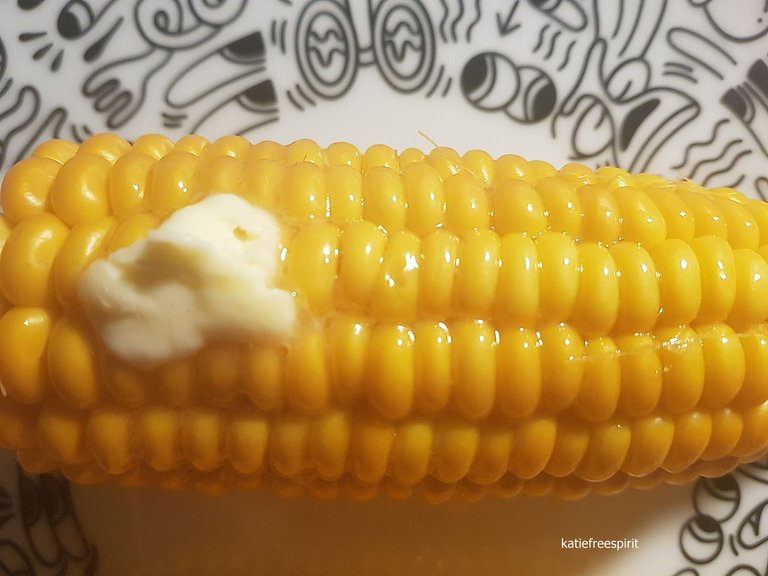 To prepare this simple dish, all you need is corn, butter, and a little salt. I cut the corn in half to fit in a pot and peel the green leaves. You have to use a sharp, large knife. To start with, I took the knife that I have been using recently for cutting vegetables and fruit, and unfortunately, it did not work for hard corn. I had to reach for something stronger.
Do przygotowania tego prostego dania wystarczy nam kukurydza, masło i odrobina soli. Kukurydzę przecinam na pół, żeby zmieściła się w garnku i obieram z zielonych liści. Trzeba użyć ostrego, dużego noża. Na poczatku wzięłam nóż, którego używam ostatnio do krojenia warzyw i owoców i niestety nie sprawdził się w przypadku twardej kukurydzy. Musiałam sięgnąć po coś mocniejszego.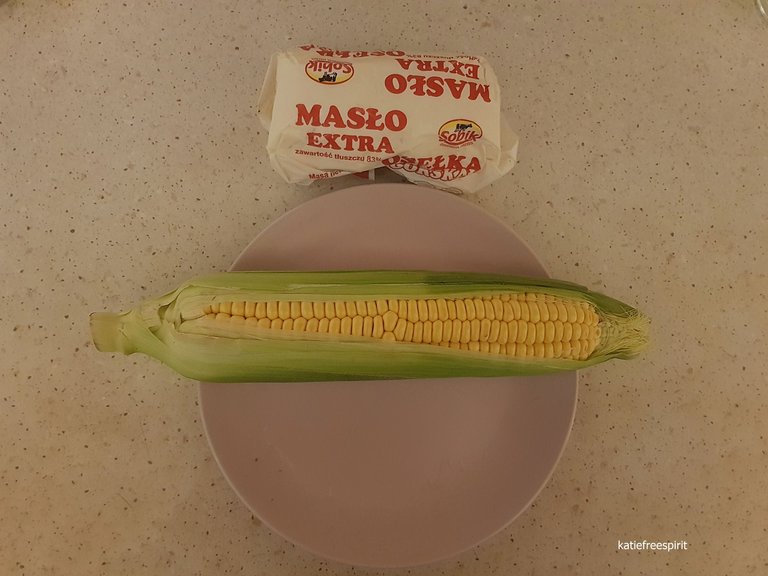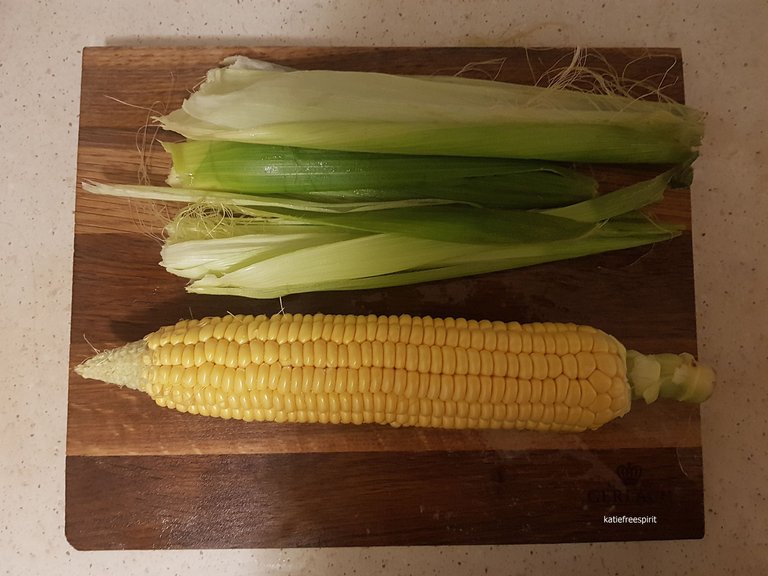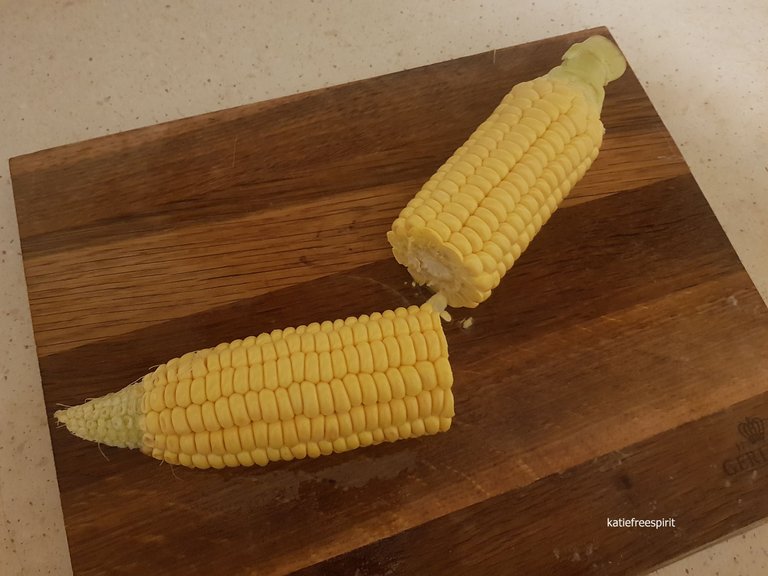 Then I put the corn in boiling water and cook for 10-15 minutes in lightly salted water.
Następnie wkładam kukurydzę do gotującej się wody i gotuję przez ok. 10-15 minut w lekko osolonej wodzie.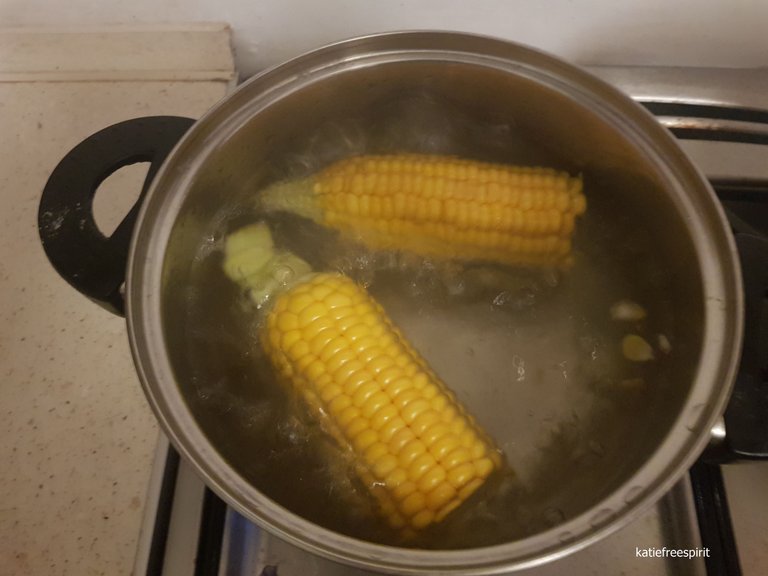 Then I put the corn in boiling water and cook through. Cooked corn turns from light yellow to slightly orange and brown in places. Now it has soft grains, I spread butter on it, which will melt and give it a delicious taste.
Ugotowana kukurydza zmienia barwę z jasnożółtej na lekko pomarańczową, a miejscami brązowawą. Ma teraz miękkie ziarna, Rozsmarowuję na niej masło, które topiąc się, nada jej pysznego smaku.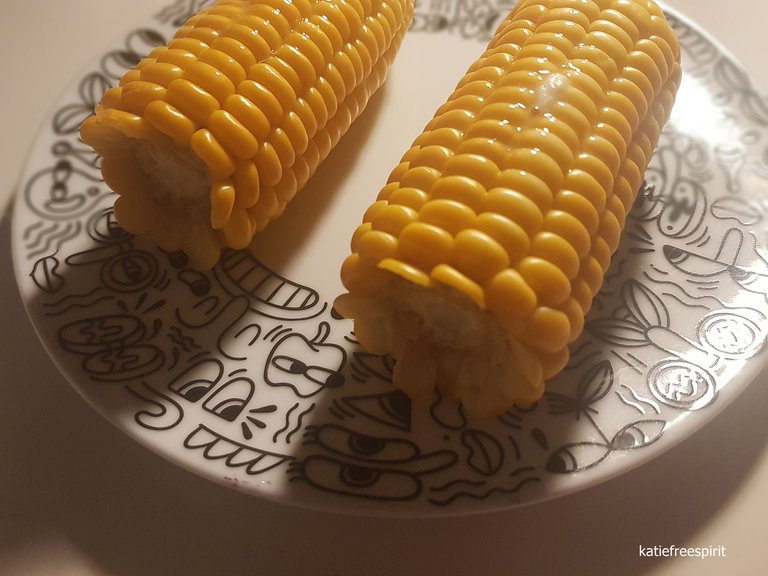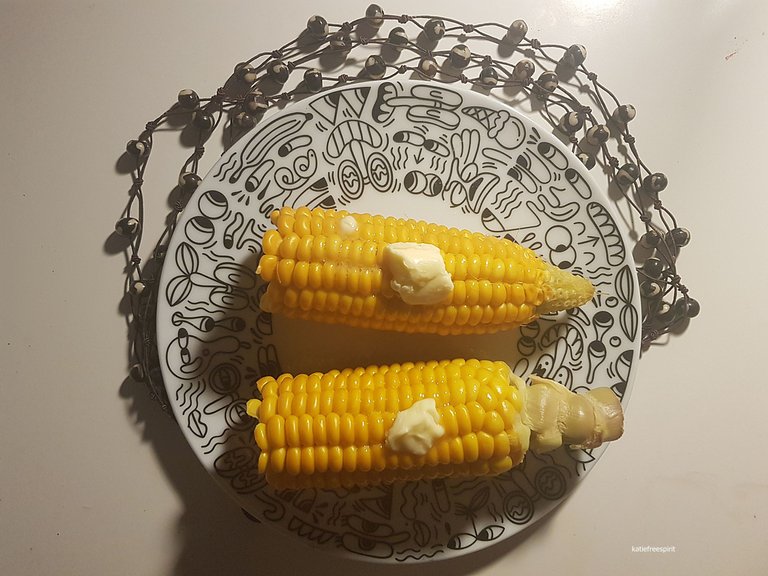 I didn't cut the tip of the corn, so I could easily grab it and eat it while nibbling on the corn on all sides. It tasted wonderful. It was soft and delicate. It was a nice culinary variety, because I rarely eat corn in this form.
Nie ucinałam końcówki kukurydzy, dzięki czemu mogłam ją łatwo chwycić i zjeść obgryzając kukurydzę z każdej strony. Smakowała cudownie. Była miękka i delikatna. To było fajne urozmaicenie kulinarne, bo rzadko jem kukurydzę w takiej formie.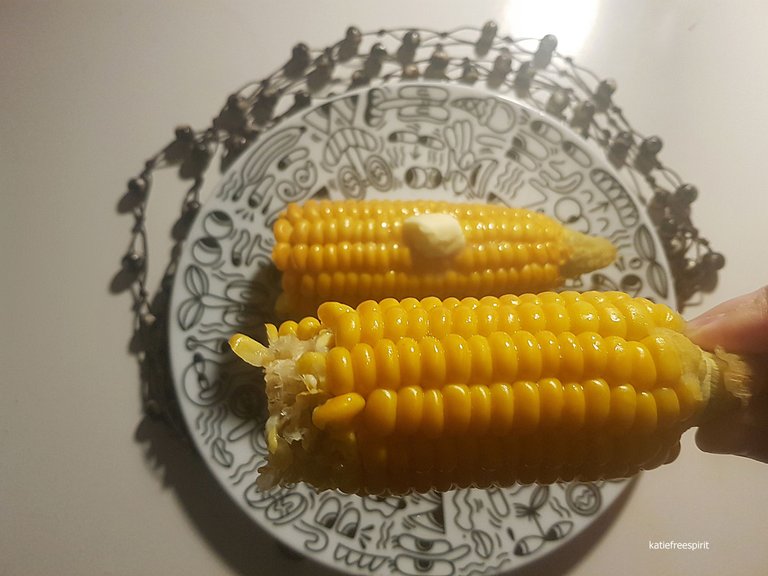 Do you sometimes eat boiled corn? If so, with what additives? I just think that grilled corn could taste great or boiled corn served with spicy butter (with the addition of chili pepper and parsley).
Jecie czasem gotowaną kukurydzę? Jeśli tak, z jakimi dodatkami? Tak sobie myślę, że fajnie mogłaby smakować kukurydza z grilla albo gotowana kukurydza podana z pikantnym masełkiem (z dodatkiem papryczki chili i natki pietruszki).