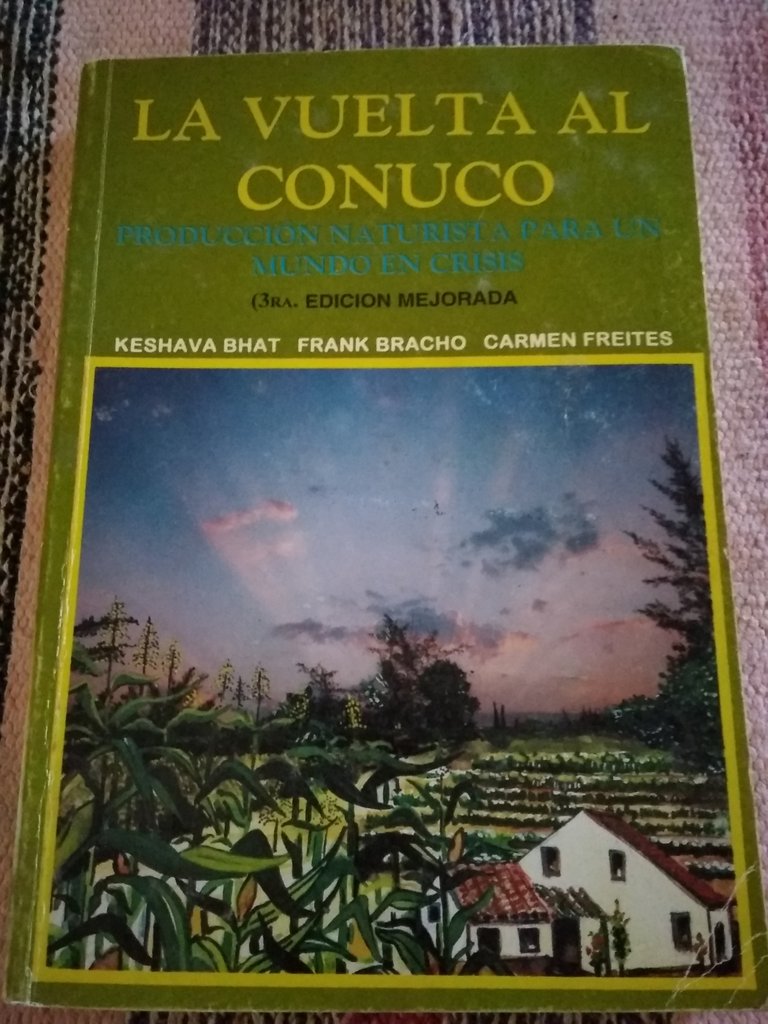 Saludos, naturistas y naturólogos
Este libro, del cual les hablaré el día de hoy, es indudablemente conocido por la gran mayoría. Se trata de "La vuelta al conuco" (K. Bhat, F. Bracho y C. Freites, que junto al famoso "Herbolario tropical", y la guía (o recetario) de C. Freites constituyen un buen conjunto práctico para entrar en la senda del "naturismo tropical", concepto al que le dedican también tiene otro libro aparte y que es más teórico.
Los autores de esta reconocida obra son los que aparecen en la foto inferior de esta publicación. Por respeto a los derechos de autor no quise incluir más fotografías del contenido. Pero tiene dibujos botánicos muy bonitos, son simples siluetas en blanco y negro pero que ayudan a la identificación. Tiene algunos materiales de investigación, tablas, infografías y gráficos que ayudan un poco al lector.Las fotos no son buenas pero los dibujos que explican los procesos de siembra y construcción se entienden muy bien.
Quizás el autor principal es el finado Dr. Keshava Bhat, famoso etnobotánico y profesor universitario. Él fue quien sentó las bases de esta doctrina y enseñó todo lo que sabía a muchas personas en Venezuela.
Sin embargo, es triste ver todo lo que ha pasado en Venezuela en los últimos años y lo poco que se le ha prestado atención a estos tratados, creo que nada hubiera ocurrido si la gente acá le hubiera guardado el debido honor y respeto a este maestro.
......quier intento de crecimiento orgánico, naturista, de la pequeña producción que apuntaba a la sostenibilidad y a un futuro ecológico. Especialmente cuando el modelo de producción está centrado en mirar hacia la pequeña huerta, el "conuco". Una metáfora válida, sería considerar a los entes pequeños, tal como los Hobbits de la Comarca, no pueden hacerlo todo ellos solos, necesitan apoyo y protección. Incluso el hijo
...........
Disculpen que les hable de política y sociedad, pero es que es un tema complejo, pues este libro apunta a ser, según lo dice en su contra tapa:
"Un manual para el consumidor", enseñándole a los lectores a distinguir productos y servicios más orgánicos.
"Un manual para el productor responsable", pues le enseña al que produce muchos procesos que le permiten hacer todo más orgánico y abaratar costos.
"Un manual de supervivencia", porque ya avizoraba la enorme crisis por escasez recursos que se avecinaba en vista de los modos de vida y producción ya instaurados.
"Un manual para la reconstrucción". Creo que si ocurriera un escenario postapocalíptico este sería un buen libro para tener, ya que explica cómo hacer combustible con desechos orgánicos, cómo sembrar distintos tipos de plantas, cómo cosecharlas y procesarlas.
Para ser más específico, la estructura y contenidos de la obra es la siguiente:
El Capítulo I explica el colapso del actual modelo de producción y el naturismo como propuesta de solución.
El Capítulo II versa sobre los cultivos y su aprovechamiento. va desde el alhelí, pasando por el árbol de pan, o el tamarindo, hasta la yuka. En verdad es muy completa la compilación de cultivos útiles y necesarios para la alimentación y la salud. Aquí incluye también cómo hacer germinados, cómo preparar dentrífico y hasta papel artesanal.
En el Capítulo III. Toca quizás lo más difícil, que es la formación del consumidor, el establecimiento de redes de distribución de los productos, costos y servicios: cómo reconocer una buena tienda naturista, entre otras cosas.
El Capítulo IV es más reflexivo, habla sobre los principios del naturismo y el bienestar humano.
El último Capítulo, el V, incluye la bibliografía complementaria y algunas experiencias de producción, servicio y mercadeo. Está de más decir que son casos muy viejos. Ya la mayoría de las tiendas no existe, los teléfonos institucionales también están desactualizados.
Un detalle importante es que esta portada que ven en la foto superior es la que se hizo para la tercera reedición. Aunque esta reimpresión que yo compré es del 2014, y lamentablemente adolece de ciertas fallas de contenido, por ejemplo no actualizaron ni la data de los gráficos, ni el marco legal de los artículos citados; muchas de las tablas de contenido de los valores referenciales de nutrición deberían ser actualizadas, es muy importante. Pero haría falta una investigación nueva, y que las instituciones públicas actualicen sus datos de alimentación, cosa que no hacen desde hace muchos año; en especial la de rubros muy poco conocidos y cultivados pero que alimentan mucho, como el árbol de pan y el amaranto.
Es una obra genial, muy necesaria, ya que uno puede aprender cómo sembrar su propia comida, cómo hacer una cocina ecológica, cómo hacer carbón activado y purificar el agua, cómo hacer repelentes y antiplagas para el cuerpo y para los cultivos, etc; pero que requiere un verdadero trabajo de reedición y actualización, así seguirá siendo una herramienta valiosa para la creación de nuevas formas de vida y sostenimiento que no acaben con el planeta.
---
Greetings, naturists and naturologists
This book, of which I will speak to you today, is undoubtedly known to the great majority. It is "The Return to the Conuco" (K. Bhat, F. Bracho and C. Freites, which together with the famous "Herbolario tropical", and the guide (or recipe book) of C. Freites constitute a good practical set to enter the path of "tropical naturism", concept to which they also have a separate book that is more theoretical.
The authors of this well-known work are those who appear in the lower photo of this publication. Out of respect for the rights of the author I did not want to include more photographs of the content. But it has very beautiful botanical drawings, they are simple black and white silhouettes but they help to identify. It has some research materials, tables, infographics and graphics that help the reader a little. The photos are not good but the drawings that explain the processes of planting and construction are very well.
Perhaps the main author is the late Dr. Keshava Bhat, a famous ethnobotanist and university professor. He was the one who laid the foundations of this doctrine and taught everything he knew to many people in Venezuela. However, it is sad to see all that has happened in Venezuela in the last few years and how little attention has been paid to these treaties. I believe that nothing would have happened if the people here had kept the due honor and respect to this teacher. If most of the ideas had been put into practice, especially those that are in the realm of production.
...owth of small-scale production aimed at sustainability and an ecological future. Especially when the production model is focused on looking at the small garden, the "conuco". A valid metaphor would be to consider the small entities, such as the Shire Hobbits, cannot do everything themselves, they need support and protection.
......
Excuse me for talking about politics and society, but it is a complex subject, because this book aims to be, as it says on the back cover:
"A manual for the consumer", teaching readers to distinguish more organic products and services.
A manual for the responsible producer," because it teaches the producer many processes that allow him or her to make everything more organic and lower costs.
A survival manual," because it already foresaw the enormous crisis due to the scarcity of resources that was approaching in view of the lifestyles and production already in place.
A manual for reconstruction. I think that if a post-apocalyptic scenario were to occur this would be a good book to have, since it explains how to make fuel from organic waste, how to plant different types of plants, how to harvest and process them.
To be more specific, the structure and contents of the book are as follows:
Chapter I explains the collapse of the current production model and naturism as a proposed solution.
Chapter II deals with crops and their use. It goes from the wallflower, through the breadfruit tree, or the tamarind, to the yuka. In truth, the compilation of useful and necessary crops for food and health is very complete. It also includes how to make sprouts, how to prepare toothpaste and even handmade paper.
In Chapter III. It touches on perhaps the most difficult part, which is the training of the consumer, the establishment of distribution networks for products, costs and services: how to recognize a good naturist store, among other things.
Chapter IV is more reflexive, it talks about the principles of naturism and human welfare.
The last chapter, V, includes the complementary bibliography and some experiences of production, service and marketing. Needless to say, these are very old cases. Most of the stores no longer exist; institutional telephones are also outdated.
An important detail is that this cover you see in the photo above is the one made for the third reissue. Although this reprint that I bought is from 2014, and unfortunately it has certain content flaws, for example they did not update either the data of the graphics, or the legal framework of the articles cited; many of the tables of contents of the nutrition reference values should be updated, it is very important. But new research would be needed, and public institutions should update their food data, which they have not done for many years; especially for very little known and cultivated items but which are very nutritious, such as breadfruit and amaranth.
It is a great work, very necessary, because,one can learn how to grow one's own food, how to make an ecological kitchen, how to make activated carbon and purify water, how to make repellents and anti-pests for the body and for crops, etc; but it requires a true work of reedition and update, thus it will continue being a tool for the future; for the creation of new forms of life and sustenance that do not end the planet.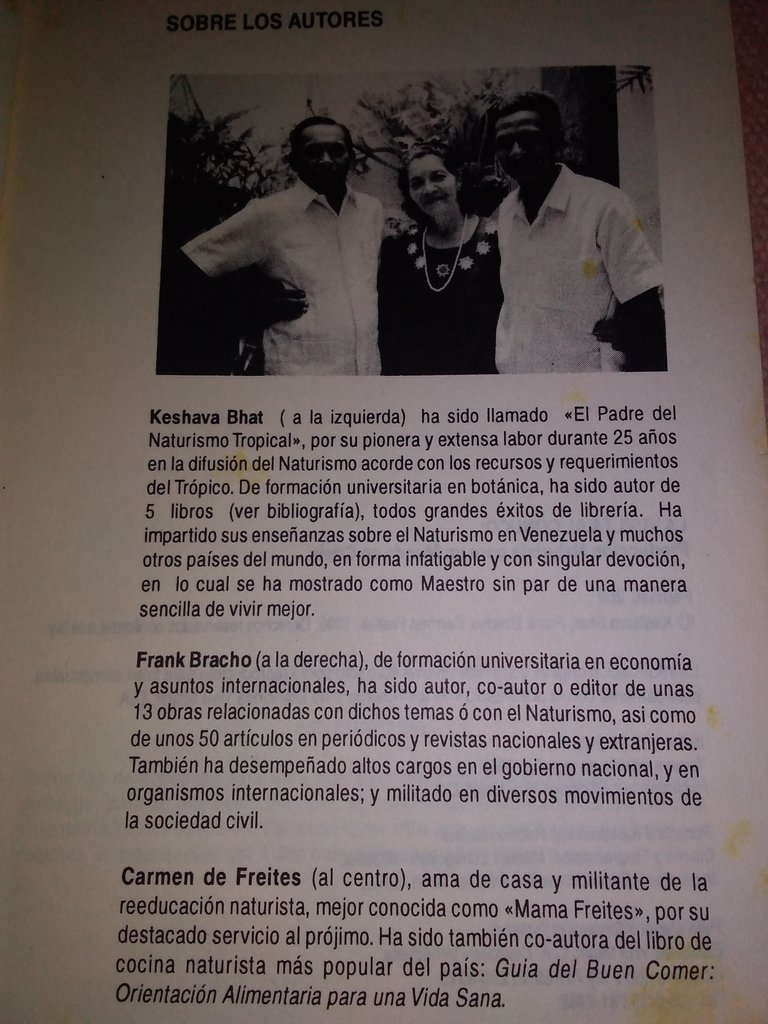 ---
Photos taken by me with my cellphone camera.